Friday FITspiration: Running for the girl she used to be
August 31, 2012
Get ready to be FITspired! Here at runladylike.com, Fridays are all about sharing the inspiring stories of fit people who motivate all of us to be better tomorrow than we were yesterday. My Friday FITspiration series profiles runners, triathletes and casual exercisers who are making choices every day to be as healthy as they can be – in both huge ways and through simple, small victories. Their stories are about the journey of transforming from ordinary to extraordinary each and every day. These are people just like you and me who believe in redefining what's possible … and helping all of us do the same.
"Change your attitude and you can change your life!" ~Monica (aka Bang)
Today, I'd like you to meet Monica, better known as "Bang," from Run Bang Run. I'm rarely ever left speechless, but I'm still picking my jaw up off the ground after hearing her story. I'm giving her a virtual standing ovation as we speak. If you need some mojo – you're going to get it right now. Check out my interview with this awe-inspiring runner.
Monica, tell us a little about yourself.
Five years ago I was very unhappy and very overweight. My life felt empty, and I tried desperately to fill that void with food. I was literally eating myself to death, bouncing from drive-thru to drive-thru and consuming enough food in one meal to feed a family of 4. One day, something inside of me clicked. I picked myself up, moved 600 miles away and gave myself a much-needed fresh start. I began walking around my new neighborhood, determined to change my lifestyle. That change has come slowly, but I am now 70 pounds lighter and far healthier than I was back then. I've drastically altered my eating habits and have taken up running and Zumba. My BMI is now in the "overweight" range instead of "obese," and I look and feel better than I ever have before. I still have about 40 pounds to lose before I reach my goal weight, but I will get there and I will never, ever look back.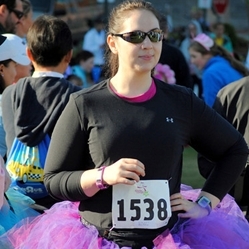 How long have you been running, and what inspired you to start?
I began running about 1 year ago. I had just started a new job and was told I would be required to take part in a physical fitness assessment, including a 1.5-mile run. Me? Run?!? Those dreaded words evoked memories of my high school years, when my out-of-shape self would inevitably end up walking the timed mile run (much to the dismay of my classmates and gym teacher). I had never run a mile in my life, but I was determined to make this time different. I was not going to be the last person to finish. With the help of the Couch 2 5K program, I began training for the big day. In an unfortunate twist, the assessment wound up being canceled, but I still made it my goal to run that 1.5 miles. I wasn't going to stop until I did it. Once I achieved that goal, I set another. And here I am today – still running!
Finish this sentence: I run because _______________________.
I run because I can. At my heaviest weight, around 250 pounds, I could hardly even walk up a flight of stairs without getting winded. I never in my life thought I could run, let alone would do so by choice. So I run for my former self. I run for all of the people who are physically unable to run. I run because I can.
What is your favorite race distance? Why?
The only races I've participated in so far have been 5K's, so they win by default. I have several other distances on my to-do list before the end of the year, including my first half-marathon in November. I'm finding that I prefer the longer training runs, so who knows what my answer will be a year from now!
What running/racing accomplishment are you most proud of?
Last weekend I participated in my very first mud run. I was so nervous, but it turned out to be one of the most amazing experiences of my life! I crawled through mud and tunnels and climbed over cargo nets and walls. Never in a million years did I think I could do any of those things, and I did them all with a huge smile on my face. It was the most empowering (and messiest) run I've ever done!
What is the hardest challenge you have had to overcome? How did you do it?
My weight loss has been a life-long struggle. I honestly don't remember a time when I wasn't overweight. It finally got to a point where I felt like I was no longer in control of my own life. I wasn't happy, and I was missing out on so many amazing people and experiences because I felt I was too fat to enjoy them. The only thing holding me back was me. I set my sights on small goals that I happily began to accomplish and as my insecurities fell away, so did the pounds. Though I'm still a work in progress, I'm extremely proud of how far I've come. My transformation has been just as much mental as it has been physical. Change your attitude and you can change your life!
What advice would you give to someone who wants to start running or who thinks they can't do it?
I get asked this a lot. People love to tell me how much they hate running, and they wonder how I do it. Guess what? At first, I hated it too. I began running indoors on a treadmill. I would plod along watching that blinking cursor like a hawk. It seemed the harder I stared at it, the slower it would move. One day, I told myself to go outside and run – to try something new and see what it felt like. That day was a revelation for me. I felt liberated and haven't looked back since. So my advice is: Give running a try. Do it for a few weeks and see if it grows on you. If you love it, great. If not? That's ok too. Because your passion is still out there waiting to be discovered.
What is your running mantra(s)?
"Don't give up!" or "Just keep going!" Sometimes if I feel like taking a break or stopping altogether, I'll make a deal with myself: Get to the next street light and see how you feel. It works for me.
What running gear do you never run without?
I use my Polar FT7 Heart Rate Monitor for every workout. It calculates my calories burned, my heart rate and the length of my workout. I also enjoy running with my iPhone and its multitude of running apps (my current favorite is RunKeeper). I'm a big fan of Brooks running shoes. I own 4 pairs, most notably the Adrenaline GTS 11. Inside those shoes I use Spenco Total Support For Her insoles. I credit both for saving my feet from plantar fasciitis.
What keeps you hydrated and fueled the best (us runners are always looking for the best tips and secrets on nutrition!)?
My longest run to-date is about 10 miles, so I'm still experimenting with running fuel. Of course water is a staple, but on longer runs I've recently been enjoying Nuun Hydration – specifically the Citrus Fruit and Strawberry Lemonade flavors. The tablets are easy to carry and only mildly fizzy (I don't like carbonated drinks). And most importantly, they're easy on my stomach. I am also a very big fan of the GU Chomps. They're almost like oversized fruit snacks but with enough energy to give me a little kick during longer runs.
What's on your iPod right now?
I have the most random taste in music, but when I run I love something with a strong beat. I like to download mashups, which are two or more songs mixed by a DJ to create one awesome tune. It gives a fresh spin to some of the songs I love but that tend to get overplayed on the radio. One of my current favorites is "Dancing Fat Bottomed Girls" by Marc Johnce, which is a mashup between Queen and Scissor Sisters.
What are you most passionate about? What inspires you the most in life?
It might sound silly, but my inspiration is my past. I want to enjoy every little thing that I was too afraid to experience back then. I once refused to walk or run outside for fear people would judge me. Now I run without abandon. I went from hiding amongst the walls in Zumba class to becoming what the teacher calls a "front row diva." My passion is my life, and I hope it will be a long, healthy one.
What is one thing most people would be surprised to know about you?
I can count on 1 hand how many cups of coffee I drink in an entire year!
What are your 3 favorite running blogs or Web sites?
Mile-Posts.com
CherieRunsThis.com
Dailymile.com
What else should we know about you?
I have a secret desire to play women's or co-ed ice hockey.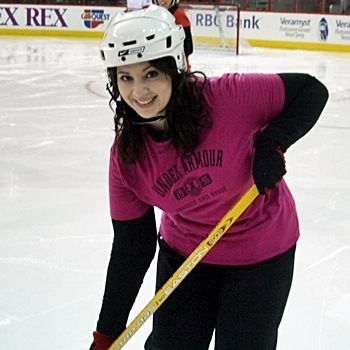 How can people connect with you?
Blog: http://runbangrun.blogspot.com
Twitter: @runbangrun
Daily Mile: http://dailymile.com/people/runbangrun
MyFitnessPal: http://www.myfitnesspal.com/runbangrun
Thank you Monica, I mean Bang, for sharing your story with us! Your weight-loss and running journey is rock-star awesome. If you or someone you know would be a great candidate for Friday FITspiration, email me at runladylike@gmail.com.
What inspires you most about Monica's story? One of her mantras is "Just keep going." How do you stay motivated to push through a tough run or workout?