There's A First Time for Everything
September 4, 2012
My Labor Day weekend was full of first-time experiences. Four firsts to be exact. During the course of 7 hours of training that covered 70 miles, I found myself up at the crack of dawn, had a run-in with an angry insect, got my hands dirty (like, really dirty) and dressed up like a trainer at SeaWorld. Ah, the joys of preparing for a half Ironman. (T-minus 26 days until Augusta 70.3, but who's really counting?)
Here's what I did for the first time this past weekend and what I learned along the way …
First #1: I spent my entire holiday weekend in spandex.
Or so it seemed. I put in 7 hours of training between Saturday and Sunday in preparation for the ESi 70.3 Augusta Half Ironman and Marine Corp Marathon, which is an all-time high for me (especially on a holiday weekend).
On Saturday morning I ran 16 miles with my training group. It was 80 degrees and 91 percent humidity, so it wasn't exactly a walk in the park. I concentrated on keeping my pace slow/steady and hydrating and fueling properly. The conditions left me feeling pretty sluggish, but I ran the majority of my miles between an 8:55 and 9:15 pace.
Sunday morning started with a 52-mile bike ride through the farmlands of Cartersville, Georgia. There were lots of rolling hills, and of course, humidity. It rained for the first 30 minutes of the ride before the sun came out. I was really focusing on eating and drinking enough during the bike – about 80-100 calories every 25-30 minutes. I consumed 800 calories worth of Honey Stinger Vanilla Waffles and Gold gels during my 3 hours and 15 minutes on the bike. And I thought my crotch might fall off afterward as it was (and still is) sore from the ride. After the bike, we swam a mile in a nearby lake.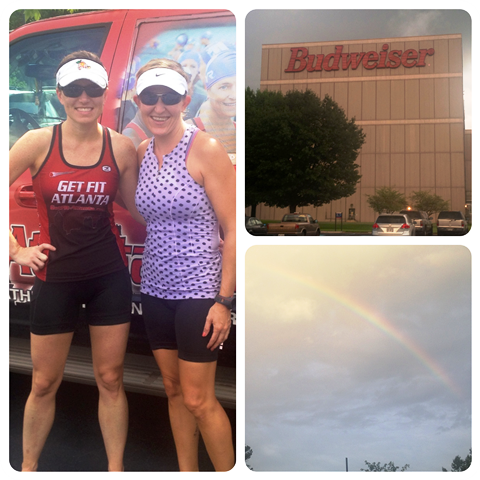 So what kernels of wisdom did I learn from 7 hours swimming, biking and running on a holiday weekend?
I need to consume more calories in the later stages of my longs runs. I do great for the first 10 miles, and then I fall off the fueling schedule a bit. My goal is to take in 150 calories per hour of Sweedish Fish on the run, in addition to drinking Nuun.
We can't control the weather conditions. If I find myself in a race that is as hot and humid as some of my training runs, I will have to adjust my race expectations and goals. And I'm ok with that.
I need to get more time on the bike and really focus on cycling during the next 3 weeks so I am as race-ready (and crotch-ready) as possible. I may need an ass transplant when this is all said and done.
I am extremely cautious on my bike when it's raining and the roads are wet, and I will continue to be. There's no sense in putting yourself in a dangerous situation that could lead to a crash just to up the pace.
I want to experiment with "real" food on the bike. Next week I'm going to try eating potatoes and peanut butter-filled pretzels while on the bike to see if I can tell a difference in the way my body feels.
First #2: I was attacked by a killer hornet going 16 mph.
Ok, I think it might have been a yellow jacket, but since I never actually saw the thing I think a killer hornet sounds a little more hard core *wink.* At mile 29 of Sunday's ride, I suddenly felt like a needle was being inserted into my left upper thigh (way up on the thigh). I began to shout out to my training partners and we stopped to see what was going on … after I momentarily panicked that the stinging culprit might still be in my bike shorts. A fellow cyclist gave me an alcohol pad, and another gave me some Crest toothpaste to rub on the sting (who knew!?!). I also put some ice in my shorts to stop the swelling. I never saw the little guy, but I imagine he flew under my seat and stung me through my shorts. I made it through the rest of the ride and swim with no problem, but the last 2 days have kind of been torture thanks to my little hornet friend. Half of my hamstring is red and swollen … and it is itching like CRAZY!!! Apparently, the sting should last 48 to 72 hours, so I'm hoping I'm on the home stretch with this thing.
So what did I learn from this first-time experience?
Take some small first-aid supplies with you on any long workout (run or bike) in case you find yourself with an unexpected injury – be it a bee sting or a fall. I'm going to put an alcohol wipe and a mini packet of antibacterial ointment in my bike pouch along with my other tools.
I'm not allergic to bees – or hornets or yellow jackets or [insert other kind of stinging bumble-bee-like creature here]. But that doesn't mean my leg doesn't look like an archery target.
First #3: I am no longer a wetsuit virgin.
That's right. I put on and swam in a wetsuit for the first time on Sunday. It took an army (ok, 2 people) to get it on me, and I only mildly had thoughts of feeling constricted and claustrophobic. I swam about 200 meters in it. I will spare you the visual of what I would look like as a dolphin trainer.
So what did I learn from this first-time experience?
I want to get a full 1.2-mile swim in with the wetsuit on before my half Ironman at the end of the month.
Lube, lube and lube some more! To swim in a wet suit, Aquaphor will be your best friend on your neck and armpit areas.
I vacillated between wanting to rip the suit off while swimming and trying to stay calm. I'm going to continue shooting for the latter. It is really weird not being able to feel the water on your skin where the wetsuit is covering.
Here's a great video to learn how to put a wetsuit on.
First #4: I (finally) learned how to change a flat tire.
This one is embarrassing. From my post about my 2012 race goals, you know I've been cycling for a number of years and still didn't know how to change a flat tire on my bike. One of my goals for this year was to take a bike maintenance class. Well, I can check that off my list because I successfully changed the back tire on my bike on Sunday! After my group ride and swim, one of our coaches held a fix-a-flat clinic for us where he demonstrated step by step how to change a flat tire and then had me try by myself. Success!
So what are the key take-aways from this first-time experience?
I am going to practice at home changing both my tires several times so I am ready and proficient should this happen on race day.
If this happens during the race, I'm going to have to try to avoid wiping sweat off my face with my hands or else look like I have war paint on my cheeks and forehead from the bike grease.
I need to carry more than 1 extra tube and CO2 cartridge during the bike.
If all those firsts weren't enough, I have one more first happening this upcoming Sunday. I'm going to Augusta to ride the entire bike course and then do a short brick on the run course with my training group. I'm looking forward to riding the course, seeing where the transition areas will be and getting familiar and comfortable with what will be my FIRST half Ironman. September 30, 2012, here I come.
Have you ever done a half Ironman? If so, what tips would you share for having a successful race? What first-time experiences have you had recently while training?