Happy National Banana Bread Day
February 23, 2013
It is widely known that I am obsessed with bananas. I L-O-V-E them (and anything flavored with banana too)! Thankfully, bananas and running are like soul mates. They just go together. In honor of National Banana Bread Day (yes, today really is the national celebration of all things banana bread), I want to share with you a banana bread recipe I am loving right now. 
Many of you know I've been eating a (mostly) paleo diet this year, and these banana bread muffins happen to be paleo. That means they don't contain any gluten, sugar or dairy. Now, before you jump ship because you don't think banana bread could possibly be good without those things, try this recipe I found from Perfect Couple. It is amazing! I'll be making a batch after my 10-mile run today.
National Banana Bread Day Paleo Banana Muffins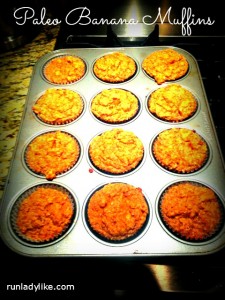 Ingredients:
4 ripe bananas (Use really, really ripe ones to ensure the muffins are sweet enough. If they aren't ripe enough, they won't turn out correctly. If your bananas are black, that is completely fine.)
4 eggs
6 tablespoons coconut oil (I actually prefer to use 5 tablespoons of coconut oil and 1 tablespoon of raw/pure honey.)
1/2 cup coconut flour
1/2 cup almond flour
1 tablespoon cinnamon
1 teaspoon baking soda
1 teaspoon baking powder
1 teaspoon vanilla
Pinch of sea salt
Baking Directions:
Preheat your oven to 350 degrees F.
In a large bowl, blend the eggs, bananas and coconut oil.
Add the flours, cinnamon, baking soda, baking powder, vanilla and sea salt. Blend well.
Line a 12-cup muffin pan* with baking cups. If you aren't using the cups, grease the pan with a little coconut oil.
Spoon your batter into the muffin cups.
Bake for 25 to 30 minutes or until a toothpick inserted into the center comes out clean. Don't overbake! When they first come out of the oven, you will notice that the bottoms of the muffin cups will seem oily. This is simply from the coconut oil. Once they cool completely they will dry.
*If you want to make banana bread in a loaf, use a 9×5 baking pan and extend the baking time to approximately 50 minutes.
Nutrition Info from Perfect Couple (1 muffin):
Recipe serves 12
Calories: 173
Carbs: 14 g
Fiber: 3 g
Fat: 12 g
Protein: 5 g
Sugars: 6 g
Want a more decadent, non-paleo banana bread recipe to try? Head on over to Sally's Baking Addiction for some incredible options. Today she's featuring Caramel Swirl Chocolate Chip Banana Bread. *drooling!*
According to punchbowl.com, bananas arrived in the United States in the 1870s. "The first cookbooks that mentioned banana bread were published during the Great Depression. Culinary historians believe that a resourceful housewife who did not want to throw away over-ripe bananas may have invented the original recipe."
Join me in celebrating National Banana Bread Day … and one of running's favorite fruits … by trying this recipe or your favorite banana bread treat. And go for a run!
Do you have a favorite banana bread or banana recipe? If so, post it in the comments. If you try my favorite paleo banana muffins, let me know what you think!