Summer Running Playlist to Help You Run Happy
July 31, 2013
Do the heat, humidity and summer sun have you dragging your feet on your runs? In addition to staying hydrated, keeping your core body temperature down and adjusting your pacing goals, consider updating your summer running playlist with some tunes that will keep you motivated and help you run happy.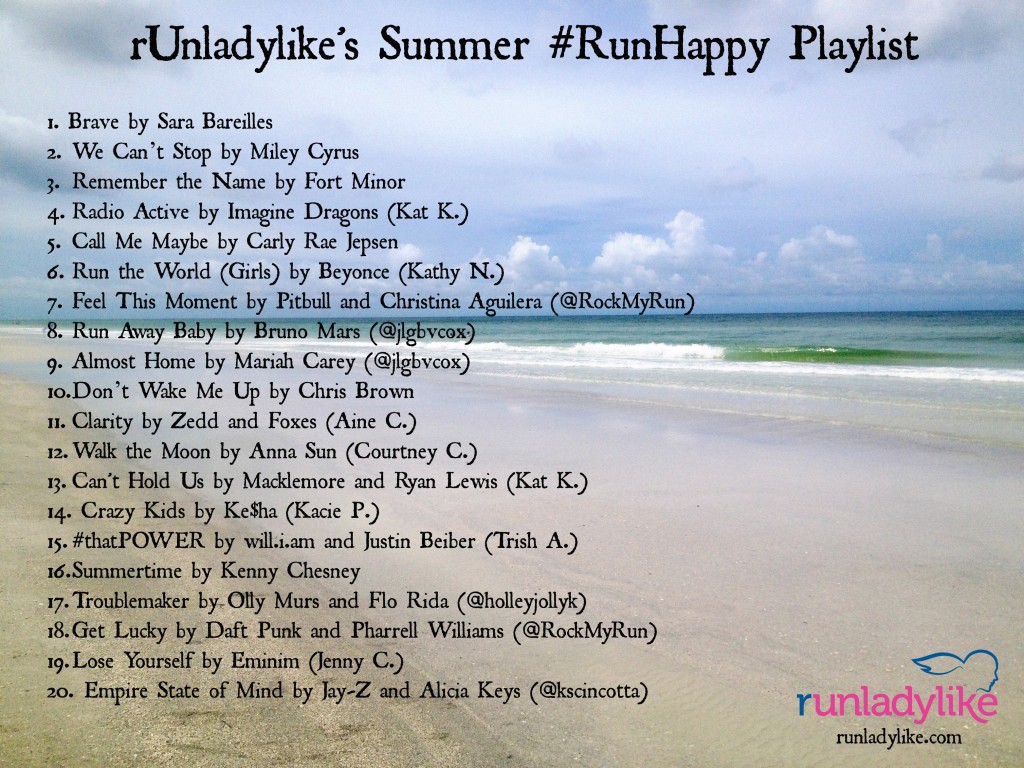 You can find my summer Run Happy playlist on Spotify.
Brave by Sara Bareilles
We Can't Stop by Miley Cyrus
Remember the Name by Fort Minor
Radio Active by Imagine Dragons ( nominated by Kat K.)
Call Me Maybe by Carly Rae Jepsen
Run the World (Girls) by Beyonce (nominated by Kathy N.)
Feel This Moment by Pitbull and Christina Aguilera (nominated by @RockMyRun)
Run Away Baby by Bruno Mars (nominated by @jlgbvcox)
Almost Home by Mariah Carey (nominated by @jlgbvcox)
Don't Wake Me Up by Chris Brown
Clarity by Zedd and Foxes (nominated by Aine C.)
Anna Sun by Walk the Moon (nominated by Courtney C.)
Can't Hold Us by Macklemore and Ryan Lewis (nominated by Kat K.)
Crazy Kids by Ke$ha (nominated by Kacie P.)
#thatPOWER by will.i.am and Justin Beiber (nominated by Trish A.)
Summertime by Kenny Chesney
Troublemaker by Olly Murs and Flo Rida (nominated by @holleyjollyk)
Get Lucky by Daft Punk and Pharrell Williams (nominated by @RockMyRun)
Lose Yourself by Eminim (nominated by Jenny C.)
Empire State of Mind by Jay-Z and Alicia Keys (nominated by @kscincotta)
Thanks to everyone who contributed to this summer Run Happy playlist. Brooks Running is looking for the ultimate Run Happy playlist and may pick 2 to 3 songs from this list. Keep your eyes peeled on my Facebook page and on Twitter to see if your favorite song gets selected!
I am a Brooks Run Happy Ambassador. I receive compensation and free Brooks products to test. The thoughts and opinions I express about Brooks and their products are my own and always will be.
What are your favorite go-to songs that make you run happy? Link up your favorite Spotify running playlists in the comments.