Friday FITspiration: The Road to the Olympic Marathon Trials
February 7, 2014
Here at runladylike.com, Fridays are all about sharing the inspiring stories of fit people who motivate all of us to be better tomorrow than we were yesterday. My Friday FITspiration series profiles runners, triathletes and casual exercisers who are making choices every day to be as healthy as they can be – in both huge ways and through simple, small victories. Their stories are about the journey of transforming from ordinary to extraordinary each and every day.
Today, I'm excited to introduce you to an amazing runner and someone who inspires me through her determination, mental focus, speed and discipline. Katie Edwards from MsFitRunner is a mom, wife and business owner from Connecticut whose view on health completely changed after she was diagnosed with melanoma while pregnant with her second child. She was reminded how precious life truly is and also discovered her passion for running.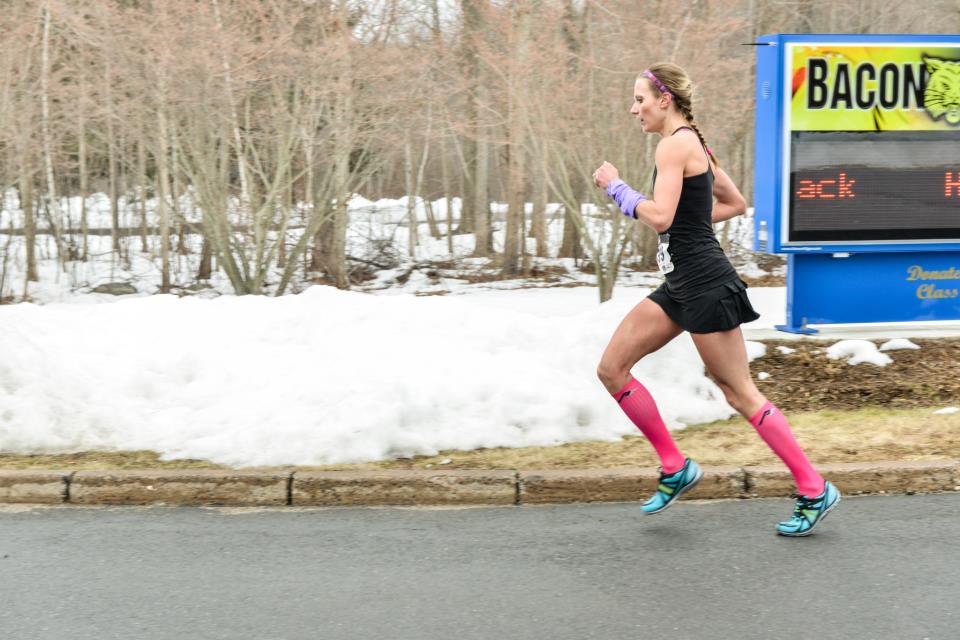 Today, Katie is chasing her dream to run the marathon at the 2016 Olympic trials while juggling a never-ending schedule. I had the chance to chat with Katie and find out how she does it, what tips she has for other runners, her advice for staying motivated when she feels like quitting and what it felt like to cross the finish line last fall with her new marathon PR of 2:48.
This is Katie's story.
You discovered running later in life. What inspired you to start running and when did you know it was something special to you?
I don't know exactly what inspired me to start running. I was always a cardio junkie at the gym. I would exercise on the elliptical and stair master, but never ran. I ran my first marathon in 2008 and then pretty much hung up my running shoes for a good 3 years. It just didn't click. I did not enjoy it. My husband started running ultra marathons, and I paced him for the last 30 miles of his VT100 trail race. It was an amazing experience. I wanted to do an ultra. Long story short, I wasn't able to do the 50-miler I wanted to do, so I thought I might as well run a marathon. I registered a few weeks before the race. I wasn't really trained for a marathon, but I felt the need to do something. I ran my second marathon in 2011 and finished in 3:17. It was miserable, and I swore I would NEVER ever run another marathon. But, something inside wouldn't let go. I knew I could do better than what I had just run. Maybe it's my competitive nature or my need to always better myself, but I signed up for another marathon 4 weeks later. I ran a 6-minute PR with a 3:11. I was hooked. I fell in love with running. I wanted to run a sub-3-hour marathon. One year later, I ran a 2:57 … and the rest is history.  
What do you wish you knew about running when you first started that you know now?
I wish I knew that patience and rest/recovery are the keys to staying a strong, healthy runner. You can't rush it. Easy days are just as important – if not more important – than the hard workout days. It's all about balance. You have to find it and embrace it. Running relates to life in so many ways. I also wish I knew how important all of the supplemental activities are, like core work and strength training. Those things are necessary for running health.
Last fall, you ran a marathon personal best of 2:48 at the Hartford Marathon. Can you describe what that moment was like crossing the finish line?
That was a crazy moment. It was a bit surreal. In thinking and reading about people who have run a 2:48, my jaw is usually on the floor … and then I did it. As excited as I was, I found myself surprisingly unemotional at the finish. I think that's because I always know I have more in me. I really thought I would cry when I crossed that finish line. But I didn't. Because I knew I wasn't finished. It was a good effort in the right direction. That marathon was a stepping stone toward my big goal of getting an Olympic trials qualifying time. I still get a huge grin on my face when I think about that day. It was picture perfect. I had accomplished something big that I had worked hard for. At the same time, I knew I wasn't done yet. It was nice to feel as fresh as I felt at the end of that race. I was very objective at the finish. I ran a good race and was ready to keep training for the next. I am really proud of that day.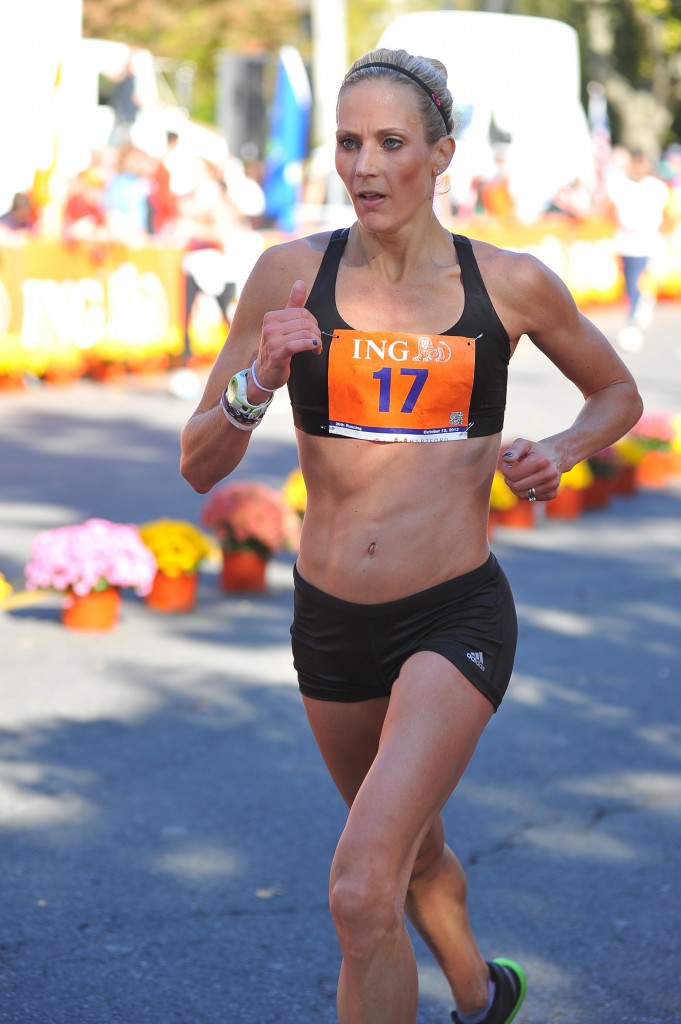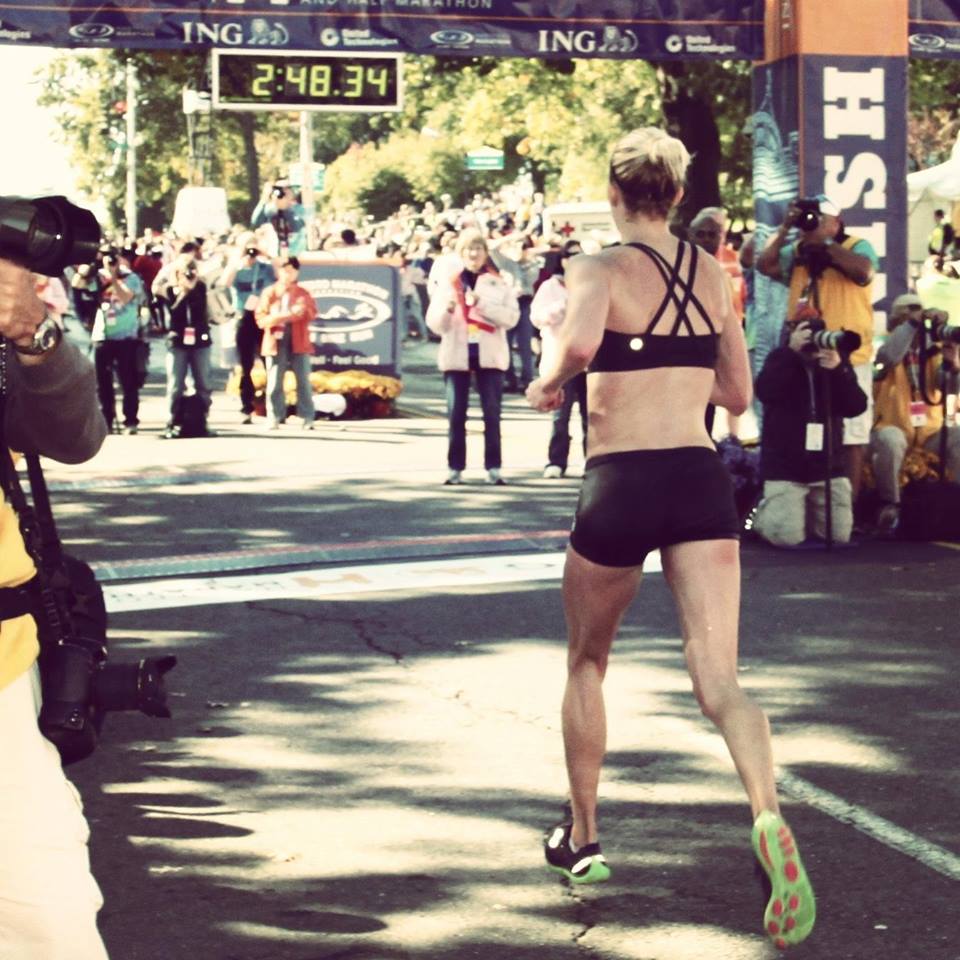 What do you do to stay focused during the dark moments of a training run or race when you feel like quitting?
I have to stay in the mile, stay in the moment. The second my mind wanders past the moment I am in, it's over. Long tempo runs are the worst for this. Staying in the moment I am in really helps. Thinking about past workouts that I've run well, also helps. Consistent training gives you a small arsenal of confidence to get through hard workouts and races. You have those successful workouts to look back on that make you think, "I know I can do this, so just do it." I also tell myself that there is always more strength and speed there than my body thinks it has – dig deep and use it. I have to remind myself that I am working for something hard, so it won't be easy to get there.
You have set a big goal to qualify to run the marathon at the 2016 Olympic trials. What advice would you give to runners who think their big goals feel impossible?
Big goals are so fun and important, but it's also good to set smaller goals along the way to get to the big ones. Those smaller goals keep the confidence up and make the big goal not seem too distant. I set my Olympic qualifying time marathon goal when I had barely broken 3 hours. It seemed like a lot of time to take off, and it is. Instead of thinking about the 15+ minutes I had to shave off, I broke it down into smaller, more short-term goals, like break 2:55, then 2:50, etc. I just happened to have a phenomenal training cycle with a great coach, and it jumped me right down under 2:49 on the first shot. Set goals and be patient. Think of that goal often and let it define the decisions you make. If your BIG goal or dream didn't feel tough or impossible, than it's not big enough. I have a firm belief that you can always do more than what you set your mind to. Work hard.
You are a working mom of 3 adorable kids between the ages of 7 and 4. What is your secret for balancing your intense training with being a mom and all the other commitments in your life?
My secret is adding more hours in the day. I get up very early to train. I have always tried to make my running and working out non-invasive to family life. Once my kids are up – and they are early risers – it's all about them until they go to bed. Then, it's all about getting my house put back together and folding laundry! As tough as 4:15 a.m. is to get moving, it's my time – my only time of the day when it's just me. There is an endless amount of housework and an endless amount of time and energy that goes into raising 3 kids, so I've got to get my stuff out of the way before they need me. I usually have to pep talk myself in the mornings, a "now or never" type talk. Once I'm up and going, I'm a happy person. I know I function better when my day starts that way, as tough as it is sometimes to get going. I have to make time for myself, and that morning time is my time that keeps me sane and happy. I also think it's important to realize that there are sacrifices that come with that. I don't stay up late and watch TV. I am always maximizing my time and multitasking, never a dull moment.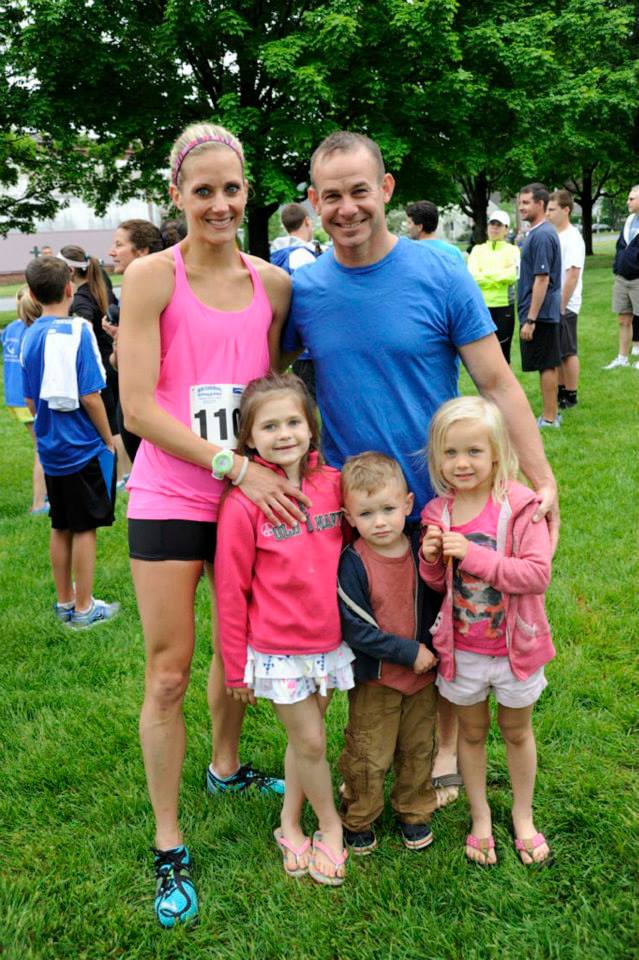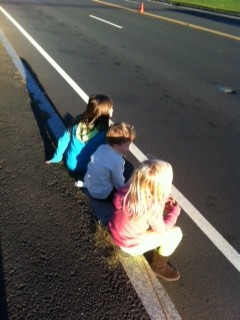 What is your running mantra(s)?
One of my oldest running mantras is "I can do all things through Christ who strengthens me." I rely on some bible verses to get me through tough parts of races. I also have one that I can get into a rhythm with: "I feel strong. I am strong. Run strong." I can repeat that over and over and get into a zone. I have found that I don't use mantras as much as I used to. I like to think about people or loved ones who have supported me which helps a lot. For my last marathon, I got my nails done and had one sparkly nail painted on each hand as a visual cue for when it got hard at the end to "sparkle and shine and stay strong." It really does work. I smiled to the end, never faded and ran a negative split marathon for the first time.
From a nutrition perspective, what have you found that works best for you before, during and after a race?
Nutrition can get so complicated. In a nutshell, what works best for me is the simpler the better. On a daily basis, I eat a ton of veggies and not a whole lot of processed anything. I do not have a gluten allergy, but I do have Hashimoto's Thyroid and really try to stay away from gluten, wheat and refined sugar products. But, that is more because it's all processed and I don't want that in my body. As far as racing nutrition, I don't do anything special for any race other than a marathon. For a marathon, I actually cut out a lot of veggies a few days before because of the higher fiber content. I recently found Generation UCAN and I will use that again. I loved it. I don't go crazy carb loading. I don't fuel during training for long runs. I use energy gels for the most part during a marathon and drink whatever they are offering on the course. I am a big believer in getting healthy fats, especially for women who train hard. Avocados and walnuts are two staples in my home. I really just try to maximize my nutrition and make it work for me, because it plays a huge role in my success as a runner. It refuels me, lets my body recover properly and gets me running again.
I am currently going through my marathon coaching certification. As someone who is also a certified running coach and has a personal coach, what role do you think having a coach plays in your running success?
My running coach has been priceless. He trains me similar to how I would normally train, but having someone put the plan together for me and give me the guidelines takes away a lot of the second guessing: Did I do enough? Run hard enough? Fast enough? Slow enough? Long enough? None of that. I get my plan and I stick to it. There is the accountability aspect as well. I don't want to disappoint. I started with Mark Hadley one year ago as part of his Marathon Trials Project and it has been really great. He's very knowledgeable, and that is a big plus.
Finish this sentence: I run because _______________________.
I run because it makes me feel alive, capable and strong. I am my best self when I am running.
What are your 3 favorite running blogs or Web sites?
Kris Lawrence: We have the same coach and she is a mom of 3.  
Arkansas Runner Mom: She is a mom of 4 and just recently broke 3 hours in the marathon. She works hard.
Ariana Hilborn: Ariana is super fast, but I feel like I can relate because she didn't have a long history or background in running before she got going. It gives me hope.
How can people connect with you?
Do you or someone you know have a FITspiring story to share? If so, email me at runladylike@gmail.com to be considered for Friday FITspriation.
What inspires you most about Katie's story? Katie gets all her workouts in early in the morning. Are you an early riser or do you struggle to get up early? What are your secrets for NOT hitting the snooze button to make sure you get your workouts in?