Friday FITspiration: Running 100 Miles
February 21, 2014
Here at runladylike.com, Fridays are all about sharing the inspiring stories of fit people who motivate all of us to be better tomorrow than we were yesterday. My Friday FITspiration series profiles runners, triathletes and casual exercisers who are making choices every day to be as healthy as they can be – in both huge ways and through simple, small victories. Their stories are about the journey of transforming from ordinary to extraordinary each and every day.
Have you ever wondered what it's like to run an ultra-marathon? How about 100 miles? My friends Erica and Julie just completed their first 100-mile trail race at the Rocky Raccoon 100 in Huntsville, Texas (and survived to tell us about it). Julie is a pilot for Delta while Erica is studying accounting and working at a CPA firm. Somehow, they managed to fit in training and are sharing how they did it, what they ate, how they felt after the race and how they kept going when they felt like quitting. If you're considering an ultra-trail race or 100-miler or just want to know how on Earth running that far is possible, these inspiring ladies are telling us everything we need to know.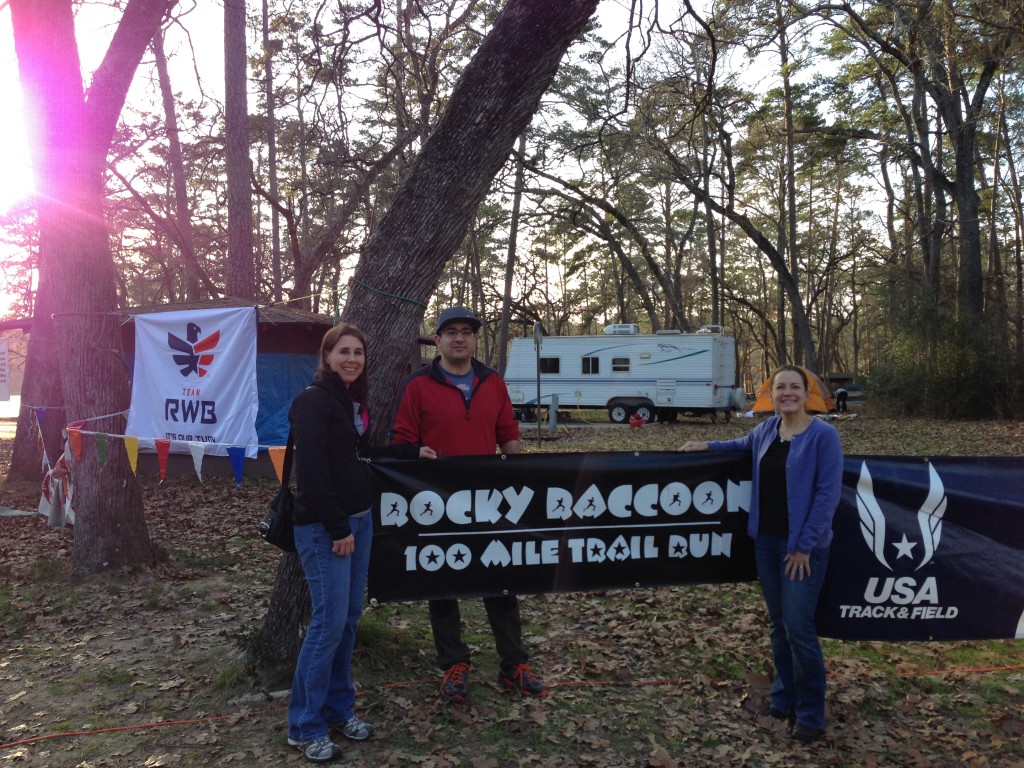 rUnladylike: How long have you been running and what inspired you to start?
Erica: I ran track in high school and have always been a recreational runner. Taking running more seriously began in 2003 when I placed 3rd in my age group in a 10K race that I entered on a whim. Running is also a social activity for me.
Julie: I've been running for about 12 years. When I turned 30, both of my parents were diagnosed with type II diabetes, and I could see that I might be heading down that same road based on my eating habits and lack of exercise. I started to work out and when I went to the gym I could see that running gave me the "biggest bang for my buck." I didn't really enjoy running at that point. I ran on a treadmill and it became a challenge to see how much farther I could push myself each week. I started running 2 minutes at a time and then walking, building up to 10 minutes running and a walk break. I did that for quite a while. I still remember the first time I ran for a whole hour on the treadmill and how proud I was. Since I live near a paved running trail, I decided to start running outside. I built up to around an hour of consistent running. At this point, I started to get bored and decided I needed to find running partners. I joined a local running group to have someone to run with, but since they were a marathon training group, I figured I might as well sign up for a marathon! I ran my first marathon in 2006 and fell in love with running and my running group. Things have snowballed from there. One marathon a year became two and then four. And the rest is history!
rUnladylike: You just ran your first 100-mile race at the Rocky Raccoon 100. Congratulations! What inspired you to start training and sign up for such a long distance?
Erica: Julie wanted to start running longer distances, so it's her fault. We've done more than 25 marathons and wanted to try something different. We started training for our first ultra-race 3 years ago. Last fall, we completed the JFK 50 Miler and survived, so we thought, "What the heck, let's try a 100-miler." We weren't sure we could finish it but we wanted to give it a try. You have to set goals and be brave enough to take the chance.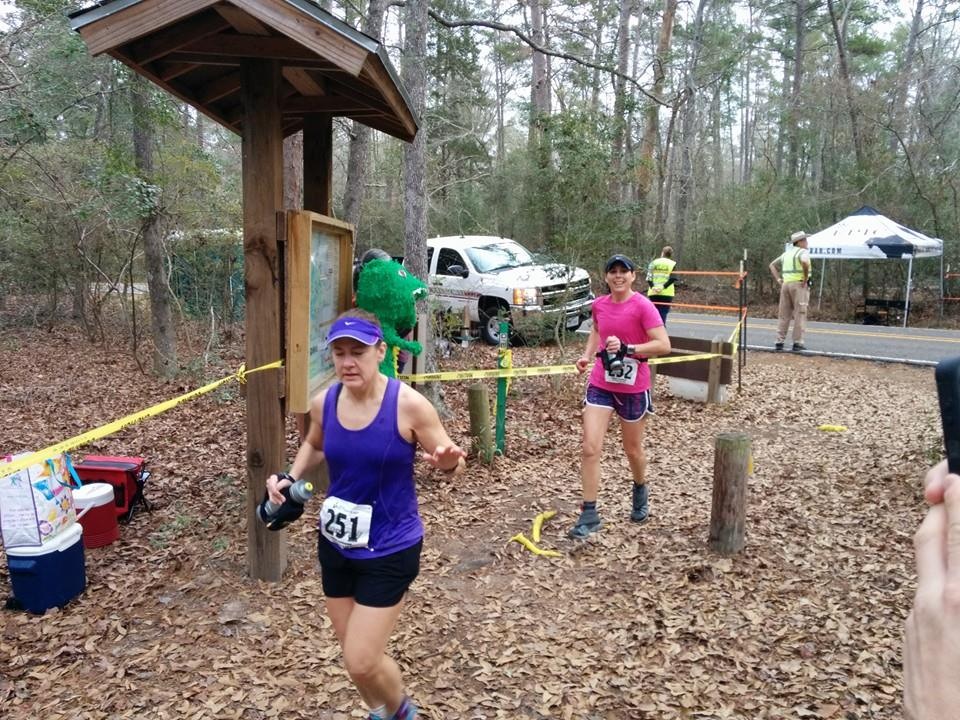 rUnladylike: What did your workout weeks look like? Did you do any strength or cross training workouts to keep your knees and hips strong? (Question from @OneLittleBecca)
Erica: I thought since I was back in college full-time that I would have plenty of free time to train. I was wrong. It was a struggle to complete my mid-week runs. Typically, we had 3 weeks of building up mileage and a week of fallback. 40 miles a week was the minimum on our schedule, with 80 as the max in late December. I never reached 80. Our Saturday and Sunday runs totaled 35 to 60 miles. Our schedule called for about 20 miles during the weekdays. I did Crossfit 3 mornings a week. This helped strengthen my glutes, core and hamstrings, which are all my weak areas. Occasionally, I was too sore from Crossfit to run, so that caused me to panic. My goal was not to injure myself with either running or Crossfit, so I erred on the side of doing less instead of doing more.
Julie: We spent all of 2013 training for the 100-miler, including completing 4 marathons, 2 50Ks and 1 100K as "training runs." Mostly, our training consisted of back-to-back long runs. We ran on Saturdays with our running group on the road and then ran on Sundays on local trails. As Erica mentioned, Crossfit also helped make us stronger.
rUnladylike: What did you use to stay fueled? What did you find worked and didn't work? (Question from @jenny_cox)
Erica: For our training runs, I used E-gel, GU and peanut butter and jelly sandwiches. For races, I tend to eat the real food at the aid stations. During a race, calorie intake is crucial so you tend to eat whatever you can force down. For me, I need to eat 150 calories an hour. For the 100-miler, I ate grilled cheese, cheese quesadillas, Raman noodles with chicken broth, salted potatoes and oranges. I did take several E-gels and GUs as well.
Julie: For training runs, I used the same stuff I use during marathons: GUs, sports beans and Shot Bloks. For ultra-races, I ate "real food" at the aid stations, including peanut butter sandwiches, fruit, grilled cheese and boiled potatoes rolled in salt – those taste particularly good when it's hot out and you are sweating! During the 100-miler, I found myself eating a sausage and cheese quesadilla in the middle of the night! I never thought I would eat sausage during a run.
rUnladylike: Was there ever a point where you regretted signing up for the race? (Question from @runbostonbeyond)
Erica: Yes, when my training miles were not meeting my scheduled miles. I really wondered if I could finish the race. We ran a 100K in December as a training run. It was my worst race ever. A bad 10K lasts an hour or two. A bad 100K lasts 18 hours. After completing the Bartram 100K, I seriously doubted I could finish the 100-miler. At the Rocky Raccoon start, I had to tell myself I was going to do my best for as long as I could.
Julie: I never regretted signing up for the race, but there were stretches that I seriously doubted our ability to finish.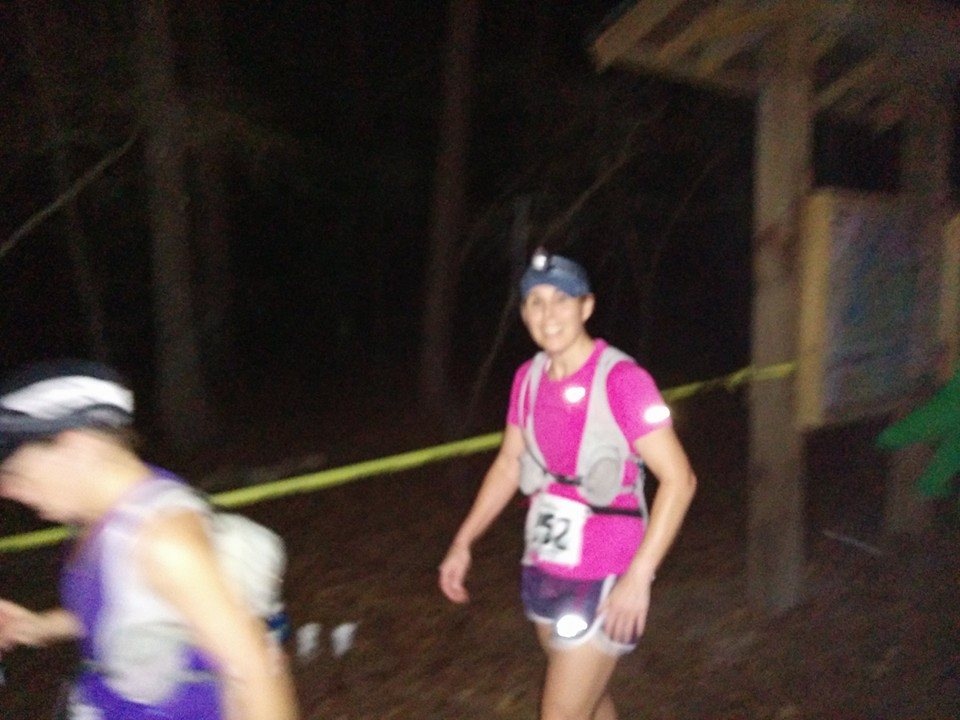 rUnladylike: How did you keep yourself motivated during the nearly 30 hours you were out on the course? What did you do during the darkest moments when you felt like quitting?
Erica: I could not have finished without having Julie and our other training partner out on the course. Having someone run with you or close to you makes you feel accountable to keep going. Singing old songs or talking about experiences from our childhoods keeps our minds occupied while our legs automatically went forward. It must have taken us 4 or 5 miles to remember the words to the Black Crowes songs Remedy and Hard to Handle. It's more difficult to fight the demons in your head telling you to stop when you're alone on the course and it's the middle of the night. Only once did I momentarily think about stopping. It was between miles 66 and 72. I became dizzy and overcome with nausea. The humidity had caught up with me and I wasn't eating enough. I ate a piece of ginger candy and rested for several minutes, then walked for 10 minutes. I forced myself to eat at the next aid station and felt better. Having fresh pacers after mile 60 helped as well.
Julie: Luckily, we had each other during the race. It seemed that everyone hit a low spot at a different time, so someone was always available to encourage the person who was down. The one saying I find to be especially true about ultra-running is: "No matter how good or bad you feel, don't worry, it will change."
rUnladylike: How did your body feel after the race and in the days following? How did it compare to running a marathon?
Erica: My feet were achy and I just wanted to sit down and take off my shoes. The course was sandy so I wanted a shower to get rid of the 28+ hours of grit! I had 4 blisters, my left Achilles was really tight and for 3 days after the race my legs and feet were swollen. I felt better after the 100-miler when compared to my disastrous 100K. I think a marathon is more tiring because you exert much more energy in a shorter amount of time.
Julie: I'm still in the recovery phase right now, but I feel much better that I thought I would. I was pretty stiff for the first 3 days but nothing worse than after a tough marathon. I just think it's lasting longer. I have a blister on my little toe that is slowly healing, but other than that, I feel good.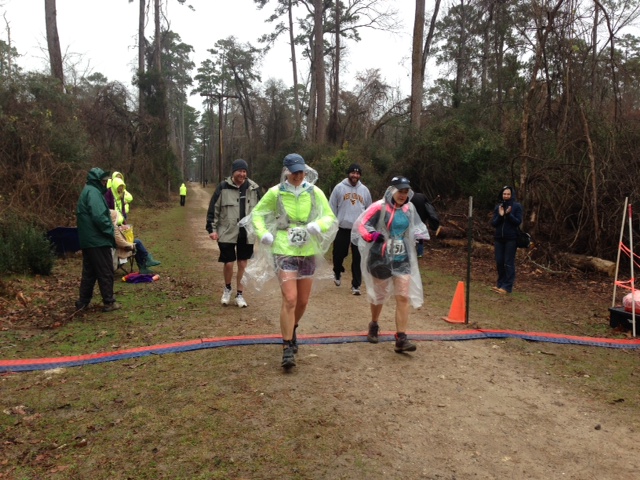 rUnladylike: What advice would you give to someone who is thinking about running an ultra-race?
Erica: The ultra-community is really welcoming. Find an ultra-running group. You really need those guys to learn from their experiences and understand what to do and not do. Take a leap from the marathon – get off the hard road, and go play in the woods. It's wonderful for the soul. We experienced 2 Texas sunrises and that was pretty cool.
rUnladylike: What is your running mantra(s)?
Erica: In trail races and ultras, the roots and the rocks are your external demons, so I keep telling myself to "pick up your feet!"
Julie: I don't have a running mantra.
rUnladylike: Finish this sentence: I run because ___________________.
Erica: I run because running fills me with a complete sense of calm and happiness.
Julie: I run because I've always felt better after a run than before! It's that feeling that keeps me heading out the door and running!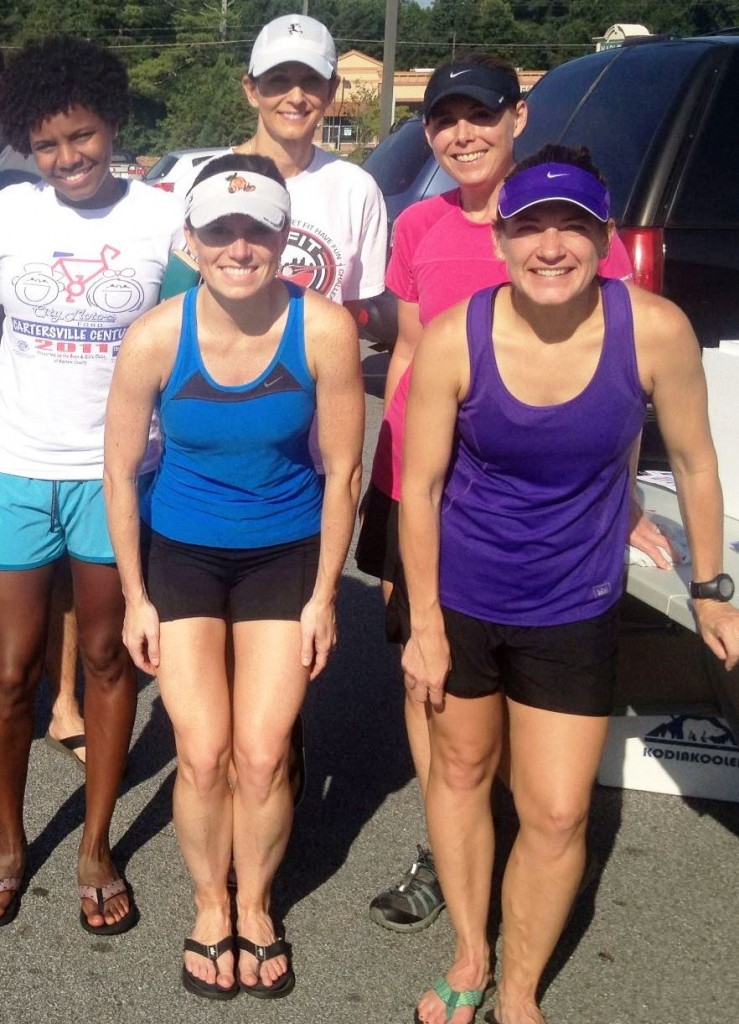 ***
If you or someone you know has an inspiring running, triathlon or fitness story to share, please send me an email at runladylike@gmail.com. I am always looking for everyday athletes to feature on Friday FITspiration.
Looking for some more fitspiration? Here's another ultra runner who has an inspiring story and tips to share.
Have you ever run an ultra-marathon? Do you have any desire to run a 100-mile race? Why or why not?