How to Beat Negative Self-Talk
November 5, 2015
You suck at running. You should just quit. You can't do this. This is too hard. How are you possibly going to finish? There's no way you can make it up this hill. What's wrong with you?
Can you imagine if someone you care about said these kinds of things to you about your running? You would kick them to the curb with a few expletives and the possible use of an infamous middle finger, am I right?
So, why on Earth do so many of us talk to ourselves this way? I'd venture to assume that all of you have said something like this to yourself during a long run or race that was terribly challenging or when you were feeling slow or sluggish. I know I have.
I was talking to a runner this week who has been feeling really down on herself after two bad runs in a row. She has started to let that negative self-talk take over her mental outlook and define what she thinks she can (or shall we say, can't) do during an upcoming race.
Negative self-talk is a dangerous thing. We all know that running is as much about mental strength as it is about physical strength. We have to re-frame that voice in our head, even if we're just tricking ourselves with a mental mind game.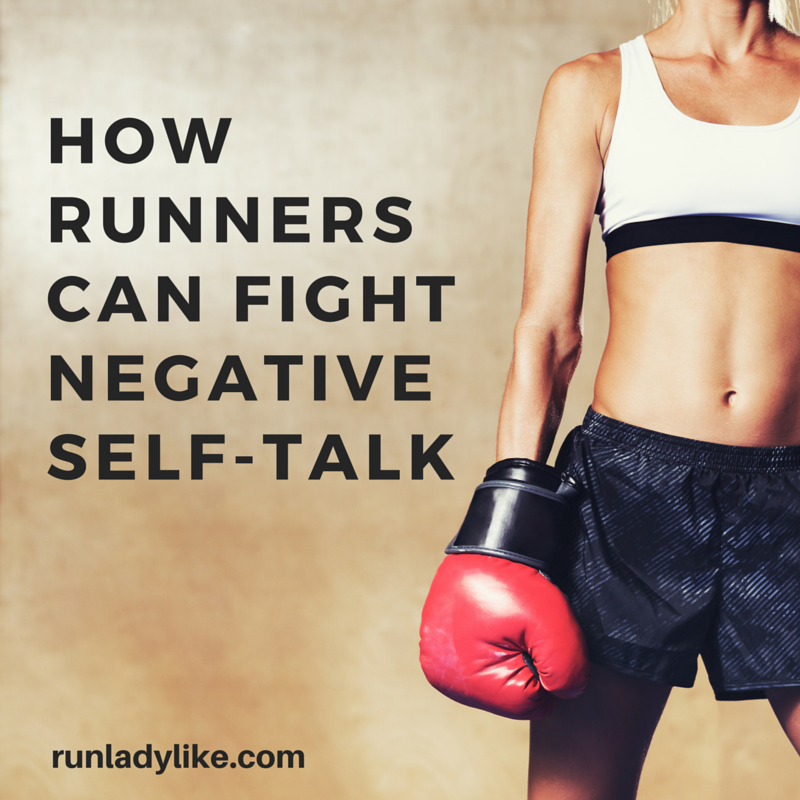 The next time you talk to yourself like someone you would punch in the face if it wasn't you, here are a few alternatives you can say to yourself to beat your negative self-talk.
Instead of … "This is so hard. I don't think I can do it," try …
I am working so hard.
I am challenging myself, and it is going to pay off.
I am earning my ____________. (ex. medal, post-run burger, massage, etc.)
Instead of … "I suck at running. I am so slow," try …
I am getting stronger. This run is making me stronger.
I can do anything I set my mind to.
This is hard but I'm going to conquer it anyway.
What doesn't kill me makes me stronger.
I am working to my full potential.
I am growing as a runner.
Instead of … "I don't know how I'm going to finish this run/race," try …
I can't wait to cross that finish line.
It is going to feel so good when that medal gets draped around my neck.
This is a race/run that is making me stronger.
I am brave. Run brave.
I have more left to give.
In addition to re-framing the way you talk to yourself during a hard run or race, try these strategies to help reduce the negative thinking and mental agony.
Stop looking at your watch. Seeing a pace that disappoints you automatically leads to mental anguish and disappointment. Cover your watch, turn it off or flip it on the inside of your wrist and stop looking at it for the remainder of your run. Focus on your effort and how you feel instead of judging yourself by a number alone.
Give yourself permission to slow down momentarily. Sometimes when we're really struggling, we just need a moment to get through the hard part of the mile before a good one appears. Allow yourself to slow down for a quarter mile or half mile until you regain your composure, steady breathing and mental outlook. You can get back in the game when you're ready while giving yourself a short "break."
Try incorporating some short surges into your run. To beat boredom, heavy legs and your negative mind from going on a complete downward spiral, consider doing several surges of faster running for 15 to 20 seconds at a time. It will provide some variety for your legs while taking your mind off the droning struggle.
What do you tell yourself when negative self-talk and doubt creep into your mind? What is the hardest moment of a run or race you overcame?