Inside My Training Journal: From Thriving to Surviving
February 5, 2018
Running is one of the greatest metaphors for life. Both teach us what we're made of, what we can overcome and what we can survive. Both help us discover we are stronger than we think. Both hand us high highs and low lows. And both require us to quickly pivot and readjust as curve balls and unexpected opportunities are thrown our way.
My first two weeks of official training after nearly a four-year hiatus reminded me how much life and running are intertwined.
Just as some runs feel effortless and others feel like a struggle-fest, every week of training presents different triumphs and tribulations. My first week of training was nearly perfect. I did almost all of my runs in the early morning hours before everyone else in the house was up. My work schedule was manageable and my stress level was relatively low. My second week was the complete opposite. I worked a nearly 60-hour week, which meant late nights so I could spend all my available time with Baby rUnladylike. My husband was out of town for three nights, which meant no leaving the house to meet friends in the morning and instead chaining myself to my treadmill. I squeezed workouts in between meetings around lunch time so I could get more than four hours of sleep each night. I was on fumes at best. Although I managed to complete all my runs and two strength workouts, a same-day trip to Philly and another crazy work day prevented me from successfully accomplishing two prescribed cross-training days from my coach. Week #2 was all about fitting it in rather than leveraging my fitness to set the positive tone for the day.
But that's life … and running. It's all about persistence and perseverance, not about perfection. Here's a peek into what my first two weeks of training looked like. I am building conservatively the first four to eight weeks as I return to consistent weekly mileage and reintroducing speed work. I'll eventually be adding a fifth day of running and increasingly challenging speed and tempo workouts. I also love working with my coach and not having to think about my workouts each day!
Week of January 22
Monday: 4 easy miles on the treadmill (9:15/mile average pace) + foam rolling
Tuesday: 5 miles on the treadmill with 10 x 30-seconds at 6:30-6:40 pace with 60 seconds of easy running between each + 75 minutes of restorative yoga
Wednesday: 45-minute strength training circuit workout at 6:30 a.m.
Thursday: 5.5 mile-run with friends at 5:45 a.m. (8:44/mile average pace)
Friday: 45-minute spin class at 6 a.m.
Saturday: 9.3-mile run with friends at 6 a.m. (8:45/average pace)
Sunday: REST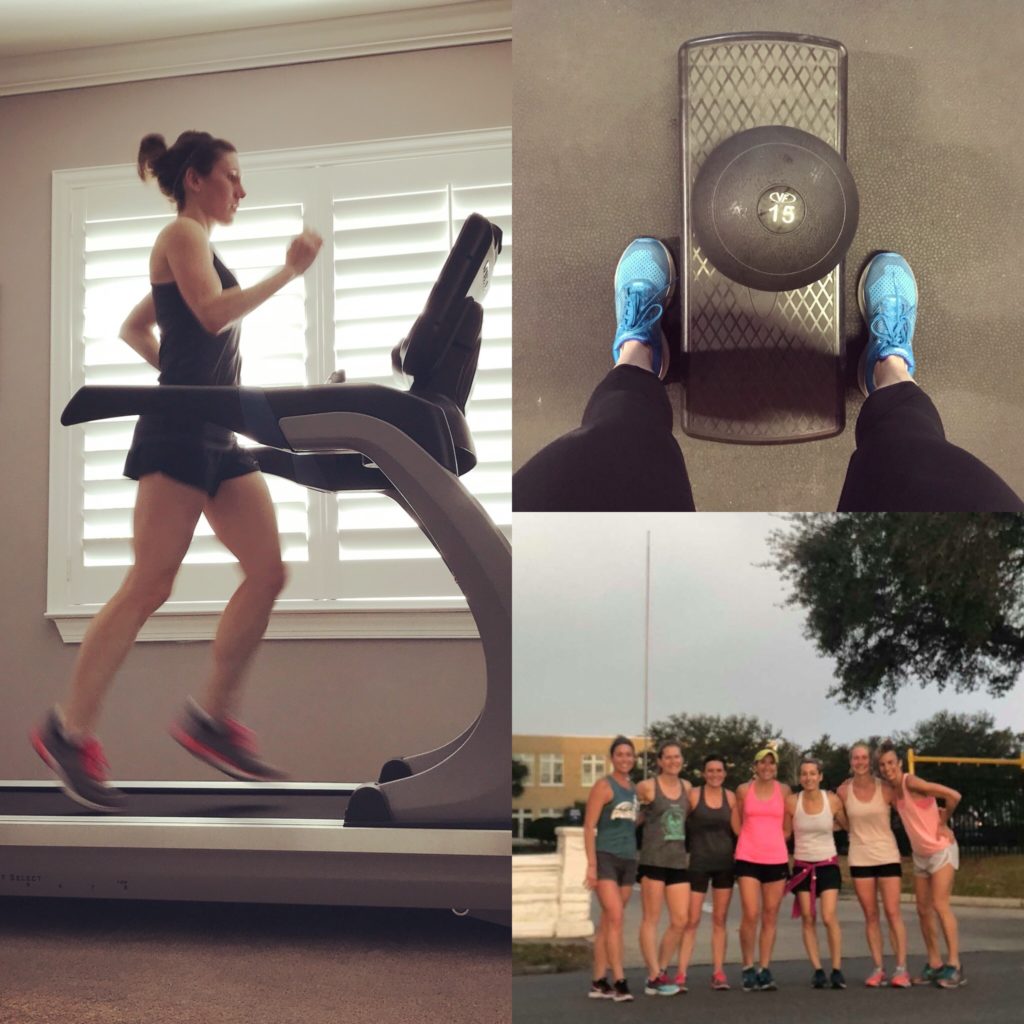 Week of January 29
Monday: N/A
Tuesday: 3 easy miles on the treadmill in the morning after waking up and feeding Baby rUnladylike while she joined me in my home gym in her activity chair (9:00/mile average pace)
Wednesday: 5 miles on the treadmill at lunchtime between meetings with 6 x 2 minutes at 7:05-7:15 pace with 2 minutes of recovery jogging between each + an epsom salt bath in the evening
Thursday: 4 easy miles on the treadmill between meetings at lunchtime (9:15/mile average pace) followed by 15 minutes of running-specific strength exercises
Friday: N/A: Traveled all day for work from Tampa to Philly and back. There was no way to exercise getting up at 4 a.m. to catch my flight and not returning home until 10 p.m. Zzzzzz
Saturday: 10 miles at 5:30 a.m. with friends running the first 8 miles easy (between 9:05-9:30) and the last two miles at current half marathon pace (splits were 7:37 and 7:36) + 25 minutes of foam rolling and stretching after the run
Sunday: 1-hour barre class (This left me sore!)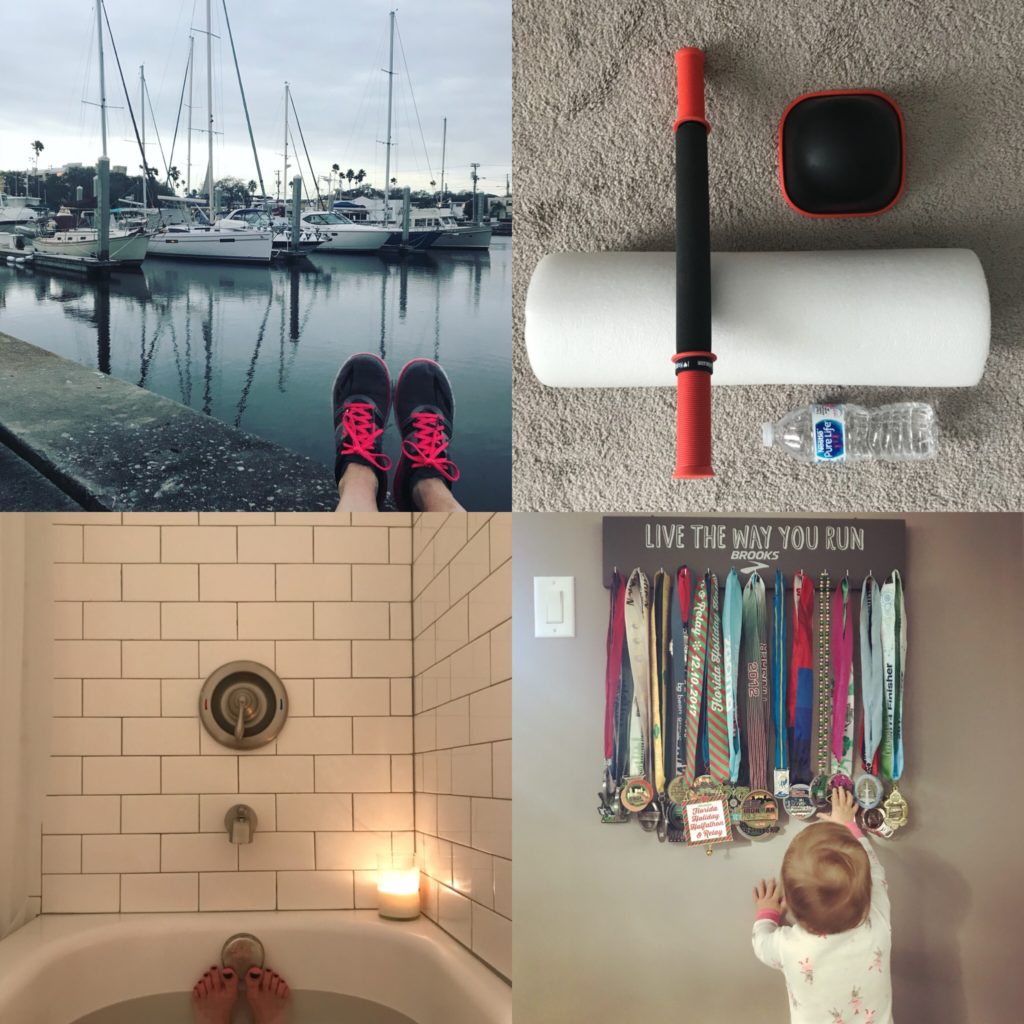 Find more on my daily training updates on Instagram.
How is your training going lately?