Rockin' Recipes for Runners
September 6, 2012
Successful runs have just as much to do with being properly hydrated and fueled as they do with your mental and physical strength. During the past few weeks, I've tried a number of new recipes that make for great pre- and post-workout fuel or just a healthy mid-day snack. I am absolutely loving these 4 recipes, and I think you will too!
Before a long run: Peanut Butter Banana Oatmeal Squares
Before a long run, many runners swear by toast or a bagel with peanut butter or plain oatmeal with a banana. Others (like me) chow down on Clif Bars or other energy bars. I love this video from elite runners including Ryan Hall, Shalane Flanigan, Mo Trafeh, Kara Goucher, Amy Hastings and others on what they eat before a race.
When a long run is on the schedule, experts suggest eating at least an hour and a half before your run, consuming 300 to 500 calories to fuel you for the glycogen demand long runs require. Fellow blogger Dave Nemetz over at Running is My Addiction recently posted an interesting calculation from Runner's World nutritionist, Pamela Nisevich: Divide your weight in half, and then multiply that by the number of hours you have until your run begins. That is how many carbs you need to eat. For example, if you weigh 150 pounds and you are eating 2 hours before your run (or race) starts, you would want to eat 150 grams of carbs (150 pounds/2 = 75; 75 x 2 = 150).
I recently discovered this recipe for Peanut Butter Banana Oatmeal Squares from Gingerbread Bagels that may just be the perfect homemade pre-run fuel that combines the best of everything into 1, perfect bar. Based on how many grams of carbs and calories you need to eat, you may want to eat several bars or pair it with another item.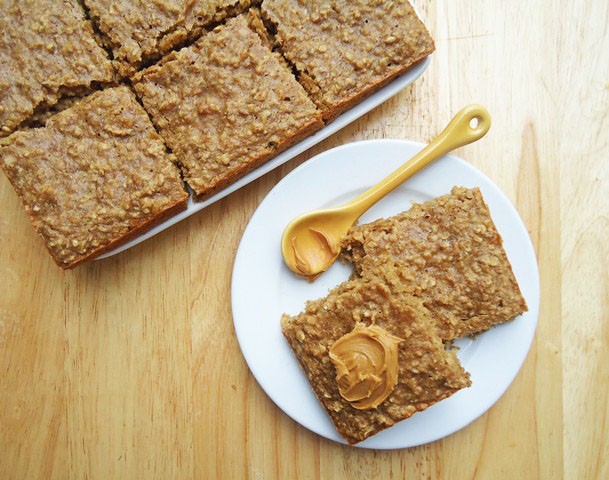 Ingredients:
1 1/2 cups quick cooking oats
1/4 cup packed light brown sugar
1 teaspoon baking powder
1/2 teaspoon kosher salt
1 teaspoon ground cinnamon
1 teaspoon vanilla extract
1/2 cup milk
1 large egg, lightly beaten
2 large mashed bananas (The original recipe calls for 1 but I found adding 2 makes it a little sweeter without messing up the texture.)
1/4 cup creamy peanut butter
Optional: Raisins (I didn't put any raisins in my bars, but I think that including about a ½ cup or so would have really added to the flavor. If you like raisins, try adding some to the batter when you combine all the ingredients.)
Honey for topping (Adding honey on top of the bars just before eating will help make them a little sweeter.)
Directions:
Pre-heat the oven to 350 F degrees.
Mix together the quick cooking oats, light brown sugar, baking powder, kosher salt and ground cinnamon.
Add in the vanilla extract, milk and egg. Mix the ingredients together.
Then add in the mashed banana and peanut butter. Combine all of the ingredients.
Pour the mixture into a lightly greased 8 x 8-inch metal baking pan.
Bake for 20 minutes.
Cut into squares and enjoy!
Note: Do not use applesauce or honey in place of the brown sugar. They are both liquids and will mess up the texture of the squares.
Anytime snack: Paleo "Real Food" Muffins
I am going completely ga-ga over these Paleo Morning Glory Muffins from Carrots 'N' Cake. I tweaked her recipe slightly and doubled it. A batch lasted just 4 days in our house. I could not get enough of these delicious morsels.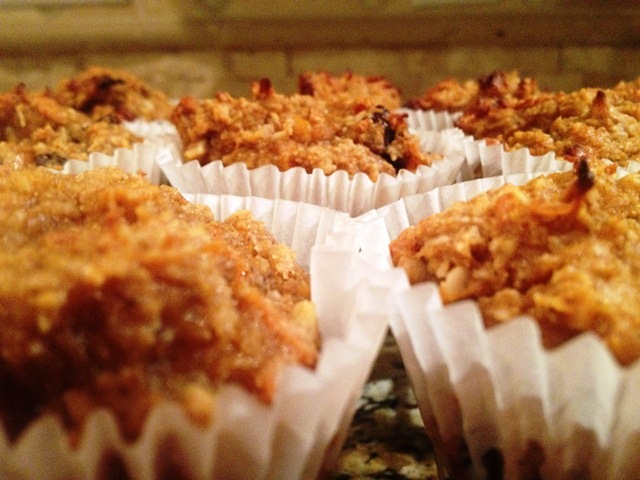 What do I love about them?
They are super healthy. All the ingredients are real, and there is no wheat or added sugar. There is not one fake ingredient you can't pronounce!
They are delicious! Consider having one at breakfast with a cup of Greek yogurt. Pack one in your lunch bag for an afternoon snack at the office. Or munch on one after a long run with a cup of chocolate milk or scrambled egg whites.
They are easy to take with you on the go. Just stick one in a Ziploc bag and eat in the car or after a workout.
Ingredients:
1 cup mashed sweet potato (I peeled and cut up 2 medium-sized sweet potatoes, boiled them for 20 minutes, and then mashed them with a hand masher. I had about a cup left over that I stuck in the fridge to make another batch).
1 cup shredded coconut (I got unsweetened, organic shredded coconut from the organic section of my grocery store. If you get the kind from the baking aisle, it is likely to have lots of other fake ingredients and preservatives. Stick with the real stuff.)
1 cup dried fruit of your choice (The original recipe called for raisins, but I used ½ cup of raisins and ½ cup of dried cherries. Dried blueberries and chopped dried apricots would probably taste great too. I loved mixing two kinds of dried fruits together. They really add some sweetness to the muffins.)
1 cup chopped walnuts
1/2 cup honey
1/4 cup shredded carrot (One large carrot grated should do the trick.)
2 eggs
3/4 cup almond flour (I just discovered almond flour for the first time when making this recipe, and I LOVE it. All it consists of is ground almonds. You can find it in the organic section of your grocery store.)
2 teaspoons cinnamon
2 teaspoons vanilla extract
2 teaspoons baking powder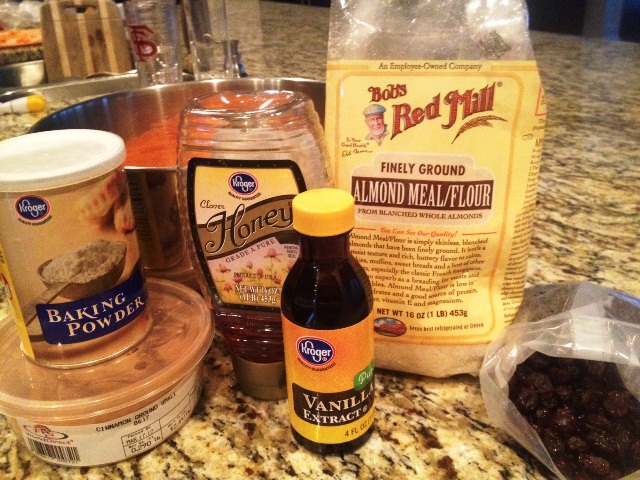 Directions:
Preheat the oven to 350 F degrees.
Combine all the ingredients in a large mixing bowl, and blend well.
Coat the muffin tin with non-stick cooking spray (or use paper liners), and divide batter among cups.
Bake for 28 minutes or until the muffins are cooked all the way through.
Allow to cool before serving.
Makes 12-18 muffins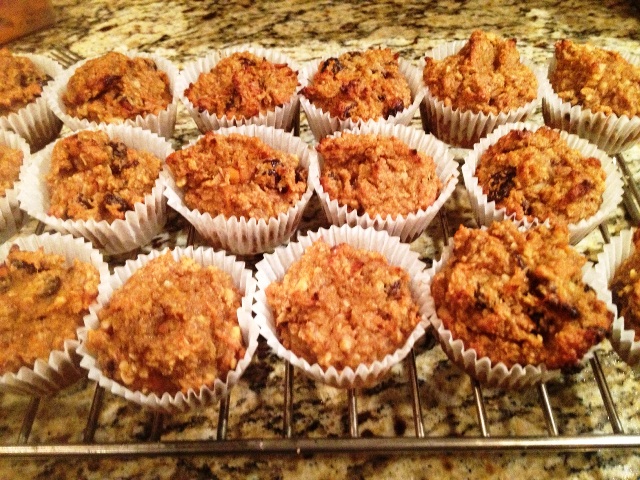 Healthy snack: Zucchini muffins (or bread)
Last week, I cooked up some whole wheat zucchini bread from Happy Fit Mama. Although the recipe is for muffins, I was using my muffin tins to cook the awesome paleo muffins above and decided to cook this in a loaf pan instead. While it is not as naturally sweet or delicious as the paleo muffins, it was a great alternative to other recipes for high-fat/high-calorie zucchini bread made with lots of oil and sugar. The consistency and texture was great, and you can freeze it so you always have a snack at the ready.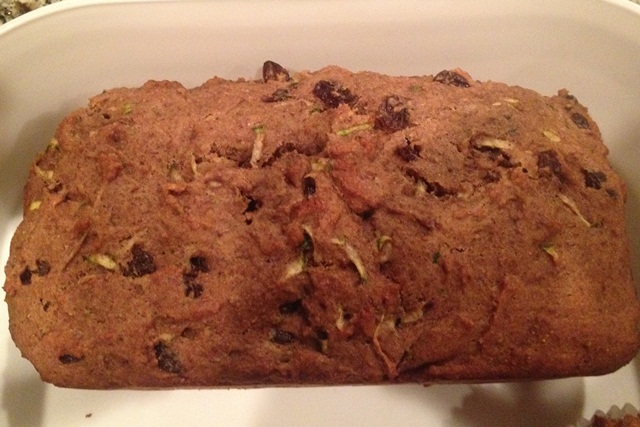 Ingredients:
(Double the ingredients if you are making a loaf. Use as directed if making muffins.)
3 tbsp ground flax seeds
1/4 cup warm water
1/2 cup pure maple syrup or honey (I used honey.)
1/4 cup unrefined coconut oil or canola oil (I used canola oil.)
1/4 cup organic unsweetened applesauce
1/2 teaspoon pure vanilla extract
1 cup grated zucchini (Should be about a half of 1 large zucchini)
1 cup white whole wheat flour
1/2 cup whole wheat flour (I actually used all whole wheat flour to make my recipe.)
1.5 teaspoon baking powder
1/4 teaspoon baking soda
1.5 teaspoon cinnamon
1 teaspoon nutmeg
1/2 teaspoon salt
1/2 cup chocolate chips or raisins, optional (I used raisins.)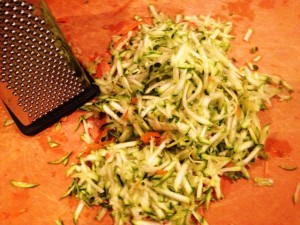 Directions:
Grease/spray a muffin pan or small loaf pan.
Mix together flax seeds and warm water.
Add maple syrup/honey, oil, applesauce and vanilla. Beat well.
Add zucchini. Stir until combined.
In a separate bowl, mix together flours, baking powder, baking soda, cinnamon, nutmeg and salt.
Add dry ingredients to wet mixture and stir until just combined. If using chocolate chips or raisins, add now.
Bake at 350 F degrees for 12 minutes for muffins or 50-55 minutes for a loaf or until toothpick inserted in the center comes out clean.
Post-run: rUnladylike Recovery Smoothie
This last recipe (if you want to call it that) is my own simple concoction. It has become my favorite post-workout recovery drink or liquid breakfast. It is super simple, fast and delicious.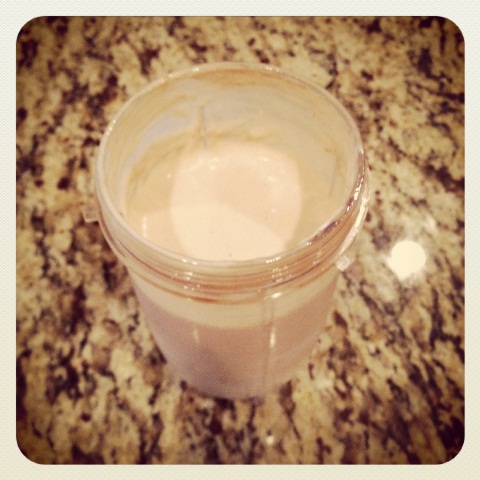 Ingredients:
1 cup organic low-fat chocolate milk (I use Horizon Organic, which comes in a red carton.)
1 frozen banana
1 tablespoon peanut butter (I love Peanut Butter & Co.'s Honey Bee brand, or any of the Justin's Nut Butter varieties.)
Optional: 1 tablespoon ground flax seed or 1 scoop of protein powder
Directions:
Put all ingredients into a blender (I use the Magic Bullet), and blend until smooth.
Makes 1 serving
If you try any of the above recipes, let me know what you think! What are your favorite recipes that keep you fueled before, during or after your workouts?