May 24, 2016
I have conquered many finish lines during my years of running. Sometimes, the journey is more meaningful than the finish line. Other times, the finish line makes a challenging journey worth it. I recently experienced a new finish line unlike any other. It wasn't at the end of a hilly 5K, a fast half marathon or a grueling marathon. It was the culmination of many days and miles covered both by boat and on foot that I could never have dreamed would be as amazing or life-changing – it was reaching the top of the South Rim after a 3.5-day Grand Canyon Rafting Trip that will forever leave me changed.
Grand Canyon Rafting Trip: By the Numbers
6,300: Vertical feet we climbed on our hike out of the Grand Canyon
88: Miles we rafted on the Colorado River
63: Mile marker on the river when we officially entered the Grand Canyon – We were in Marble Canyon prior to that but still within Grand Canyon National Park.
49: Temperature (degrees Fahrenheit) of the Colorado river – It warmed up to about 53 degrees at the end of our trip, but getting hit with waves and rapids that were that cold took my breath away every time.
30: Baby wipes I used to stay clean
28: White water rapids we went through ranging from class 4-10
19: New friends we made on our trip who went on the journey with us
16: Rafting outfitters in the Grand Canyon that can take people on trips. I can't imagine any being better than Wilderness River Adventures, the company we chose for our journey.
10: Miles we hiked from the bottom of the river to the top of the Grand Canyon to end our trip
9: Delicious meals I ate – Our Wilderness River Adventure guides prepared breakfast, lunch and dinner for us every day. From scrambled eggs and biscuits and gravy in the morning to chicken wraps and sandwiches for lunch to shrimp, steak, pasta and fish tacos for dinner, the food was superb and was better than I ever expected.
5: Hours it took Mr. rUnladylike and me to hike the 10 miles out of the Grand Canyon and up the 6,300 feet
4: Guides who organized our trip and took care of every detail from Wilderness River Adventures
3.5: Days I went without a shower or washing my hair
3: Days we were on the river and number of nights I slept under the stars
3: Number of times I pooped in a bucket
1: Number of ravens that opened my bag and unpacked all my things – Yes, seriously. I had no idea ravens were such clever little creatures. I came back to my campsite on the first night of the trip to find everything I brought laid out on my cot. The raven even took my Kindle out. Luckily, it did not fly away with any of my clothes or personal items. The only damage he caused was opening a package of baby wipes and pecking through my plastic bag containing my soap. At first, I accused Mr. rUnladylike of opening the baby wipes wrong (which meant they would dry out), until I realized it was all jagged and pecked to death. Ha!
0: Calls made or times I accessed the Internet during the trip – There was zero cell service or wifi in the canyon, and it was one of the most freeing and incredible parts about the experience.
Day-to-Day in Pictures
Wondering what a Grand Canyon rafting trip is really like? Here's a look in pictures and captions.
We flew from Tampa to Las Vegas and made the four-hour drive to Lake Powell where our trip was scheduled to begin.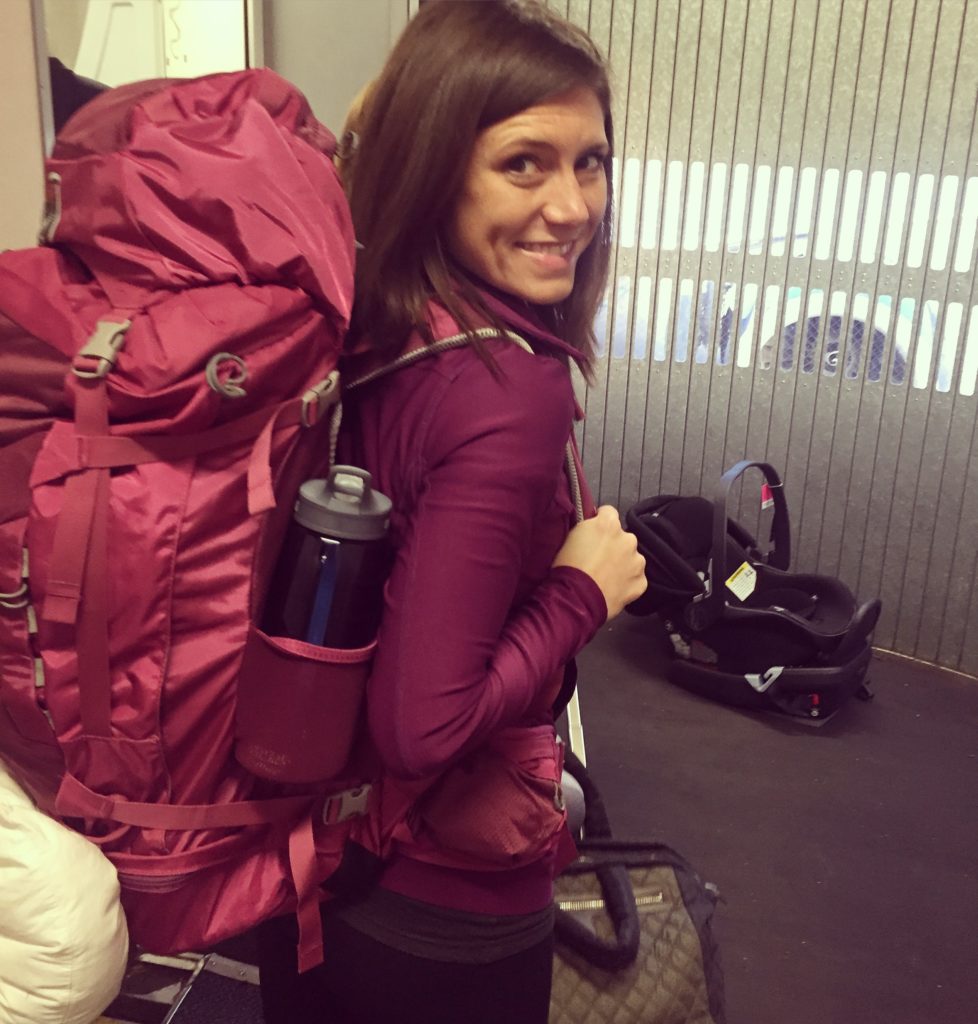 We rented a convertible for the scenic drive. I was not the one who selected the color. You can thank Mr. rUnladylike for that.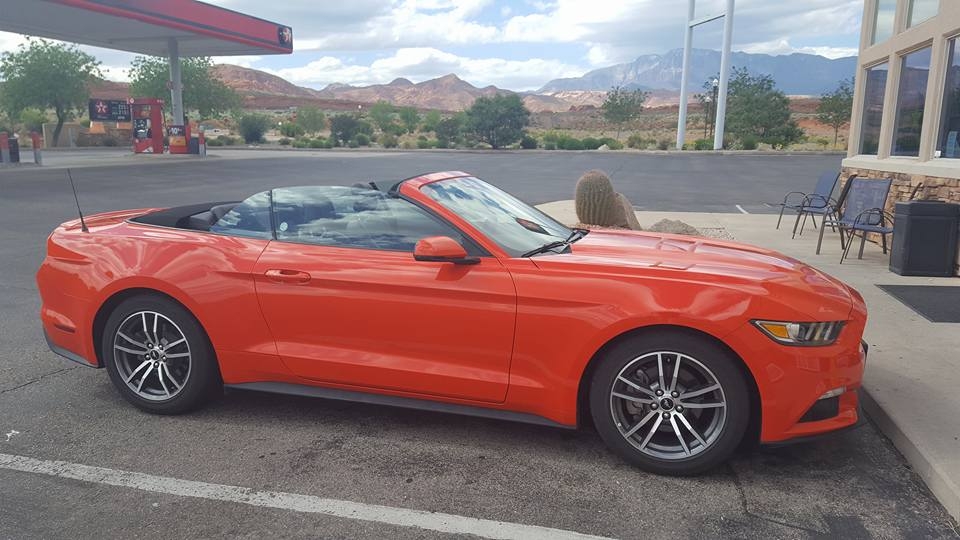 The night before our trip, our guides from Wilderness River Adventures held a mandatory orientation. They provided us dry bags to transfer all of our things into while on the river. We received a small bag and an ammo can for things we wanted access to during the day and a large bag for everything we would only need in the evenings at camp. They also gave us another dry bag containing a sleeping bag, sheet and tarp for camping each night.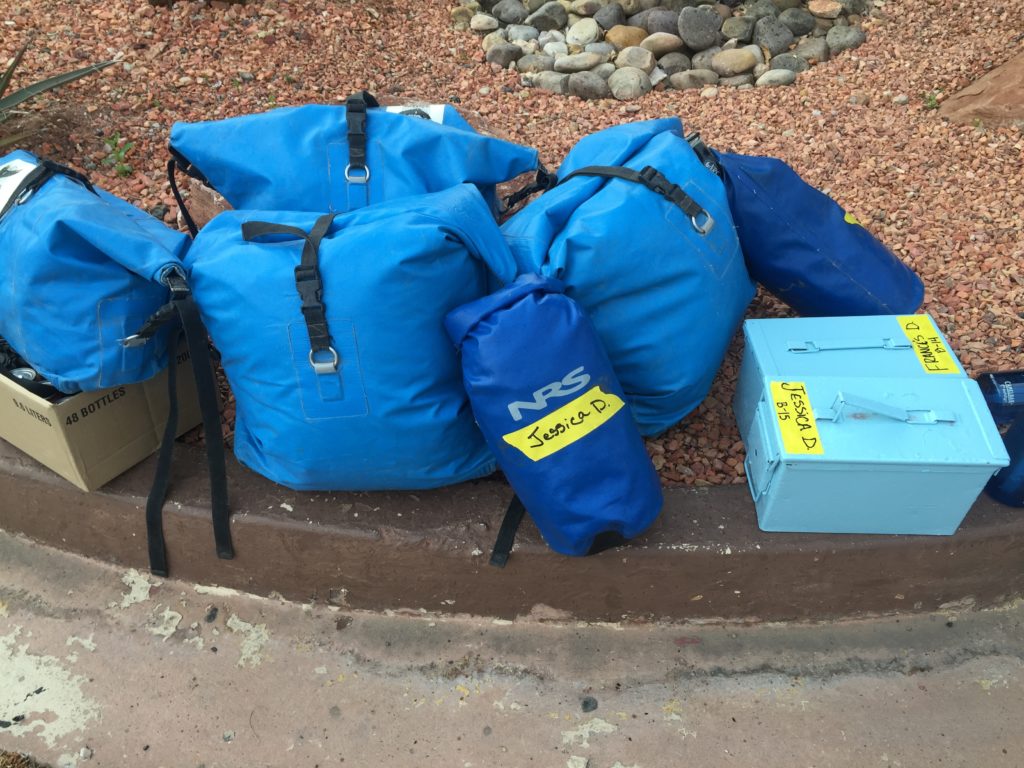 The next morning, we were off. This was our boat that became home for the next 3.5 days.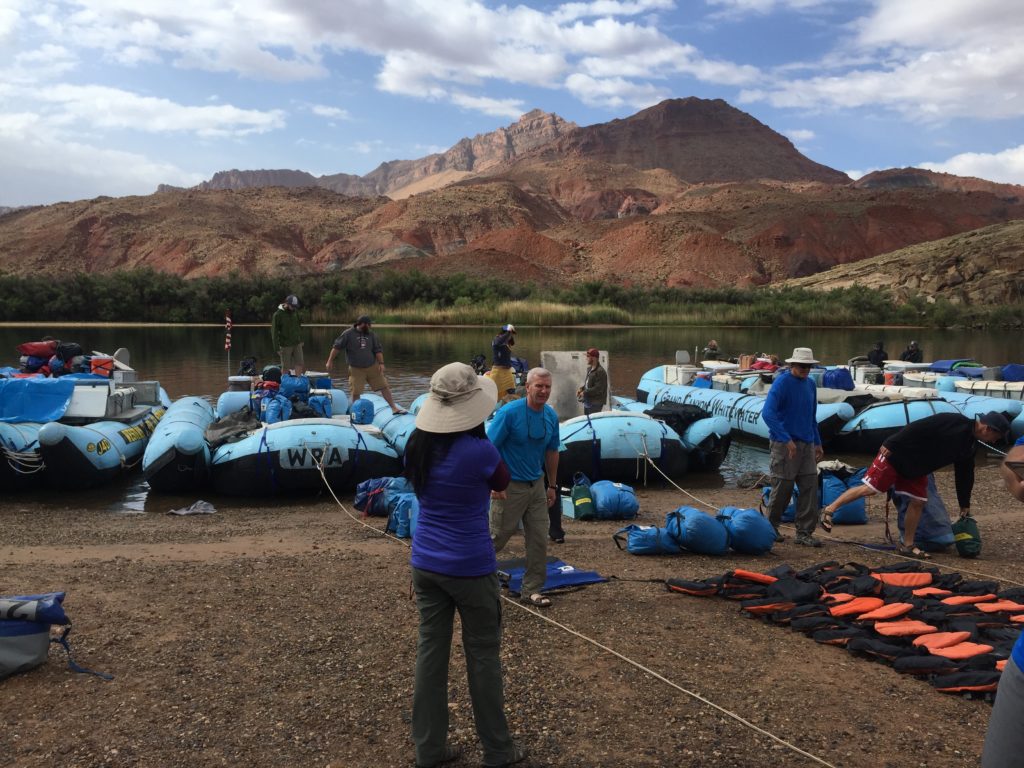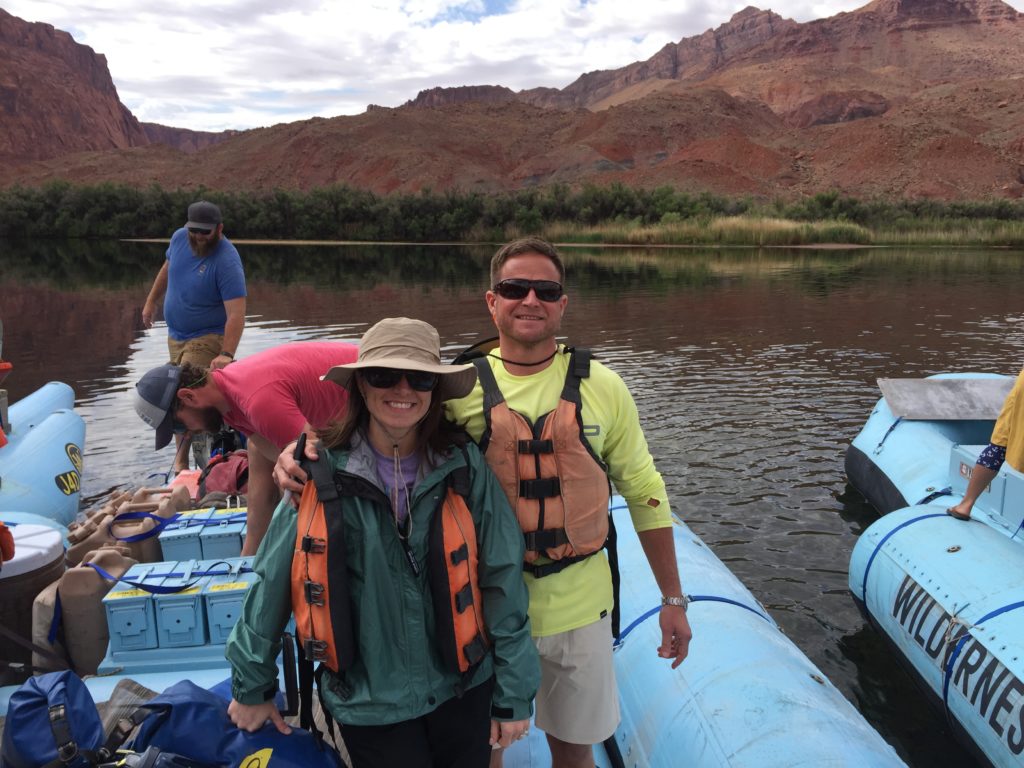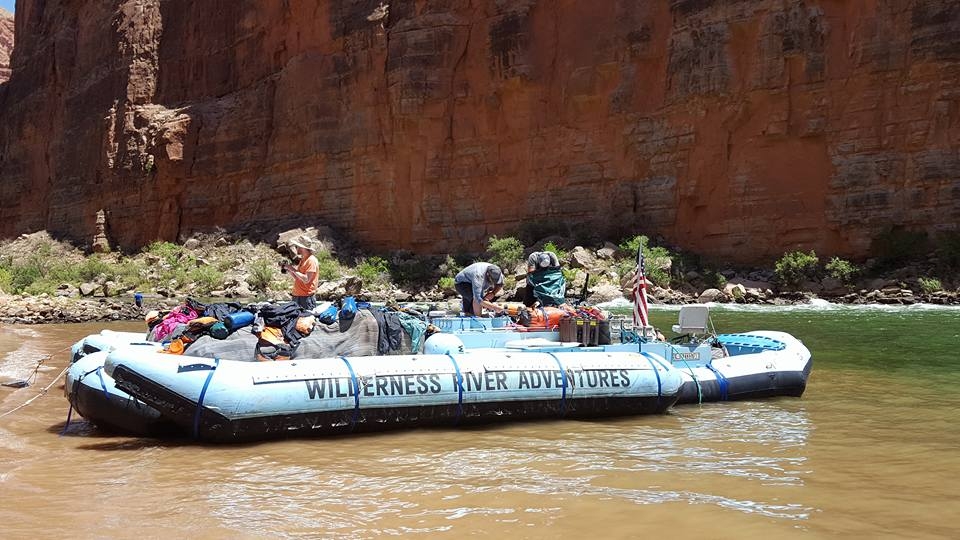 It's important to bring rain gear to wear during the day, since the rapids are hitting you throughout the day at a temperature of about 49 degrees F and the sun is also pretty intense. It's a real sexy look.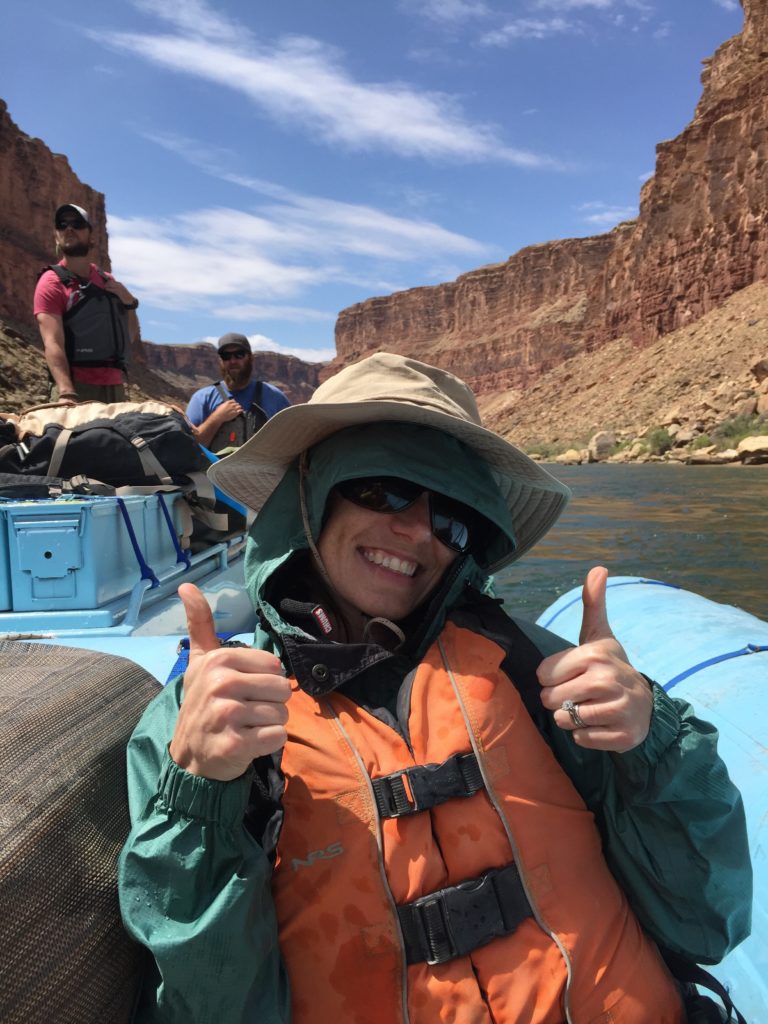 Since I couldn't take photos while being immersed in rapids, here's a video from our outfitter Wilderness River Adventures that shows you more about our trip and gives you a glimpse of what the rapids were like.
Each afternoon, we stopped for lunch in beautiful places along the Colorado River. There was typically an optional hike at each lunch stop which I took full advantage of.
On the first day we stopped here: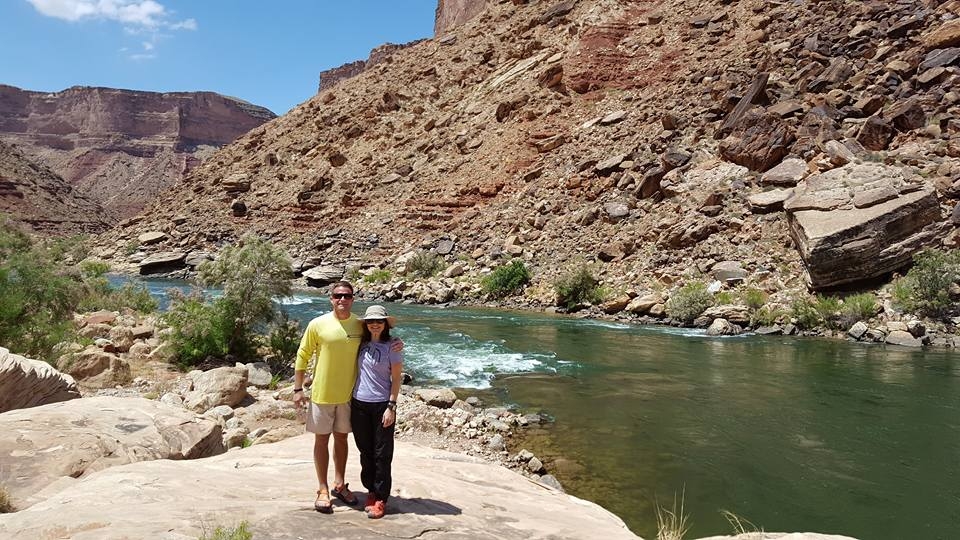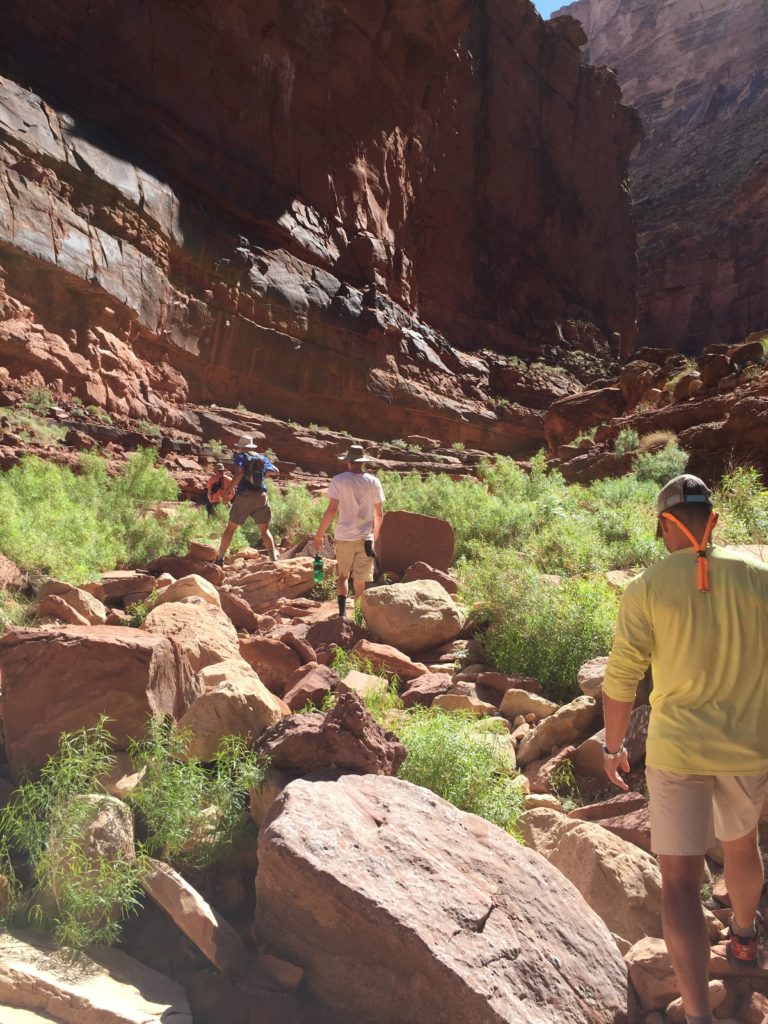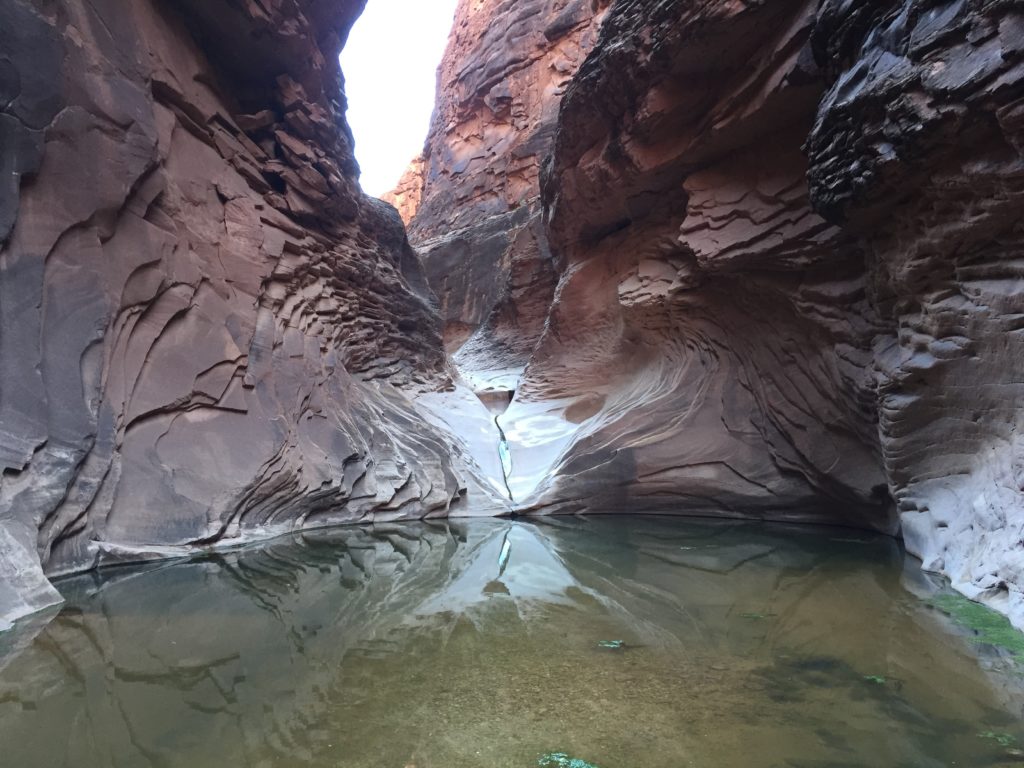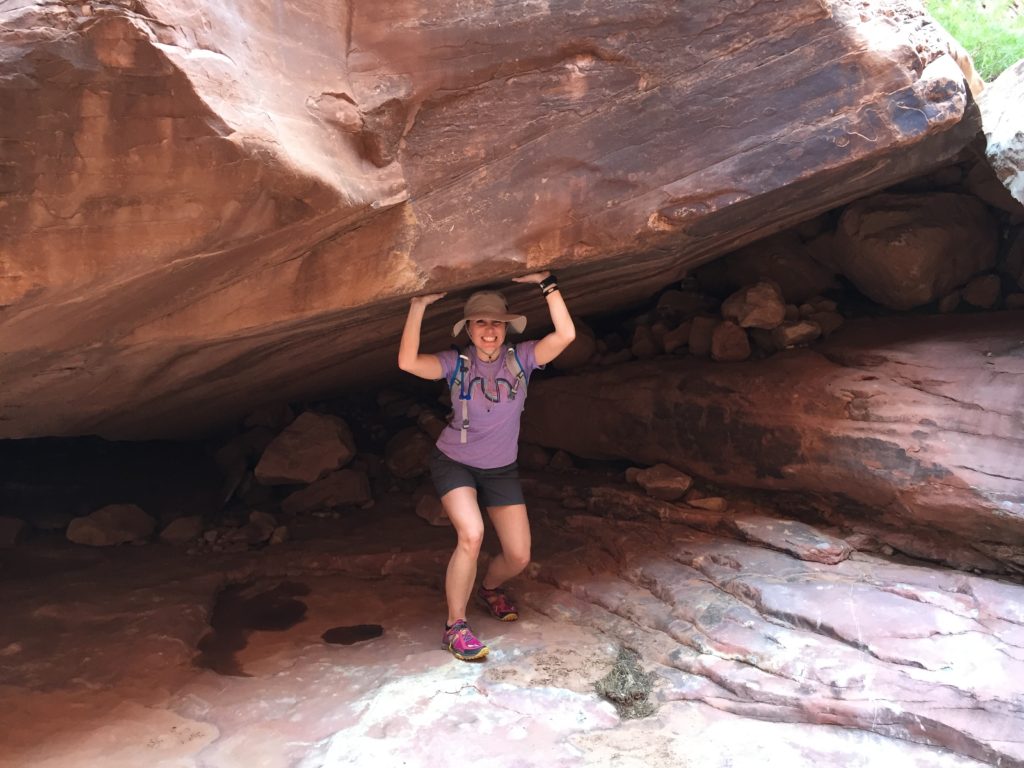 On the second day, we lunched on this stunning beach and took a short hike before eating.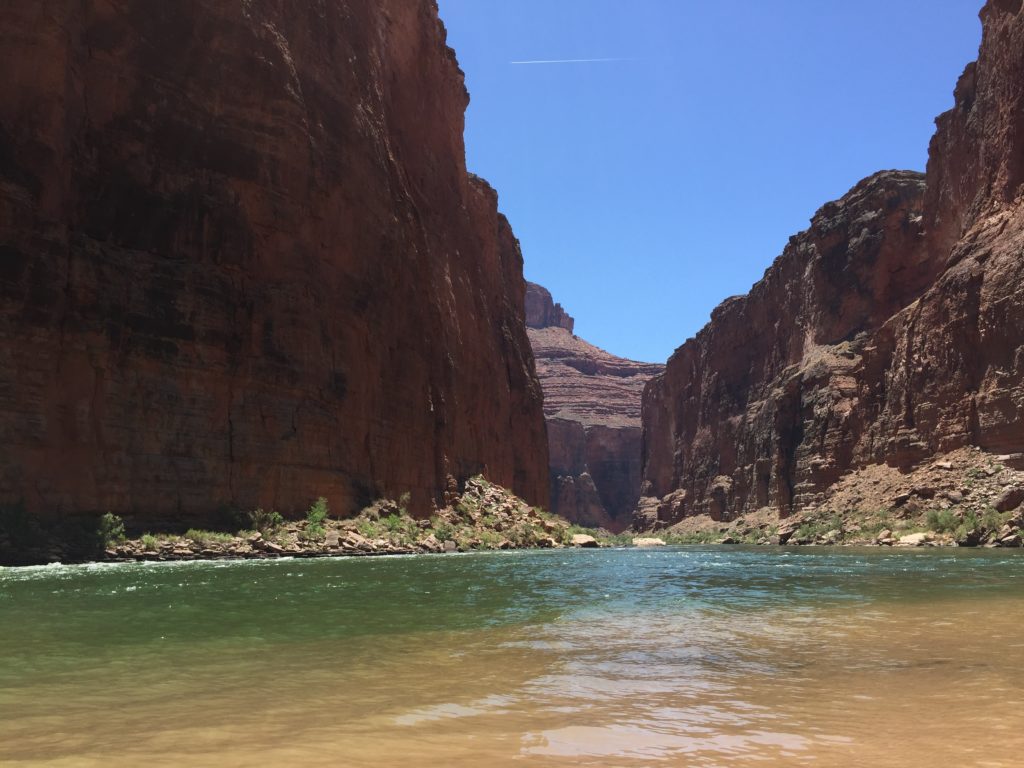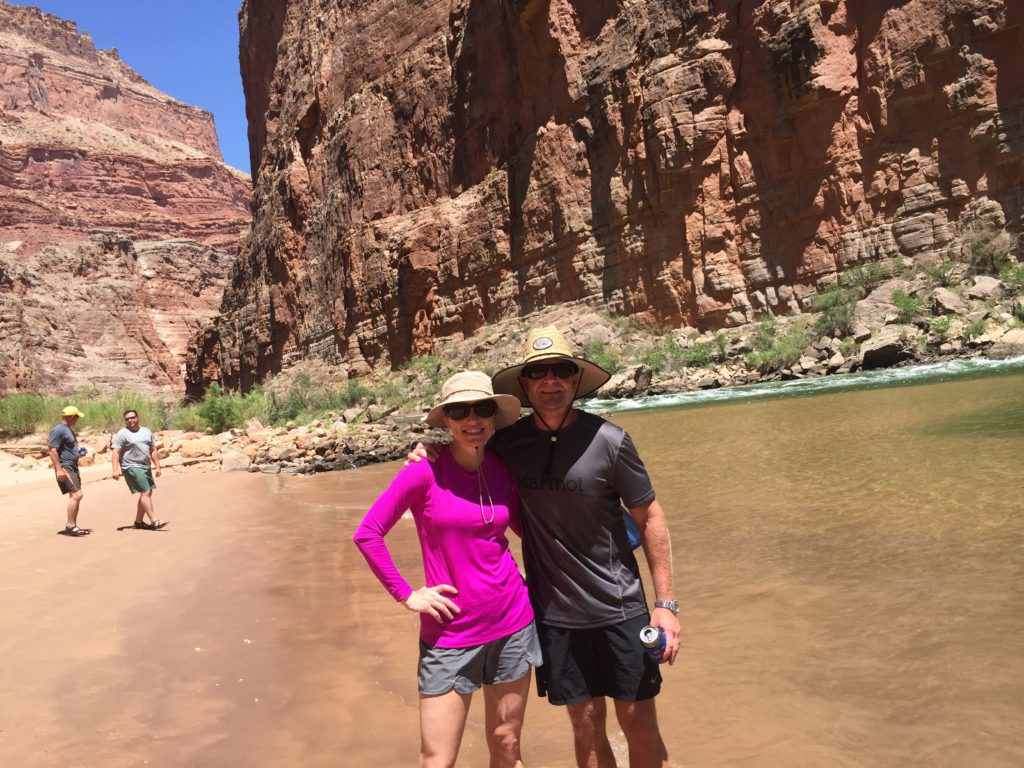 On the third day, we made a pre-lunch stop at this natural amphitheater. It was kind of like a huge cave. We all played a game of wiffle ball, and you will be glad to know I was the MVP, making three catches in left field and hitting a double. Fun fact: I played softball for three years from seventh grade to ninth grade. I played center field and always stole bases. What I lacked in power I made up in speed.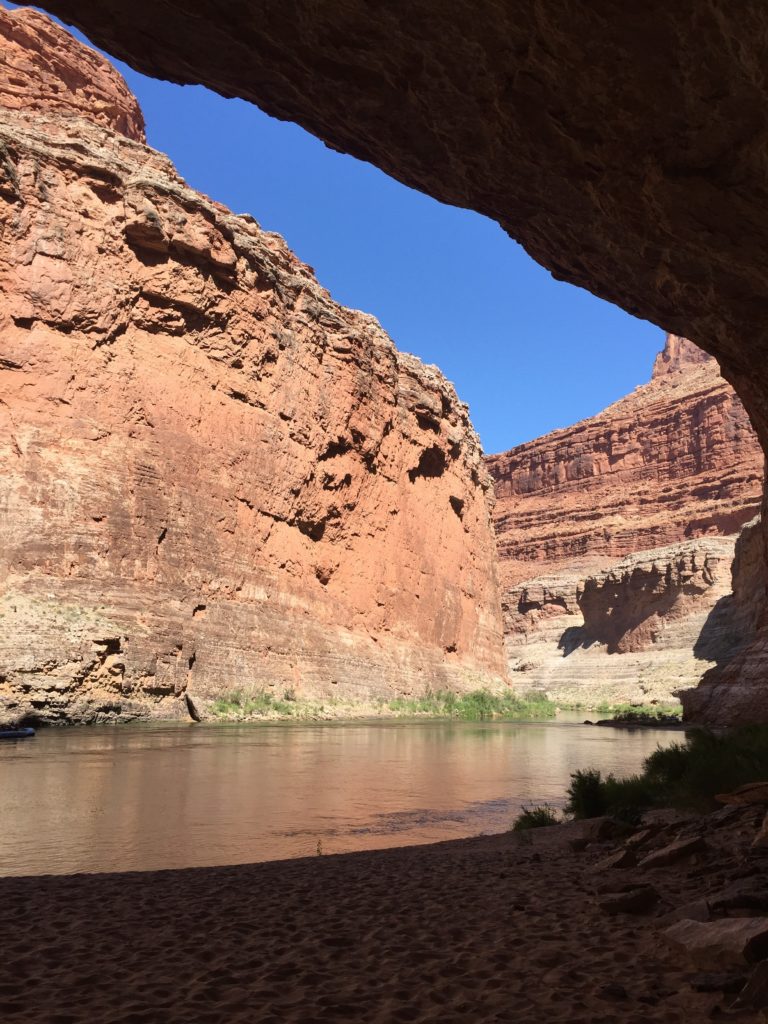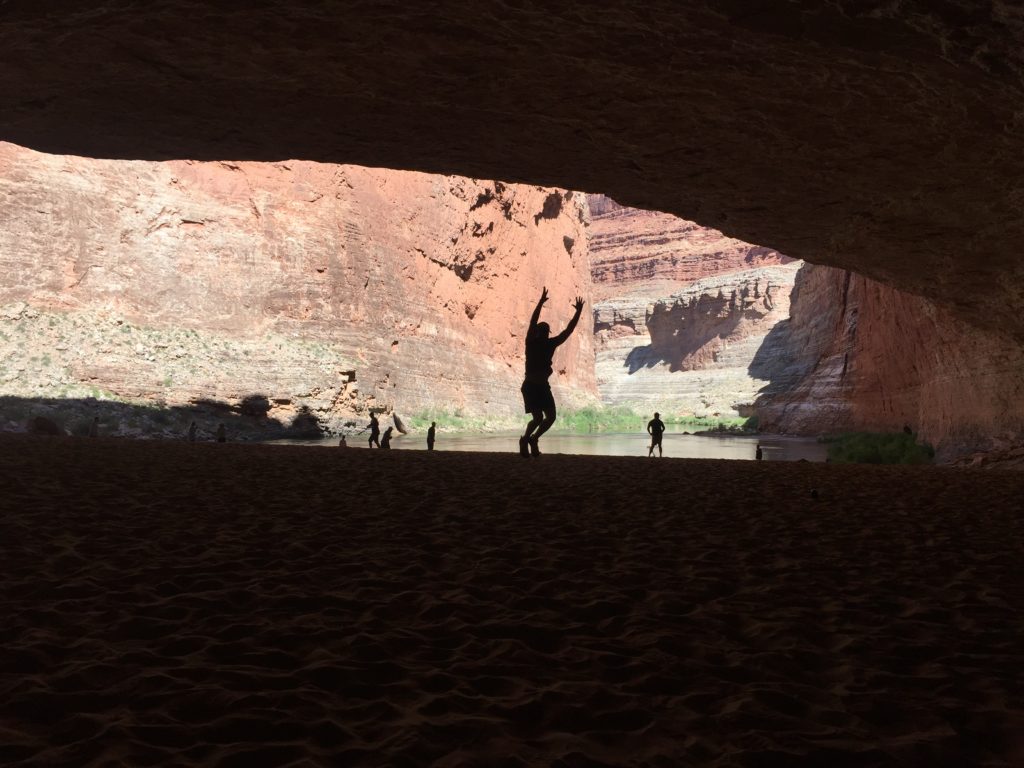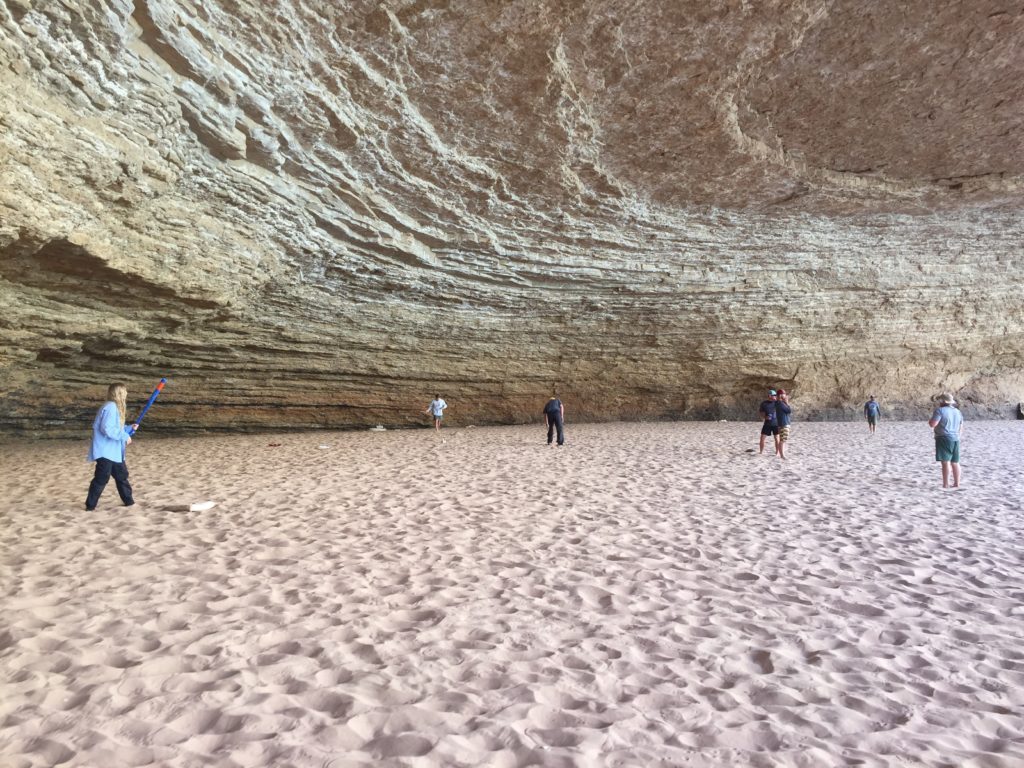 We would pull into camp each day between 3 and 5 p.m. We would line up in an assembly line and help unload the boat. Our guides would set up a kitchen and begin making dinner while we would go for a hike or set up our camp sites. This was our lead guide Sean Crane making steaks one night. We ate well. The food far exceeded my expectations for camping.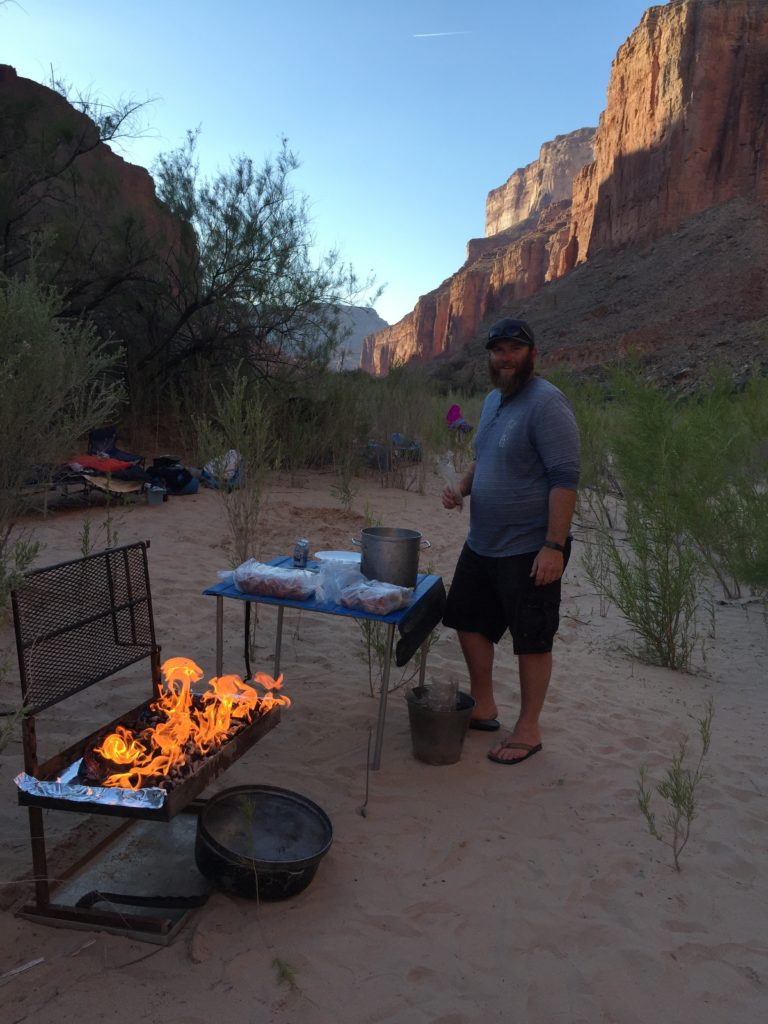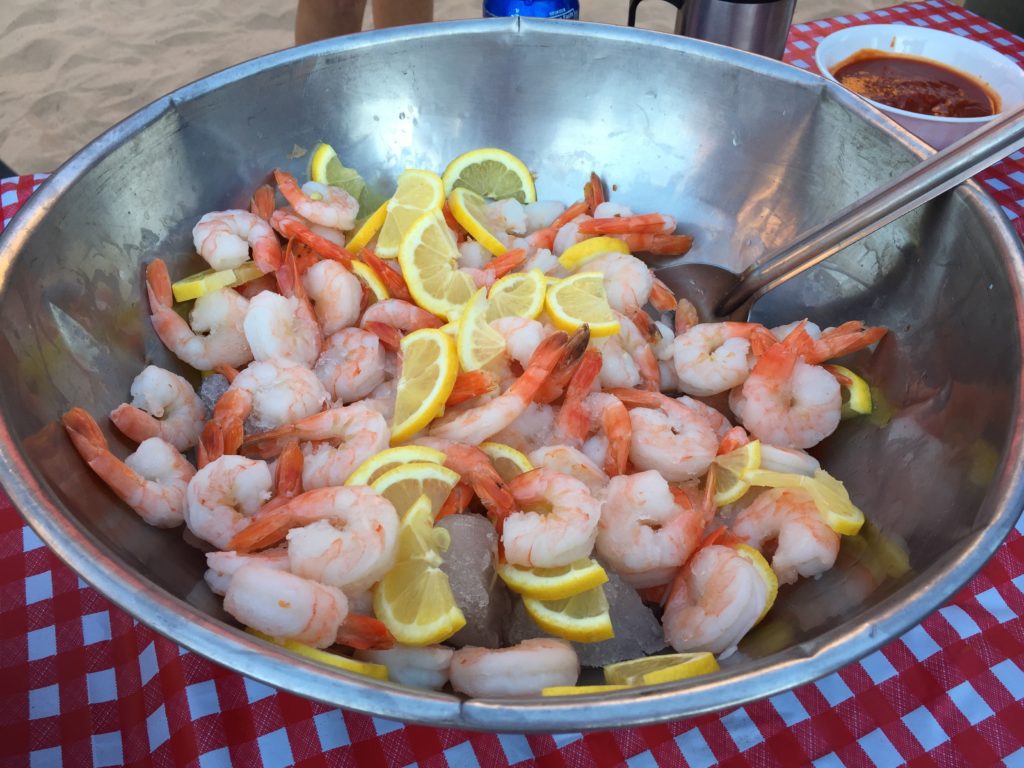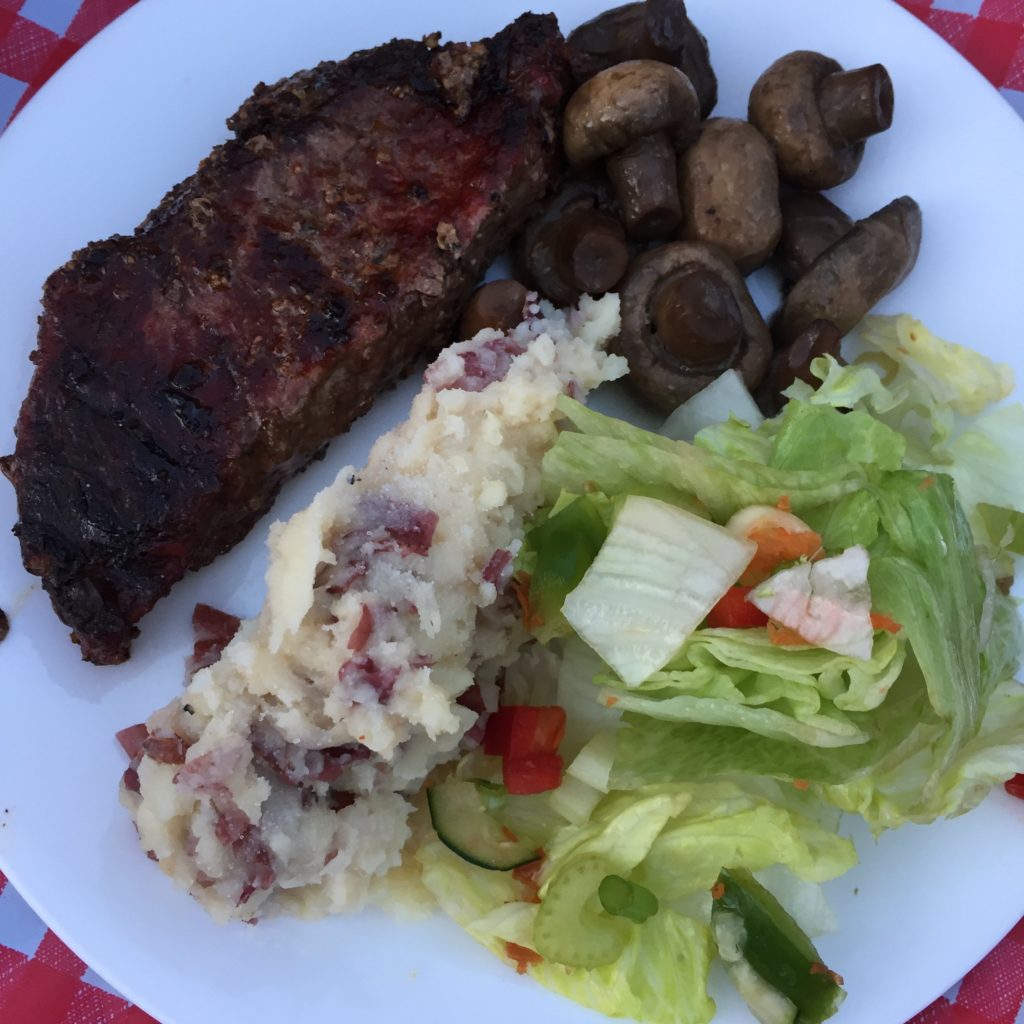 We slept on cots that looked like this each night with our sleeping bag on top under the stars. No tents. I cannot even begin to explain to you what the stars looked like. They were hands down my favorite part of the trip. I loved waking up in the middle of the night and looking at the stars. It was like someone put their hand in a bucket of glitter and threw it up into the black night. I slept wearing my contacts every night, just so I wouldn't miss the picturesque stars that got brighter as the night got later.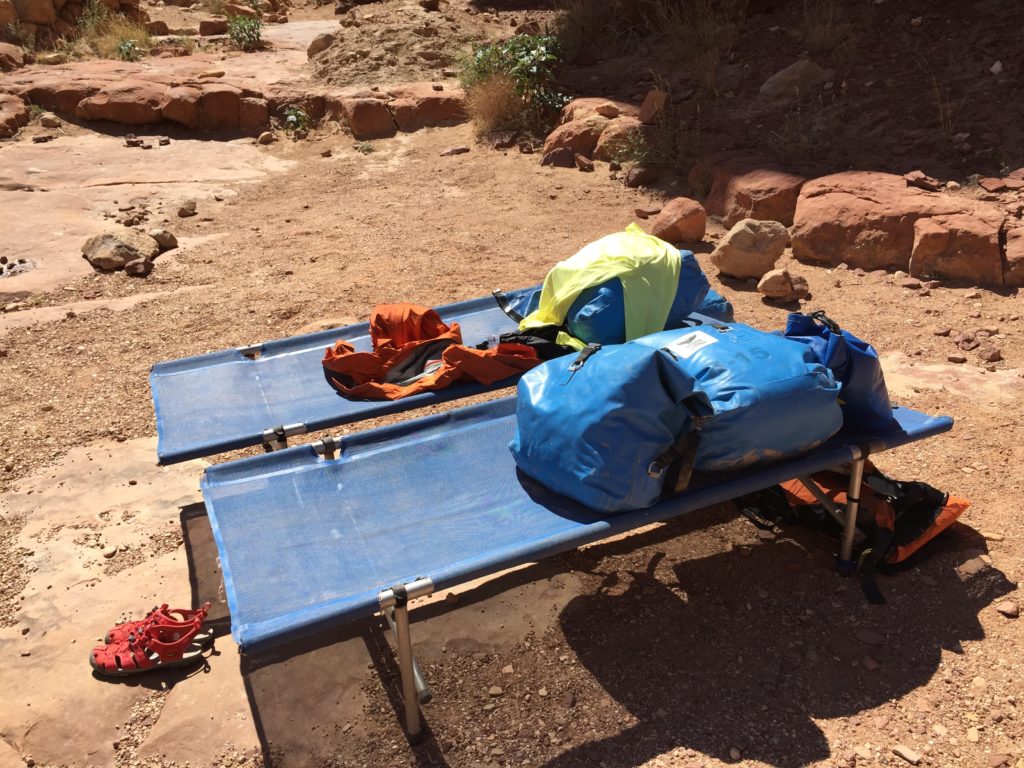 Each morning started at about 5:30 a.m. with a coffee call followed by breakfast. It was so nice to have hot tea and coffee in the mornings after chilly evenings in our sleeping bag. Breakfasts were delicious … typically eggs with fruit or biscuits or wraps. We would then pack up, re-load the boat and set off for another day on the river with the rapids.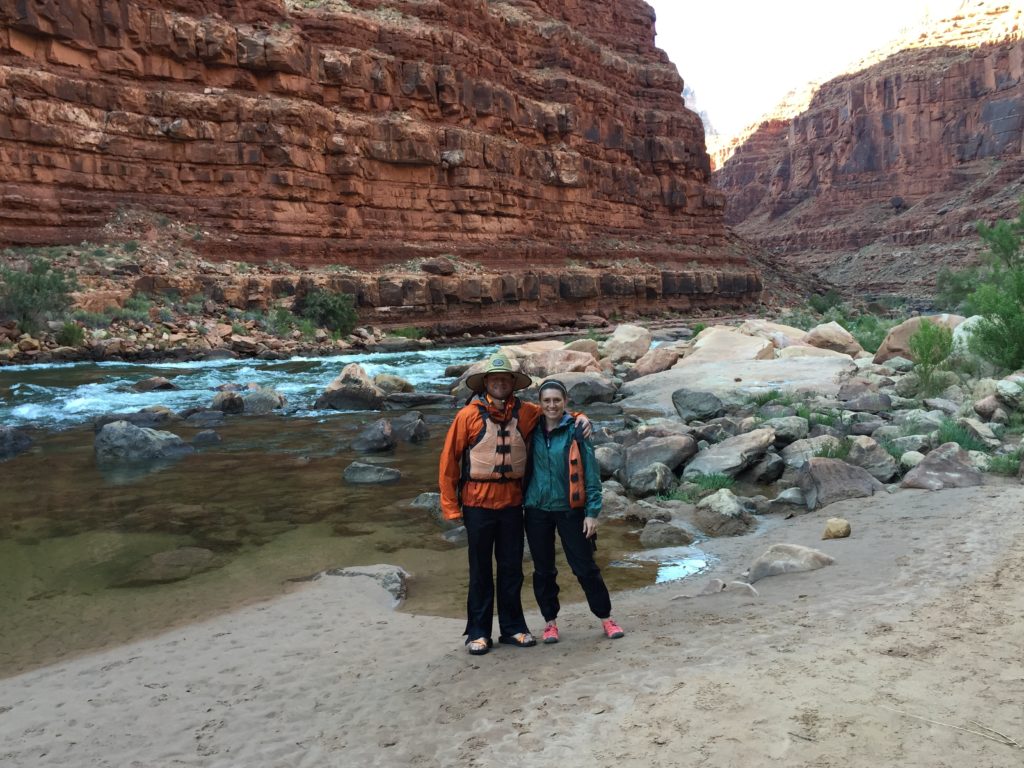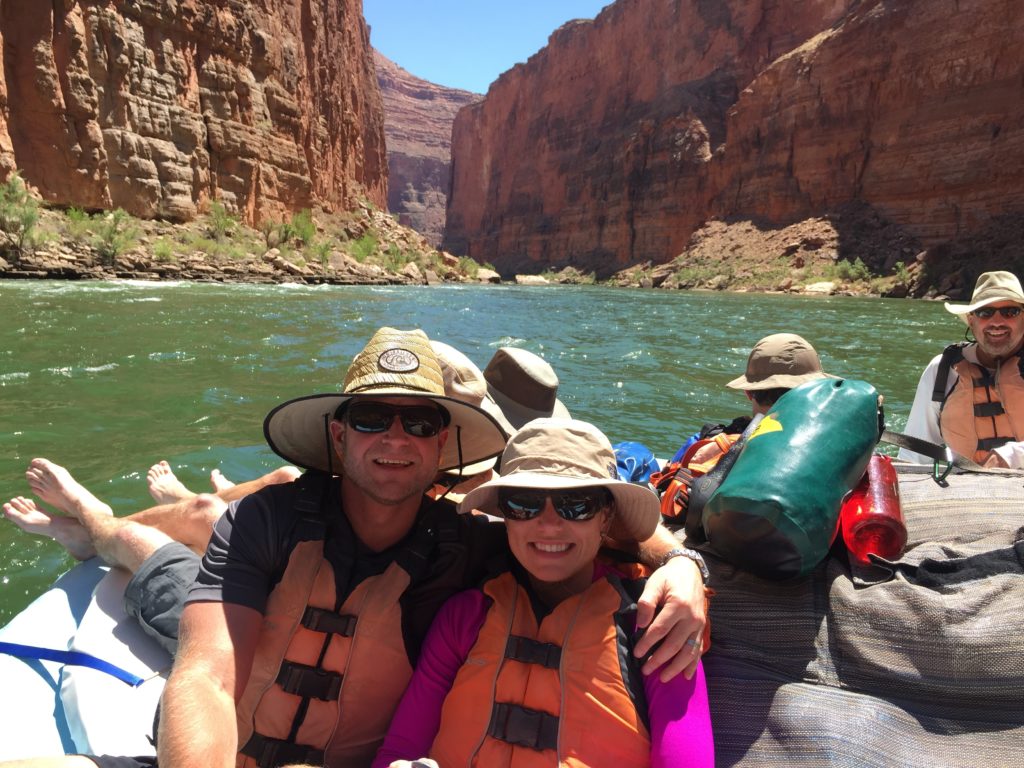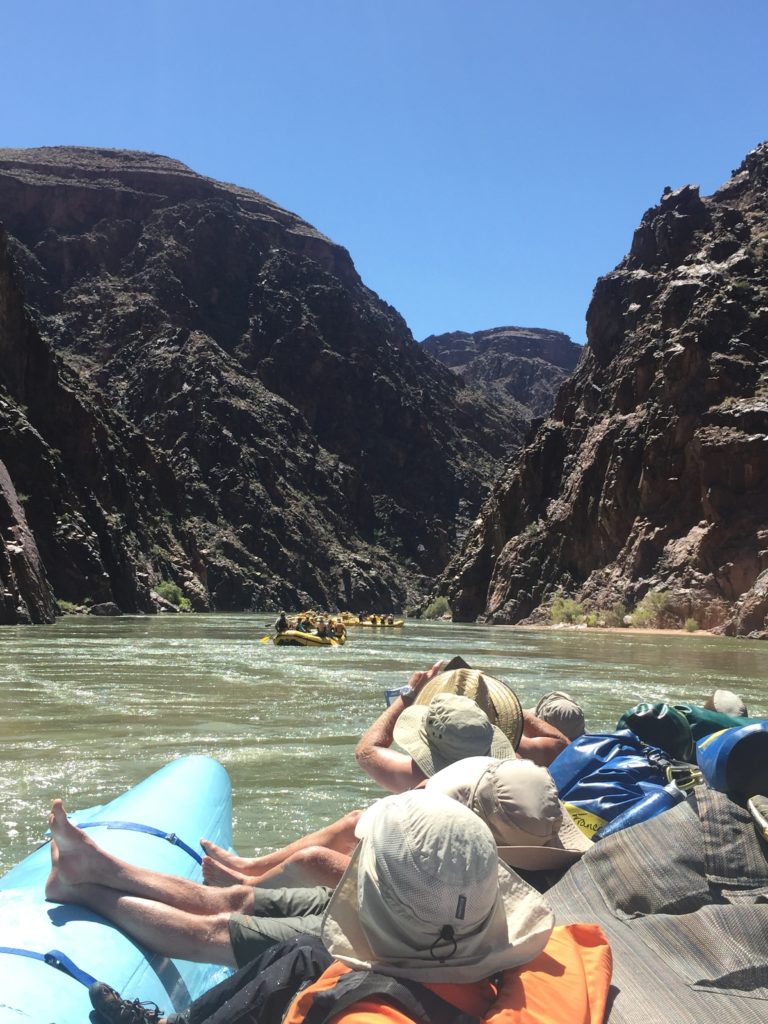 One of my favorite parts was taking a quick detour to the Little Colorado River, which was about 20 degrees warmer and the iciest blue color I've ever seen. Everyone wore their life jackets like diapers and used the river as a slide.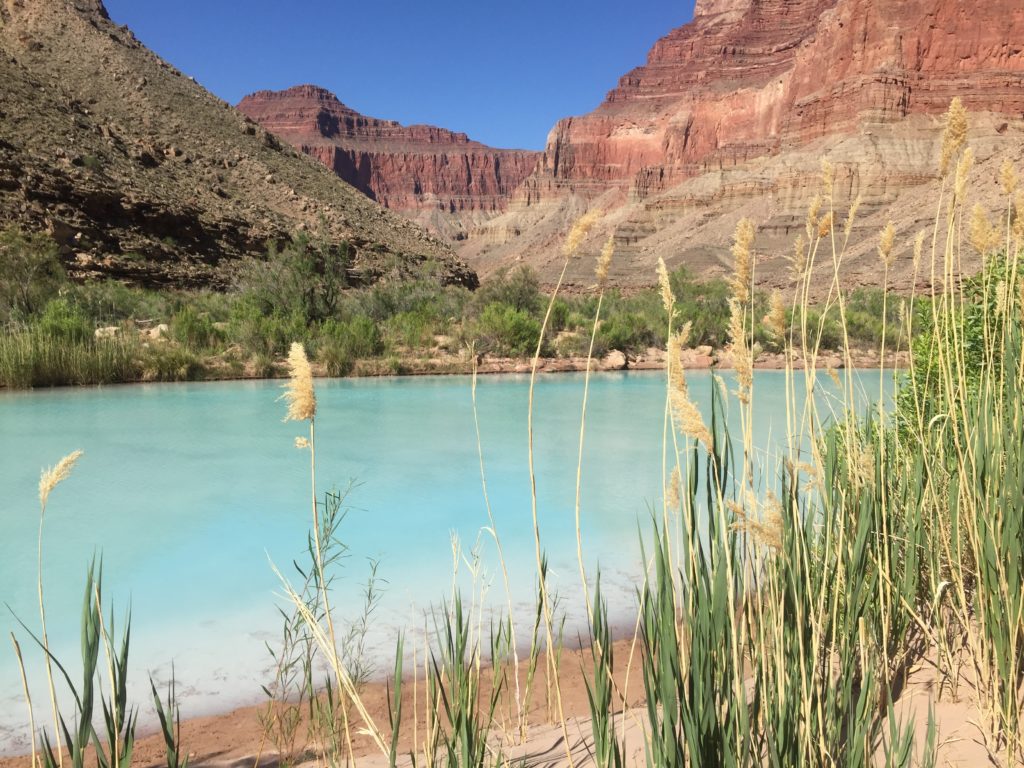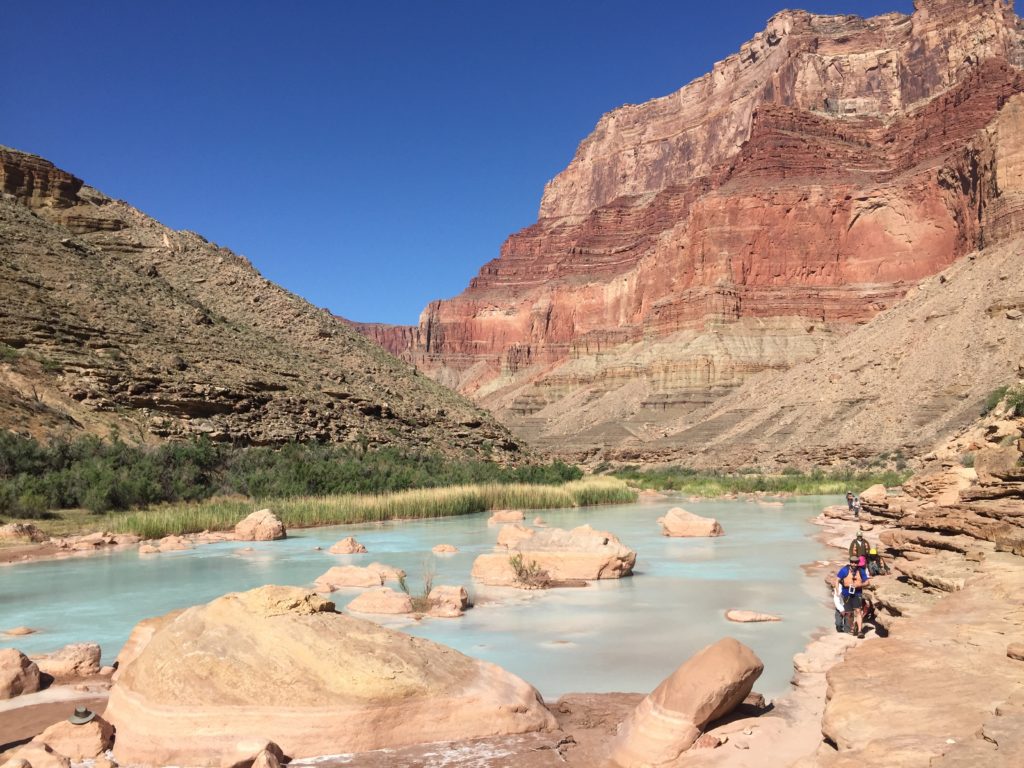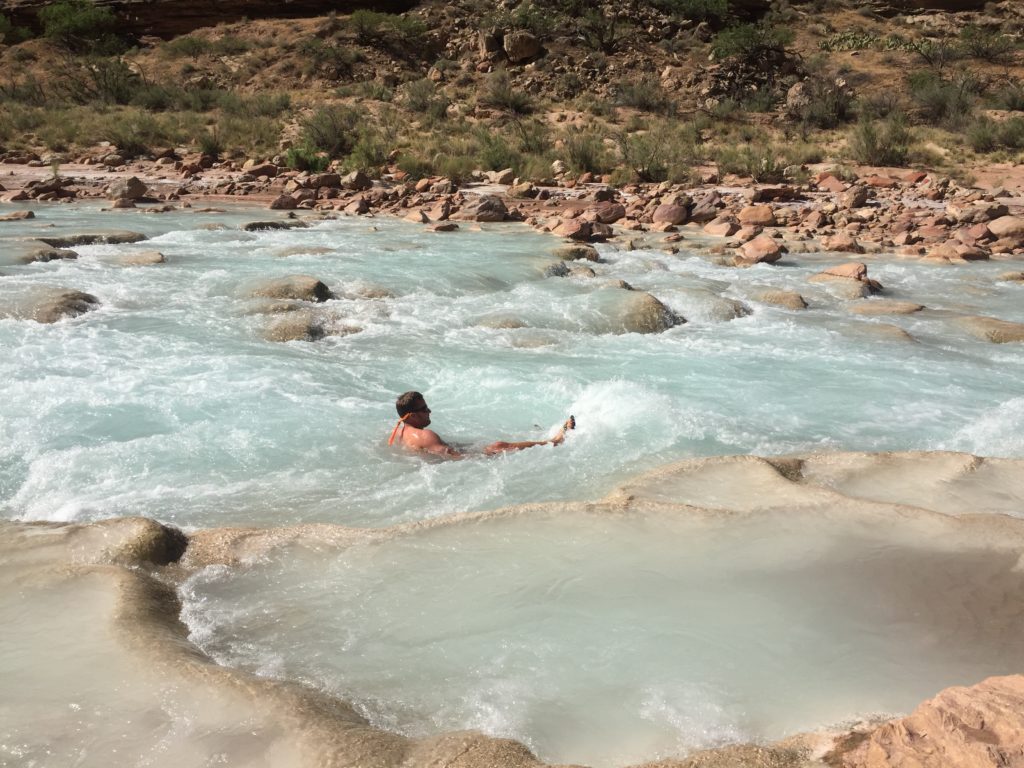 Finally, it was the moment we'd all been waiting for: the final day that consisted of a 10-mike hike out of the canyon. After breakfast, we packed PB&Js and hugged all our new-found friends. We saw many of them during the hike, stayed with others and met others at the top to say farewell.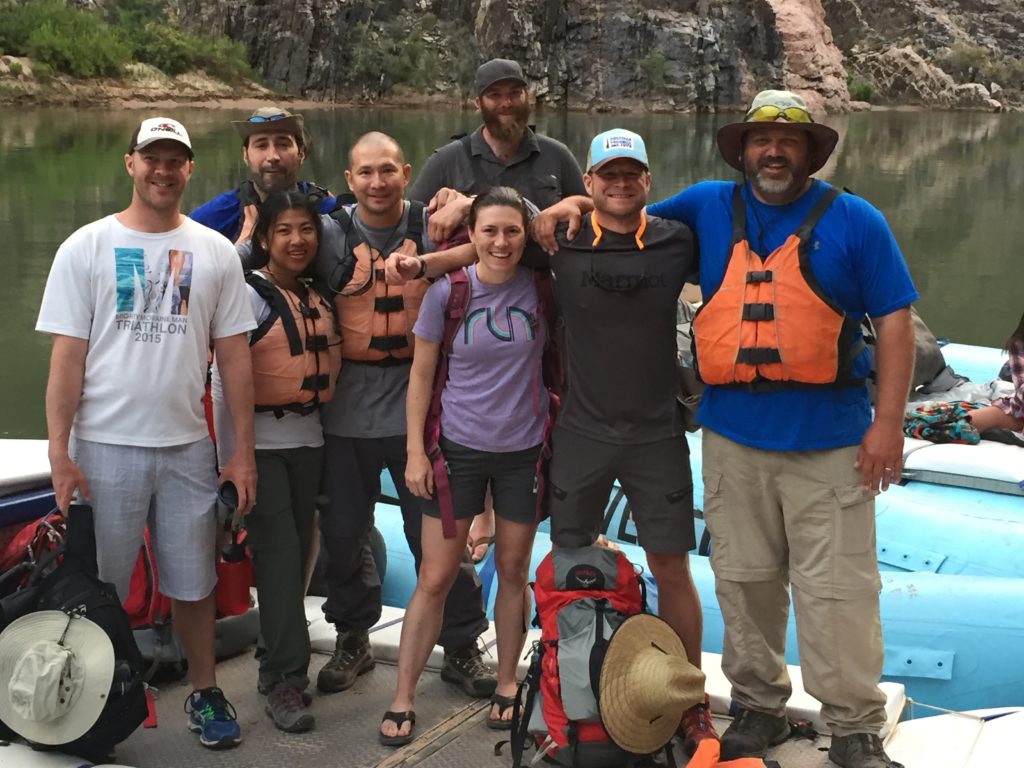 The hike began at Phantom Ranch at the bottom of the canyon.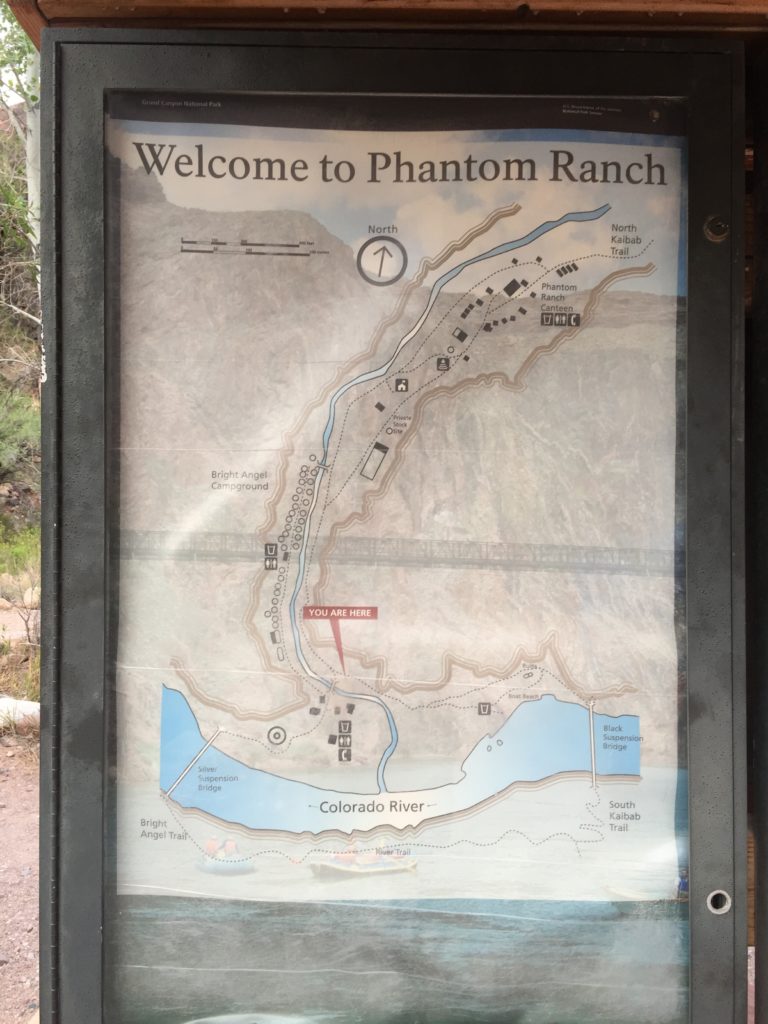 The first five miles of the hike to Indian Garden were not very challenging. It was insanely beautiful and there were some inclines, but nothing quite like we were expecting. Mr. rUnladylike and I started to believe that perhaps the hike had been hyped up as harder than it really was. I laugh thinking about that looking back. If only we knew exactly what was in store the next five miles.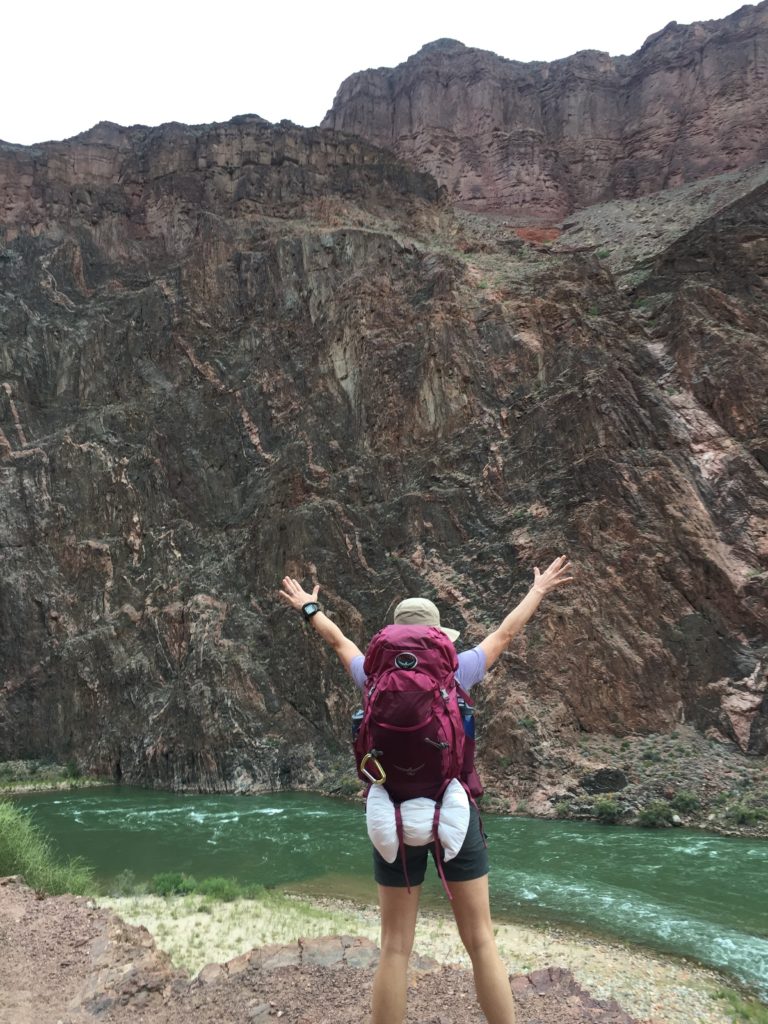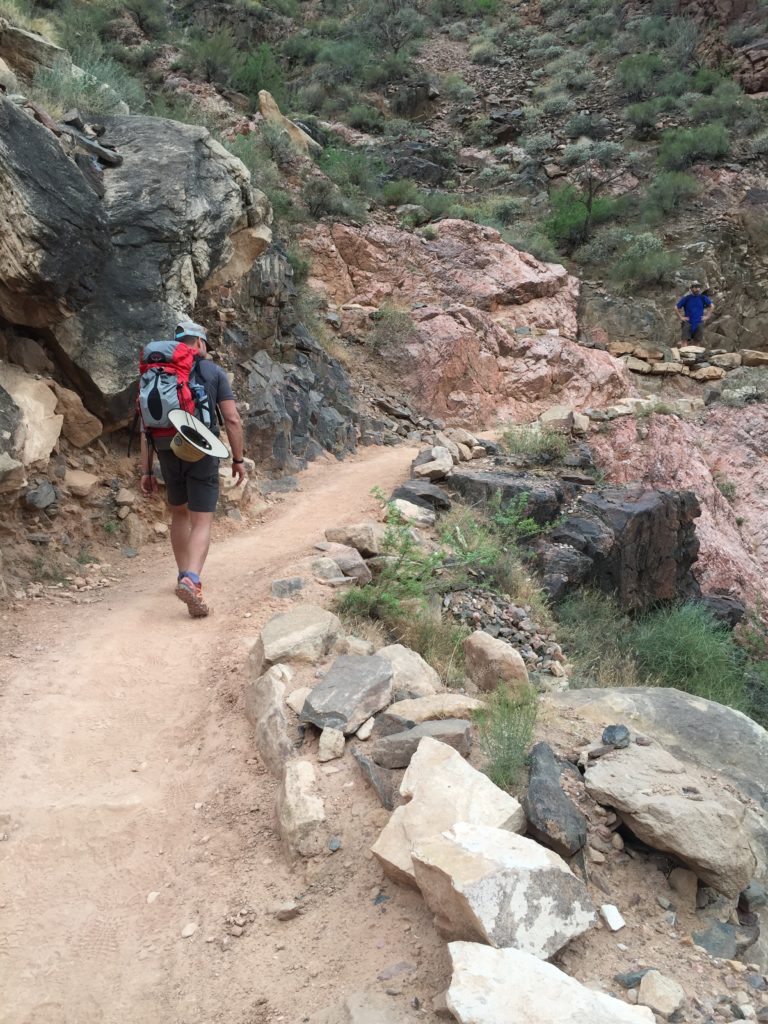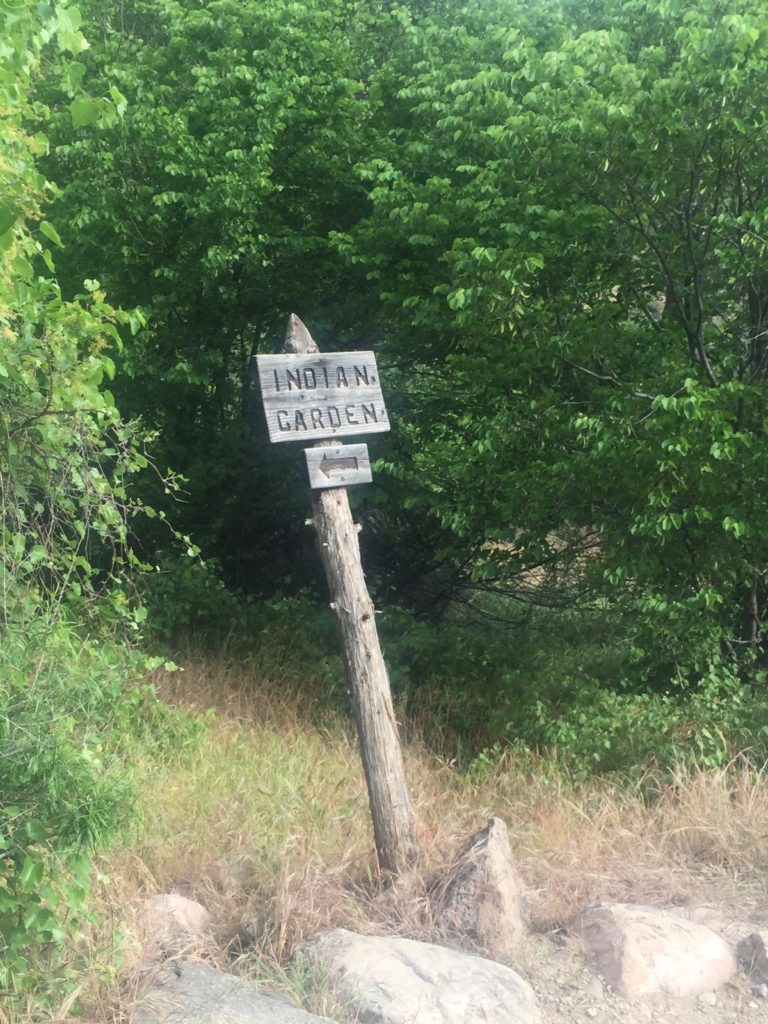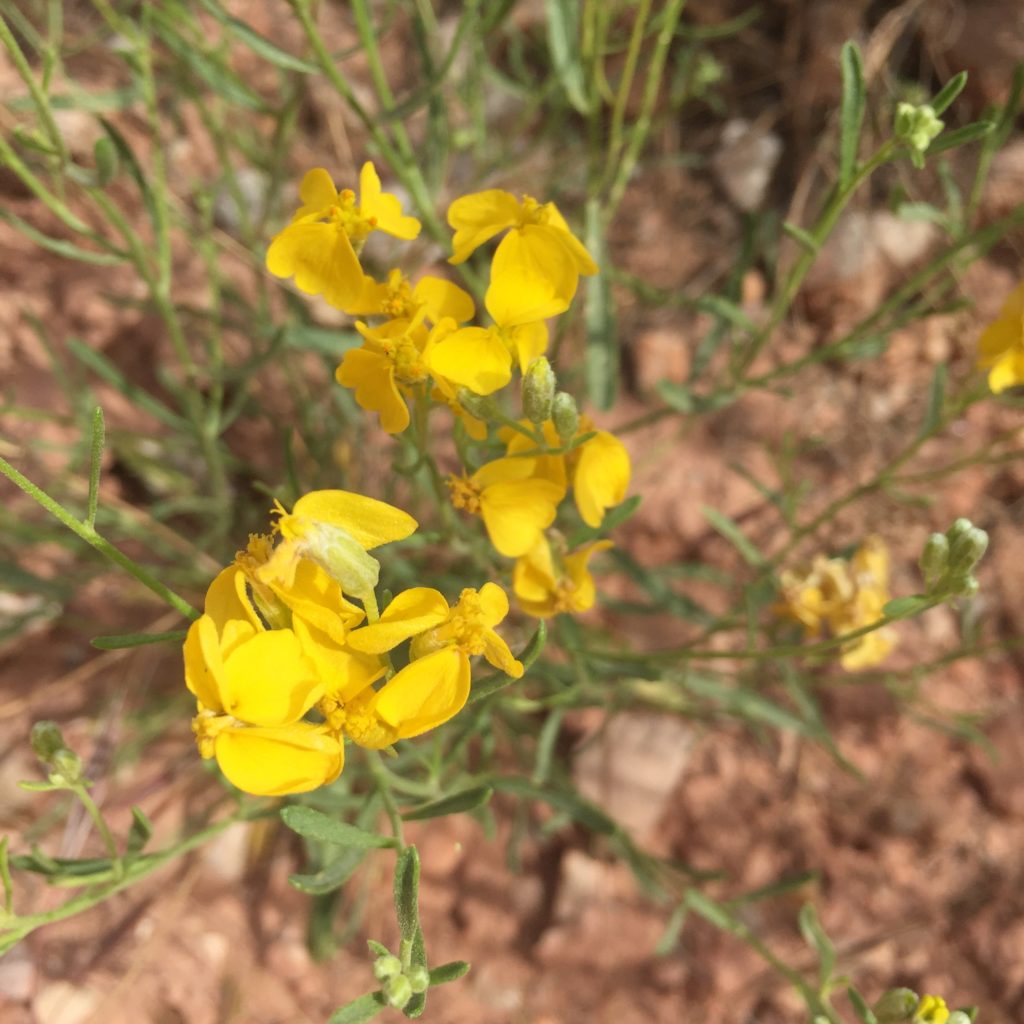 The second half of the hike was hard. Really hard. We are in great shape and we still had to take breaks about every half-mile or so, and more frequently as we got closer to the top. While the terrain was not technical, it was incredibly steep. I felt like a snail whose heart was wrapped in cellophane (nevermind if snails have hearts or not). My feet started to ache at times but we kept pushing. It was crazy to look back on the path we had come. See that snaking path that goes all the way down from the bottom? We came all that way and still had a long way to go from this point.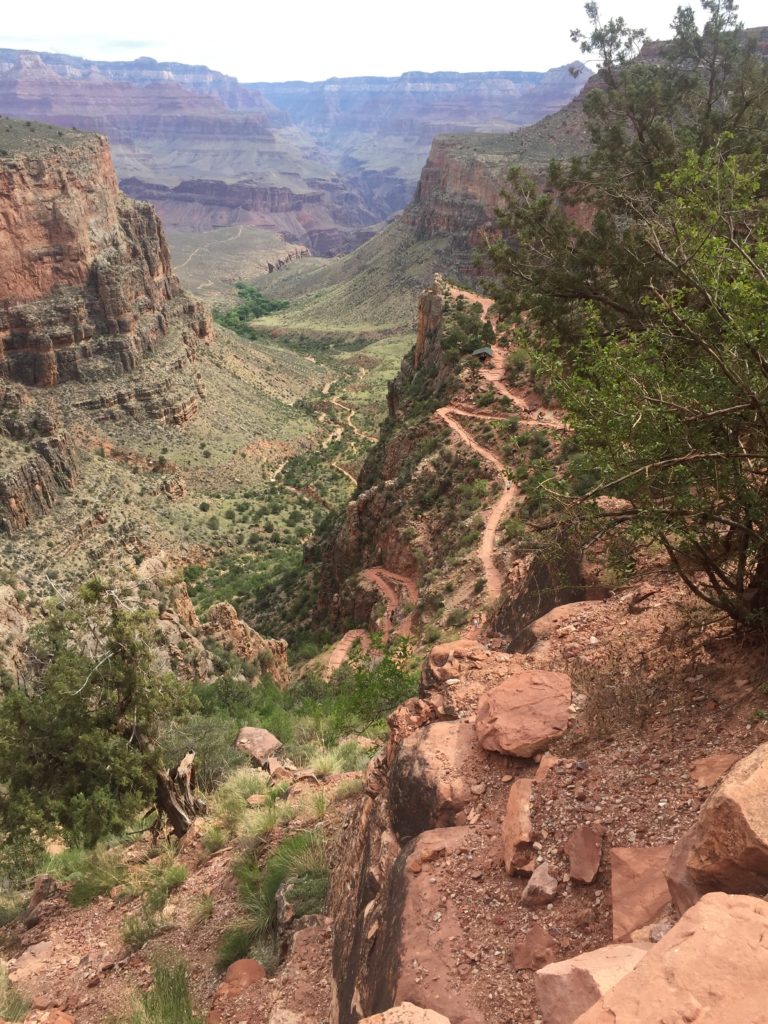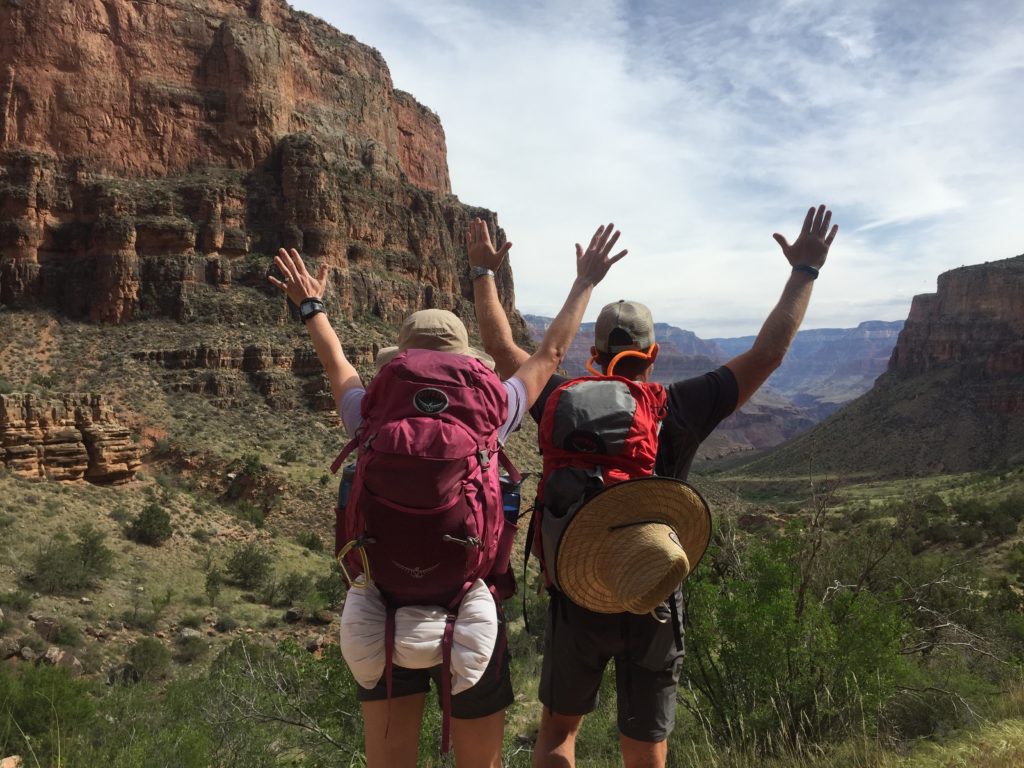 As we neared the end, we went through this little natural door in the canyon. We called it the door back into reality. We did not want to go through. Cell service was available again and phones began to chirp back to life. Say it isn't so!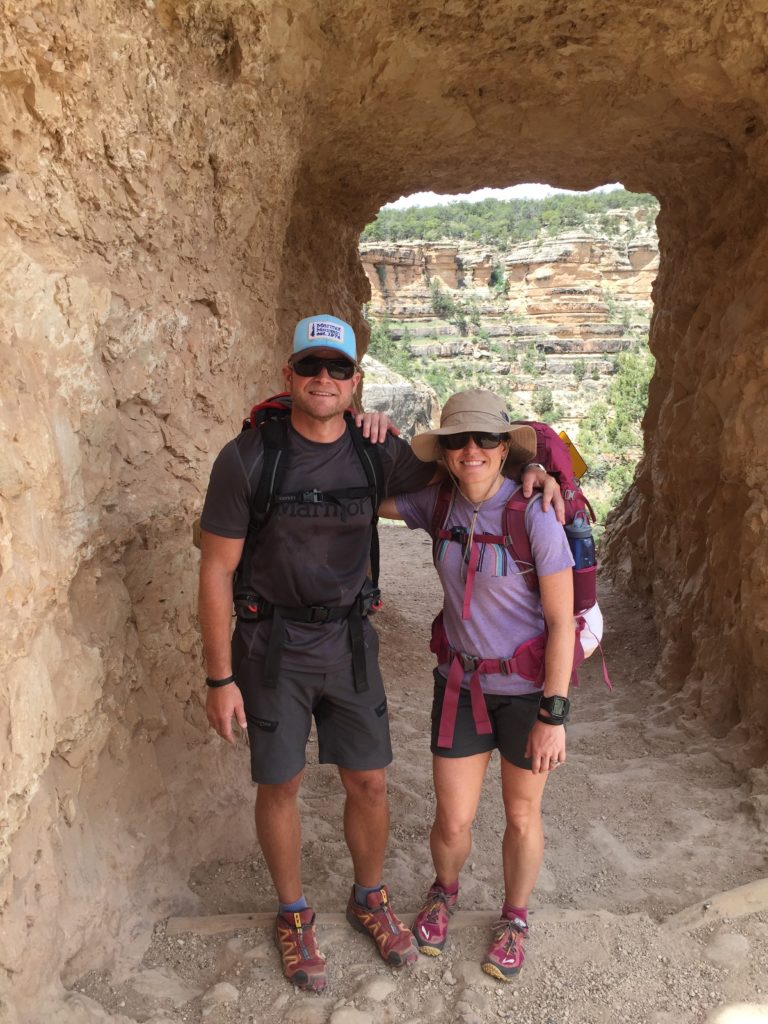 Making it to the top was truly victorious. Mr. rUnladylike and I agreed that it felt incredibly satisfying and rewarding to get to the top, knowing we'd hiked 6,300 vertical feet and 10 miles. It took us 5 hours to cross the finish line.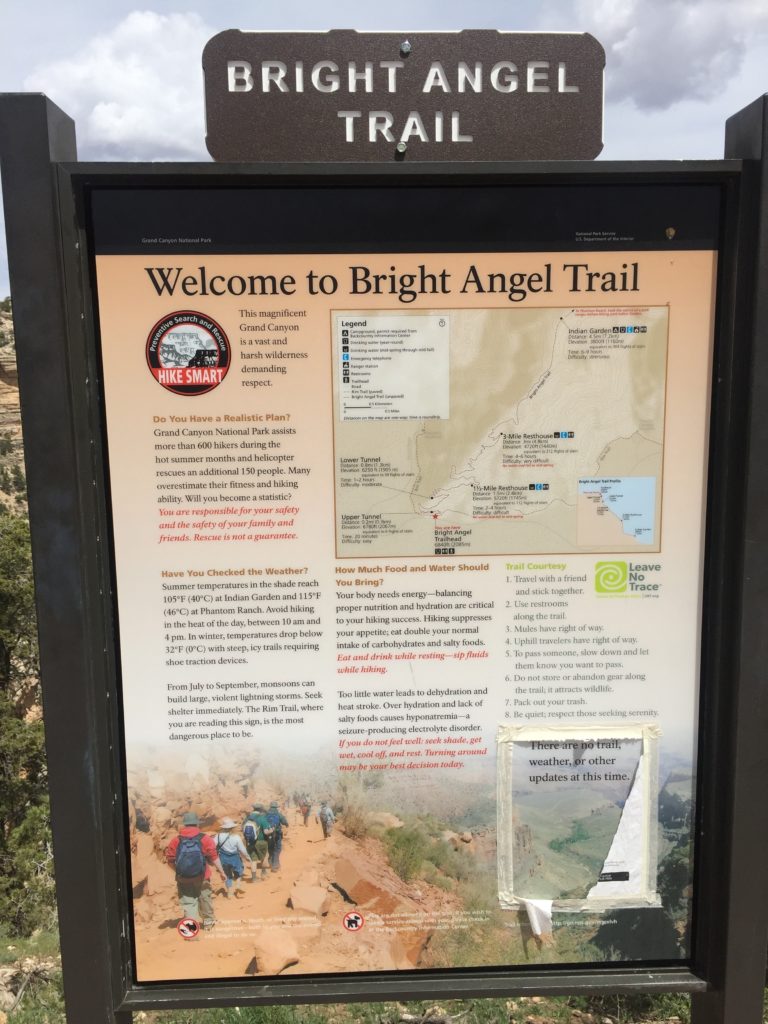 You can only imagine how good that first shower felt …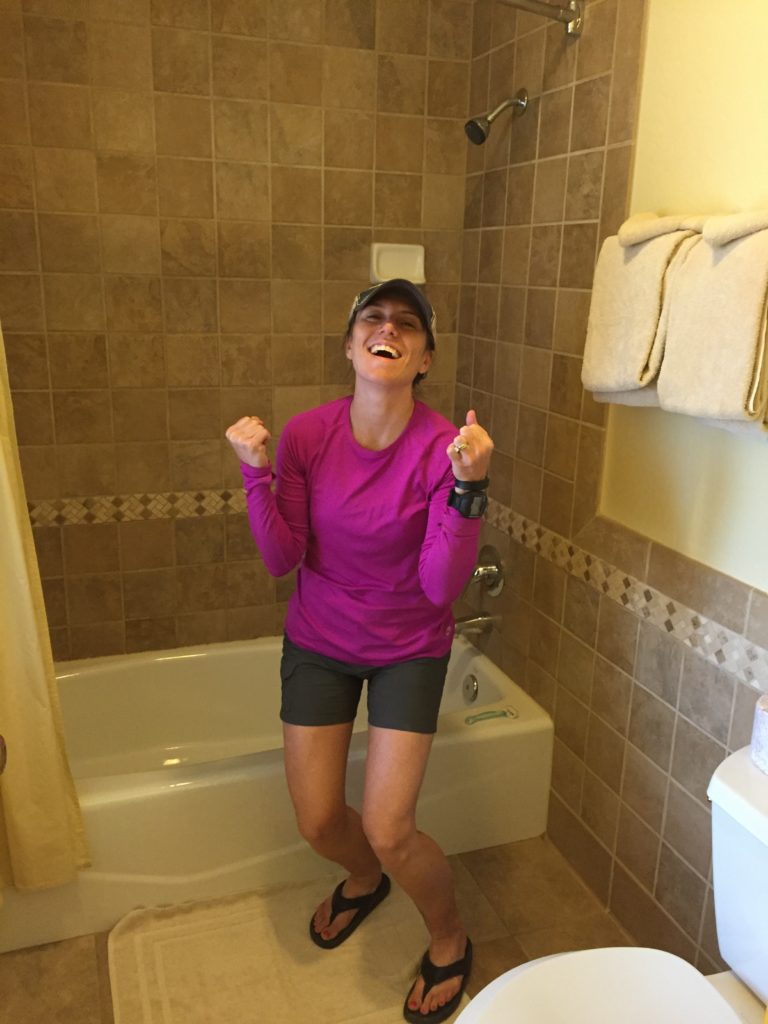 The Unladylike
And now for the moment you have all been waiting for … drum roll please … the bathroom situation. It was unladylike for sure, something you would definitely expect from me. If you are modest or embarrassed or need nice accommodations to do your business, you may want to go on a different vacation.
If you had to pee during the day, you had to go in the river. We would try to find a place away from the rest of the group, get as close to the edge of the shore as possible and let it hang out. This was much easier for guys than the ladies. Since we could not aim into the water, which was INCREDIBLY cold, it became difficult to try to squat over the water without getting your ankles wet and freezing your toes off in the process. The water moves at such a fast rate that the urine doesn't create problems for the cleanliness of the river, and peeing and pooping on the land creates issues for campers and diminishes what is left of the shore.
Now, pooping was a bit different. Each evening at camp, our guides would set up two "bathrooms" which consisted of a bucket that was only for urine, and another – with a lid that resembled a toilet seat – for poop, paper products and feminine hygiene products. A hand-washing station would be set up near the "toilets." You knew they were unoccupied if a plastic bag containing a roll of toilet paper was next to it. You had to wait if it was not. The buckets were tucked away behind trees so no one could see you, but there is just something about pooping in a bucket and knowing someone has to clean out these nasty buckets that is just a bit unnerving. Porta potties were a mere dream. I successfully pooped and peed in the buckets without a problem. I've had lots of practice popping squats during the years. Thank you, running.
***
This was truly the experience of a lifetime and something that should be on your bucket list. I will cherish every moment and memory made from this trip, and I will be dreaming of those days along the river and those nights under the stars in the canyon for years to come. This summer, we will be continuing our quest to visit every U.S. National Park with a visit to Crater Lake National Park in Oregon.
Have you ever taken a Grand Canyon rafting trip? If not, is this something you would like to do? What are your biggest questions or fears about this kind of trip I can help answer?