November 29, 2015
Every family has their holiday traditions. In my family, Thanksgiving has always been synonymous with running. Just like I can count on turkey, mashed potatoes and pumpkin pie being on our table, there has always been a race to start the day. For as long as I can remember, my family started our Thanksgiving day by running in the Tampa Bay Times Turkey Trot, which has a one-mile, 5K and 10K option. The race has grown to about 17,000 total runners and is the largest race in the area.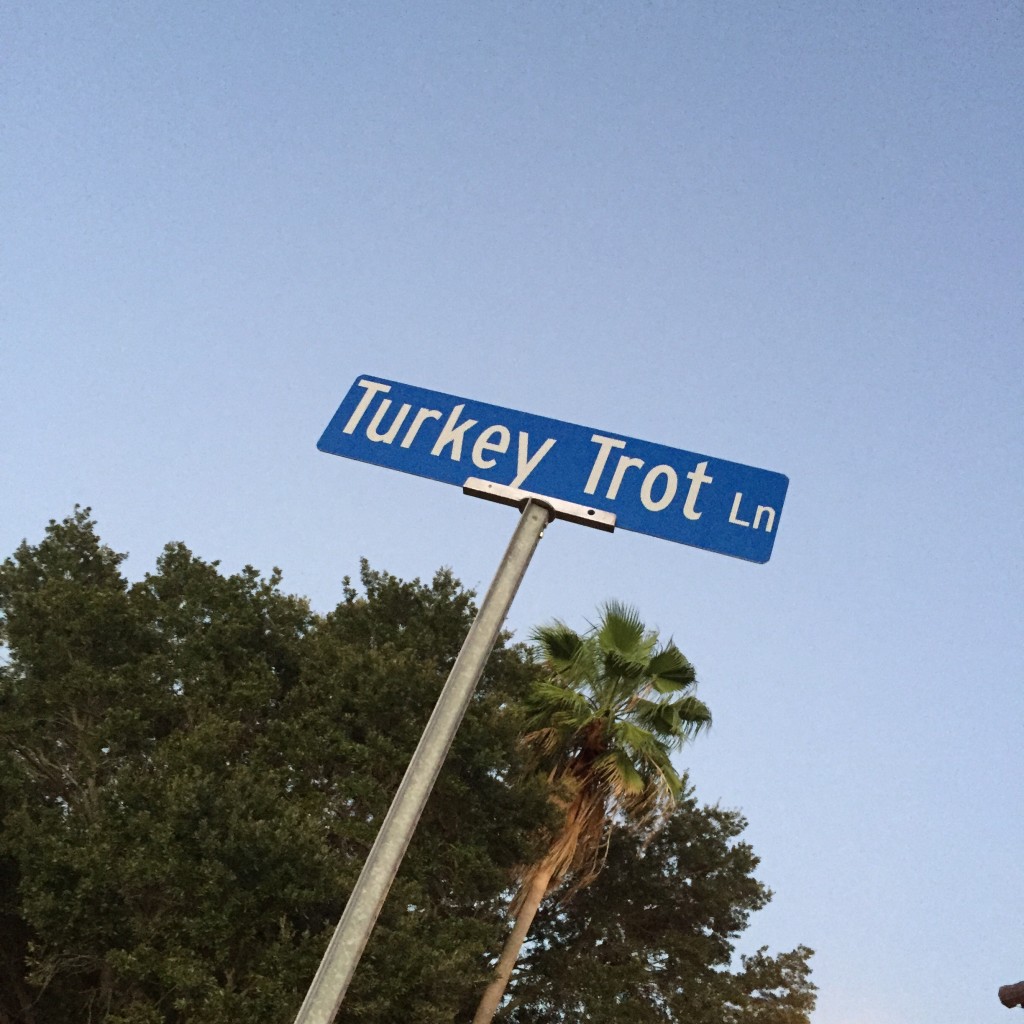 When I think about my running journey throughout the years, the Turkey Trot is the first race I remember participating in as a young girl. Here is a picture of me before the race about 25 years ago. I was on the front page of the local newspaper wearing this same outfit toeing the starting line of the one-mile fun run that same year (trust me, I searched for the clipping … I'll keep looking and maybe it will make next year's race recap).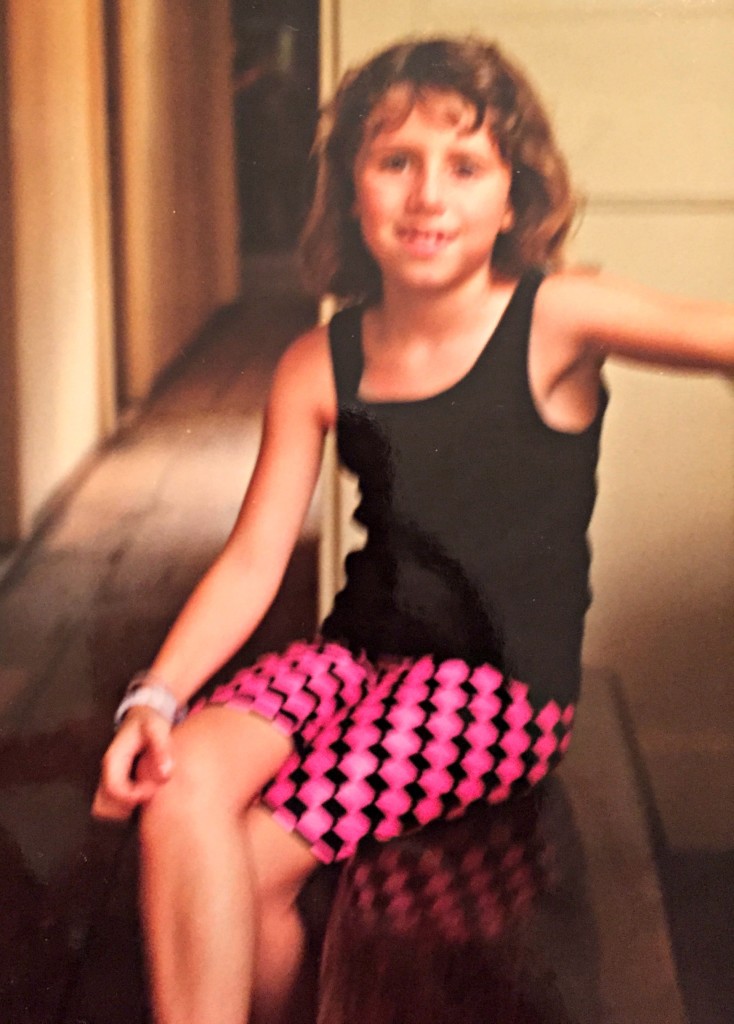 After I moved to Atlanta in 2006, I stopped coming home for Thanksgiving every year. My husband and I began staying in Atlanta or chose to travel during Thanksgiving week for vacation. But now that we are back in Tampa with our family, we once again joined the age-old tradition of running the Turkey Trot. It was Mr. rUnladylike's first time, and we were joined by my mom, dad, brother and family friends Dan and Jere. We all ran the 5K.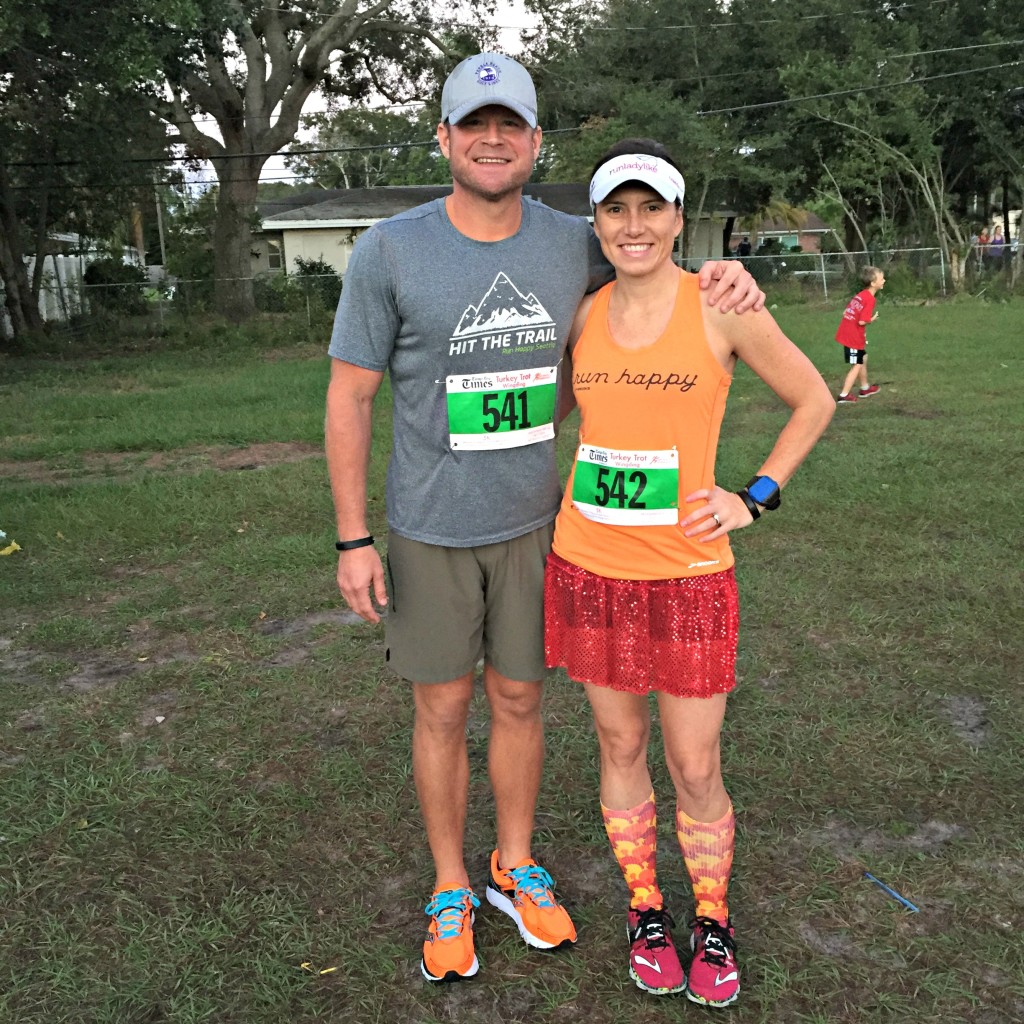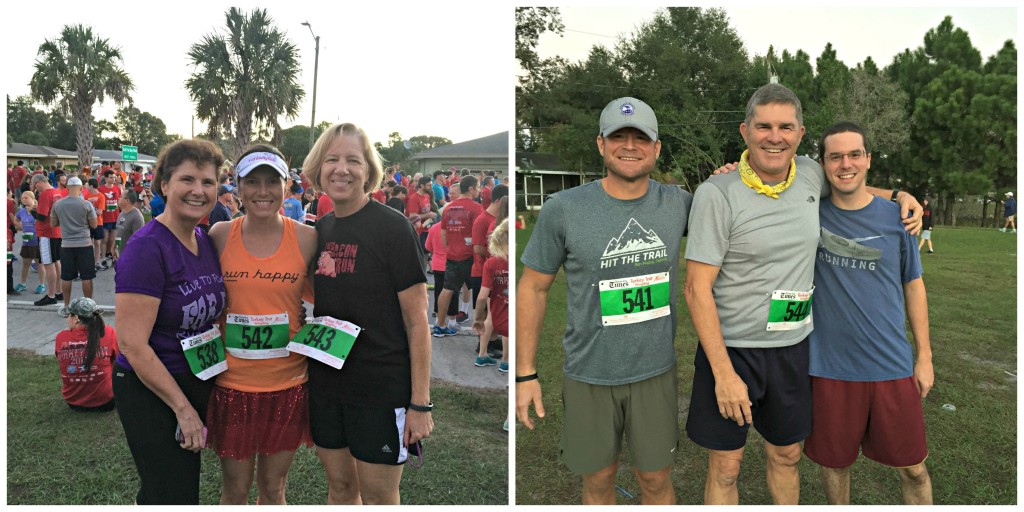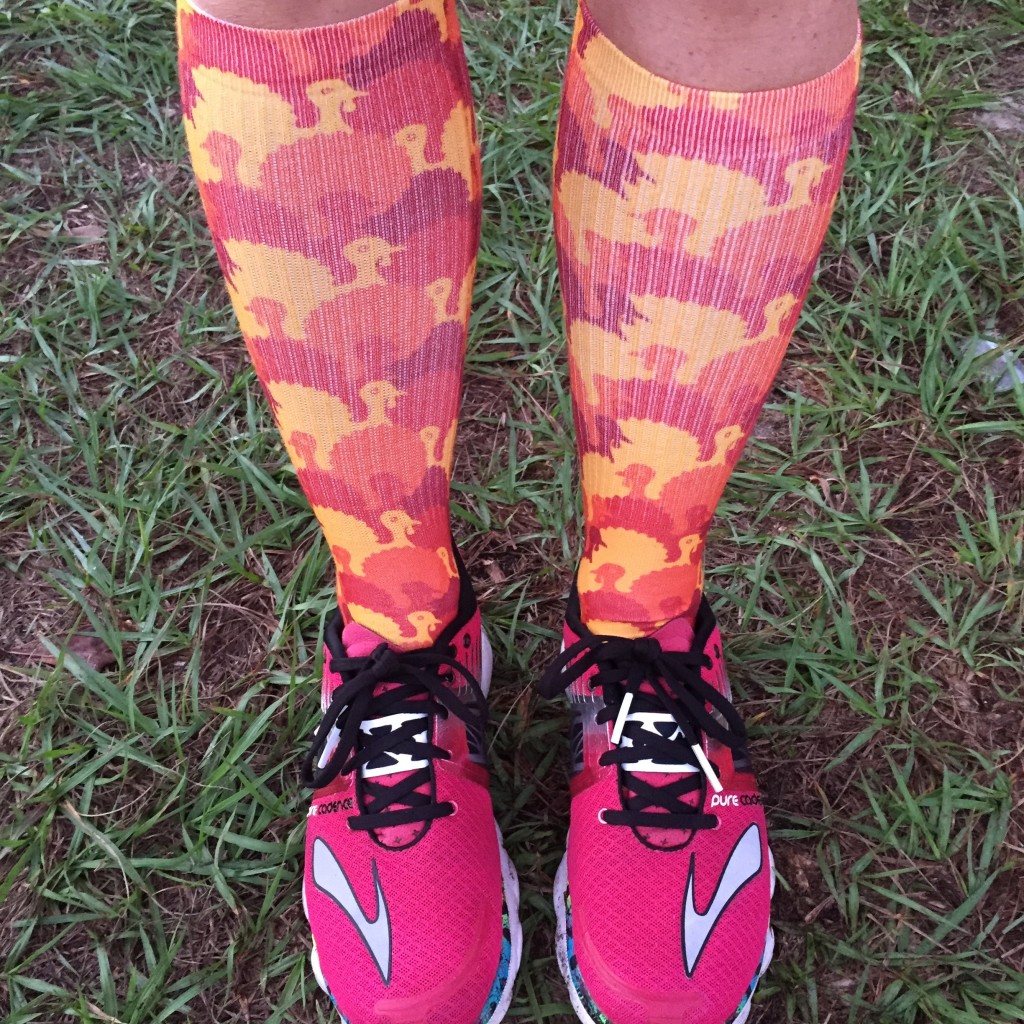 2015 Turkey Trot: A Fitness Test
The Tampa Bay Times Turkey Trot 5K course is great, but it does not bode well for a negative split. The first mile is mostly downhill, the second mile is flat and the third mile contains a fairly long incline. The end of the race heads downhill before finishing on a local high school track.
My goal for this race was to treat it as a fitness test to see how my current fitness level is after taking four weeks off in October and running very low mileage with little to no speed work or formal training (just running for fun). Our 5K time is one of the best predictors of current fitness, as it is what I use to prescribe easy and recovery pacing, as well as speed, tempo and race pace pacing for myself and my coaching clients. As our 5K time improves, our pacing can get faster. However, it ensures we are training based on our current fitness level, not a desired time or state that our bodies may not be prepared for. You can read more about speed work pacing here.
I covered my Garmin with some blue painters tape so I could not see the time or mile splits. I wanted to simply run this by feel without judging myself in the moment.
I ran the first mile with Mr. rUnladylike who motioned to me to slow down a few times as we ran downhill. This is an extremely crowded and congested race, so we spent the first mile in what felt like a labyrinth, weaving our way through the hoards of runners. I saw my pal Beth as we were nearing the first mile marker, and it was great to know she was out there with us.
Mile 1: 7:02
As we started the second mile, I began to notice how hot it was. It was about 70 degrees with 95 percent humidity, so I was starting to sweat. Mr. rUnladylike broke away and I tried to keep him in my sight. My lungs started to scream at me a little bit, and I knew my pace had slowed. I just tried to stay steady. We started up the incline during mile three and I told myself there was less than 8 minutes to go. As we rounded the corner after the hill, we started to run downhill and I could see the stadium where we'd finish on the track. That was a boost.
Mile 2: 7:29
Mile 3: 7:30
As I turned onto the track, I saw the clock above the finish line: 21:56, 21:57, 21:58 … Although I wouldn't say I felt very good during the race, I was surprised and pleased to see where I was at. I crossed the line when the clock said 22:05. My final time on my Garmin was 22:39, a 7:17 per mile average. The distance read exactly 3.10 miles. I received a mug for being in the top 125 female finishers.
Last 0.1: 6:00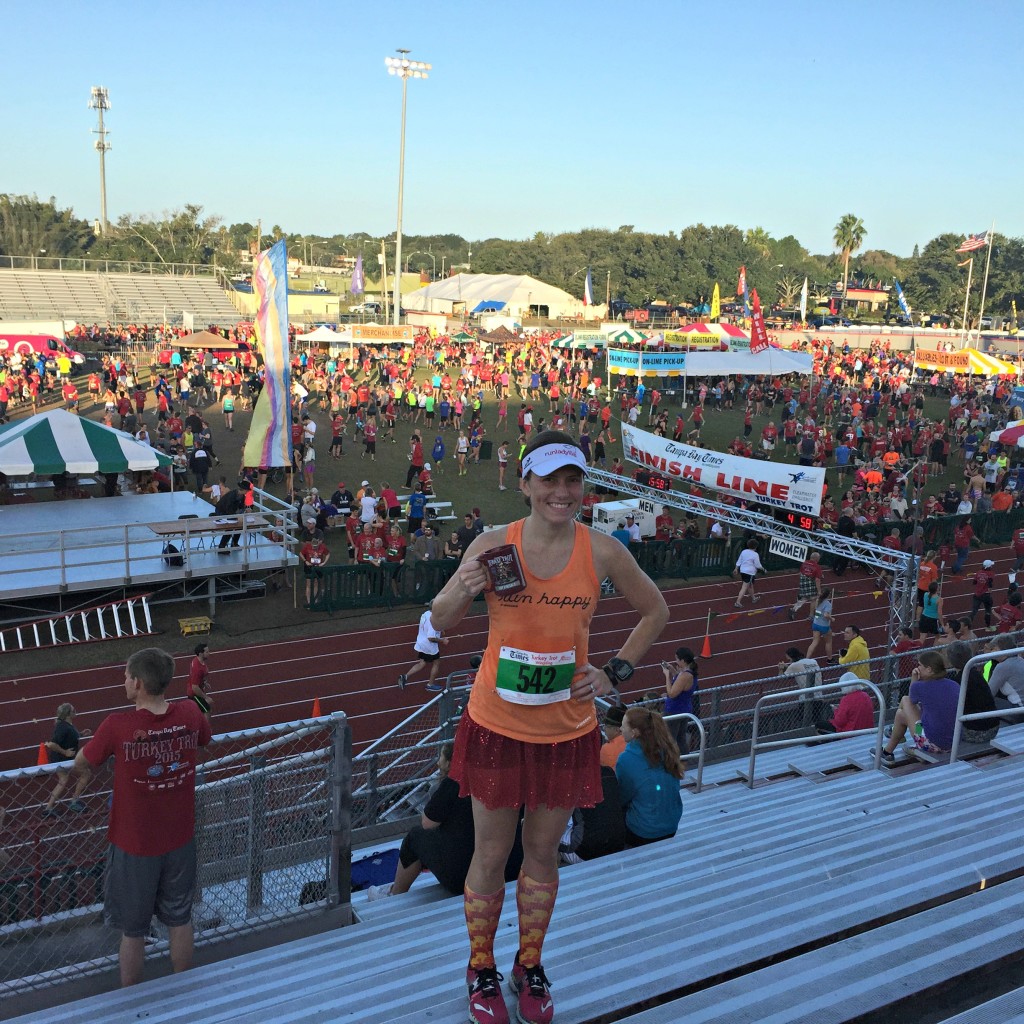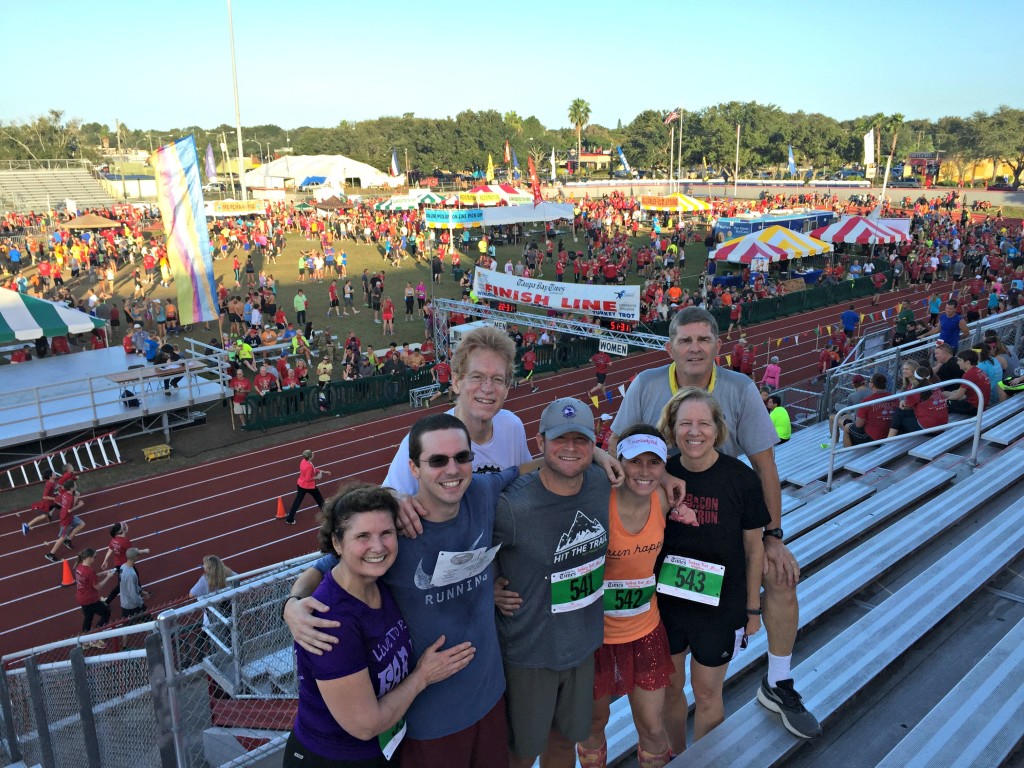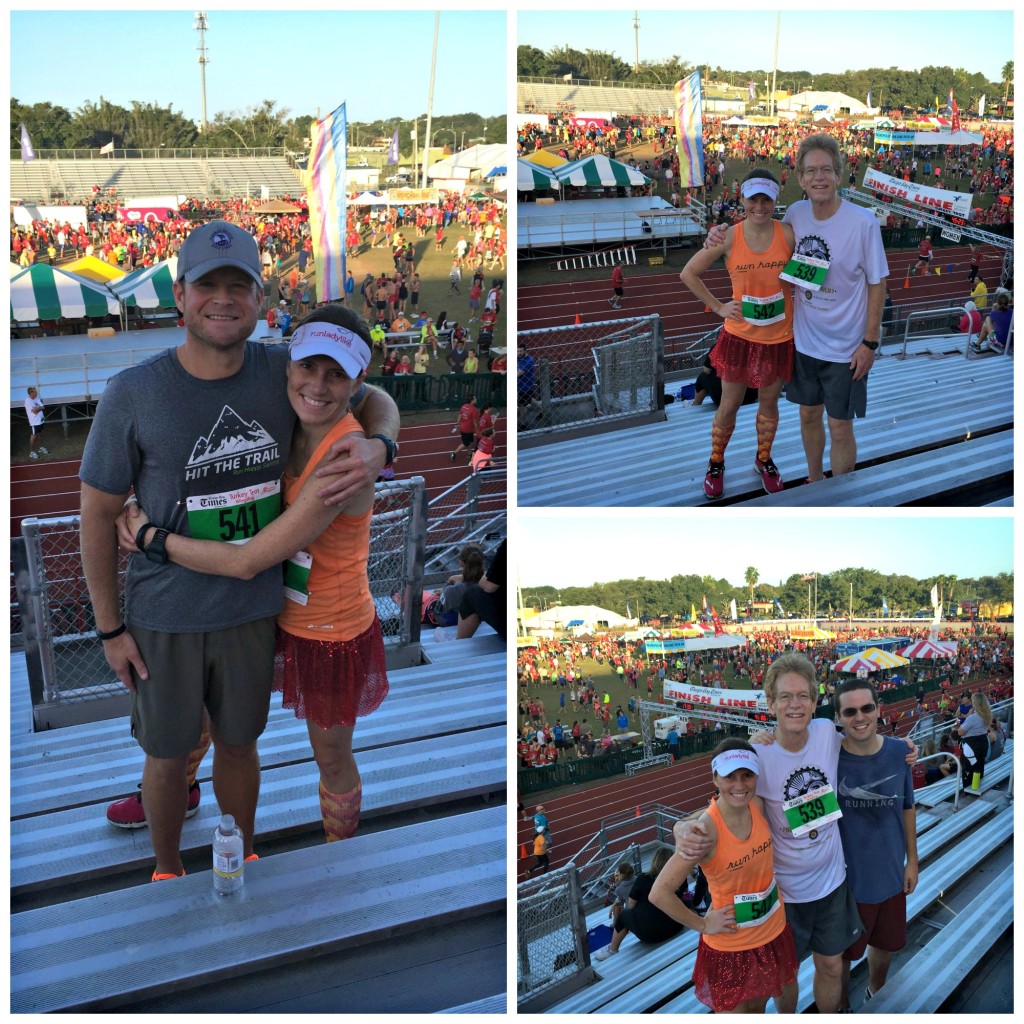 Given my lack of training and low mileage during the past few months, I was very happy with this fitness test. While I've lost a lot of speed, I'm not as far behind as I imagined I might be, and the mix of running and cross-training has helped keep my fitness at a respectable level from which rebuilding is very doable.
All in all, it was a really fun morning and a great way to start Thanksgiving. It reminded me, once again, of all the many blessings I am thankful for, including my ability to run. I hope you all had a wonderful holiday week surrounded by family and friends.
Did you run a Thanksgiving turkey trot? If so, how did it go? What fun holiday traditions do you and your family enjoy? Any related to running?