April 22, 2014
As an endurance athlete, I've learned there are many things that seem impossible that are actually possible. I was especially reminded of this important lesson during the past week.
I was fortunate to spend 4 days in Utah at the fabulous Red Mountain Resort with my mom to celebrate her 60th birthday.
This was my second trip to this amazing health and fitness mecca, where you feel like you're in a life size painting (not to mention a runner's and cyclist's paradise). In a hot area that only gets 8 inches of rain in an entire year, you wouldn't think that flowers could grow. But as you walk through canyons and along desert roads, we found wildflowers everywhere growing strong in the clay-colored sand – yellow, red, purple, orange. What seems like it would be impossible was right there before our eyes: Flowers growing beautifully in the desert.
Just like flowers shouldn't be able to grow in the sand without water, we often set limits for ourselves – I can't run that fast. I can't run that far. I don't think I could finish in that time. But just like the desert flowers, the truth is, we can.
Remembering that lesson was just what I needed to motivate me through my first full week of triathlon and half marathon training, which kicked off again last Monday. Three friends of mine recently ran some incredible races where all their mile splits were in the 6+-minute per mile range. As I was reading about their experiences, the first thought that occurred to me was: I wish I could run that fast. I don't think I could do that. As I was watching the Boston Marathon yesterday and realizing I want to qualify to run it, I was thinking: I'm not sure if I can really run fast enough to qualify. As those thoughts creep into my head in the weeks and months of training ahead, I'm going to remember the desert flowers growing where flowers shouldn't be able to grow. I'm going to remember that anything is possible.
Here's what last week's training looked like:
Monday: 3.1-mile run with Mr. rUnladylike. This was supposed to be a rest day for me, but my husband wanted to go for an evening run. Thinking it would be an easy recovery run, I decided to join him. It turned out to be more of a hilly progression run, with our mile splits looking like this: 8:35, 8:17, 7:24 and 6:43 (last 0.1).
Tuesday: AM: Swam 1,800 meters with the main set focusing on 100-meter repeats; PM: Rode 10 miles on the bike (trainer) with 7 x 20-second sprints in the middle of the ride with a 2-minute active recovery between each.
Wednesday: Speed work and strength training: Mr. rUnladylike joined me for 4 x 800 meters at the track (including a warm up and cool down and a 400-meter recovery between each repeat). My repeats were 3:05, 3:11, 3:12 and 3:03. We followed this up with a 30-minute upper body circuit workout that focused on chest, biceps, shoulders, triceps and back.
Thursday: Biked on the trainer for 1 hour before catching my flight to Utah. Once in Utah, I took a 45-minute deep stretch class to end the day.
Friday: 4-mile hike in Snow Canyon State Park in Utah (2 miles were in soft sand so our butts got a good workout!)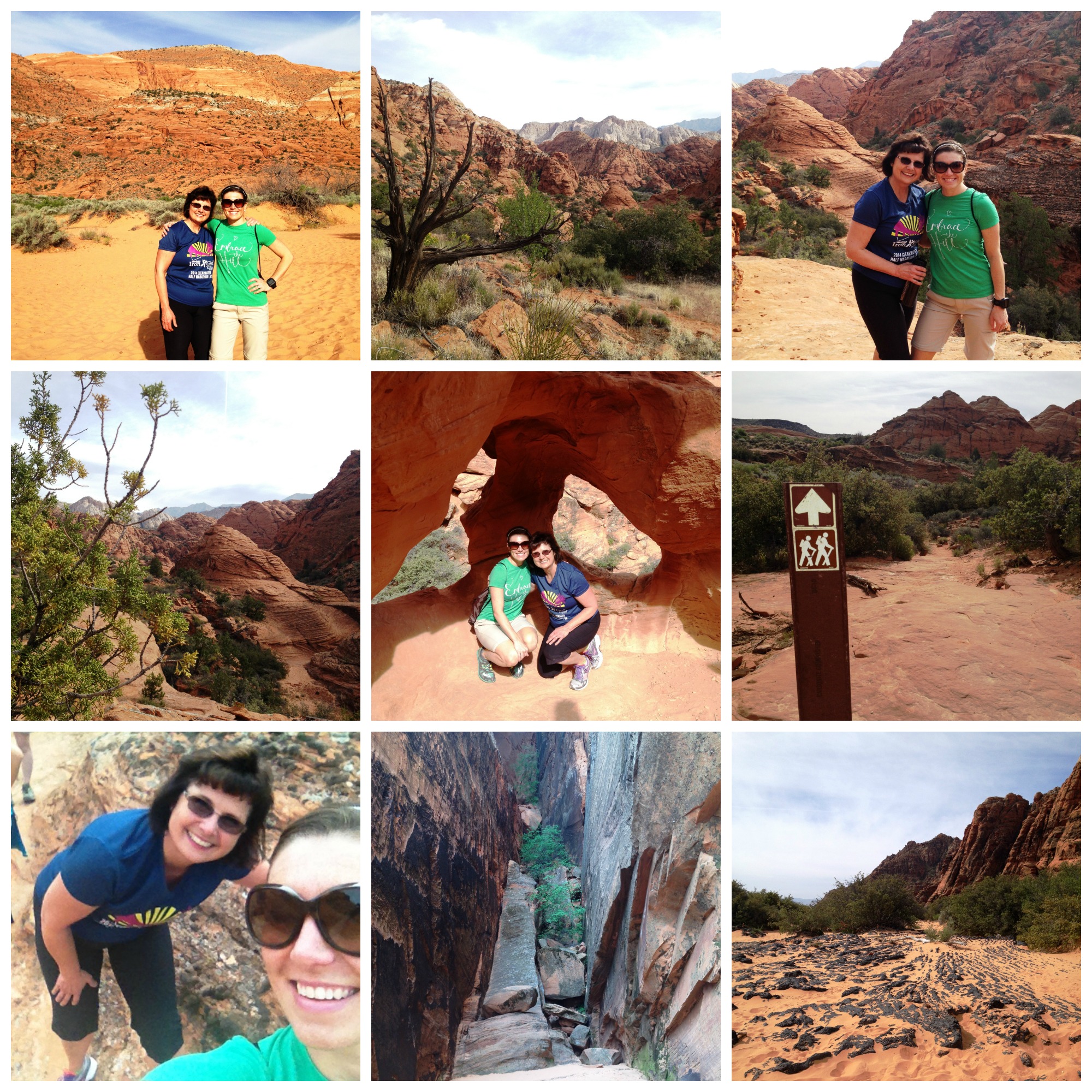 After returning to the resort, I took a 45-minute deep stretch class followed by a 50-minute massage. I ended the day with a 5.12 mile run at 8:19 average pace (2 miles down hill followed by 3 miles uphill).
Saturday: Swam 1,800 meters with the main set consisting of 100 and 50-meter repeats. After breakfast my mom and I took a leisurely 11-mile bike ride to a nearby town to stroll through art galleries. Later that afternoon we took 2 classes, including 45 minutes of sports training (included kickboxing, tabata and sports drills) and 45 minutes of Zumba. It was my first time doing Zumba and while I felt a bit discombobulated during much of the class, it was a blast. Good thing I have no photos or videos to show you from that!
Sunday: 8-mile run through Snow Canyon State Park: The first 4 miles were uphill and the last 4 were mostly downhill. The splits looked like this: 9:12, 8:45, 8:59, 9:03, 8:19, 8:19, 8:05, 7:39
Wishing my mom a very happy birthday tomorrow! So glad I was able to celebrate (and exercise) with her last week!
How did your training go last week? What did you think was once impossible that you have since conquered?