July 1, 2015
The greatest thing about running is not the running itself, but rather the people running brings into our lives. From knowing your running tribe will be waiting for you on Saturday mornings at o-dark-thirty to simply connecting with runners across the world through the keyboard of our computer screens, this community is one of the best things that has ever happened to me. I appreciate it even more since moving away from Atlanta where my local community was large and always present, and now I feel like a lone ranger trying to find my tribe again.
As I've been running solo more and more lately, I've been counting down the days to Rise.Run.Retreat, an intimate retreat built around the idea that through connections with other women in the running community we can build each other up and all be stronger.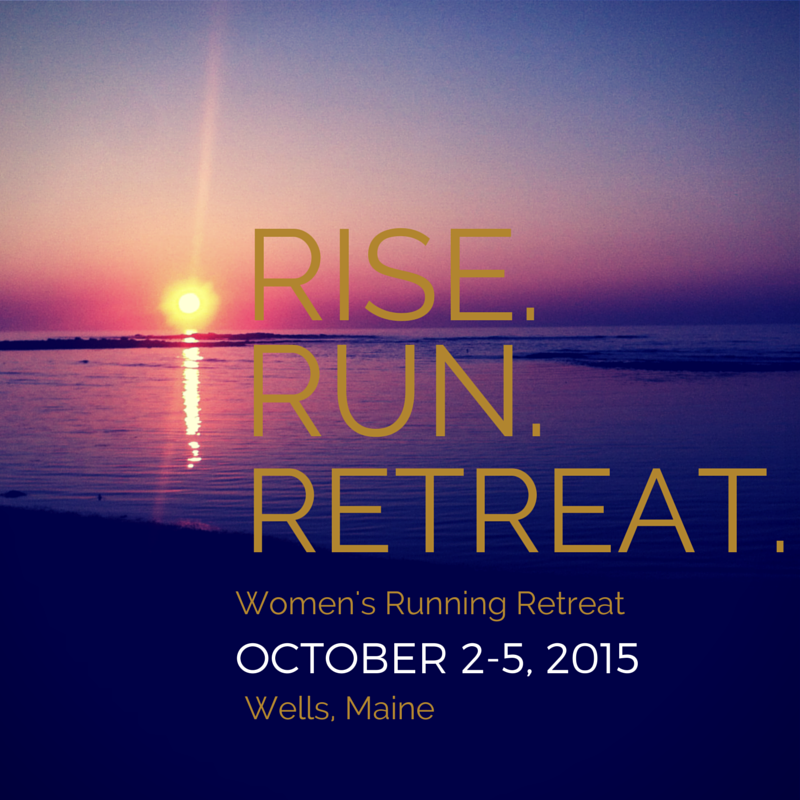 I'm co-hosting the retreat with the fabulous Sarah Canney from Run Far Girl who had the inspiration for the idea when we took a road trip together last June. It will be held this October 2-5 on the coast of Maine and is centered on building relationships through running … and of course, actually running together. Ten of the most incredible and inspiring female runners are coming together for an unforgettable weekend that will also include running the Maine Half Marathon.
And we want you to join us.
There is only one more spot available and we're giving you the chance to win your way in! Before you decide to enter, here's what you should know about the retreat:
Rise.Run.Retreat.
When: October 2-5, 2015
Where: Wells, Maine (lodging is included in a unique house located on the coast of Maine)
Your hosts: Sarah Canney from Run Far Girl and yours truly
What: An intimate running retreat that connects female runners through inspiring conversation and running inspiration. Activities you can expect during the retreat include a yoga for runners class, running the Maine Half Marathon, inspiring guest speakers, collaboration and meaningful conversation, the most incredible schwag bag ever and much more.
Current retreat sponsors: Here are just a few of the retreat sponsors that have been confirmed and will be providing goodies to all attendees:
Attendees: There are some of the most incredible runners and women attending the retreat. Coaches, moms, yogis, social media gurus and runners of all abilities. Be sure to check these fabulous ladies out! Sarah, Tina, Laura, Christine, Allie, Sandra, Jen and me.
Giveaway Guidelines
To enter, you must share why you want to attend Rise.Run.Retreat in 200 words or less. You can leave your entry in the comments below, or you can email it to runladylike@gmail.com.
Entries will be accepted July 1 through July 10, 2015. The opportunity to win ends July 10, 2015 at 11:59 p.m. ET.
You must be 18 or older and be available October 2-5, 2015.
The winner will receive free retreat registration (a $120 value).
You must be able to provide your own travel to and from Wells, Maine, and cover the cost of some of your meals
You must purchase your own race registration for the Maine Half Marathon ($65 fee).
You must be active on social media.
Each of the retreat attendees are also hosting a similar opportunity on their Web sites. We will each select one finalist from all the entries we receive and then choose the final winner based on the following criteria:
Demonstrates why they want to attend and why attending a retreat with other female runners would be meaningful to them
Conveys a sense of community and appreciation for collaboration, shared experiences and growing as a runner
Is inspiring, creative or thought-provoking
Has a blog or social media platform in which the winner could write about and/or document her experience
Meets the additional criteria listed above regarding age, availability and ability to incur associated travel costs.
The winner will be announced on July 13.
Follow the fun on Instagram and Twitter at @riserunretreat.
This sweepstakes is void where prohibited. Must be 18 years or older to enter. Contest runs 7/1-7/10, 2015. Winners will be selected based on their response. Winners announced 7/13. Winner is responsible for all travel and meal costs. 
Have you ever attended a running retreat before? If you'd like to enter and meet the criteria outlined above, tell me in 200 words or less why you want to attend Rise.Run.Retreat.