Friday FITspiration: Former smoker to run first half-marathon
September 7, 2012
Here at runladylike.com, Fridays are all about sharing the inspiring stories of fit people who motivate all of us to be better tomorrow than we were yesterday. My Friday FITspiration series profiles runners, triathletes and casual exercisers who are making choices every day to be as healthy as they can be – in both huge ways and through simple, small victories. Their stories are about the journey of transforming from ordinary to extraordinary each and every day.
"I can't remember how many times during my Couch to 5K program I thought to myself, 'These running people are idiots, this sucks!' Then one day, I was saying, 'Wow, I'm one of these running people! I love this!'" ~Sean Hartigan
Today, I'd like you to meet Sean Hartigan. He is a father of 2 girls who started his running and weight-loss journey for them. Once 250 pounds and smoking a pack of cigarettes a day, Sean is now 175 pounds and will run his first half marathon at the end of September. Check out my interview with this inspiring runner.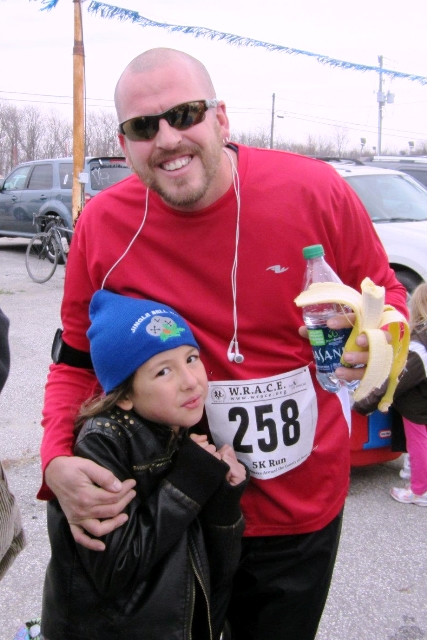 How long have you been running, and what inspired you to start?
I started running in April 2011 after a very depressing realization. I was trying to teach my oldest daughter to ride a bike, and I was dying trying to run beside her. I looked at my life and I realized I was 36, overweight, a pack-a-day smoker and making horrible eating choices. A friend at work who had just started running suggested I join the Couch to 5K program. So I did. I made it through the program, not with without setbacks or thinking I couldn't, but I did it! I ran my first official 5K run in June 2011, with a time of 48 minutes. By September 2011, I was down to 30:31. During my last race of the year, I broke 30 minutes with a time of 29:48.
I trained hard all winter, running and working out with Axfit.com. I ran my first 5K of 2012 in 27:10. My PR is currently 24:48. So do the math. In a year, I've almost cut my time in half and went from 250 pounds to 175 pounds by running, training and making healthy food choices. I'm currently training for The Run for Heroes Half Marathon at the end of September. This race means a lot to me because 2 of my grandparents suffered from Alzheimer's. I WILL cross the finish line with my daughters!
Finish this sentence: I run because _______________________.
I run because my kids need me to be around for them!
What is your favorite race distance? Why?
So far the 5K has been my favorite, but that might change to the half marathon. We'll see how September goes.
What running/racing accomplishment are you most proud of?
I'm most proud of my Essex Jingle Bell Run in 2011, where I finally broke the 30-minute mark in the 5K. I made that my goal for the season, and the last race of the season I did it. It fueled my training all winter!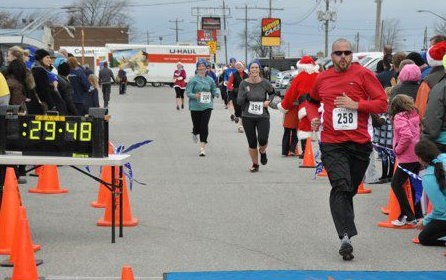 What is the hardest challenge you have had to overcome? How did you do it?
Getting off the couch! It was the most challenging. Every time I would look at my daughters, I would remember why I needed to change my life. I can't remember how many times during my Couch to 5K program I thought to myself, "These running people are idiots, this sucks!" Then one day, I was saying, "Wow, I'm one of these running people! I love this!"
What advice would you give to someone who wants to start running or who thinks they can't do it?
I was a pack-a-day, overweight, lazy blob, and I did it. Trust me. If I can do it, anyone can. Use the social media we all have. Post your runs and have a friend check on you to see how your run went or why you haven't posted one. If you're new to running, use a program like Couch to 5K. It is an amazing training tool.
What is your running mantra(s)?
You are better today than you were yesterday.
I may not be there yet, but I'm closer than I was yesterday.
One more kilometer [or mile], and you've earned a beer!
What running gear do you never run without?
I won't run without my iPod. Music sets my mood, helps me control my pace and keeps my mind off of what my legs are screaming!
What keeps you hydrated and fueled the best (us runners are always looking for the best tips and secrets on nutrition!)?
I use a FuelBelt to stay hydrated during my runs. Some might find this odd, but I chew gum when I run. It keeps my mouth wet and is a good distraction.
What's on your iPod right now?
I have the most interesting playlist. Everything from Girltalk, to country, to rock. My playlist is called "Run bitch run."
What are you most passionate about? What inspires you the most in life?
My 2 amazing daughters. They push me to be a better person every day of my life. When I run, I think about them, I imagine them cheering me on at the finish line.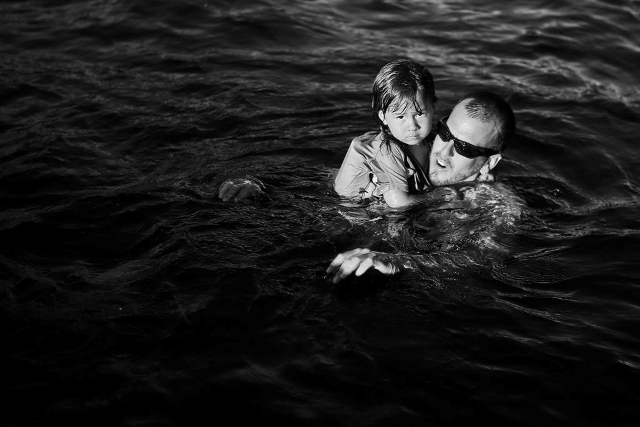 What is one thing most people would be surprised to know about you?
I talk to myself when I run. I tell myself, "Don't give up?" and "You got this." And I'm not talking in my head. I'm talking out loud! It scares the other runners. LOL
If applicable, what are your 3 favorite running blogs or Web sites?
Axfit.com
iRun.ca
Runner's World
How can people connect with you?
Twitter: @SeanHarts 
Facebook: Facebook.com/SeanHarts
Thank you Sean for sharing your story with us! Your weight-loss and running journey gives us all extra inspiration. If you or someone you know would be a great candidate for Friday FITspiration, email me at runladylike@gmail.com.
What inspires you most about Sean's story? Sean runs because of his kids. Why do you run?