Ice Bath 101: 8 Tips to Survive a Cold Soak
October 11, 2012
Chattering teeth. Goosebumps. Chills. Sound appealing? What if I added "less sore," "faster recovery" and "injury prevention" to that list? Interested? During every marathon training season, ice baths become part of my training regimen after runs longer than 16 miles. I've posted pictures and comments on Twitter and Facebook in the last few months about this infamous – and sometimes feared – ritual. Many of you have written to me with questions about ice baths: "How do you do it?" "How can you stand it?" "I want to take an ice bath but I just can't bring myself to do it. Any advice?" I thought I would share with you my step-by-step process for perfecting the art of the ice bath and how to stay distracted from how cold you feel. Just like running, taking an ice bath is often harder mentally than it is physically.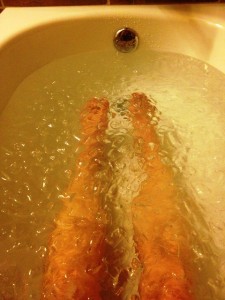 But first, what is the science behind ice baths? There are varying opinions out there. Many believe they are the go-to way to speed recovery and help prevent inflamation and soreness. According to Runner's World, ice baths (or cold-water immersion) can help counteract the risks of injury and stress on the body that is caused by longer training runs. They help constrict blood vessels and decrease metabolic activity, reducing swelling and tissue breakdown after a hard effort. Additionally, they are said to help flush harmful debris from your muscles, speed circulation and jump-start the healing process. On the other hand, there are studies that show mixed results. Earlier this year, Competitor Magazine reported on a 2007 study showing that while "a 50-degree F soak after a hard 90-minute run showed that runners felt less sore in the days after, the ice baths didn't lower the runners' levels of creatine kinase, a marker of exercise-induced muscle damage." My advice would be to limit ice baths to only your longest runs (18+ miles) during the peak mileage period of your training season, when you really begin to feel physically beat up.
Try These 8 Tips to Perfect the Art of Taking an Ice Bath
Buy several pounds of ice (I like to use at least 20 pounds). Set the bags of ice by your tub, cutting open the tops so that they are ready to be easily dumped into the bathtub.
Fill your bathtub with cold water (as cold as your faucet will go). There should be enough water in the tub to cover the tops of your thighs once you get in.
Dress for success. I like to wear tight-fitting shorts, like lululemon's Run Shorty Shorts or a pair of triathlon shorts to soak in, but getting in with any running shorts works too. Be sure to put on a sweatshirt or jacket to keep your torso and arms warm. Make sure it's a jacket or sweatshirt you don't mind getting wet, as the bottom of it may get damp from the bath.
Get into the tub with the cold water only. Again, make sure it is covering your thighs and feet. I find it is easier to get into cold water than ice cold water. It might take your breath away for a moment, but you'll get used to it.
One by one, dump each bag of ice into the water with you. It will begin to get much colder. Experts say the water should be between 50 and 60 degrees F, but cold water that is warmer than that can still have positive effects. A kitchen or meat thermometer is useful for checking the water temperature. According to Runner's World, "the most important factor in the success of an ice bath is consistent immersion over time, not the temperature."
Stay in the tub with the ice for 8-15 minutes. You'll notice that your toes are likely to be the most sensitive of all the parts you have submerged. They get a little tingly/stingy by the end of your bath.
Distract yourself. The best way to make the time go by quickly and not think about how cold you are is by taking your mind away from the ice. I have a waterproof case for my iPhone and find that tweeting, checking email and being on Facebook makes the time fly by. I've also read my Kindle, talked on the phone with my mom and even eaten a sandwich while ice-bathing in the past. If you're someone who gets really chilled, consider sipping on a cup of tea while in the ice bath to warm you up a little.
After your ice bath, bring your body temperature back down slowly. It is tempting to rush to take a hot shower (I've certainly been guilty of doing that many times). However, according to Andy Schmitz, a sport performance manager for USA Triathlon and elite coach for the world triathlon championship events and the Olympics, he says that the residual cooling effect and gradual warming are ideal. He suggests initial warming options of a sweatshirt, blanket and/or warm drink. I often hop right into my bed and get under the covers for 10 minutes, or during the summer, when it is really hot, I'll go stand outside for several minutes where it's nice and toasty. However, Coach Schmitz does recommend taking the shower if you are unable to warm yourself.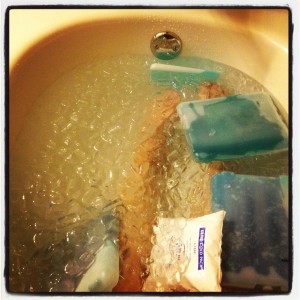 So, who's ready for a cold swim? Milkshake anyone?
Do you regularly take ice baths after high-mileage long runs? What tips would you add? If you've never taken an ice bath, what other strategies do you use to speed recovery after long runs?