A Long Run after a Long Rest
October 14, 2012
After 11 long and mentally agonizing days off from running following my Ironman 70.3 Augusta race, I'm feeling a comeback coming on! Yesterday I was able to go on my first long run in 2 weeks, and I'm declaring it a success. After an easy 4-mile test run on Thursday, I felt healed up enough to rejoin my running group for our last 14-miler before the Marine Corps Marathon. (I'm pretty sure the last 2 weeks count as my taper.) I met my group at 6 a.m. and wasn't sure what to expect or how I would feel. I didn't know if I'd be slow as a snail or have a spring in my step from all the rest.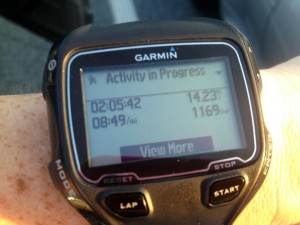 Here's how the run shook out:
Mile 1: 9:09
Mile 2: 8:53
Mile 3: 9:03
Mile 4: 9:03
Mile 5: 8:52
Mile 6: 8:42
Mile 7: 8:33
Mile 8: 8:36
Mile 9: 8:55
Mile 10: 8:50
Mile 11: 8:44
Mile 12: 8:48
Mile 13: 8:43
Mile 14: 8:55
Last 0.23: 7:47
14.23 miles: Average pace: 8:49/mile
So what were my key takeaways?
I might be stronger than I think. I've been convinced that 11 days off was going to completely derail my speed and endurance. Although I am sore from yesterday's run and began to feel a bit fatigued around the 13-mile mark, I was able to push myself while still feeling strong. I do think the time off is making my body ache a little earlier than normal. After 14 miles Saturday, I felt more like I typically do after 18. My feet and ankles were very happy to be done, and my knees and hips were feeling tired by the end.
The start of this run is very similar to how I'd like to start my marathon in 2 weeks. Slow and conservatively. Don't go out too fast. Don't waste energy dodging the crowds. Begin to build more speed after the first 3 miles.
I was happy with how consistent my splits were. With the exception of miles 7 and 8 which had large downhill portions, we hovered within a reasonable range that felt doable for the marathon.
In the last few weeks, I've started fueling with gels instead of Swedish Fish. I feel they get into my blood stream faster and have better ingredients (I'm using Honey Stinger's all natural brand).
My electrolytes were off yesterday. My skin was a little salty despite drinking my Nuun and taking one salt tablet. I don't think I hydrated enough on Thursday and Friday, nor did I eat enough salt the night before the run. That will be a big focus for me during the next 2 weeks. Nutrition and hydration are king!
I'm going to really focus on my speed work and tempo runs during the next 8-10 days. Be on the lookout for a post on speed work this week!
Miles 21 through 26.2 still scare the crap out of me, and they always will.
The online running community continues to be the coolest group of people on the planet! Thank you for all your support, encouragement and love. You guys rock.
T-minus 14 days until show time!
How do you typically feel running after several consecutive days off? Do you use fuel with caffeine during your races and long runs?