26.2 Running Mantras: Happy Thoughts for Every Mile
October 27, 2012
A good friend and training partner reminded me about "The Moment" this week – the part of a race where you ask yourself if you can really do this. The split second (or maybe even the 30 minutes) where you begin to think you need to walk. When you start to question if you can really dig any deeper. He told me when "The Moment" comes (and it will), have something beautiful to focus on – running mantras, your favorite prayer, whatever it takes to put that dark moment behind you and keep moving forward.
Tomorrow I'll line up at the start of my fifth marathon. No matter how excited, confident or calm I may feel, the butterflies never quite go away. On every race eve, a little self-doubt tries to creep in (especially when 25 mph winds and rain are involved *wink*). So for all of us who are racing in the Marine Corps Marathon on Sunday and for any of you who will find yourselves at a start line soon, remember my 26.2 running mantras to give you a happy thought for every mile.
Mile 1: "Divide your race into thirds. Run the first part with your head, the middle part with your personality, and the last part with your heart." ~Mike Fanelli
Mile 2: Today is my day.
Mile 3: I can do this.
Mile 4: "All I smell is my personal best." ~lululemon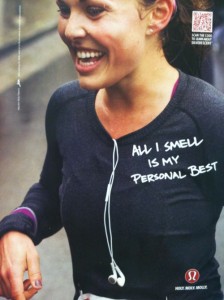 Mile 5: I believe in myself. I believe in my run.
Mile 6: I don't stop when I'm tired. I stop when I'm done.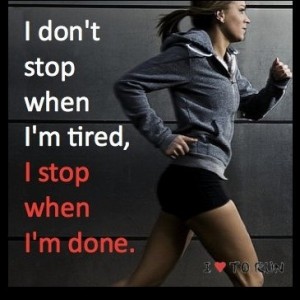 Mile 7: "The difference between winning and losing is not quitting." ~Walt Disney
Mile 8: Enjoy the mile I'm in.
Mile 9: I am strong. I am tough.
Mile 10: "Stepping outside my comfort zone is the price I pay to find out how good I can be. If I planned on backing off every time running got difficult, I would hang up my shoes and take up knitting." ~Desiree Davila
Mile 11: "I am the wind. I am strong, light and fast." ~Ana
Mile 12: If it doesn't challenge you, it doesn't change you.
Mile 13: "There are no shortcuts to any place worth going." ~Beverly Sills
Mile 14: I kill hills. I kill hills. I kill hills.
Mile 15: I'm a runner. This is what I do.
Mile 16: My mind will quit a thousand times before my body will. Feel the pain and do it anyway.
Mile 17: Never throw in the white towel. Instead, use it to wipe your sweat and keep going.
Mile 18: "The only person who can tell you 'You can't' is you … but you don't have to listen!" ~Dean Karnazes
Mile 19: "Pain is nothing. It doesn't exist. I cannot feel it." ~Maurice
Mile 20: "No one goes this far and leaves without a medal." ~@AdrienneRunsAZ
Mile 21: "I'm STRONGER than running. It WON'T beat me." ~Dorothy Beal – @MilePosts
Mile 22: I was strong enough to get this far. I am strong enough to keep going.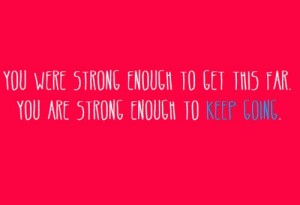 Mile 23: I've done this before. I can do it again.
Mile 24: "Every mile is a good mile." ~runningzen.com
Mile 25: I can do anything for 20 more minutes.
Mile 26: I can dig deeper. I'm almost there.
The last 0.2: "The difference between ordinary and extraordinary is that little extra." ~Jimmy Johnson
Happy running everyone!
I'd love to hear what motivates you. What are your favorite running mantras?