Holiday Gifts for Runners to Fit Any Budget
December 2, 2012
It's hard to believe that December is already here. Finding the perfect gift for people I care about is one of my favorite parts of the holiday season. It's always a fun challenge to find something unique that will make them feel special and appreciated. If you're looking to find the perfect gifts for runners in your life this year, I've got you covered with my Ultimate Guide to Gifts For Runners that has options to fit any budget. These are gifts I either have and love or have been coveting for months (hint hint). They are organized from least expensive to most expensive.
Running Christmas Ornament ($6-$15)
Give your runner some bling for their tree with a running ornament like this "May All Your Miles Be Merry" from treasurecast or one of these ornament tiles from MileStones.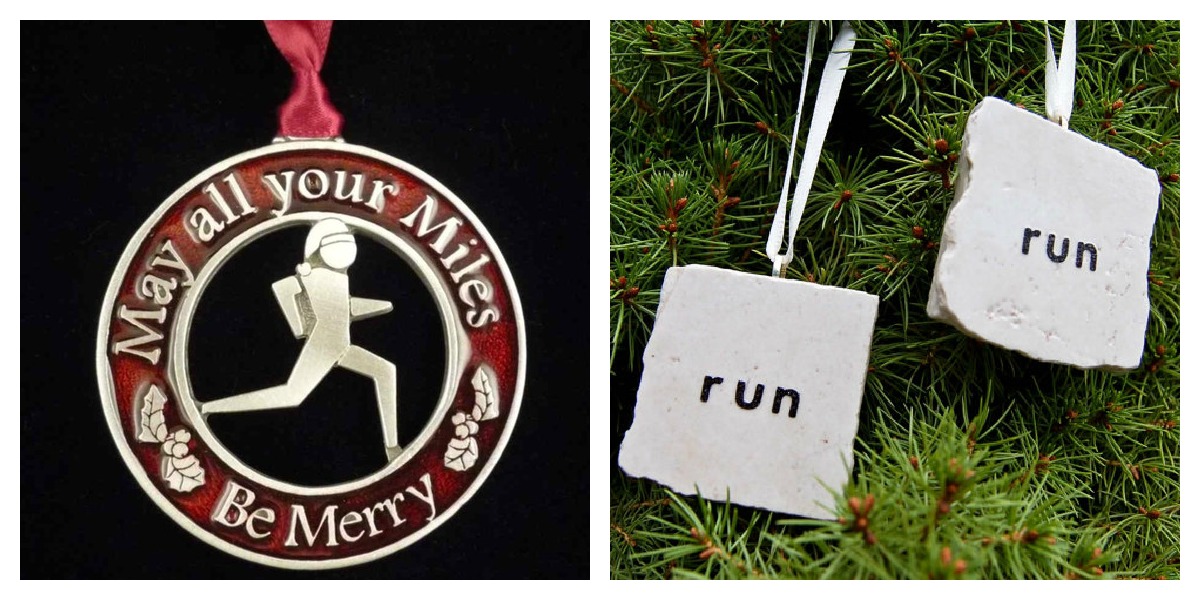 Road ID Shoe Tag ($19.99)
If you want to help keep your runner safe, this is the gift you're looking for. This Shoe ID is laser engraved with your runner's information and an emergency contact number. It easily attaches to the laces of your running shoes with a small Velcro strap and is super lightweight. I have one and never run without mine on. You can also get wristbands and ankle bands from Road ID.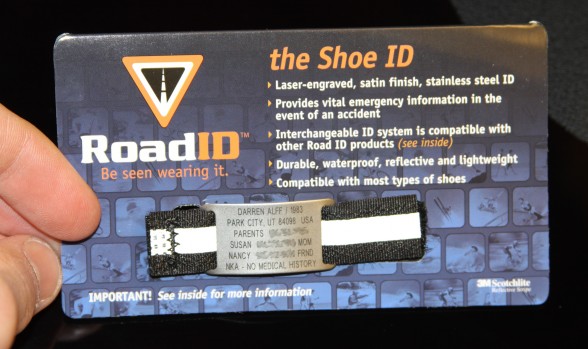 Team Sparkle Skirt ($25)
Make running more fun with a sparkly running skirt from Team Sparkle. These are great for fashionably focused runners or for someone with an upcoming race who wants to stand out. I have a red one that I wore in a 4th of July race (and it's also great for Jingle Bell runs). Team Sparkle sells matching arm sleeves and race socks to complete the outfit. The skirt is made of a very thin fabric, and your runner will need to wear shorts or capris underneath. I recommend lululemon's Run Shorty Shorts under these skirts. For a fun twist on this gift, consider buying matching skirts for you and your runner for your next race together.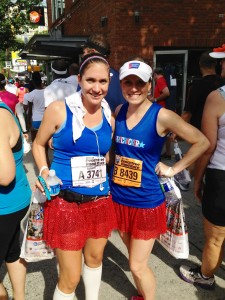 Race Bib and/or Medal Holder ($28-$54)
If your runner has been running for a while, chances are he or she has started to accumulate quite a few race medals and bibs. Help them get organized and display their goods with a handmade race medal or bib holder. There are many great options on Etsy.com. Simply search for "race medal" or "race medal holder" and you'll find some beautiful gifts.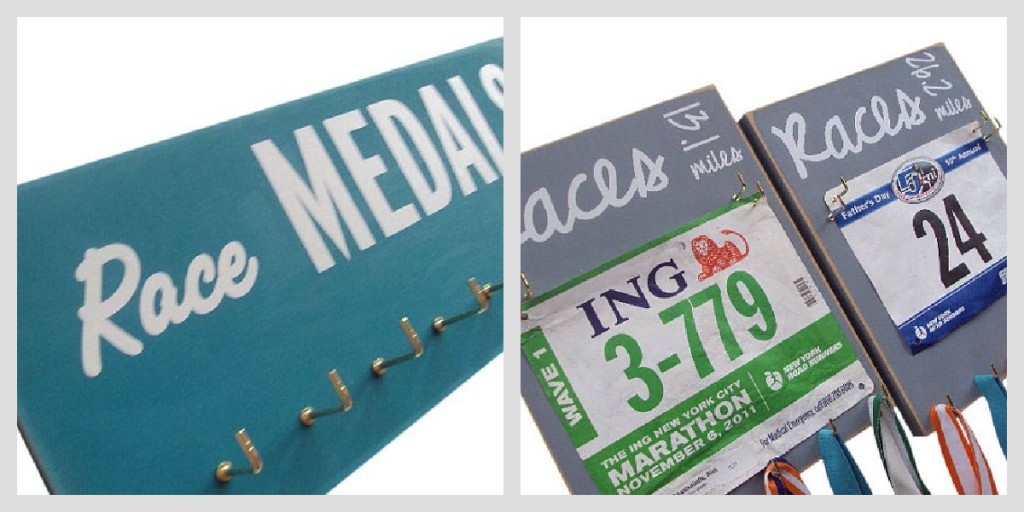 Rundies ($65)
If you want to crack your runner up and give them a workout they can wear all year long, consider a set of 7 cotton underwear from Oiselle. Each panty – created for athletes by athletes – is printed with a different running workout on the butt.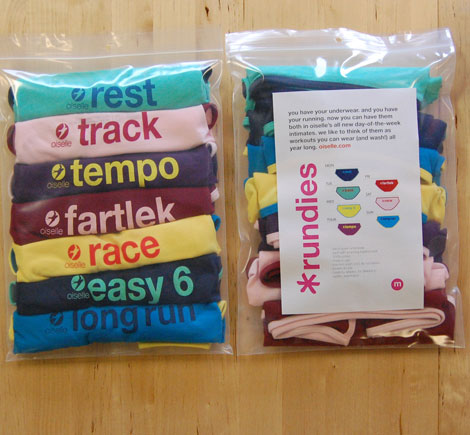 Fly Necklace ($69 silver; $58 bronze)
This unique necklace from Oiselle is perfect for the running lady in your life. Whether your runner achieved a new PR this year or is just passionate about running, she'll love to wear this handmade wing and "fly" pendant on a 26-inch necklace with adjustable length. There is another, less expensive version with just the wing (Wings Out PR necklace) for $48 in silver and $38 in bronze.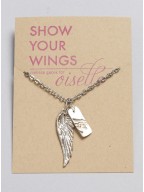 Gift Cards: Music, Massages and Shoes, Oh my! (All prices)
Every runner will be happy with a gift card to help support their passion. And the options are endless. If you're looking to spend less than $25, consider an iTunes gift card to keep their running hits fresh. For a gift under $100, get a 60-minute sports massage for your runner. Be sure to get this from a place that specializes in sports massage (e.g. multi-sport chiropractic practice, sports practice, etc. A sports massage is very different from a relaxing massage in a spa setting.) If you're looking to spend more than $100, get your runner a gift certificate to their favorite local running specialty store so they can pick out a new pair of shoes to kick off 2013. Running shoes are a very personal and specialized purchase. Unless you know exactly what they wear and that it is working for them, get them a gift certificate so they can get professionally fitted for the shoe that is right for their running gait.
The Ultimate Running Stocking ($75-$100)
Buy your runner a pair of Pro Compression Marathon Socks ($50) and fill them with their favorite running fuel, such as tubes of Nuun (electrolyte replacement tabs), Sports Beans, GUs/gels, etc. The compression socks will help your runner recover quicker from long runs, and the fuel will keep gas in their tank during all the miles they'll be logging in 2013. I have the black socks but they come in lots of bright colors and fun patterns to match your runner's personality.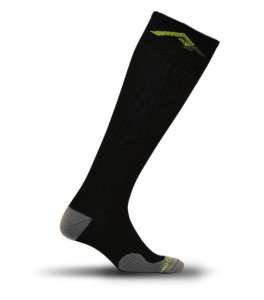 Ogio Endurance Bag ($50-$160)
If your runner travels to races and is also interested in triathlons, wrap up one of Ogio's endurance bags. They have several options within their endurance collection. The one I've been coveting for the last year is their 9.0 Endurance bag. It comes in several different colors and has lots of cool features, including a crush resistant lockable armored pocket (great for things like Garmins and other technology you don't want to get crunched), water resistant wet/dry clothes storage compartment with a 360-degree air flow ventilation, ventilated shoe compartment that holds 2 pairs of shoes, helmet storage pocket, compartment for a mat, organization panel to store all your nutrition and fuel, 2 insulated hydration bottle pockets, a transparent race day/workout check list sleeve, etc. You can wear it as a duffle bag or a back pack. This will make your runner/triathlete the best organized participant in the field at their next race!
A New Cross-Training Activity (Prices vary)
With a new year ahead of us, your runner may want to spice up their workout schedule with something new. Consider gifting your runner 3 to 5 classes to incorporate some new cross training. You could choose everything from yoga for athletes, barre classes, competitive spin classes (like FlyWheel, Spinsanity, Soul Cycle, etc.), boot camp in their neighborhood, etc.
Your Runner's Next Race (Prices vary)
Make your runner's holiday by buying their next race registration. Have they been talking a lot about an upcoming race they want to do? Or are they ready to take the next step (say from a 10K to a half marathon or an Olympic triathlon to a half Ironman) but haven't taken the plunge? Sign them up for their next race and help them start 2013 with a new goal. Consider buying two registrations so you can run and train together. 5K registrations can be around $25-35, while marathon, half Ironman and full Ironman race registrations can be anywhere from $100-$500. Find a race that is right for your runner and a price that is right for your budget. If you have more to spend, consider turning it into a racecation you can share together.
"Give-a-give-a-give-a-Garmin" ($129-$449)
You can NEVER go wrong giving your runner a new Garmin for the holidays. They have many watches to fit every runner and every budget – from the new colorful Forerunner 10s ($129) that do the basics but are fashion-forward and smaller on the wrist to the AWESOME Forerunner 910 ($399, $449 with heart-rate monitor) for triathletes (this is the model I have) that tracks swimming, biking and running with lots of fun features.

Want even more gift ideas? Check out these blog posts from other runners with some more great ideas!
Want more rUnladylike to help you stay motivated during the holiday season?
What other gifts for runners would you add to this list of ideas? What are you hoping you'll find under the tree (or Menorah) this holiday season?