Be the Runner You Are
January 30, 2013
Lately, I've been thinking a lot about what it means to be a better runner. I believe that when it comes to running, it shouldn't matter what anyone else is doing or how fast anyone else is going. It should be about YOU. Running because YOU enjoy it. Training in a way that makes YOU feel good about yourself. Finding joy in why YOU are doing what you do. But I'd be lying (and you probably would too) if I said I never compared myself to other runners.
As a runner and a blogger, I talk to and read about the journeys of so many awesome runners. Complete badass runners. And I'm not talking about Olympic or world-class athletes. I'm talking about the regular, everyday moms, working professionals and people who just amaze me with their paces, times and race PRs every day. Yes, I'm talking about people like Mile Posts, Pace of Me, NYC Running Mama, Neon Blonde Runner, MsFit Runner, etc. who can bust out a sub-7-minute mile at the end of a long run and have marathon times I can't even imagine (yet). I think these women are amazing and inspiring and we can all learn something from every one of them.
But we can't forget to learn from ourselves and to also take pride in the runners we are.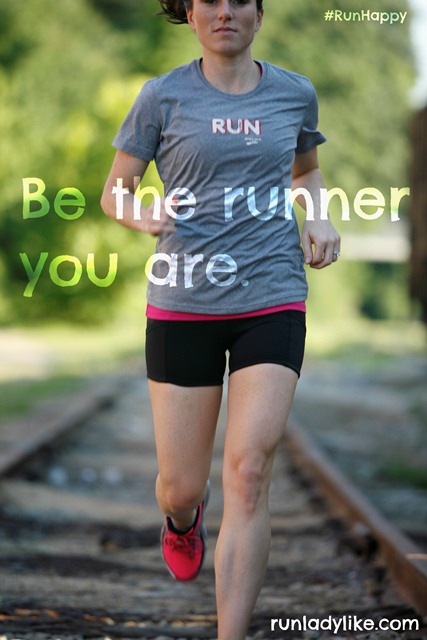 As I was knee deep in my speed work session last night – running 800-meter repeats at a 7:13 pace – it dawned on me that maybe I am better than I give myself credit for. Sure, I can't string together enough 800s at a 7:13 pace consecutively for 13.1 or 26.2 miles just yet like some of the women I admire, but I CAN run that fast. We all have our badass runner moments, no matter whether it's just for 800 meters or an entire marathon.
We are all different. What I think is fast is someone else's slow, and what I think is slow is someone else's fast. I was reminded of this just this week when I posted a workout on Daily Mile and mentioned that I warmed up with a very slow mile that happened to be someone else's speed work pace. What I believe to be true about running is that it's not really your pace that's important, it's how much you are giving – how much you are pushing yourself, how much heart you're putting into it and how much you're getting back in return – that really matters.
I recently met a runner who has been nearly last in every race she has run. So far back in the pack that many spectators were gone by the time she came by, and in some instances race organizers were breaking things down before she had even yet to finish. And she keeps getting out there every day. She keeps running. She doesn't let anything discourage her. Her 16-minute mile is her personal best. She is the runner she is. I'm the runner I am. You're the runner you are. We can't forget to celebrate what makes each of us so great, and simply be happy with the runners we are.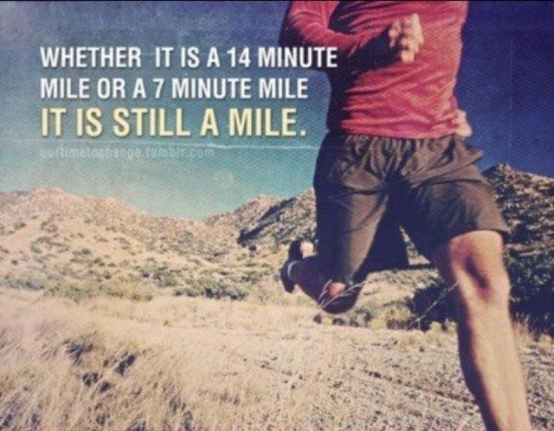 We can't spend so much of our running lives wishing we were something different or better. We can channel that energy into training smarter, pushing ourselves (safely) harder and becoming the best version of ourselves we have the potential to be, but we are still ourselves.
Don't underestimate being happy with the runner you are. Simply getting out there and doing it is something to celebrate. Here's to you. Here's to all of us.
What do you love most about yourself as a runner? What is your proudest running moment? Are you happy with the runner you are?