Friday FITspiration: Let's Send Kristin McQueen to Kona
April 26, 2013
Here at runladylike.com, Fridays are all about sharing the inspiring stories of fit people who motivate all of us to be better tomorrow than we were yesterday. My Friday FITspiration series profiles runners, triathletes and casual exercisers who are making choices every day to be as healthy as they can be – in both huge ways and through simple, small victories. Their stories are about the journey of transforming from ordinary to extraordinary each and every day.
"Ironman is so much more than an endurance race. It is not about simply propelling myself 140.6 miles for kicks. It's about challenging my limits and seeing what's possible. It's about reclaiming my body after 5 neck surgeries, 2 rounds of radiation, 9 brain surgeries and a slew of acquired physical challenges. It's about not giving into all the limitations that cancer has imposed on me, but viewing them as challenges that ultimately make the race even sweeter by overcoming them. It's about going from not being able to open my eyes without getting sick, having difficulty sitting upright and being too weak to stand by myself to completing one of the ultimate tests of human endurance. It's about raising money so that nobody else has to go through what I have. It's about remembering those who have passed and honoring those who fight every day to live a "normal" life despite a disease that tries to tear them down."
~Kristin McQueen
Today's story is one I have thought about constantly for the past 5 years since I first heard the name "Kristin McQueen." It is a story that is inspiring, uplifting, heartbreaking, motivating and extraordinary all wrapped up into one emotion. Although Kristin probably doesn't remember meeting me for a brief second several years ago, I have never – will never – forget meeting her and hearing her share her story.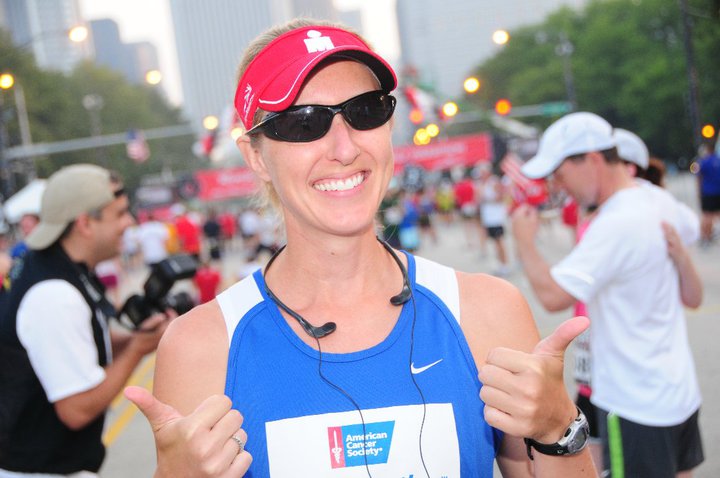 Imagine being 34 years old. You have a great job. You have amazing friends. You are a runner and triathlete. And you've also been living with cancer and fighting it constantly for 10 years. And when I say fighting, I really mean fighting.
Since first being diagnosed with thyroid cancer in 2003, Kristen has endured 5 neck surgeries, 9 brain surgeries (her next brain surgery is scheduled for next week), 2 rounds of radiation that her cancer is now resistant to and a very long list of complications, including chronic pain, vision loss, hearing loss, balance problems and vertigo, shoulder damage and other issues that are hard for most of us to even begin to imagine.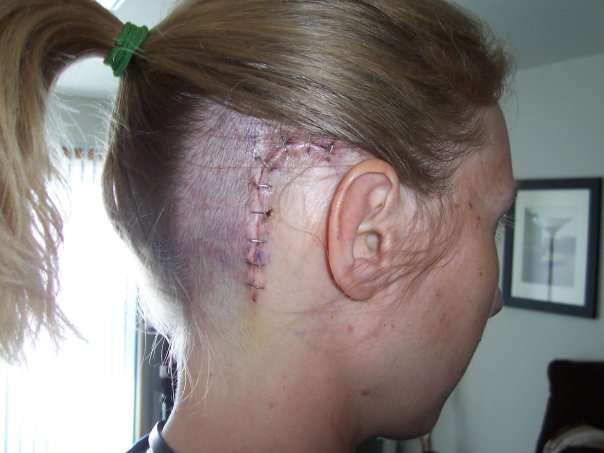 But if you were Kristin, you wouldn't be focusing on what you can't do. You'd be focused on what you CAN do.
Kristin has run 17 marathons – one of which was just 2 weeks after her first brain surgery.
Kristin has finished 9 IRONMAN races – all after she was diagnosed with cancer. Her surgeries have not made this feat easy. For most of us, we would never have even made it to the start line. But Kristin always did. She had to re-learn how to ride her bike and was considered a "fall risk" for her first race due to the balance and vertigo issues her surgeries created. She completed 2 races with partial vision. She even had to compete with one eye shut. Last year, her kidneys stopped processing fluids during IRONMAN Lake Placid, so she walked the entire marathon portion and still finished. She captured her PR at the IRONMAN distance when she raced in Louisville just 6 weeks after having her fourth neck surgery (13:20).
And Kristin has not only done all of this while battling her own cancer, she has raised more than $122,000 for the American Cancer Society in the process to help make sure that one day, no one will ever have to go through what she has experienced. Kristin also competes with "an angel list" tucked into her hat. It has the names of people who have battled cancer or are battling cancer. During the marathon, she takes the list out and reads all the names aloud before she crosses the finish line.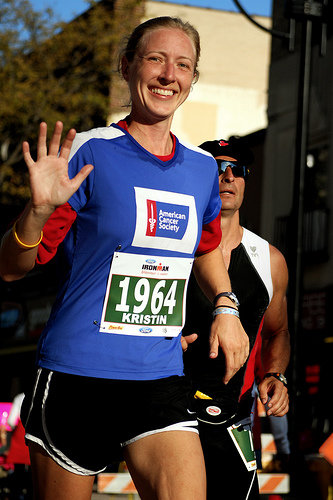 "My main purpose is to raise money so that nobody else has to go through what I have," says Kristin. "Along with that, I want to show people that you can't just give up when life beats you up a little. So many people let their doubts take over and they limit themselves. I want to see just how far I can go. Going through so many major surgeries and having to start over numerous times, I know that things can be taken away in an instant. Training is a blessing and racing is my expression of gratitude for life."
I don't know about you, but I think Kristin is a superhero. I think that if we all had a little bit of Kristin's determination, positive spirit and will to persevere, the world would be a pretty incredible place.
I got to ask Kristin a few questions recently. Here's what she had to say …
How do you endure physical pain that would stop 99 percent of people?
I am in pain whether I race or not. Daily pain has been a part of my normal for a while now. I have days that I have to respect it and hold myself back. The other times I push through it because I have to live a little, not just get by. Because of my surgeries and complications I have to deal with, I don't train like a "normal" IRONMAN. I do what I can, when I can – whatever my body will allow me. I've stepped up to many start lines totally under-prepared, but there is never a doubt that I will reach the finish line.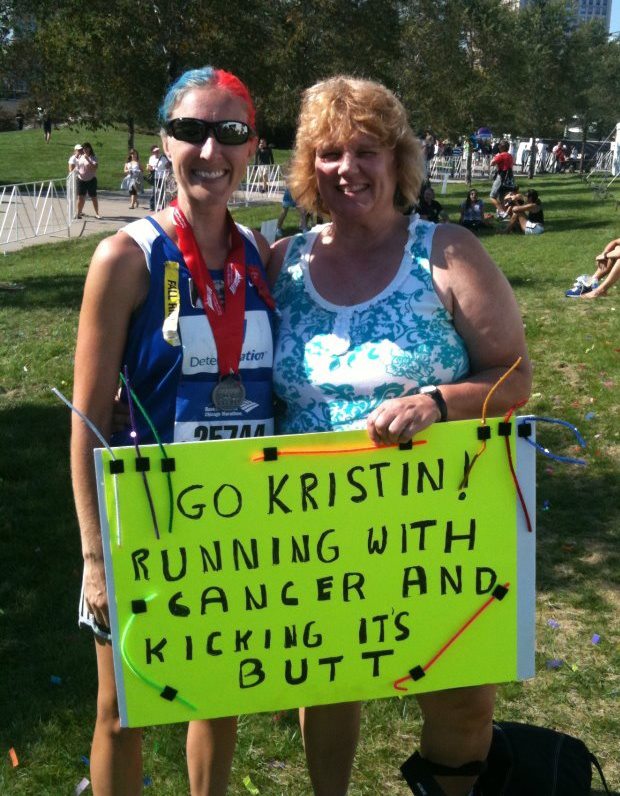 Finish this sentence: I run because ____________________.
I run because I can.
What is your running mantra(s)?
Suck it cancer.
Forward motion.
There will be a day that you cannot do this, but today is not that day.
This is way easier than brain surgery.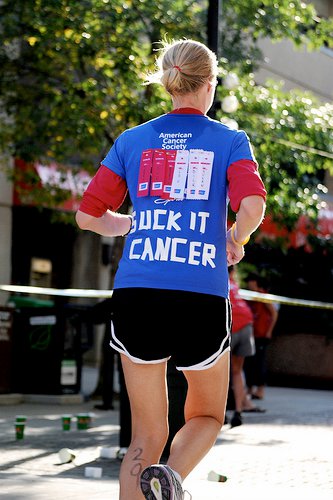 How do you stay positive?
I've tried to maintain a sense of humor through everything. It's all pretty ridiculous when you think about it. I mean seriously, 9 brain surgeries with another on the way? A girl with a partial airway who can't walk in a straight line but thinks riding a bike at 40 mph down a hill is a good idea? It's like a bad sitcom. The other piece of this is that I fully embrace the suck. There are some days (and sometimes weeks) where I just have to cry it out and have a little pity party. Once I get that stuff out, it's much easier to look forward.
Despite all the challenges Kristin has overcome and all the victories she has accomplished, she is looking for another challenge. A really big challenge.
She wants to race at the IRONMAN World Championship in Kailua-Kona, Hawaii. Kona is the IRONMAN of all IRONMANS. Athletes must qualify to participate in the race. This year, however, the IRONMAN organization is giving someone who embodies the mantra "Anything is Possible" the chance to race through their Kona Inspired program.
Kristin wants a spot. We can help her get there. After all, can you think of anyone who possibly demonstrates "Anything is Possible" better than Kristin?
Kristin submitted a short video showing how she lives "Anything is Possible," which you can see here.
Here's how you can help:
Share this post to spread the word.
Watch Kristin McQueen's 'Kona Inspired' video: http://bit.ly/SendKristinToKona
Vote for it every day until May 7.
When Kristin makes the final rounds, go back and vote for her video more.
Share the video and spread the word on Twitter and Facebook. Use these hashtags on Twitter: #SendKristinToKona and #KonaInspired
Disclaimer: In my real life, I work for the American Cancer Society. I am not writing about this because Kristin raises money for the American Cancer Society, and no one asked me to write about this. I am sharing Kristin's story because it is amazing and because I don't think I've ever heard or read a more inspiring story in my life.
If you or someone you know would be a great candidate for Friday FITspiration, email me at runladylike@gmail.com.
I will be thinking about Kristin McQueen during my race this weekend, especially when I start to think "this feels hard." What inspires you most by Kristin's story?