Say What? My Running Podcast Debut
February 6, 2014
Hearing the sound of my own voice is akin to listening to nails scratching across a chalkboard. I suppose that's one of many reasons I prefer writing in the walls of the Internet over public speaking. However, runner, running coach and founder of Runner Academy Matt Johnson somehow convinced me to crawl out of my shell of secondary embarrassment and tape my first-ever podcast this week.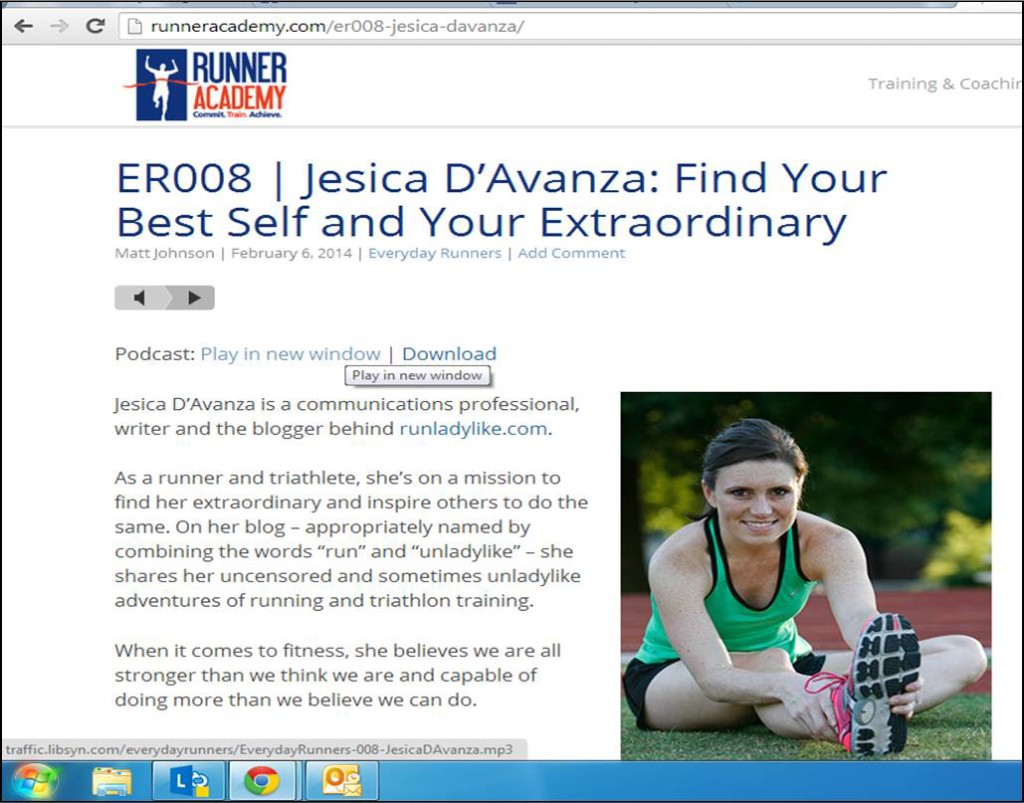 I'm really inspired by Matt. If you have never heard of Runner Academy I encourage you to check it out. Matt shares stories of both the top names in running as well as everyday runners through his award-winning podcast series. When he asked me to be on his show to talk about my own running journey, I honestly wasn't sure if I had anything to say that would be of value to anyone. I haven't lost hundreds of pounds, risen from the ashes of a major life tragedy or run a star-worthy race time. I'm just an everyday runner in the middle of the pack like everyone else, balancing training and life and trying to find the best version of myself along the way without making too many excuses or hitting the snooze button as often as I do.
But we all have a story … no matter how mundane or jaw-dropping. We all have something to learn from each other. We all can support one another. That's what running is all about. Strip away the training, and the paces, and the times and the pressure we put on ourselves. What's left are simple stories of people who are trying to see what they are truly capable of. To find their inner extraordinary.
So, in my true, uncensored style, I'm sharing my chalkboard-scratching voice and rambling thoughts with you on the following topics:
Being the daughter of a gifted runner and being able to run on my own terms
How I got started in endurance sports and distance running
Advice on how to face your real and perceived fears head on
The importance of setting your own rules
How to mentally recover when a race gets off to a bad start – and crush it
The 80/20 principle when it comes to eating
What lessons I've learned about life from running, and running from life experiences
The importance of training for life, not just your next race
Check out my latest podcast on the Runner Academy that launched today, and be sure to listen to other stories while you're there. Even a few former Friday FITspiration alumni, including Kim and Sam, have been on the show.
Matt encourages runners to dream big and asks all his guests what their ultimate goal is and why. What is your ultimate running goal?