No-Bake Oatmeal Banana "Cookies"
February 5, 2015
To start 2015 with a clean slate, I needed a jump-start after a very gluttonous holiday season that simply went on for too long. I decided to eliminate added sugar and bread from my diet for the first 31 days of the year. Yes, I survived, and I was amazed by how easy it was to say goodbye to these two tempting friends … without depriving myself.
To satisfy my cravings for sweet treats, I experimented throughout January with making a variety of sugar-free, flour-free dessert alternatives to keep me fulfilled (and sane).
I'm pleased to introduce you to my new No-Bake Oatmeal Banana "Cookies," which are sugar-free, flour-free and dairy-free (they do contain raw honey). You can even make them gluten-free by using gluten-free oats.
I thought these were pretty tasty for an alternative take on a cookie, but I knew they were a hit when one of my husband's best friends dropped by last weekend while I was mid-bite. When I offered one to him, he hesitated for a moment upon hearing about all the ingredients (most guys I know stop listening after flaxseeds and chia seeds, let's be honest.) After taking one bite, he asked me to send him the recipe. Yep, they're delish and the whole family (and friends) will enjoy them.
The next time you're craving something sweet but don't want to consume ingredients that will derail your diet, whip up a batch of these delightful little morsels. They're ready in a jiff and require no baking or cooking skills of any kind!
Ingredients:
1 cup old-fashioned or quick cooking rolled oats (or gluten-free oats if needed)
1/4 cup ground flaxseed (I use Bob's Red Mill.)
1 tablespoon unsweetened cocoa powder
1/4 cup raw almonds finely chopped (Use a food processor or food chopper … they should be heartier than almond flour but not large pieces.)
2 tablespoons chia seeds
1/3 cup unsweetened shredded coconut (I use Let's Do Organic.)
1 teaspoon cinnamon
A dash of salt
1/3 to 1/2 cup of raw peanut butter (or almond butter) … Just eye-ball it.
1 ripe banana peeled and mashed into a paste-like consistency (It's important the banana is ripe to achieve the right level of sweetness.)
1/4 cup honey (Use good quality, raw honey if possible.)
1/2 teaspoon vanilla extract
Directions:
In a medium bowl, stir together the oats, flaxseed, cocoa powder, almonds, chia seeds, shredded coconut, salt and cinnamon until evenly mixed.
In a smaller, separate bowl, add the peanut butter (or almond butter). If it's already very easy to stir, proceed with adding the honey, mashed banana and vanilla and stir to combine. If it is thick and not easily stirrable, microwave it for about 30 seconds or until very easy to stir, then mix in the honey, banana and vanilla.
Pour the peanut butter (or almond butter) mixture into the bowl with the oat mixture. Stir well to combine until the mixture sticks together and becomes like a batter.
Roll the dough into 10 small, evenly sized balls. Use your fingers to flatten the balls into round circles that look like cookies. The batter will stick to your hands and be very sticky. Place the "cookies" into the refrigerator for at least an hour, preferably overnight if you can wait that long. Enjoy!
Prep Time: 10 minutes
Yields 10 Servings
Nutrition Information (Serving size: 1 cookie):
Calories: 203, Fat: 11.6 g, Carbs: 22 g, Sodium: 18 mg, Potassium: 91 mg, Sugar: 3.7 g, Protein: 6 g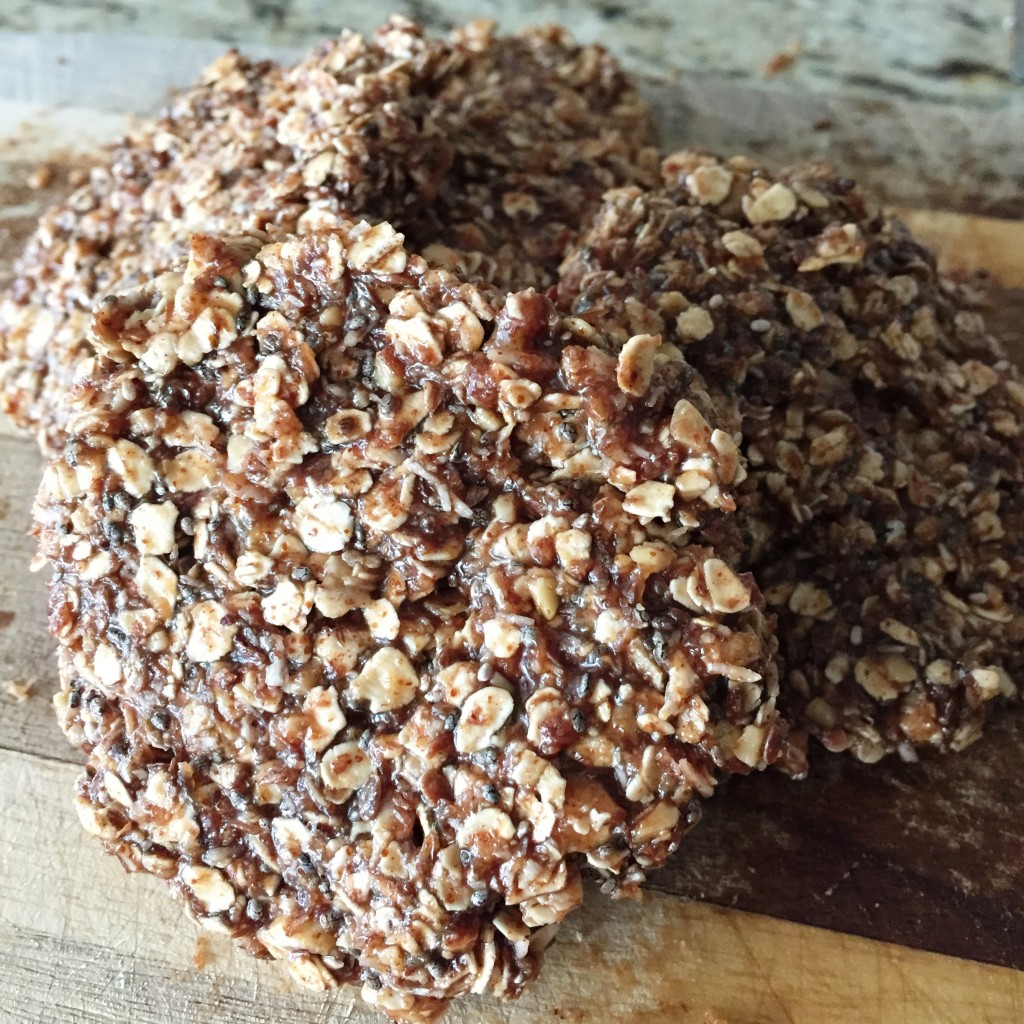 Note: The cookies will be slightly sticky to the touch. Keep them in the fridge until you're ready to eat them, and store leftovers in the fridge as well. These would also be amazing with Enjoy Life chocolate chips (paleo-friendly brand … nut-free, dairy-free, gluten-free) folded in if you need more of a sweet treat.
What is your favorite sugar-free, flour-free sweet treat? Share your recipes in the comments below. If you make these "cookies," let me know what you think!