6 Strength Exercises for Runners
March 29, 2017
Muscle imbalances and weakness are the main culprits of many running injuries. When we are weak in one area, our bodies find a way to overcompensate in another. Over time, such imbalances can lead to unwanted aches and pains and long-term injuries if unaddressed. Since the goal is always to get to the starting line healthy, doing regular strengthening exercises to prevent injury is critical.
I naively expected that my body would bounce back after pregnancy by the six-week mark. After all, that's what seemed to work for many runners I knew, all the books I read used six weeks as the benchmark and my doctor said I could return to running at my six-week follow-up appointment. My experience has not been "by the book," as I've had weakness in various parts of my body from a hormone called relaxin that affects pregnant and breastfeeding women.
After seeing a physical therapist to do an overall assessment and be proactive in my return to running, below are the six exercises he recommended to me to strengthen my weak glute, hip flexor and abs as well as help me get stronger after pregnancy. I've been doing these every other day. In the video below, I show you how to complete each exercise.
Here is a helpful reminder you can print and keep handy as you do my strengthening exercises for runners. Although they were created with my needs in mind, they are excellent exercises for any runner.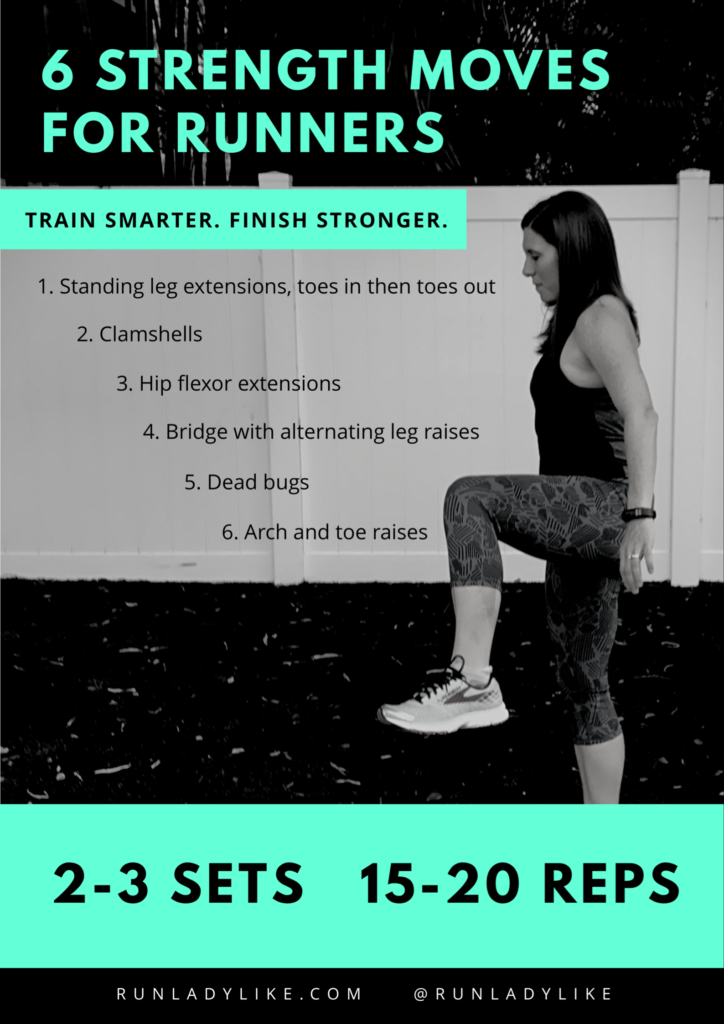 What strength training workouts do you do to run injury-free and strong?