Wait 10 Minutes before Deciding
May 4, 2017
In the wee hours of the morning, I quietly tip-toe down the stairs. The flashlight on my phone ensures I don't tumble down the staircase before I make it out the door. I complete my warm-up exercises on the stretch of hardwood between my front door and back porch. It would be a comical sight for my neighbors if they were awake to see it. I wait for the headlights of the familiar black SUV to shine through my front windows, signaling my running partner is here. It's time to run.
I rarely see the sunrise on my morning runs these days. It's too early for that. I slog through the three to five short miles, pretending it's easier for me to carry on a conversation with my running partner than it really is. I silently ignore the fact that my skin is still creeping over my waistband and bulging out of my sports bra in ways it never did before. Thank you spandex and pregnancy. I wonder in my head if I'll ever be in tip-top shape to run a marathon again. Or even a half marathon. I bribe myself with a one-minute walk break if I can make it to the next mile.
When I finally find myself back at my driveway, sweat dripping from head to toe, I feel powerful. Perhaps a little defeated because what should feel easy actually feels so hard, but proud for choosing to get up and do it. To push through the adversity that comes from starting over.
But I don't always choose this small, yet significant victory. Most of the time, I try to talk myself out of it somewhere between 5 and 5:30 a.m. That persuasive little voice is so intoxicating … Let's just sleep for another hour. You can do it later. And sometimes I listen to her. But more often than not, I make running commitments with friends and schedule classes that can't be cancelled without a fee to ensure I don't back out.
I've never been a morning person, and I promise you this isn't another article about how to become one. But, as a new mom, I've found that the small window of time between 5:15 and 7:15 a.m. is the only opportunity I have to exercise. These are the only hours in the day that are truly mine. Like everyone else who would prefer to sleep through them, I've found it takes just 10 minutes to change your mind. If I can begrudgingly hoist myself out of bed and get on my feet for 10 minutes (bathroom, toothbrush, running clothes), my eyelids stop trying to droop.
Just 10 minutes. That's all it takes. Ten minutes can mean the difference between giving in or giving it your all. Feeling weak or feeling strong. Letting the day control you or conquering the day.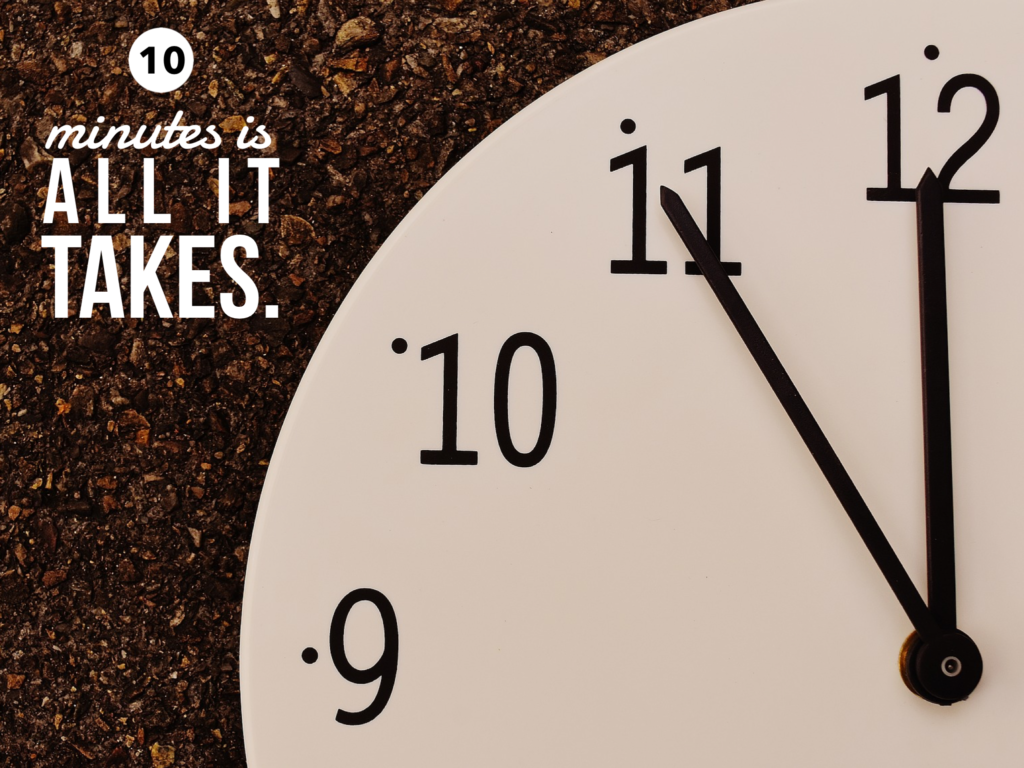 Before you decide to ditch your early morning run (that you're planning because you have a much larger goal somewhere down the road), give yourself 10 minutes out of bed in your house. Then decide. If you want to go back to bed, fine. Try again tomorrow. But nine times out of 10, you'll realize it's not so bad. It's easy to say "I'm not a morning person." Instead, I like to ask myself this question: How important is running, achieving personal goals and being my best self? The answer I keep coming back to is that I can be a morning person when that's on the line. It matters to me, so just give me 10 minutes please. Because 10 minutes after my workout is done, I feel on top of the world.
Do you do most of your workouts in the morning, afternoon or evening? Do you struggle with being an early riser? What makes waking up before the sun comes up easier for you?