Butternut Squash and Cranberry Couscous
November 20, 2017
Nothing screams the holidays like butternut squash and cranberries. Am I right? I recently bought some butternut squash to cook and puree for Baby rUnladylike from Trader Joe's. They had some ideas for preparation that inspired me to make what is currently my favorite festive dinnertime dish: Butternut Squash and Cranberry Couscous. The balsamic vinegar, goat cheese and arugula give it such a delicious and powerful flavor while the chicken sausage rounds it out as an excellent one-pot meal. You could pair it with roasted Brussels sprouts, a warm crusty roll and a glass of red wine. Or, remove the meat and it transforms into the perfect side dish for Thanksgiving and Christmas. Might I add that it's also excellent right after a workout (I know from first-hand experience. *wink*).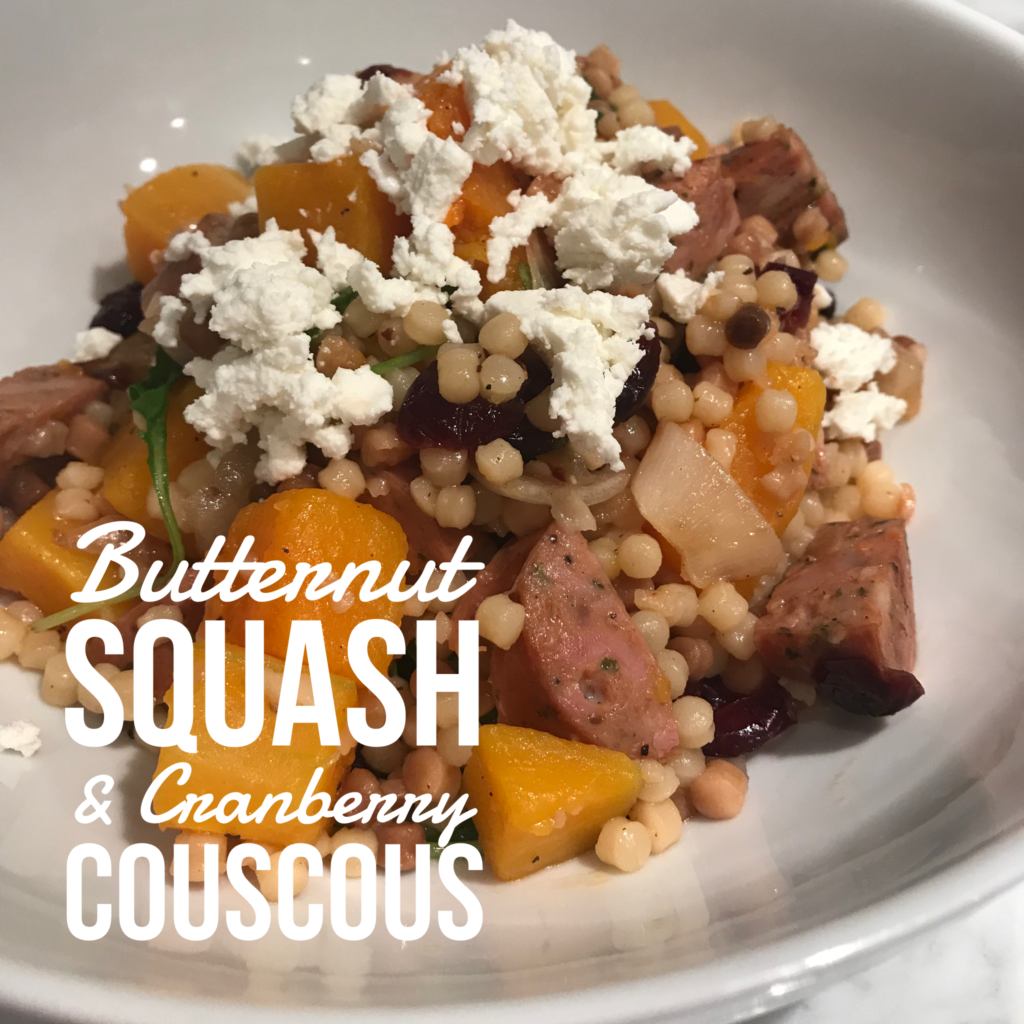 Butternut Squash and Cranberry Couscous Recipe
Serves 4
Ingredients
1 cup of toasted couscous uncooked (I love the Casa Manca brand my mother-in-law recently introduced to me)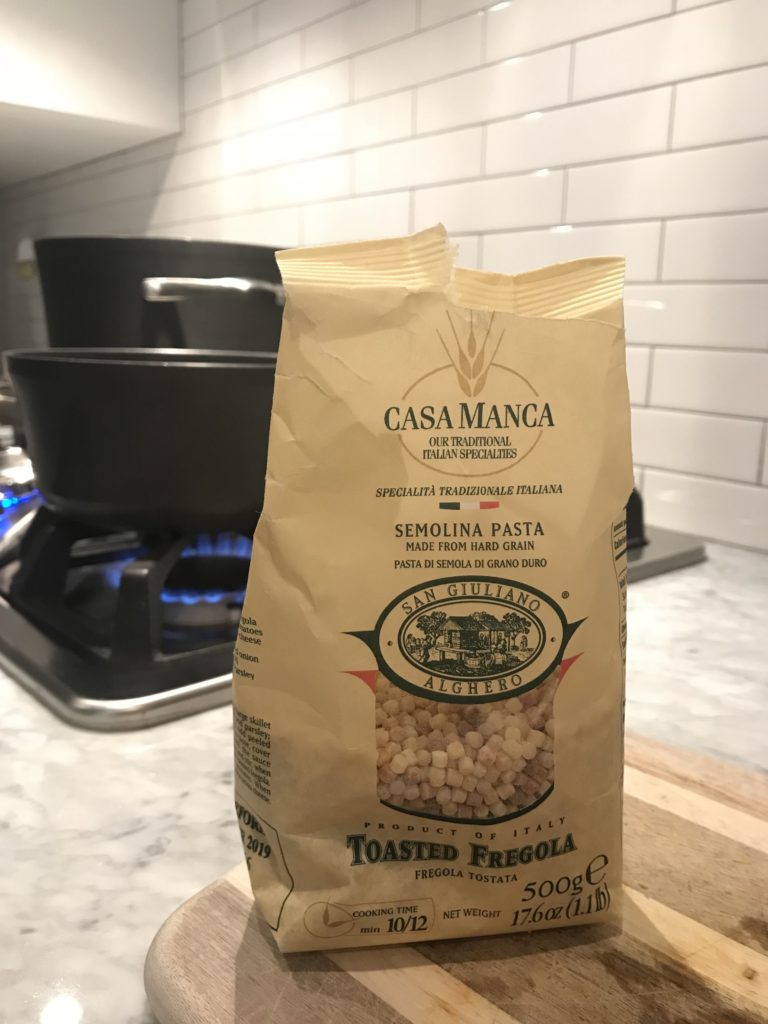 1/2-cup diced onion
1 tablespoon extra virgin olive oil
1-1.5 pounds of cooked butternut squash, cut into about 1-inch cubes (You can boil it or roast it until it is tender when pierced with a fork. Be mindful not to cook it too much that it becomes mushy when you stir it with the other ingredients. You can peel and dice a butternut squash, or, save time and purchase the already cubed squash if your produce department carries it. That will significantly reduce your cooking time. You can also microwave the squash to make it even faster depending on how much time you have.)
2 tablespoons of good balsamic vinegar (and more as needed based on your preferences)
3-4 links of already cooked chicken sausage diced (I use Aidell's)
1/2-cup of dried cranberries
Handful of arugula
Salt and pepper to taste
4 ounces of goat cheese
Directions
Cook the couscous according to package directions.
While the couscous is cooking, sautee the onion in 1 tablespoon of extra virgin olive oil.
Add the cooked butternut squash, diced sausage and cooked couscous. Add balsamic vinegar and salt and pepper. Stir to combine. Add additional vinegar and salt/pepper until it reaches your desired taste.
Add cranberries and arugula, stir to combine.
Serve immediately, topping each bowl with one ounce of crumbled goat cheese. Enjoy!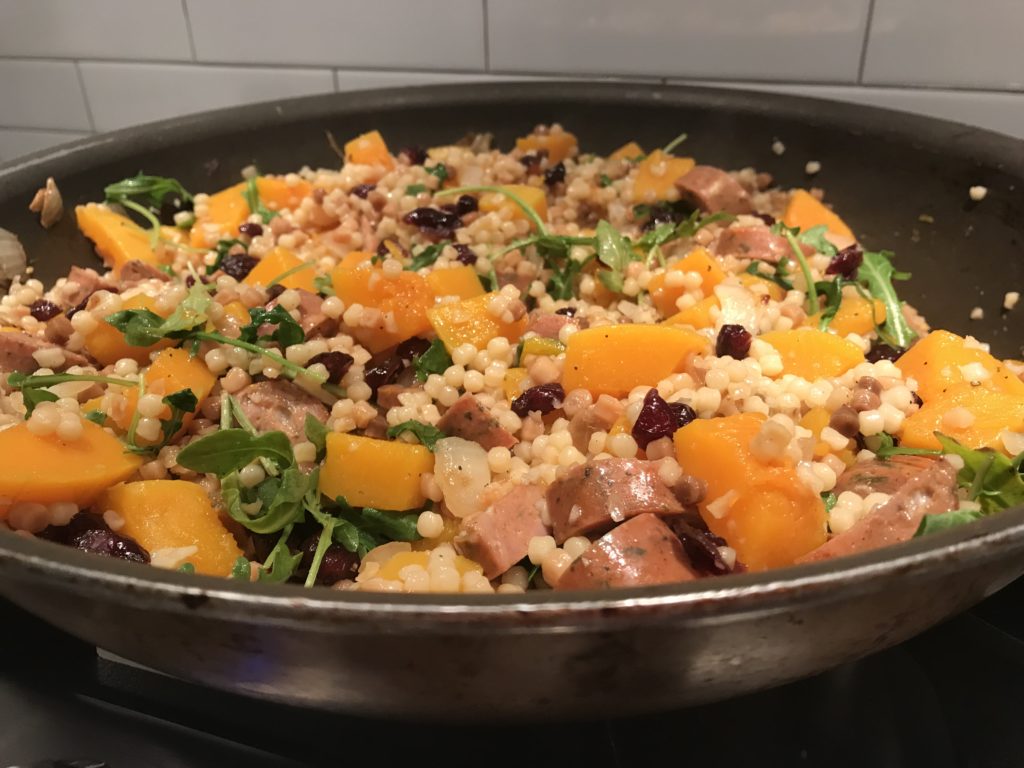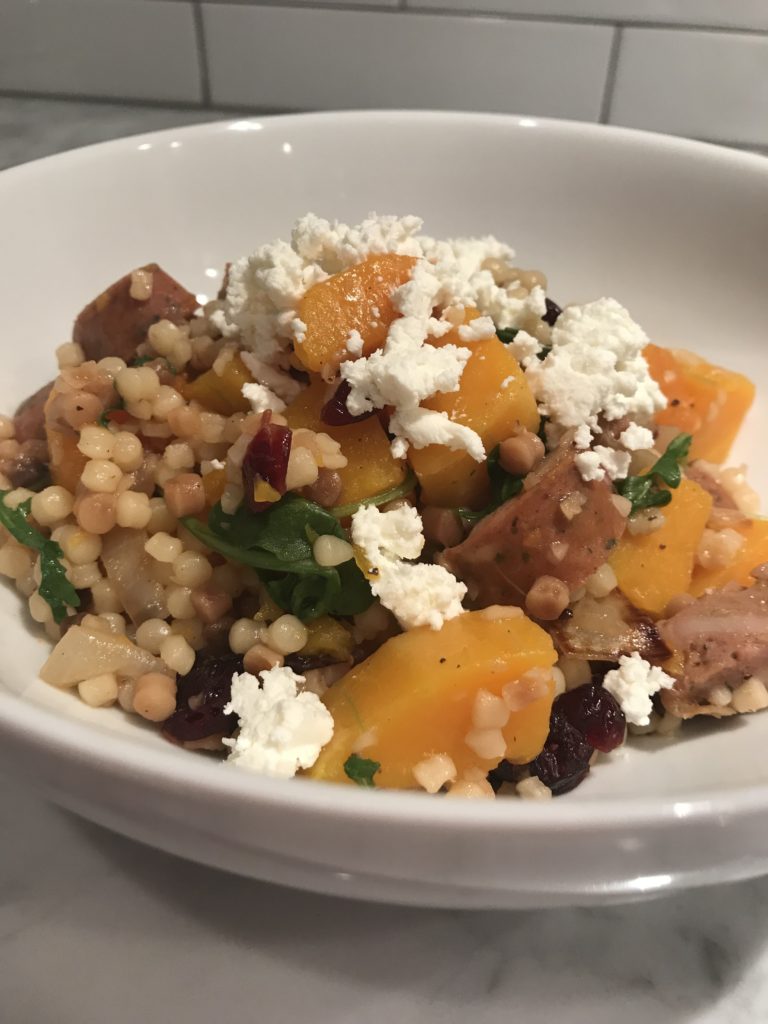 Share your favorite holiday meals and recipes in the comments below!