The Results are in: 28-Day Transformation Challenge Recap
February 21, 2013
At the beginning of January, I started a 28-Day Transformation Challenge that has truly been a life-changing experience for me. The challenge consisted of 3 key commitments I pledged to make from January 7 through February 3, 2013:
Eat a paleo diet (no grains/gluten, no beans, no sugar, no alcohol, no preservatives).
Exercise for at least 10 minutes a day.
Take fish oil supplements (minimum 2,000 mg) daily.
My goal for the challenge was to achieve a perfect score. Not because I was trying to lose weight. Not because I wanted to win (ok, ok, I wanted to win). But to see what I was capable of. To remain completely committed to and disciplined about something that I knew would be hard for me. Really, really hard for me.
I'm proud to report that I achieved a perfect score. I never deviated from the paleo diet food plan. I took my fish oils religiously. And I exercised for at least 10 minutes every day (a heck of a lot more than that on most days). During the challenge, I ate a plate of broccoli at a friend's house while everyone else chowed down on lasagna and bread *gasp!* I drank water and ate carrots dipped in guacamole during a NFL playoff game while everyone else had beer and chips. I did what I said I was going to do. And for that, I am proud. For that, I am stronger.
Before the challenge, I can safely say I was addicted to and dependent on sugar and bread. I never went a day without eating a sandwich at lunch or a side of grains with dinner. And I always had a "healthy" sweet treat for dessert. Thinking about embarking on 28 days with very few of the things I was accustomed to eating every day scared me. I thought it was going to be incredibly hard. I remember scoffing at the idea of giving up whole food groups in the past. However, I quickly found myself looking at my perception of what is and isn't healthy very differently.
So did it pay off? Yes. I didn't lose any weight, but that wasn't the goal. Here were some results that amazed me:
I reduced my body fat percentage by 1.2%, dropping from 19.4% to 18.2%.
I lost an inch at my waist and more than an inch at my chest.
I have seen some positive changes in my body definition, particularly in my arms and abs.
We did 100 burpees for time before and after the challenge. I improved my time by 10.5%, reducing my time from 8 minutes and 2 seconds to 7 minutes and 16 seconds.
I had more energy. I was not as tired during the day as I'd been feeling prior to the challenge, and even after tiring days I was still wide awake (and I don't drink caffeine).
I've noticed that my speed work and long runs have been stronger and faster. I'm also seeing positive results during my strength training sessions as well.
I discovered some amazing new recipes that I love and now cook often. You can check them out on my clean eating paleo pinterest board here.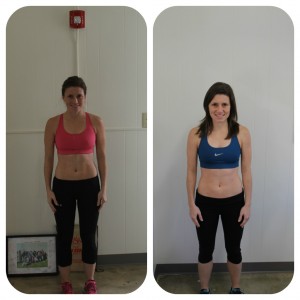 Going into the challenge, I expected to feel crazy. To feel completely deprived and yearning for grains and sugar. Instead, I found myself feeling the opposite. Instead of feeling crazy, for the first time I felt completely in control of my food choices and practiced some insane will power. Doing this together with Mr. rUnladylike was also a nice chance for us to have something to focus on and do together, often tag teaming on dinner and motivating one another on the days where all we wanted was some Mellow Mushroom pizza.
In terms of overall challenges, I think I encountered 3 big issues:
Being in social settings was hard. Going out to dinner and finding something that fits within the parameters of the challenge and paleo diet is very difficult. Everything seems to be cooked in butter or canola oil, and there are often so many added ingredients or preservatives in everything. Going to parties at friends' houses was even more challenging, because I had the extra layer of guilt that I couldn't eat much of what they cooked. Mr. rUnladylike and I found ourselves avoiding social events during the challenge because it just made things harder. And that isn't a realistic way to live.
Adjusting to the paleo diet takes a lot more of your time. Extra time and planning are critical to making this diet a success. Cooking chicken breasts, boiling eggs, cutting up lettuce and more on Sundays for the week and spending extra time cooking breakfast rather than grabbing a cup of Greek yogurt on the way out the door was definitely an adjustment.
I found myself binging on dried fruit to overcompensate on some of the snacks and foods I missed. I ate way too many raisins during the challenge. Way. Too. Many. I also discovered medjool dates and started a love affair with them. I may have possibly eaten my body weight in those delicious morsels. I must exercise more will power when it comes to that moving forward.
Will I keep following the paleo diet now that the 28-Day Transformation Challenge is over?
Yes, I will. However, I will allow myself some cheat days. I figure if 90 percent of the time I follow the paleo diet and 10 percent of the time I let real life in – dinner parties at friends' houses, enjoying a meal at a favorite restaurant, a dessert to celebrate something special – then I think I'll be doing pretty well. I will also build Honey Stinger Gels back into my training regimen to use as fuel during long runs (I used raisins during the challenge), as well as Nuun tablets to aid hydration and electrolyte replacement.
I am looking at food in a completely different way than I did at the beginning of the year. Sometimes I feel like I have a secret that so many people around me haven't figured out yet. It's such an interesting and empowering feeling to know I am eating real food. That I am not letting fake, processed, addictive ingredients get the better of me (ok, most of the time). That is change in action.
Have you ever tried the paleo diet? What did you enjoy the most? What were your greatest challenges? If you made a New Year's resolution this year, are you still sticking to it or have you fallen off the wagon? How will you stay motivated to keep your health commitments you made in January?