Inside My Race Weekend Suitcase
April 27, 2013
Race weekend is officially here. I arrived in Myrtle Beach, South Carolina, last night and I'm ready for the Divas Half Marathon tomorrow. (I'm repeating positive thoughts over and over right now: "I am ready. I am ready. I will run strong. I will run fast. I am ready. It will be hard, but I will push through. I will do this. I am ready.") I feel prepared and excited, but also nervous.
The thing about sharing every detail of my training and race goals on the Internet for the world to see is that it adds some extra self-imposed pressure. I try really hard to be smart and strategic about my training. To apply all the right tactics to staying healthy and focused. I want more than anything for that to pay off … to show you that hard work results in personal victory, and that if I can do it, anyone can. You can! But there are no guarantees when it comes to race day.
So I'm controlling what I can control and trying not to worry about what I can't.
Although we may not be able to control every aspect of our race day experience, we can plan for every possible scenario when it comes to packing. The weather forecast for this weekend's race is calling for a high of 68 and a low of 61, with a 50 percent chance of rain and wind at 11 mph. That creates a number of interesting possible situations, including running in the rain.
Wondering what's in my race weekend suitcase, er, Ogio bag? I'm taking you inside to see how I prep for a big race and what is on my race weekend packing list.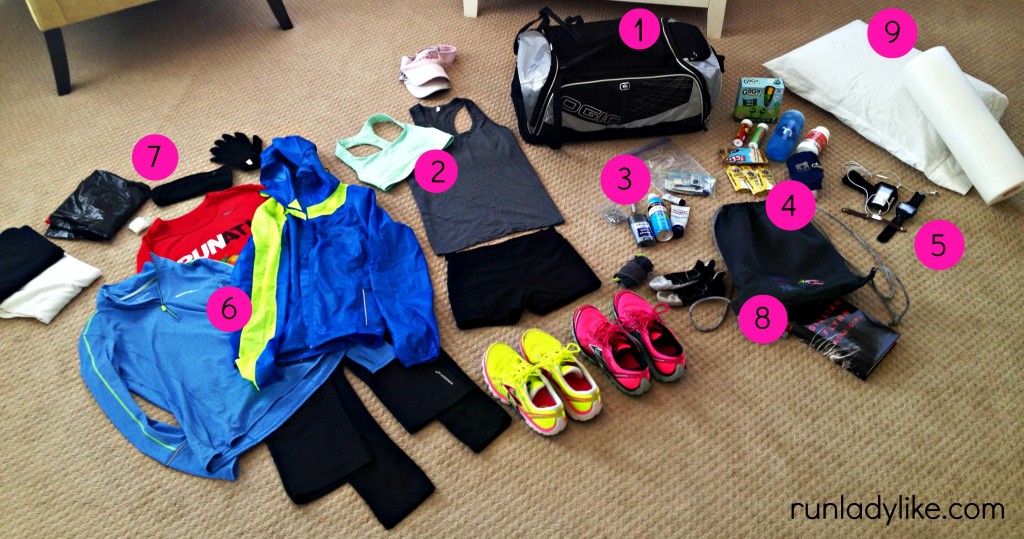 1. Ogio Endurance Bag 9.0. I don't pack my race day gear into any old suitcase. I use the Ogio Endurance Bag 9.0., which is the most badass bag I've ever owned. I've wanted this bag since it was first released, and it was even on my holiday gift list for runners last year. Mr. rUnladylike got it for me for my birthday earlier this month, and I am totally in love with it. Not only is it great for triathlon race morning (it's designed to be a multi-sport bag), it's also great for a short weekend trip for a race. Check out this 90-second video to see all its cool features. It has a hard case for your watches and sunglasses so they don't get smushed. Separate compartments for shoes, dirty/wet clothes, fuel and more. And the best part? You carry it like a backpack. I am obsessed with this bag.
2: My race day outfit: Since this is an all-women's race that's on the VERY girly side (have I mentioned you receive a tiara and boa right before crossing the finish line and a fireman hands you a rose when you finish???), I originally thought I'd try to dress up and go all out … all pink, sparkles, a skirt. But given how focused I am on my goals for this race, I ended up deciding to keep it simple and just run in my favorite things. Here's what I'm wearing tomorrow (pictured top to bottom above):
Visor: I always run in a visor. I prefer Head Sweats brand visors, but I also brought along my pink "rUnladylike" visor.
lululemon hook me up sports bra and run swiftly tank
lululemon run shorty shorts (these shorts have been discontinued, but they are still one of my favorite pairs to race in)
Brooks Pure Cadence shoes (I brought 2 pairs of the vintage edition but will wear the pink ones in the race.)
Feetures socks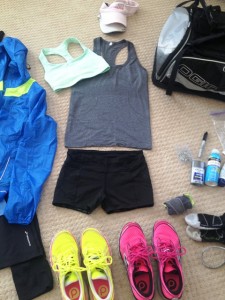 3. Race day toiletries: Part of packing for every scenario means bringing race day toiletries that will keep you running comfortably. Here's what I always bring with me when I'm traveling to any race:
Lots and lots of Aquaphor. Before every race, I cover my body in Aquaphor, especially when there's a chance for heavy rain like tomorrow. Aquaphor helps prevent chafing and blisters. I cover my feet in it, as well as everywhere I have clothing with a seam. I even put it under my watch and iPod. I also carry a mini bottle of it with me in case something starts rubbing the wrong way during the race. I packed my Body Glide for all-over protection as well.
Sunscreen: I like Neutrogena's spray sunscreen, either the Wet Skin or Sport versions. Both have proven not to interfere with my sweating and have been extremely effective, even while out running or riding for 3+ hours.
Odds and ends: Safety pins, wet wipes (remember last month when a wet wipe came in really handy???), Advil, Performance Gel
Plastic Ziploc bags (variety of sizes): I always travel to races with Ziploc bags. I put my ID and hotel key in a small one in my back shorts pocket to stay dry, and sometimes carry other things like salt pills, extra Nuun tabs, etc. in another.
Sharpie: I'm going to write the word "BOSTON" on my left arm to honor everyone who experienced the Boston Marathon tragedies, especially for everyone who was injured and killed. We will keep racing with a vengeance for you!
4. Fuel and hydration: No matter where I'm racing or how far I'm going, I always bring my own race day fuel and hydration. I also bring my breakfast with me, which happens to be a Clif Bar and banana tomorrow.
Nathan Hydration hand-held water bottle: The pouch has adequate room for my iPhone and 2 gels.
Nuun: I brought cherry limeade and watermelon with me to keep me hydrated this weekend. I'll be sipping on watermelon today and will race with cherry limeade tomorrow since it has a little caffeine in it.
Honey Stinger Gold Gels: I'll take one around mile 4.5 and another around mile 9.
Endurolyte salt pills: I haven't been training with these this winter but since it could be hot tomorrow, I'll carry a few with me just in case to ensure my electrolytes are balanced.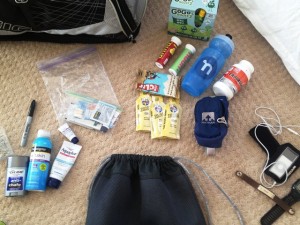 5. Running accessories: This is the essential bling I don't run without.
Garmin 910
Endorphin Warrior FOCUS training bracelet to remind me of my big goals and to stay focused on them during the race, especially when I start to get fatigued
iPod with my new race day playlist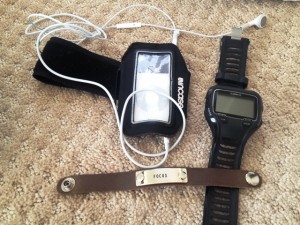 6. My "planning for the unknown" gear: I always pack clothes and gear for every possible weather scenario, no matter how predictable the weather may seem. I learned this the hard way back in 2011 when I traveled to my Florida hometown to run the Rock 'n' Roll St. Pete Half Marathon. Although I did bring a long-sleeve, I didn't bring any of my throw-away gloves, ear warmers, warm running clothes, etc. As luck would have it, it ended up being 41 degrees at the race start. In Florida! I had to buy a bunch of extra gear and throwaways at the race expo, and didn't have all the things I would have normally preferred with me. Ever since, I've brought cold running gear no matter what the weatherman is predicting. I'm also preparing for rainy conditions too given tomorrow's current forecast.
Brooks Running LSD Lite Jacket III: In case of rain, I've packed this awesome, super light-weight jacket to keep me dry. It's easy to pack because it rolls up into a tiny little ball and can even be packed into its own pocket. It is windproof and water-resistant and also looks great on. Getting ready for a race that is calling for rain can feel a little unnerving. Check out these tips for racing in the rain that I shared right before the Marine Corps Marathon last year when I raced during Hurricane Sandy. And pray that I won't be running 13.1 in thunderstorms tomorrow!
Back-up tops and bottoms: Although I don't anticipate the temperatures dropping below 42 (which is the temperature at which I typically go from shorts to capris or pants), I brought some anyway. If nothing else, I'll wear them to the race expo or after the race. I packed my Brooks Running Glycerin Capri IIIs and my lululemon Inspire Crops. Both have an excellent fit and feel great on. I also brought 2 long-sleeve options: my RUN ATL Nike top to represent my city and my Brooks #RunHappyIs limited edition Essential LS 1/2 zip, which I love.
7. Control-freak odds and ends: Remember what I said about controlling every possible situation that I can control? Well, that's what these are for:
Throw-away gloves and ear warmers that I can wear if it's cold and toss along the course as needed
A garbage bag and shower cap to wear before the race while standing in my corral in case it's pouring down rain to stay dry for as long as possible
A pair of throwaway clothes I can wear to the start and until the gun goes off to stay warm if it's chilly and windy in the morning. Walmart is a great place to cheap throwaway clothes. I've been able to find a sweat suit for $12 there, along with gloves that are $5 for 2 to 3 pairs.
8. Extras
I like to bring a drawstring bag to carry around the day before the race, including to the expo. I find it's easy to just throw everything in there and carry it on my back.
Book: I plan to do a lot of relaxing today to stay off my feet. After a quick one-mile walk on the beach, a brief stop at the race expo and a lunch meet-up with some gals I've meet on Twitter and through blogging, I'll be spending the rest of my day reading and watching movies in my hotel room. I'm currently reading Gone Girl by Gillian Flynn, and I love it so far.
9. Feelings of home
Although I don't usually bring my own pillow with me when traveling to a race, I decided to this weekend. First because I drove to the race and could just throw it in my car and secondly because I'm staying in a mid-tier hotel and wasn't sure how comfortable the pillows would be. Anything I can do to get a good night's sleep is important.
My foam roller: I took yesterday and today as complete rest days and will be doing some foam rolling in my room to help release some muscle tension and keep myself loose.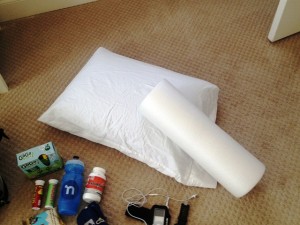 Thank you to all of you who have sent me notes of encouragement, words of support and many Run Happy thoughts for this weekend. I can't tell you how much your thoughts mean to me and how much they will help me tomorrow. Here we go!
Disclosure: I am a Brooks Run Happy Ambassador and receive compensation and free Brooks products to test. Several of the Brooks products mentioned in this post I received at no cost from Brooks. The lululemon products I mentioned in this post were also given to me. The thoughts and opinions I express about Brooks and any other company's products are my own and always will be. I will never write about a product that I don't use or believe in wholeheartedly.
What is always on your race weekend packing list? What are your go-to tips for racing in the rain, cold, wind or other unforeseen conditions?