Weekly December Running Gift-Away
December 3, 2013
"It's not how much we give but how much love we put into giving."
~Mother Teresa
One of my favorite things about the holiday season is finding thoughtful and creative ways to make the people I love feel special. As I look back over 2013, I am so grateful to all of you who have come back to runladylike.com week after week to share your running/fitness journeys, to offer encouragement and support and to be such an inspiration to me.
To say thank you, I'm giving away some awesome running gifts every Tuesday during December. I'm hoping I can add to the presents under your tree (or menorah) and help you get ready for a successful 2014.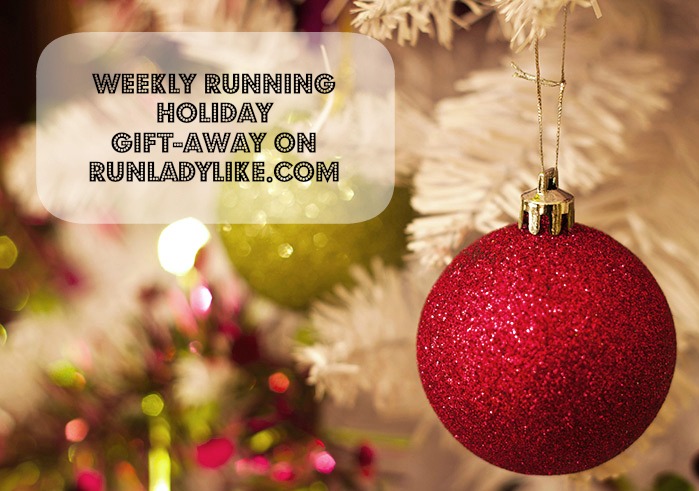 Be sure to stop by every Tuesday in December to enter to win great running gifts and gear. Each giveaway will start at 6 a.m. EST on Tuesdays and end on Sunday at 11:59 p.m. EST each week. Winners will be announced every Monday. I'm going to keep each week's holiday running presents a surprise, but here are a few clues to get you excited …
December 10: A stocking full of treats that are sure to help you #RunHappy
December 17: Compression and cold therapy collide in my favorite new running gadget
December 24: A different take on milk and cookies that will make Santa want to ditch his sleigh and go for a run (and you too)
December 31: Dance, er run, your way into the new year with help from this musical running surprise
When I'm not blogging, you can find me daily here (where I'll also be sharing details about the December gift-aways):
Twitter: @rUnladylike
Facebook: https://www.facebook.com/runladylike
Instagram: http://instagram.com/runladylike/
Daily Mile: http://www.dailymile.com/people/jesica
Pinterest: https://pinterest.com/JesicaD/
Follow rUnladylike with Bloglovin
What holiday running gifts are at the top of your wish list? What is your favorite running or triathlon gadget/gear that you think others should add to their wish list?