How to Determine Paces for Speed Work
February 27, 2014
We all know that the only way to start running faster is to … (drum roll please) … start running faster. By incorporating speed work into our training, we can teach our bodies to actually run faster by increasing our speed. I've written before about the types of speed workouts and how to begin safely incorporating them into your training, but you might be wondering: How fast should I be running? Am I running too fast or too slow? How do I figure that out? Today, I'm sharing some basic guidance for how to determine paces for speed work. I've personally seen a significant improvement in my running and race times since I started running the RIGHT speed work paces. For several years, I was running too slow and only by feel rather than knowing what I should be targeting and how to push myself outside of the right comfort zone.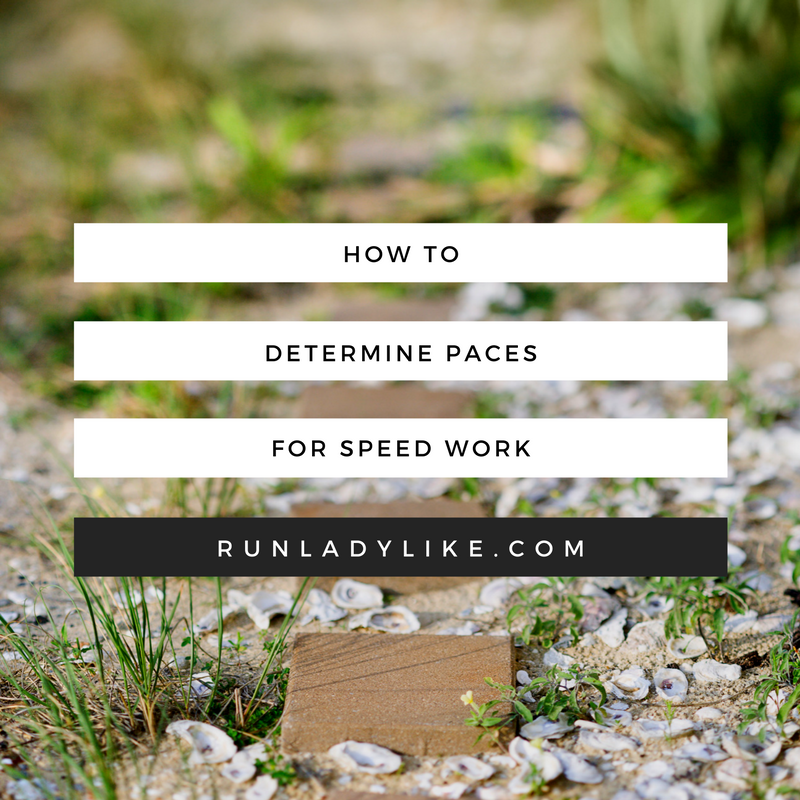 Before you begin crunching numbers, here are a few things you need to know and remember when it comes to starting speed work and determining paces for speed work:
Know your current 5K time. Not the time you want to run a 5K in; your most recent 5K time. That is a great tool for setting your speed work paces. Not only does it use your current fitness level to ensure you don't set paces that could increase your risk of injury, but you can also increase your speed work paces as your 5K time gets faster.
Speed work is the cause of many running injuries. Incorporate it appropriately. Speed work should only be incorporated into your training after you have established a solid running base. You can read more about base-building and training cycles here. What you want to avoid is doing too much, too fast. Once speed work is incorporated, it should only be done once per week and should only comprise about 15 percent or so of your weekly mileage. Don't increase your speed and distance at the same time.
Your pace for speed work should always be faster than your race pace. Going too fast will lead to injury, while going too slow will prevent you from improving. Knowing your paces can help you hit that sweet spot.
If you use a heart rate monitor, speed work paces should yield a heart rate of about 90-95 percent of your Maximum Heart Rate. (We'll talk more about heart rate training in the coming months.)
Warm-up properly. Preventing injury and having a successful speed session requires a serious focus on properly warming up. This includes slow jogging and dynamic stretches. You can find a recommended warm-up protocol here. A proper cool down is also key to promote healing and prevent injury.
Adequate recovery between intervals is key. Between each speed repeat, easy walking or jogging is a must to bring your heart rate down. Most conditioned runners will need a recovery equal to about half the distance of the intervals, while beginners may need a little more time.
So, how fast should you be running?
The North American Academy of Sport Fitness Professionals recommends calculating your interval paces based on percentages of your race pace. I use current 5K pace.
100-meter intervals should be run at 15% faster than your 5K pace.
200-meter intervals should be run at 12% faster than your 5K pace.
400-meter intervals should be run at 10% faster than your 5K pace.
800-meter intervals should be run at 8% faster than your 5K pace.
1,000-meter intervals should be run at 6% faster than your 5K pace.
As an example, if your current 5K pace is 7:05/mile, that means you would run your intervals at the following paces:
100s: 6:01/mile
200s: 6:14/mile
400s: 6:23/mile
800s: 6:31/mile
1,000s: 6:40/mile
To make the process even simpler, you can use speed work pace calculator charts based on your current 5K time. My favorites are:
The pacing charts in the book Run Less Run Faster. I am a die-hard believer in these and use them regularly for my own training. The paces outlined for me in Run Less Run Faster are very similar to the manual calculations done above.
The McMillan Running Calculator (Just be sure to find your paces based on your CURRENT 5K time, not your desired marathon/half marathon goal). I think these paces tend to be a little faster than the Run Less Run Faster times, so I prefer those over these.
Speed work intervals should be appropriate for the race you are training for. While you might run 100-meter and 200-meter repeats if you are training for a 5K or 10K, you would likely do more 400-m, 800-m and 1-mile repeats if you are training for longer distance races. Common speed workouts I do include: 6 to 16 400-meter repeats with a 400-m recovery between each, 6 to 8 800-meter repeats with a 400-meter recovery between each, 5 x 1,000-meter repeats with a 400 to 500-meter recovery between each and 3 x 1-mile repeats. I also mix up 400s, 600s, 800s and 1,200s occasionally in the same workout.
More ways to connect with rUnladylike:
Twitter: @rUnladylike
Facebook: https://www.facebook.com/runladylike
Instagram: http://instagram.com/runladylike/
Daily Mile: http://www.dailymile.com/people/jesica
Pinterest: http://www.pinterest.com/JesicaD/
Follow rUnladylike with Bloglovin
Do you incorporate speed work into your training? If so, have you been running the right paces for your current fitness level based on the calculation guides above? Do you have a favorite speed workout?