Albany Marathon Race Recap
March 4, 2014
"Marathons are the triumph of desire over reason."
That's what I saw on a sign during mile 11 of this past Saturday's Albany Marathon. That mile flew by because I spent the entire time repeating this line over and over in my head so I could remember the quote. As I was running 26.2 miles, I realized how true that statement really is. Running a marathon defies all odds. It shouldn't be possible, and yet, somehow we make it possible. We choose to finish. Running the last 6 miles of a marathon is hands down one of the hardest things I've ever done. Every marathon is a miracle. When I crossed the finish line on Saturday, that is what I was thinking.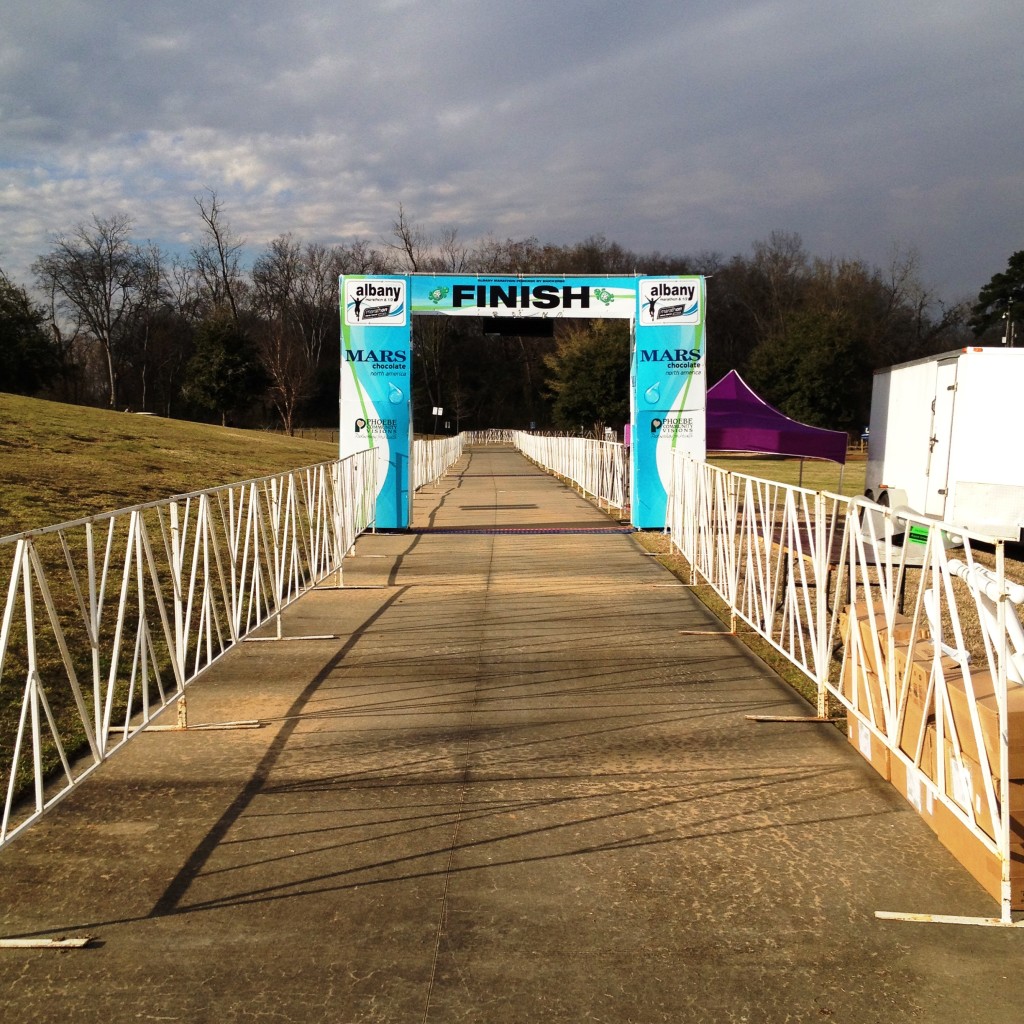 I went into this race with few expectations. I wanted to feel good. I wanted to run a consistent race. I believed I could run faster than all my other marathons, but it was more about finishing happy than it was about the time on the clock.
I am extremely grateful and humbled to have made marathon #6 all of these things.
I made the trip down to Albany, Georgia, around lunchtime the day before the race. It's just a 3-hour drive from Atlanta, which I made with my good pal and race weekend soul mate, Teesha (you might remember her from our trip to Beach2Battleship or when she made her debut on my Nuun Hood to Coast video application).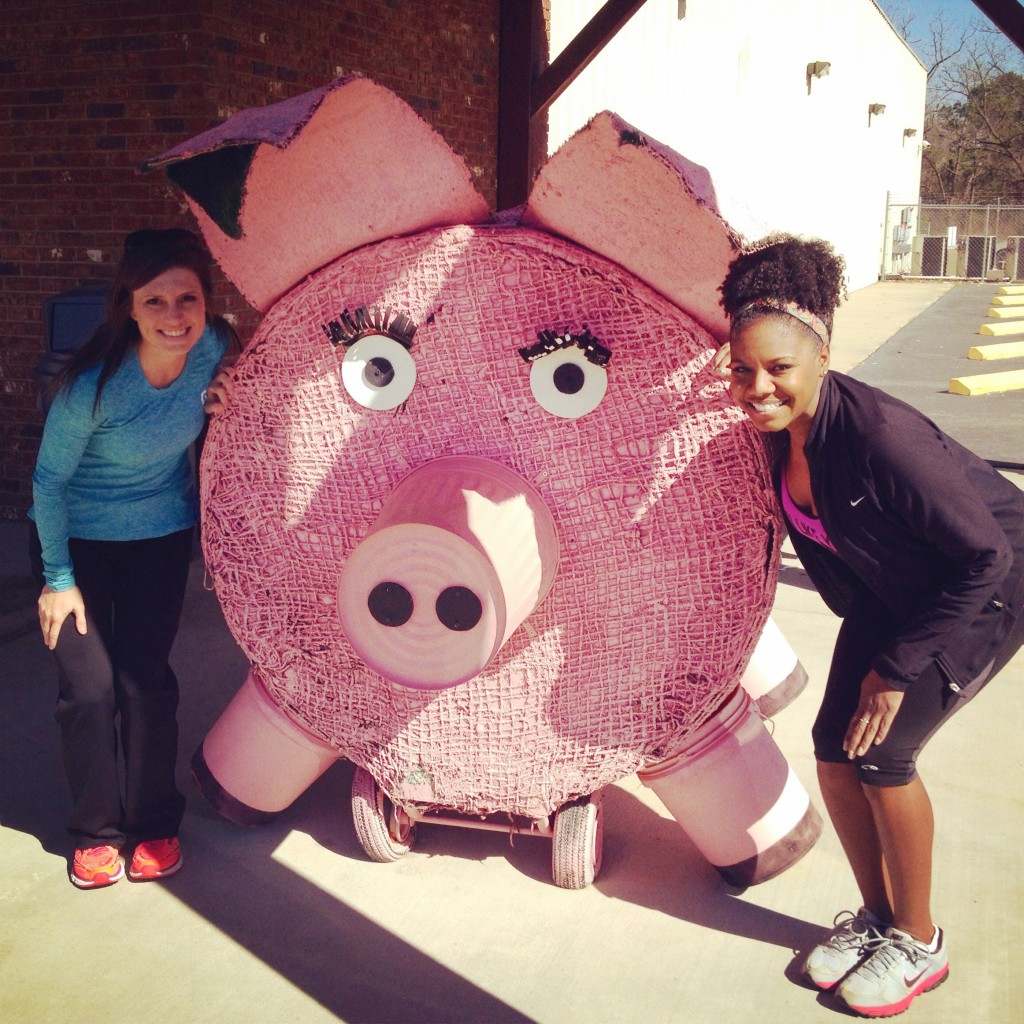 I believe that a key factor in having a successful race is being in the right state of mind the day before and the morning of the race. For my past 3 big races (all of which I have run a PR), I've traveled with and stayed with running friends who understand that and who make me laugh and smile non-stop until the starting line gun goes off.  They also think it is normal to:
Analyze the color of our pee every time we go to the bathroom in the 24 hours leading up to the race to assess how hydrated we are.
Wreak havoc on every waiter at every restaurant by ordering custom food to ensure we get our perfect pre-race meal.
Discuss pooping at length – Did you go yet? Was it a good one? Do you think you'll have to go again before the race?
Talk about running and race strategy every hour on the hour. And then discuss it some more.
Case in point.
When we arrived in Albany, we headed to the expo, which was small but easy to navigate. We were able to check out the finish line area and visualize a successful race ending.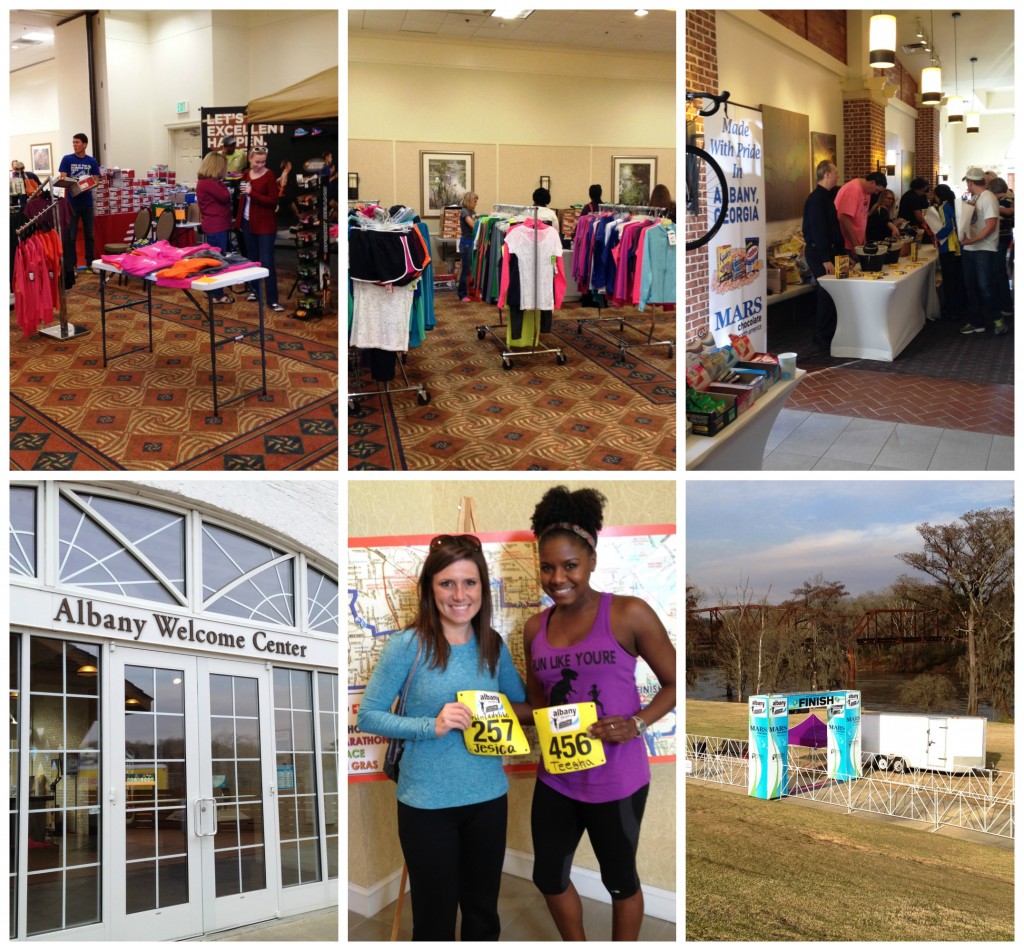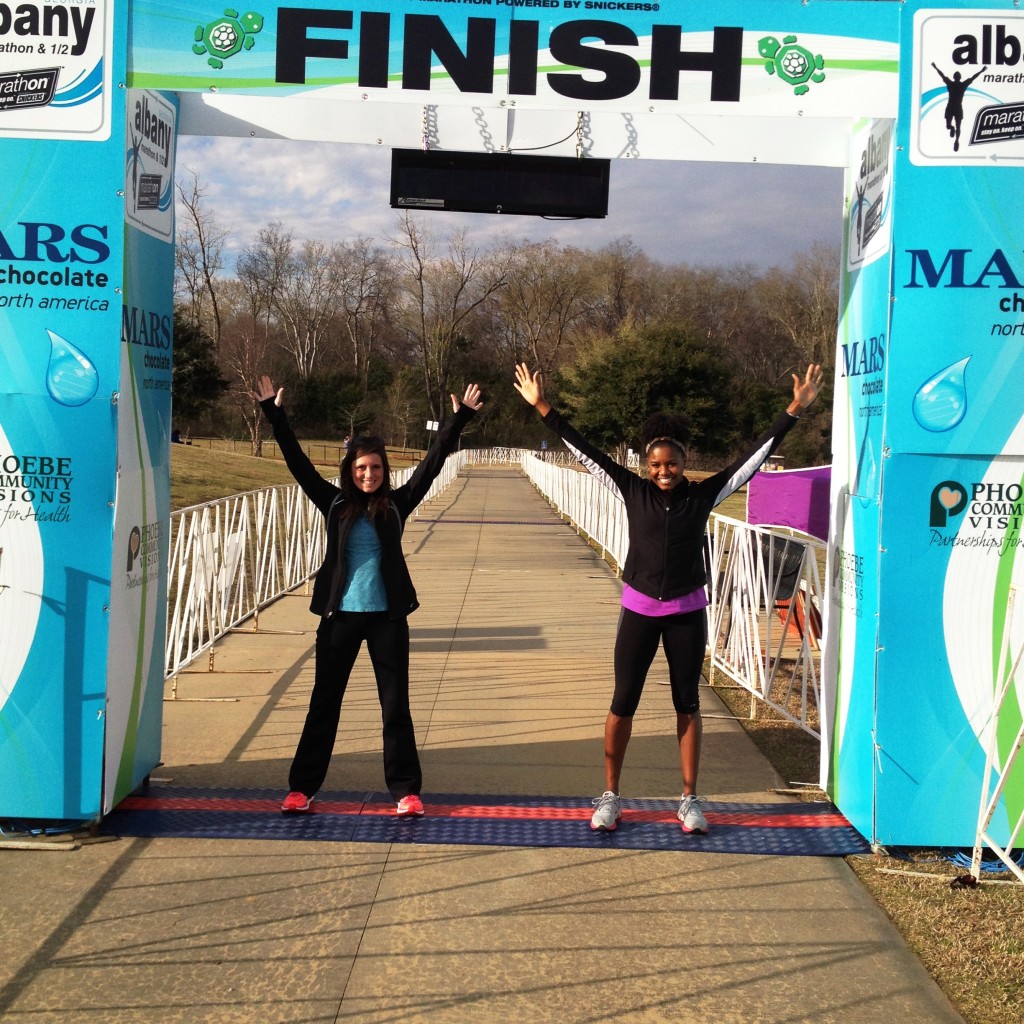 I hoped I would feel as good at the finish line on Friday as I would after the race on Saturday. I'm proud to say, I did.
On Saturday morning, the race started at 7 a.m. I decided to run with the 3:45 pace group. They were running closer to a 3:40 pace, but it felt comfortable and I enjoyed the feeling of running with a team. I recall seeing the sun rise during mile 3, and it made me remember to enjoy the mile I was in and not to think too much about all the miles I had yet to run.
At mile 7, I made a deal with myself that rather than thinking about how many more miles I had to go, I would set small goals. The first goal was to get to the half marathon point (13.1), the next was to get to mile 17 (because that's when you are finally counting down miles in the single digits), and then to 20 (because there is just a 10K to go) and then to 23 (because you can do anything for 3 more miles). Setting these smaller goals really helped me mentally.
I broke off from the pace group around mile 12.5 because I wanted to run the tangents more aggressively (this means taking turns in such a way that ensures you are running the shortest part of the course). We were already about 0.1 miles over, and I didn't want to run any further than I had to. I had a burst of energy from miles 12 through 15 and felt really strong.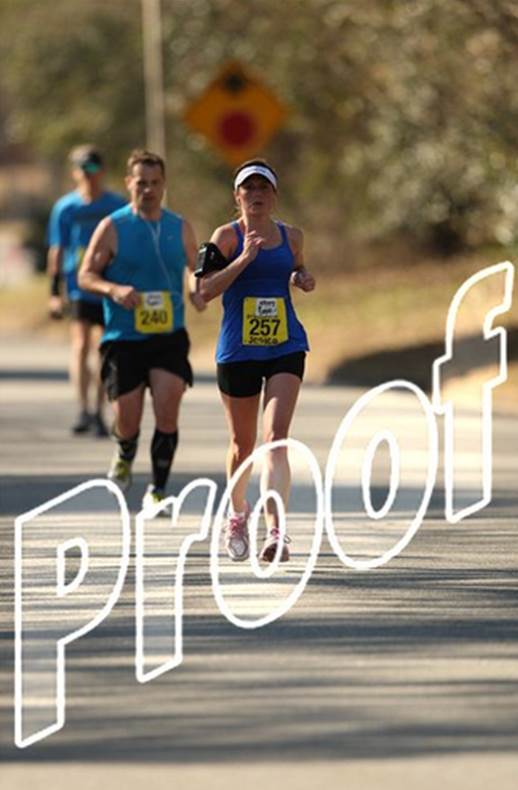 Around mile 18 or 19, I started to feel the distance. My leg muscles began to hurt, and I knew the ever-daunting last 6 miles were near. My goal was to try to hold onto my pace as much as I could and be as consistent as I could. I was wearing a pace tattoo, so I knew where I needed to be each mile to run 3:45 or faster.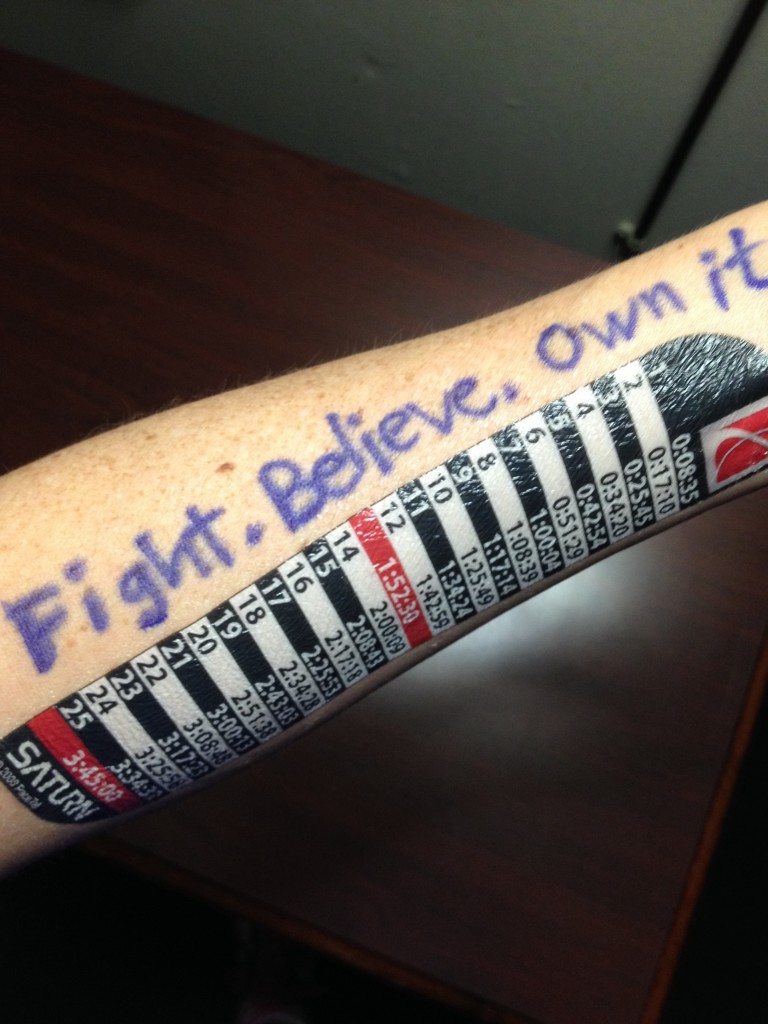 Miles 22 through 24 were the hardest for me. I slowed my pace quite a bit and was simply struggling mentally and physically. The 3:45 pacer came back and passed me, but she was alone and stayed right in front of me. I focused on staying close to her, even though she was ahead of 3:45 pace. I started to envision the feeling of the volunteer putting the medal around my neck. I was thinking about how incredible it was that I was doing this. I was thinking about what a miracle it is to finish.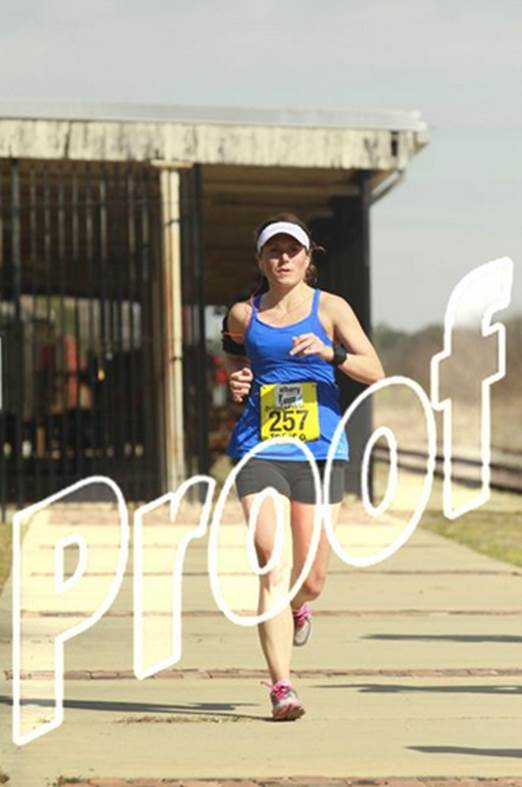 I dug deep, found some extra energy and got back to my goal pace the last 2 miles, even running a 7:19 pace for the last 0.4. I zoomed past the 3:45 pacer to cross the finish line in 3:44:10.
3:44:10. That's more than an 8-minute PR.
I was overcome with happiness. I was amazed to be finished, but even prouder to have run a mostly consistent race. Here is what my mile splits looked like:
Mile 1: 8:13
Mile 2: 8:22
Mile 3:  8:16
Mile 4: 8:17
Mile 5: 8:34
Mile 6: 8:29
Mile 7: 8:24
Mile 8: 8:25
Mile 9: 8:30
Mile 10: 8:30
Mile 11: 8:25
Mile 12: 8:24
Mile 13: 8:31
Mile 14: 8:20
Mile 15: 8:29
Mile 16: 8:30
Mile 17: 8:26
Mile 18: 8:27
Mile 19: 8:39
Mile 20: 8:33
Mile 21: 8:33
Mile 22: 8:47
Mile 23: 9:02
Mile 24: 8:58
Mile 25: 8:35
Mile 26: 8:27
Last 0.4 (course was longer than 26.2): 7:19
Average pace on Garmin: 8:29/mile
Because the course was about 0.2 over, my average pace for the race ended up being 8:34. I finished 12th in my age group and 175th overall.

From a nutrition perspective, this is what my strategy looked like:
Breakfast day before the race: Chocolate banana protein smoothie with 1 cup almond milk, one frozen banana, one scoop of Jay Robb's chocolate whey protein and 1 tablespoon of chia seeds (see recipes for my favorite post-workout smoothies here)
Lunch day before the race: Spaghetti with tomato sauce and roasted chicken and a roll
Snack day before the race while traveling: Peanut butter pretzel sandwiches
Dinner day before the race: Plain grilled chicken breast with pepper and salt, heavily salted baked potato, rice and 2 rolls (no vegetables or high fiber foods)
Hydration day before the race: Drank water constantly ensuring my urine was consistently a pale yellow color (almost clear)
Pre-race breakfast: Everything bagel, heavily salted hardboiled egg, half banana, ½ cup strawberries and 12 ounces of water (ate this at 4 a.m. 3 hours before the race and went back to bed for 45 minutes after eating)
Pre-race fuel: Ate 100 calories of strawberry Clif Shot Bloks 30-35 minutes before the race and then proceeded with my warm-up
During the race: Ate a salted caramel GU every 45 minutes. I took the GUs with water but alternated between water and Gatorade for hydration on the course at every aid station. I did not take my fourth gel around mile 21 even though I probably should have and I did not stop at the very last aid station for water. Next time, I will force the fourth GU down. I think it might have helped during those last few hard miles.
Post-race: Immediately following the race, I drank 16 ounces of water and 8 ounces of Gatorade and ate a Marathon protein bar that was offered in the finish area (20 grams of protein and lots of carbs). I continued to drink water and then had a bowl of pasta with bread and salad about 2 hours after the race. I continued to hydrate for the remainder of the day.
I could not have been happier with this race or the performance. I have been so incredibly fortunate to have a personal best on my last 5 races. For this race, I think the biggest factors were perfecting my hydration and nutrition plan, creating a training plan that really works for me focused on high quality runs and cross-training with no junk miles, tapering for 2 weeks instead of 3 and having a strong base of running 13-14 miles for months before going up in mileage to 16, 18 and finally 22 miles in the last 5 weeks leading up to the race. In 2012, I was struggling so much with my running that I was questioning if I would ever get better. Like anything, running takes time. Learning what works for me to have an effective marathon took me more than 3 years to figure out. If you are struggling with your pacing, nutrition strategy, mental strength or any other aspect, I promise you that you'll get there if you keep working at it and figuring out what works for you.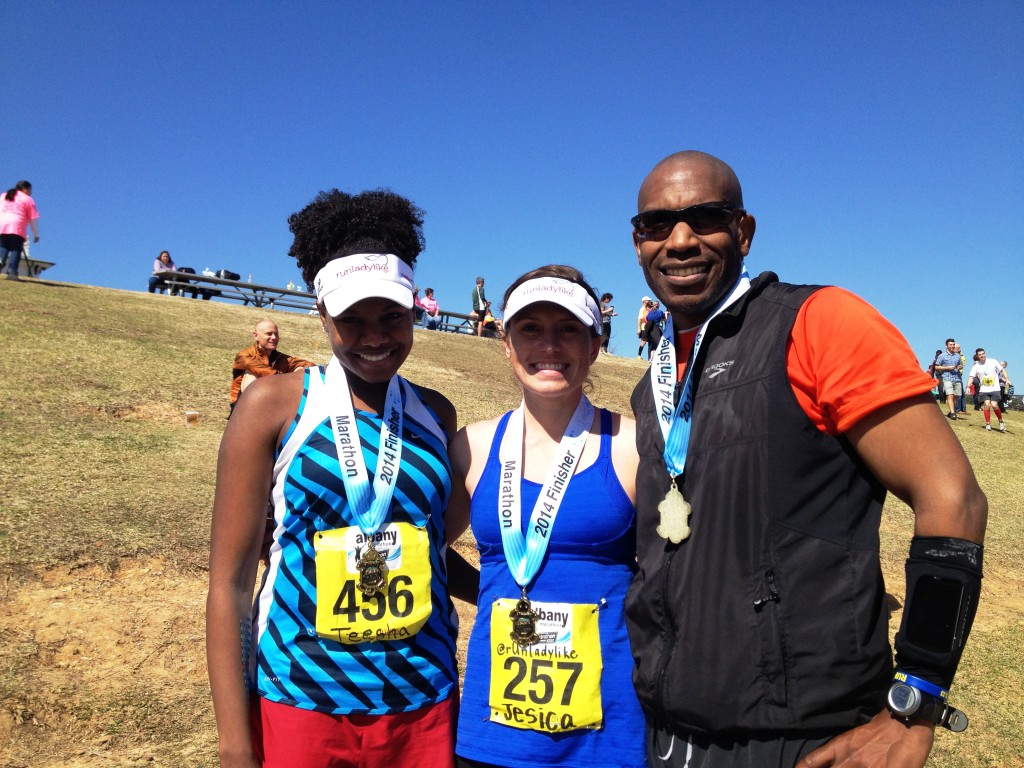 As a final verdict on the Albany Marathon, these are my key takeaways:
The course was great. It was mostly flat, with some rolling sections after mile 12. The course went through many neighborhoods with nice homes and along the river. The weather was a little warmer than I would have preferred, but it is typically very good for those who enjoy running in cooler temperatures.
The volunteer support and aid stations were excellent. All Albany Marathon volunteers were dressed in hot pink shirts, and the aid stations were plentiful and responsive. I would yell out what I needed and they would have it ready for me. The cups were filled to the perfect amount to avoid spilling. Although I didn't use any of their fuel, they had oranges, bananas, Hammer Gels and Marathon bars on the course.
The logistics were seamless. The start was right by the city's civic center, so there was plenty of free parking and we were able to use the bathrooms in the host hotel which were clean. The race started on time and since there were less than 700 marathon runners, it wasn't too crowded after the first mile.
The race weekend was incredibly inexpensive. My friend Teesha and I split a hotel room that cost $90, we paid for one tank of gas and two meals that topped out at $15 each. If you live within 3 hours or so from the race, you can get in and out with just one night and the drive is easy. Since there is not much to do in Albany, I would not recommend flying in from somewhere far away just for this race unless you are planning to spend time in Atlanta or another nearby city before/after.
The gear check before the race was right next to the start line and you simply placed it on a platform. Afterwards, you got your own bag. This was great, but you have to assume no one is stealing bags. We easily found and got ours with no problem. I would recommend a little more security around the bags through the end of the event.
The finish area is next to a steep grassy hill, which every runner has to walk up after the race. This is NOT ideal for those of us with tired legs, especially if you have to walk back down, which we did.
The pacers were not very consistent. The one I followed started faster than they finished, and the pacer left the entire group and finished alone. I really enjoyed being with mine for the first 12+ miles, but we were running faster than pace. I noticed many pacers come through the finish after me who were alone and no longer with their group.
The course was longer than 26.2. With an extra 0.2, that slowed my overall time down. Had it been 26.2 at my overall race pace, I would have finished in 3:42:15. That is a little frustrating, but t lets me know I have more time to shave off in my next race.
There was no Albany Marathon merchandise for sale at the expo or after the event. The shirt was not attractive and didn't fit well, so I would have loved to buy a pull-over or long-sleeve to remember the event. That is one thing I'd recommend the race organizers include next year. Additionally, the medal is not impressive. If you like to run races to collect awesome medals, you won't find one here. *wink*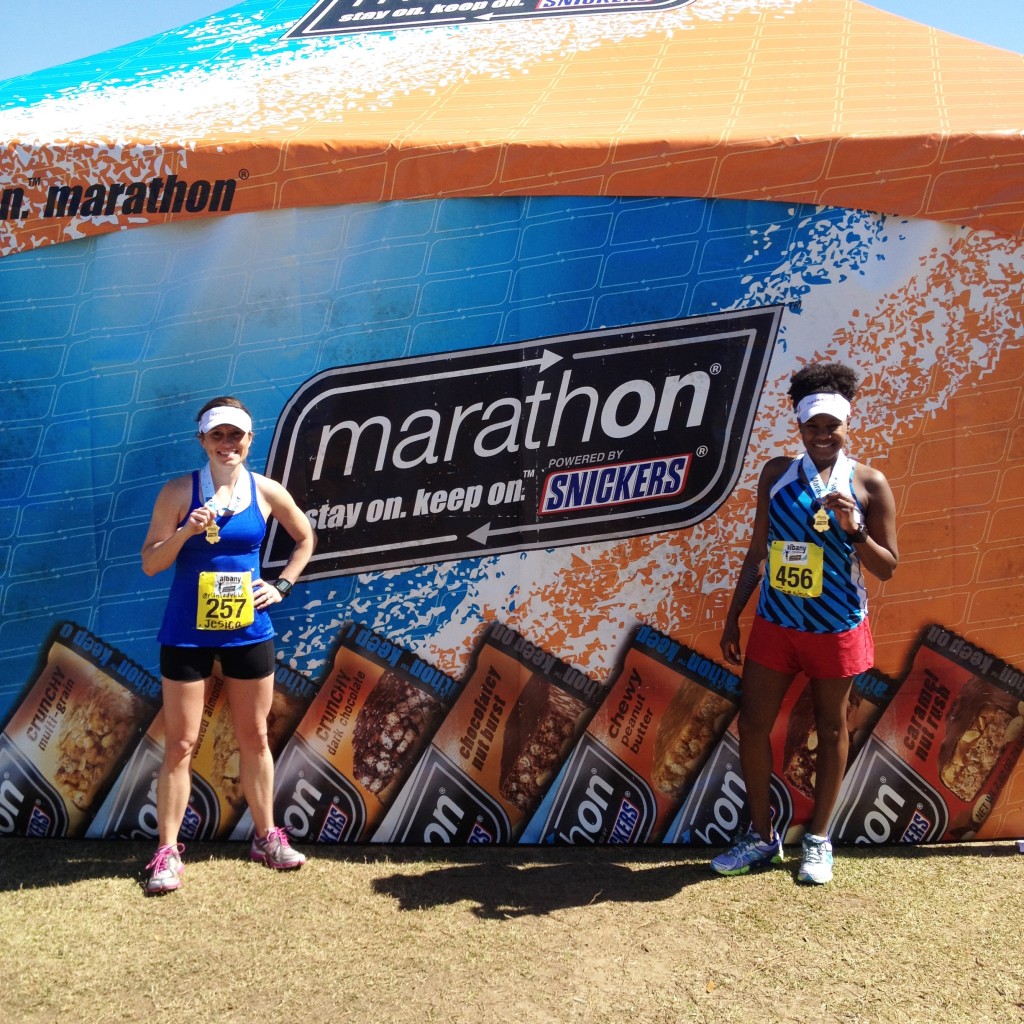 What have you learned about running that has helped you improve that you didn't know when you started? Have you ever run the Albany Marathon or do you have any plans to run it?