Ragnar Trail Atlanta Race Recap
April 9, 2014
One of the most powerful things about running is that it keeps surprising me. Even though I've been running nearly my entire life, running continues to teach me new things and take me on unexpected adventures where I keep learning about myself and about life.
This past weekend was no different.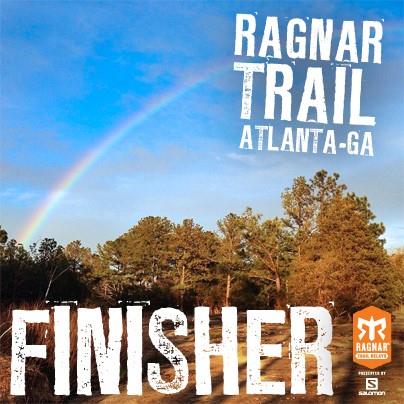 On Friday and Saturday, I spent 24 hours on one of the most fun and unique running adventures yet. I was fortunate to run the Ragnar Trail Atlanta relay race with 7 other fabulous ladies representing Nuun. During the week leading up to the race, I was admittedly grumbling and complaining a bit to Mr. rUnladylike: Why did I agree to do this race? I haven't been trail running in ages. Why am I putting myself in a situation where I could get hurt? Why did I sign up for this?
I should have punched myself in the face, because Ragnar Trail Atlanta ended up being an incredible experience that I would not have given up for the world.
The idea behind the race is that teams of 8 people (or 4 people if an ultra distance is preferred) work together to run 130 trail miles over the course of 2 days. I was on a team of 8, and we each were required to run 3 times, including a hard 6.7-mile "red" loop, a moderately hard 4.6-mile "yellow" loop and a moderately hard but shorter 3.8-mile "green" loop. There were 24 total legs between the 8 of us, and we alternated in the order of green, yellow, red until the 8 of us had run all 3 loops. The average finishing time tends to be between 18 and 30 hours. Additionally, there is a base camp where you set up tents and keep your stuff to hang out between running legs, and the Ragnar team had a bonfire, food trucks, smores and a stage for live music to keep things fun and lively. Essentially, you run, sleep in a tent, eat and repeat. Showering and brushing your teeth are optional. *wink*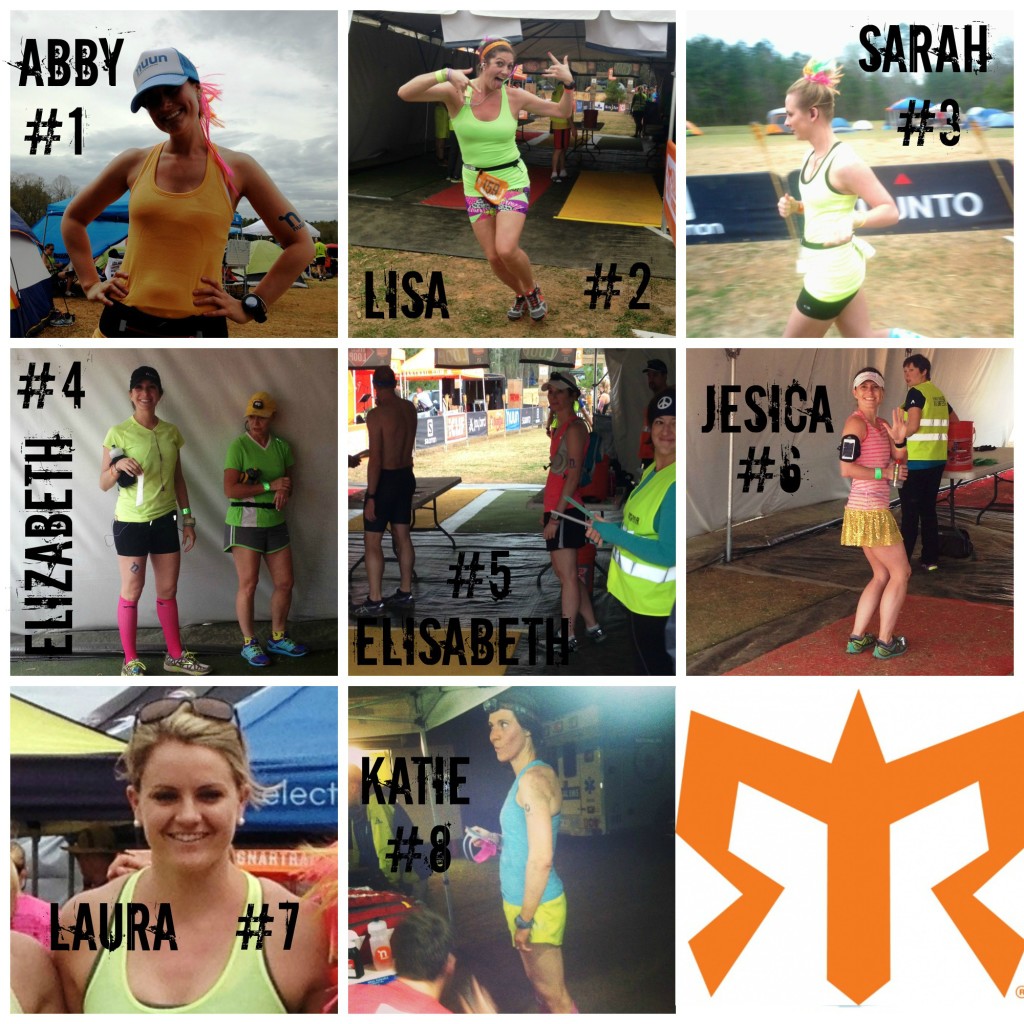 I arrived at the race site on Friday afternoon to set up and meet my team members. Our starting time was 3:30 p.m.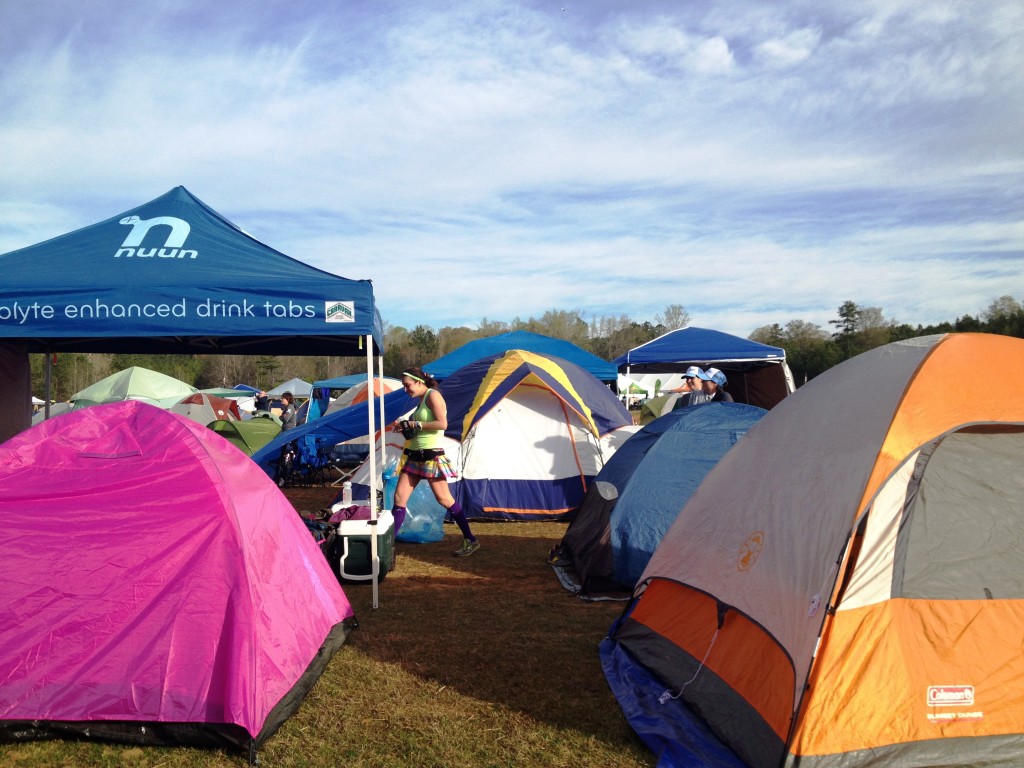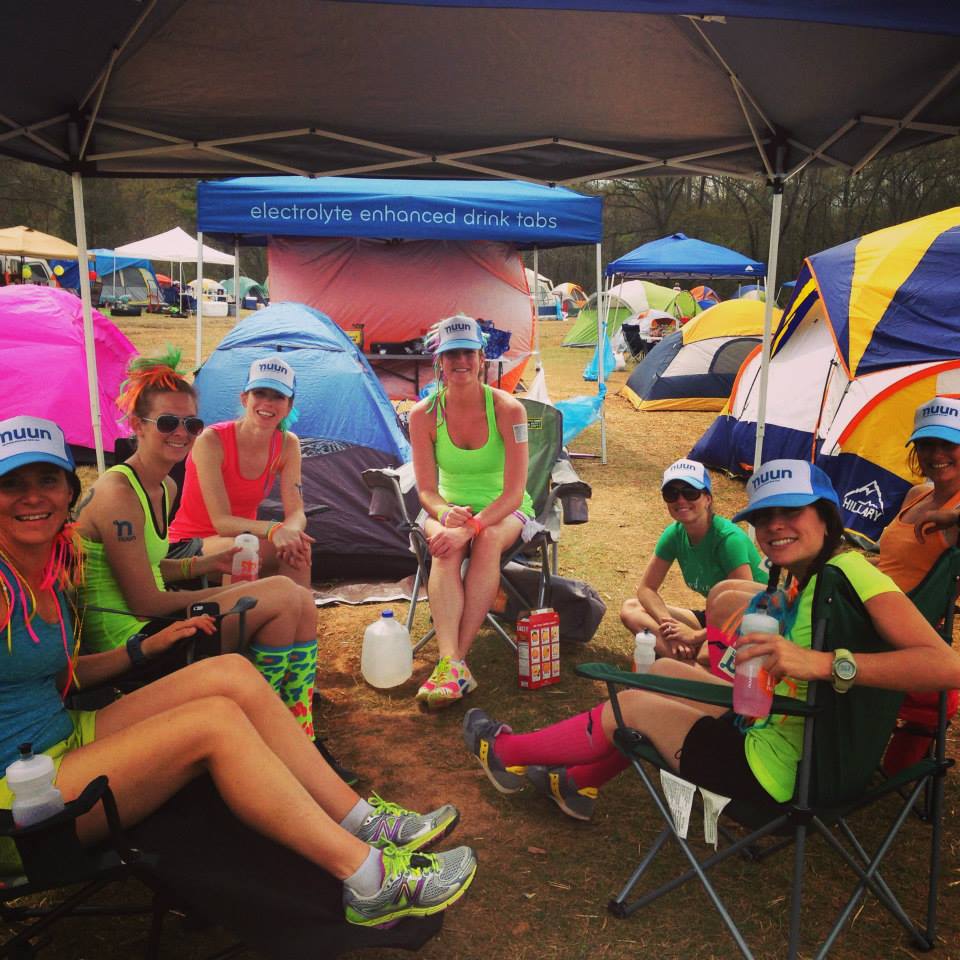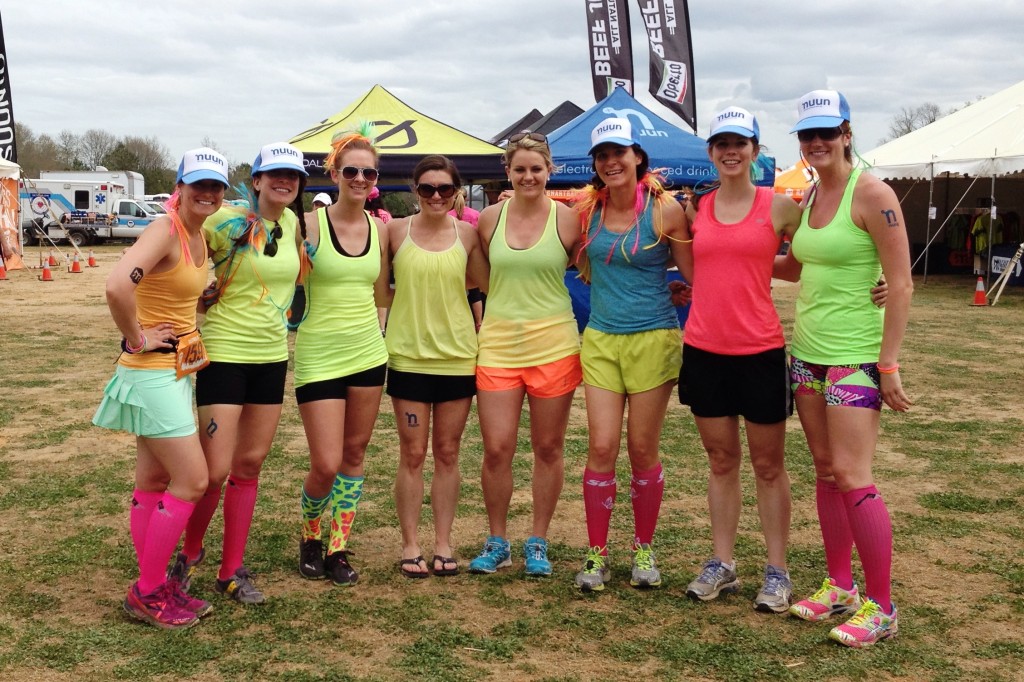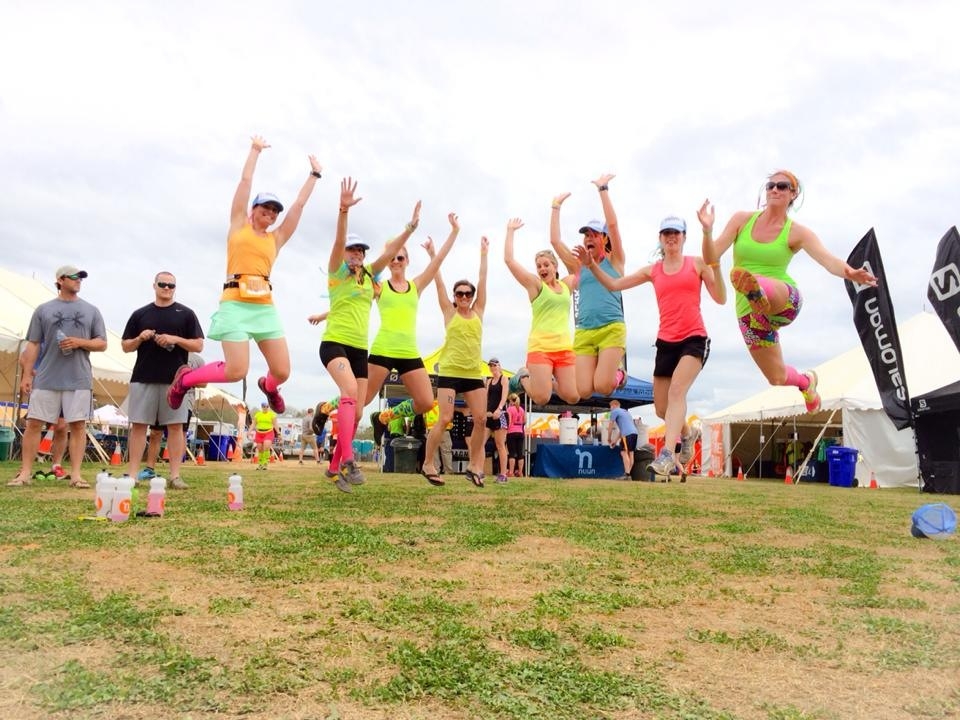 We attended a pre-race meeting to learn the ins and outs of the course, course markings, transition/exchange tent and how the weekend would work. And then it was go time.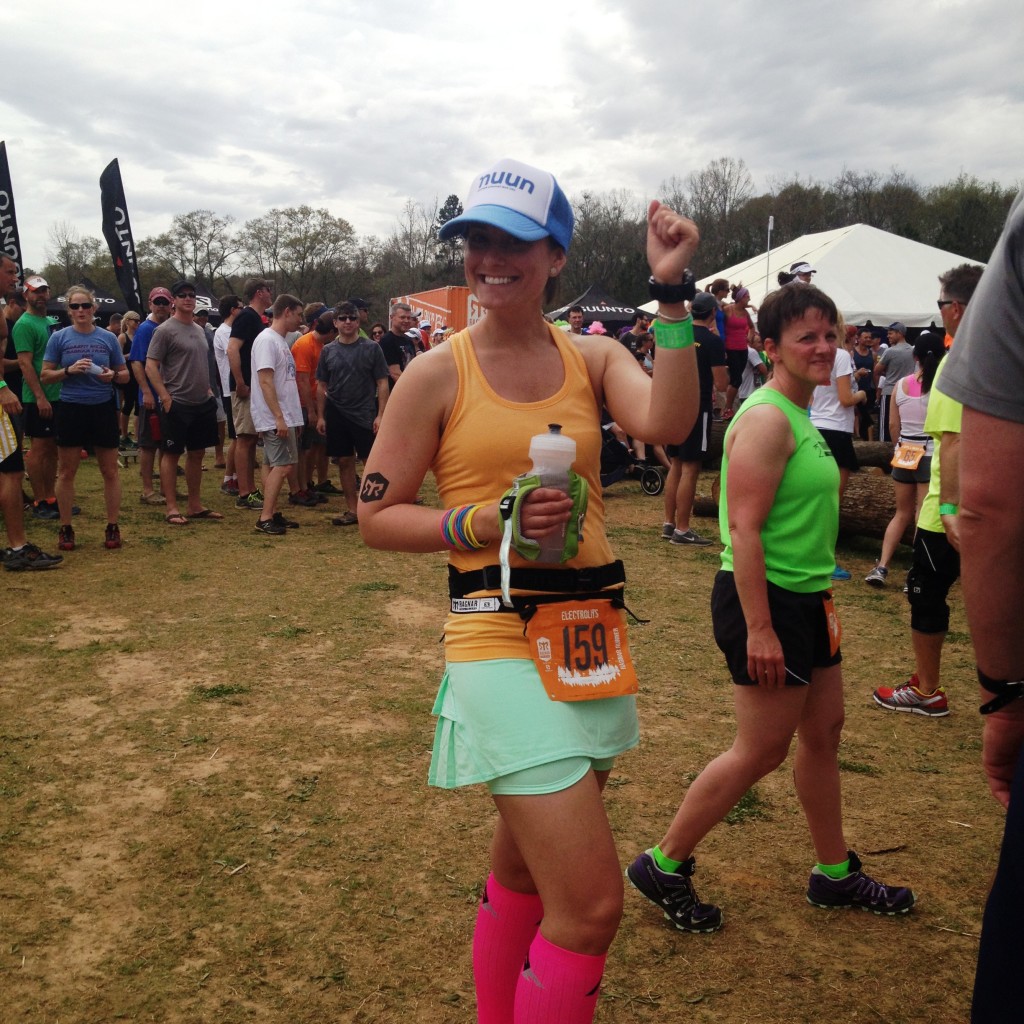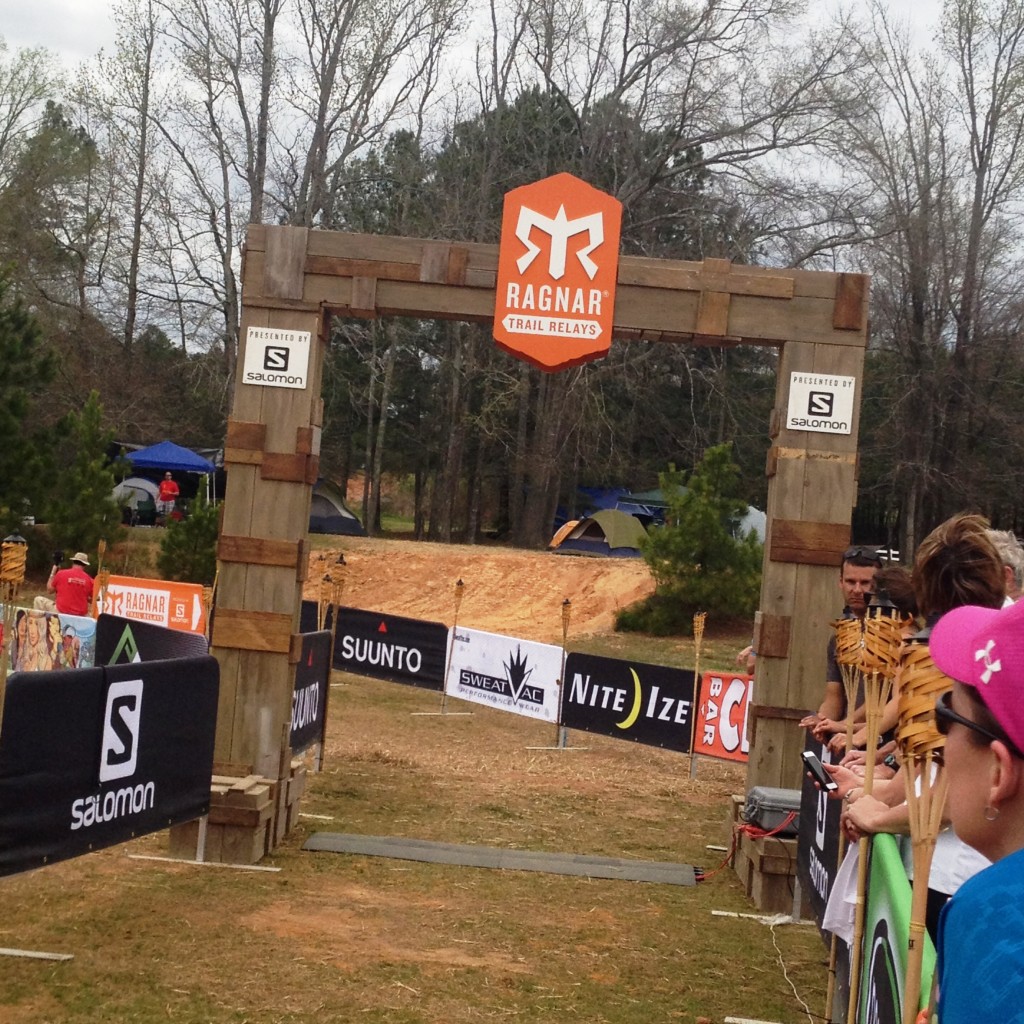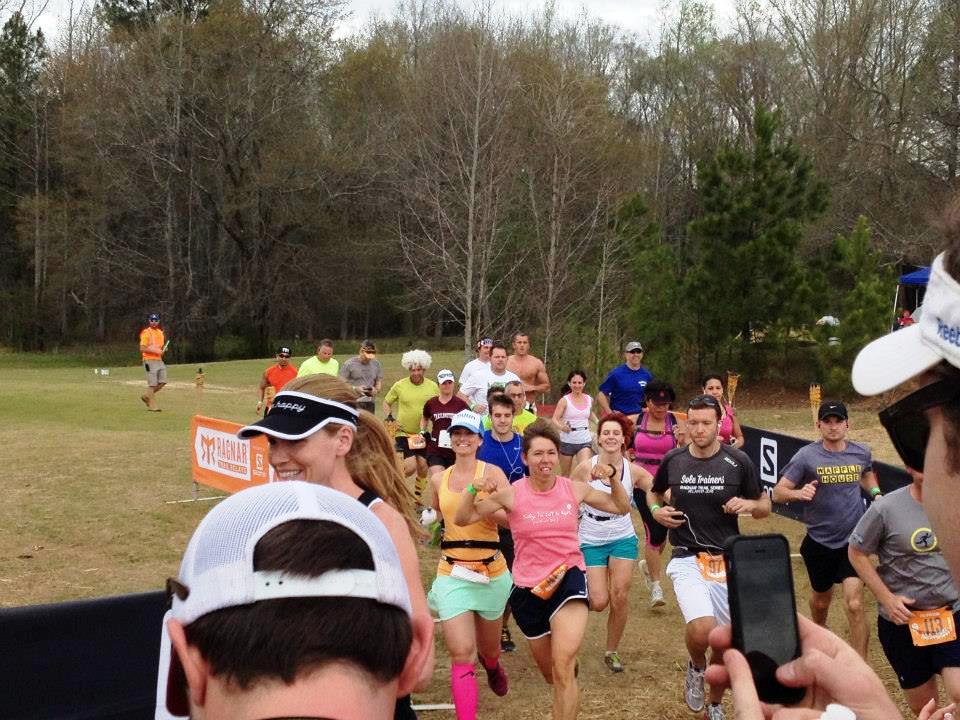 I was runner #6, and I was grateful that the order of my runs started with the hardest loop (red) and kept getting shorter and "easier" over the course of the 24 hours.
Run #1: Red Loop
My first run was at 7:30 p.m. and it was the 6.7-mile hard loop. Right before I took off, there was a beautiful rainbow. I was hoping this was a good sign of things to come.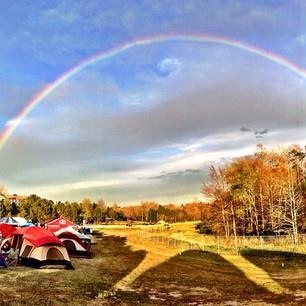 Ragnar Trail describes this loop on their Web site as being like a roller coaster … and it was! I was able to run the first half with daylight and the second half in the dark with a head lamp (major thanks to my teammate Elizabeth from Running For Bling for letting me borrow her head lamp and knuckle lights for all my nighttime runs! This was the first time I'd ever run on trails in the dark!). I kept hearing from others how challenging this loop was, so knowing the first 2 miles were flat and easy, I took off like a bat out of hell to try to make up time on the back-end. My first mile was 7:08 (ouch … too fast) and I settled into the second mile at 8:06. Then the hills started. There were several incredibly steep hills and some challenging terrain that was on a slate rock that was a bit difficult in the dark. I struggled to catch my breath in the later stages of the run since I went out so fast, but was able to finish strong with an average 8:58 pace for the 6.7 miles. My Garmin read 59:45 and the official time was 1:00.
After my first leg, I ate some dinner, changed out of my sweaty clothes and bundled up in a tent to catch a little shut-eye. I was able to fall asleep but it was restless. I probably managed about 3 hours of sleep.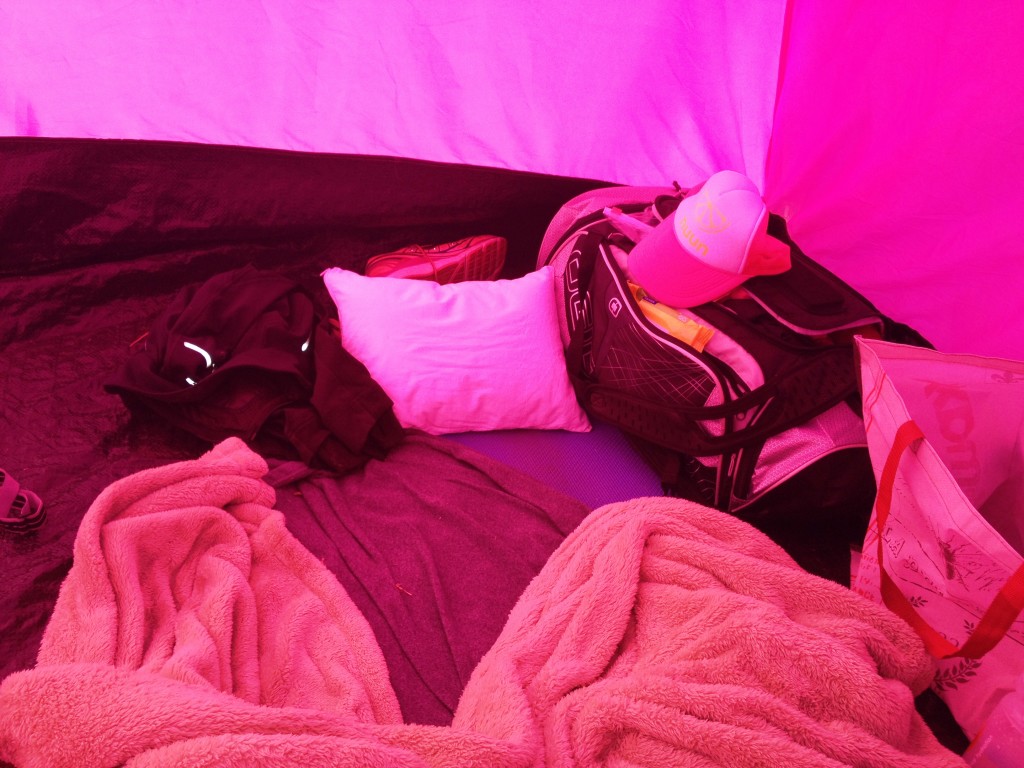 Run #2: Yellow Loop
My second run came around 2:30 a.m. With my headlamp and knuckle lights strapped on, I went out for the 4.6-mile yellow loop, which was a complete blast.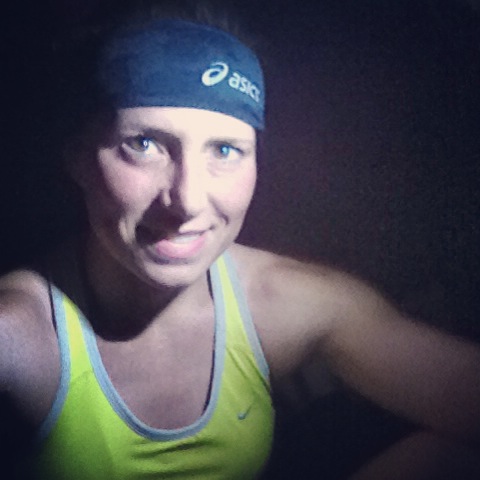 This was the leg that made me fall in love with Ragnar Trail. There was something so exhilarating about running through the woods at night. While I passed many people, you are mostly alone, which adds an additional element of intrigue and excitement. I ran each of the 4.6 miles faster than the first, although I was careful with my footing in the dark. My Garmin read a 9:37 average for this loop (just over 45 minutes), but since I ran 0.1 farther than the marked course, the official pace was 9:55. After the run, I changed, ate a peanut butter and jelly sandwich, Chobani and fruit snacks by the bonfire and laid back down in my tent. I didn't get much sleep between 3:30 a.m. and 7 a.m. but I think simply resting helped.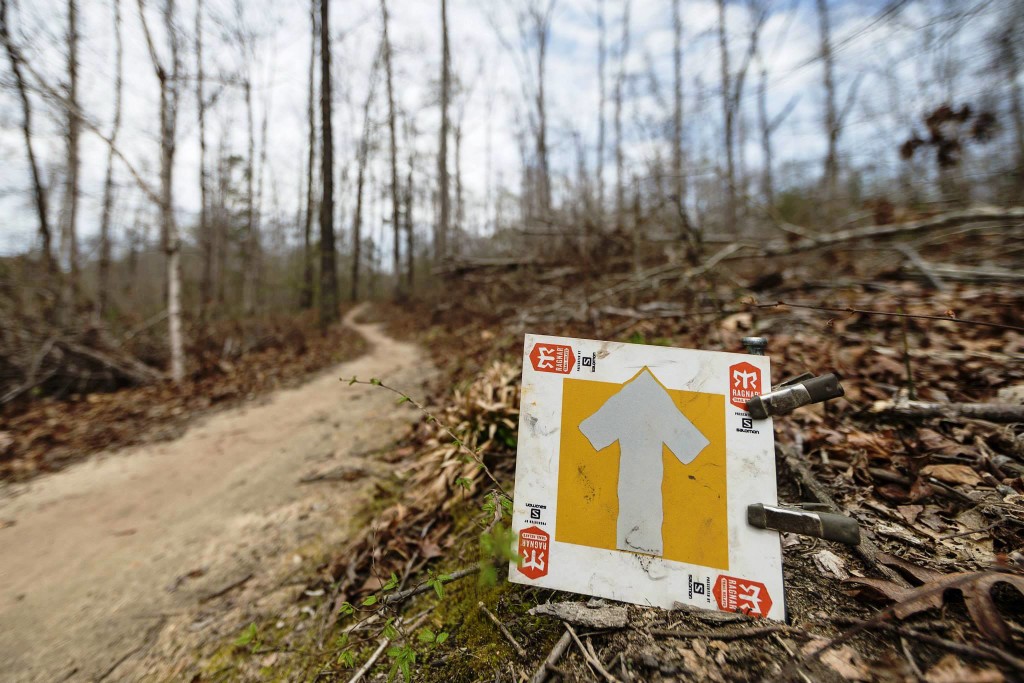 Run #3: Green Loop
My final leg – although the "easiest" loop on the course – was by far the hardest for me. I started around 9:20 a.m. and my legs felt tired and dead. It was the first run of all my legs that was entirely in daylight, and it felt like the longest 3.8 miles of my life. I felt like I was running through molasses, but I tried to keep up my pace to finish strong. I ran an 8:30 average pace, coming in around 32 minutes. I was so glad to be done!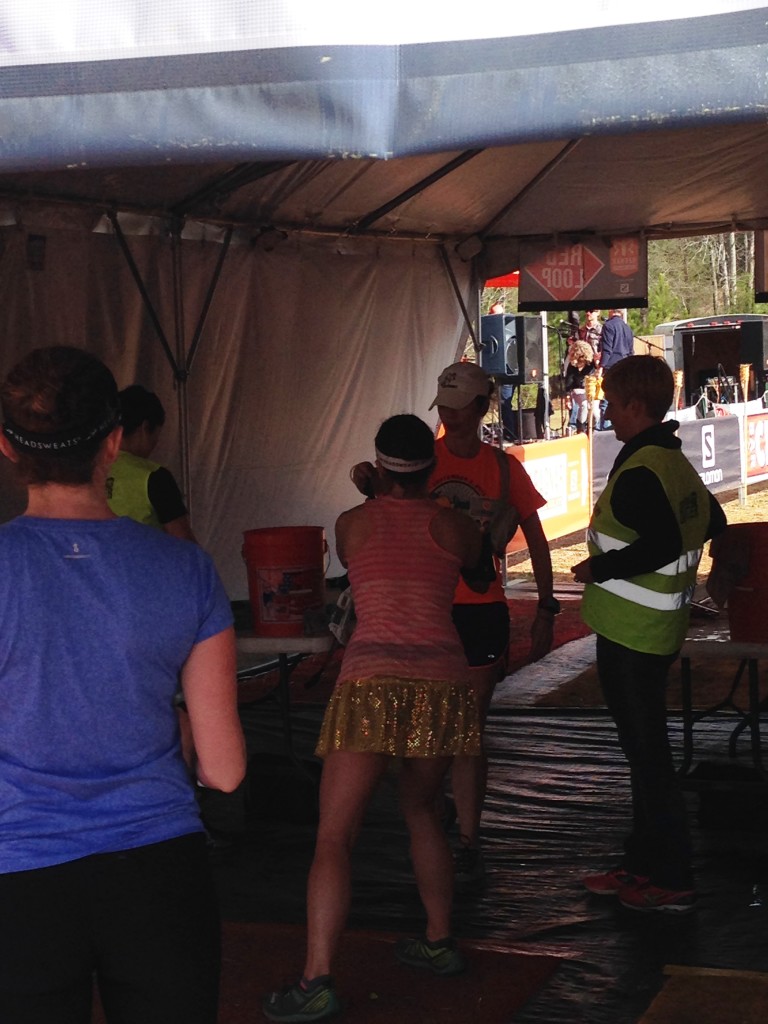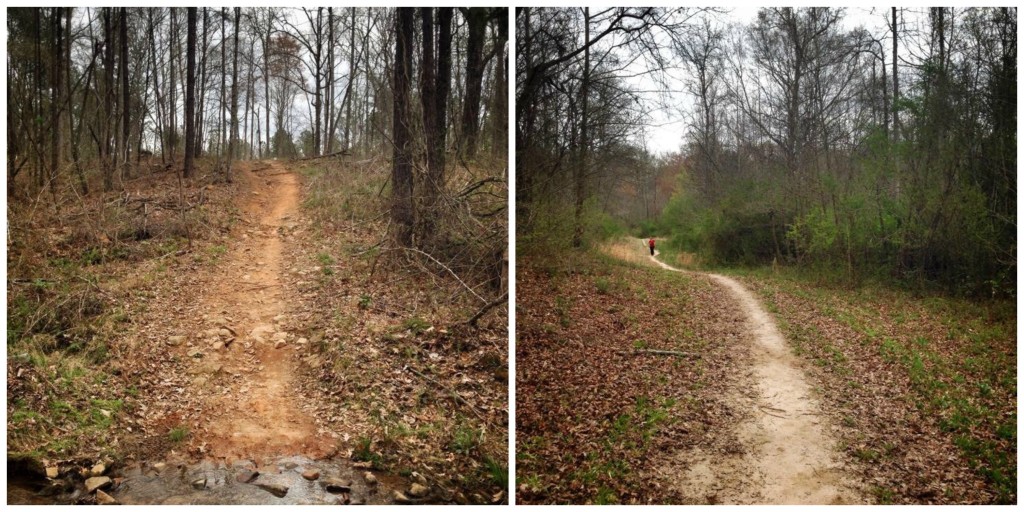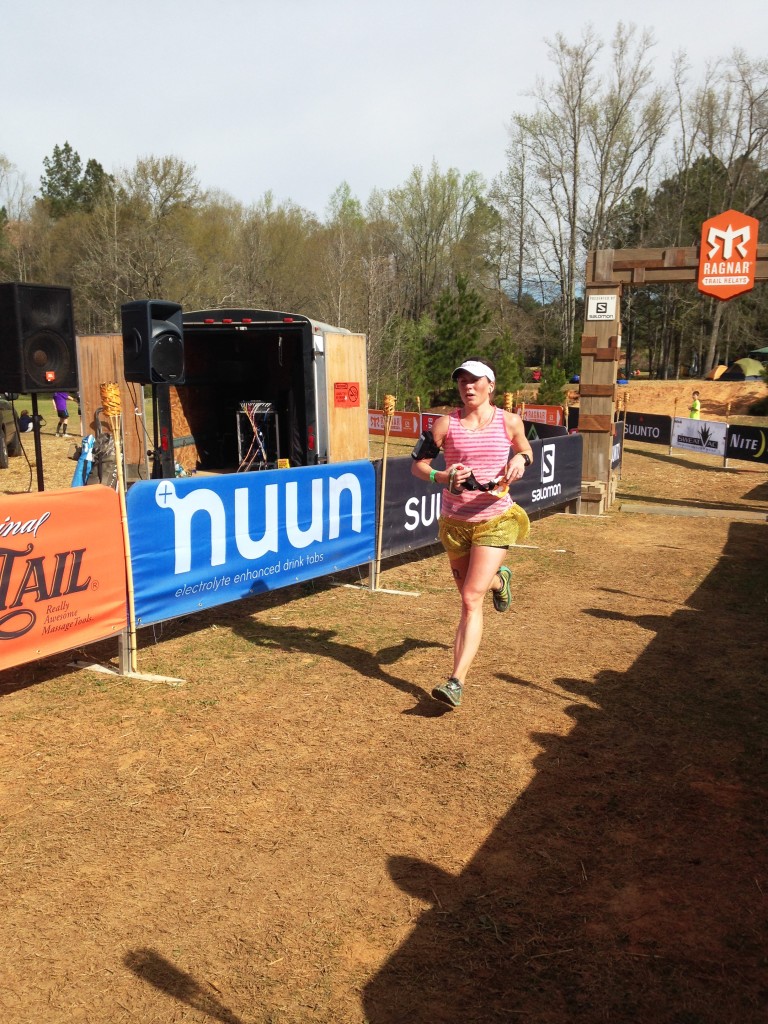 After my final leg, there were 2 more runners to finish until our entire team was done. We hung out as a team while we waited for our fellow runners, and at the end, we all ran across the finish line together with our last runner Katie. It was such a blast!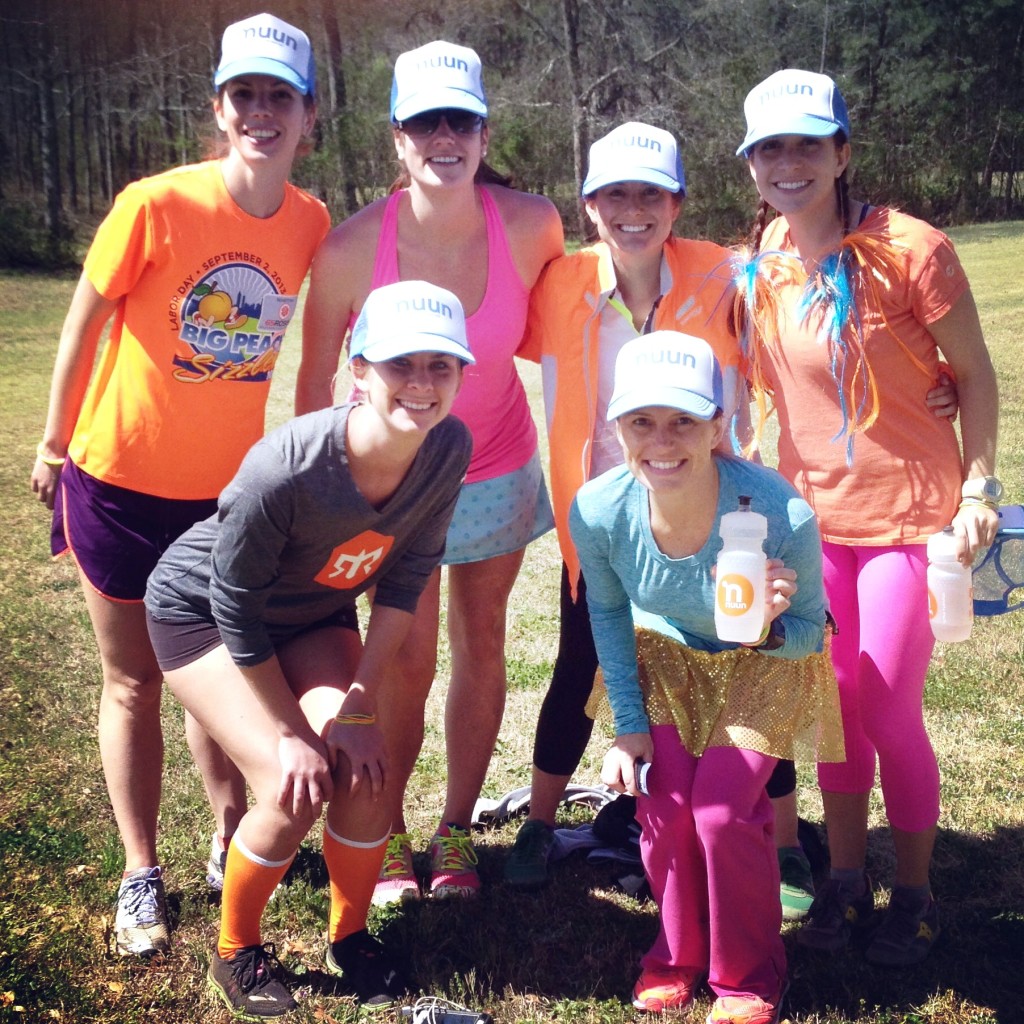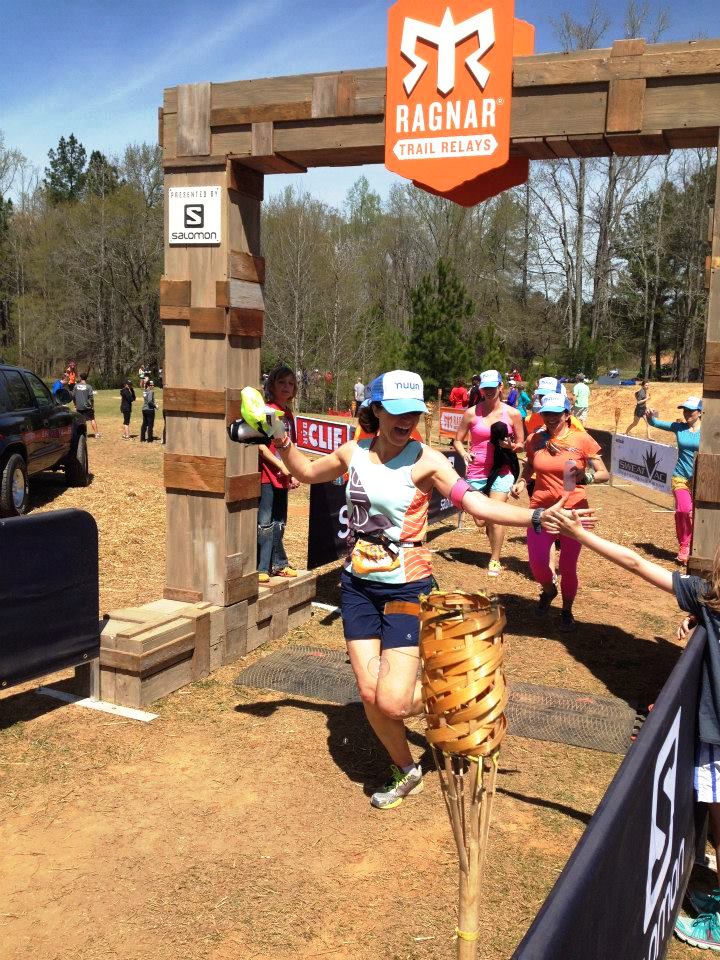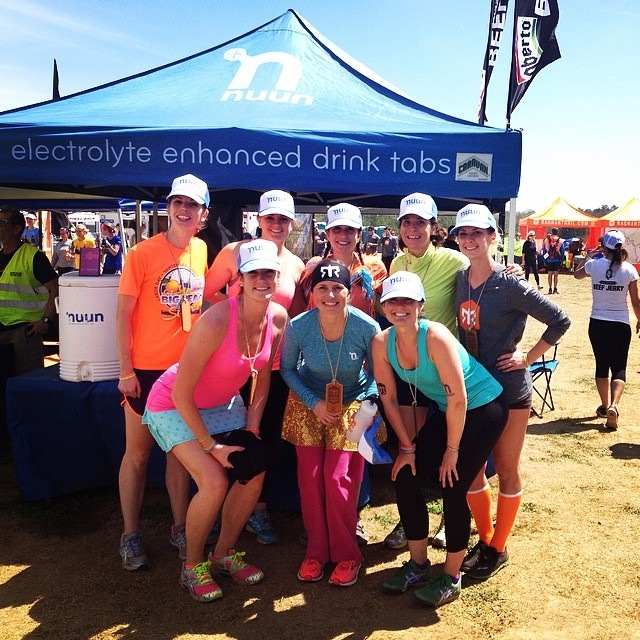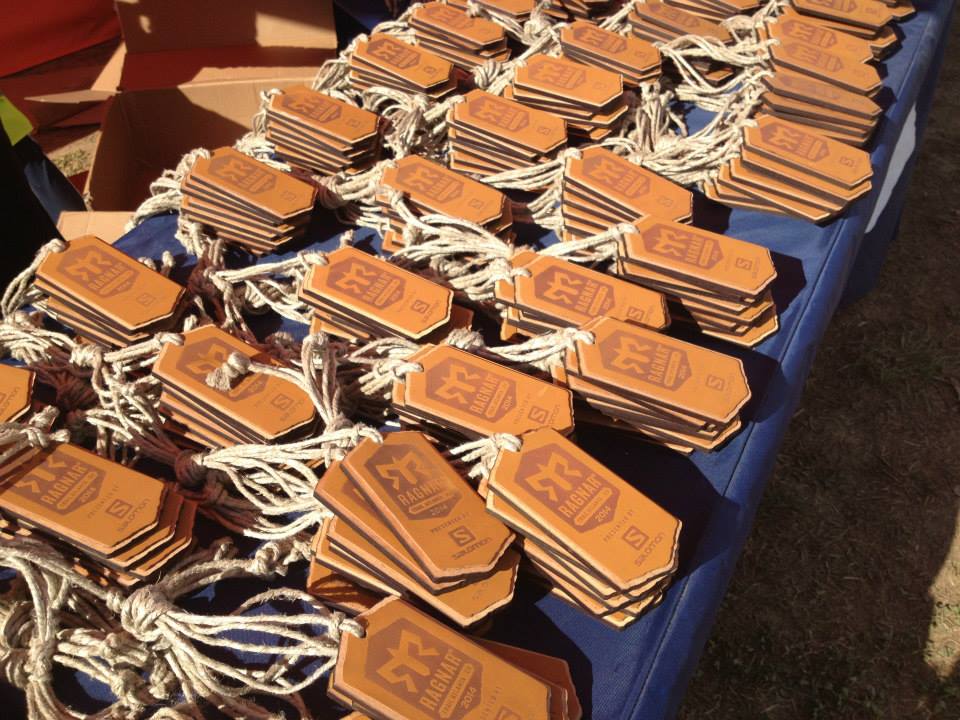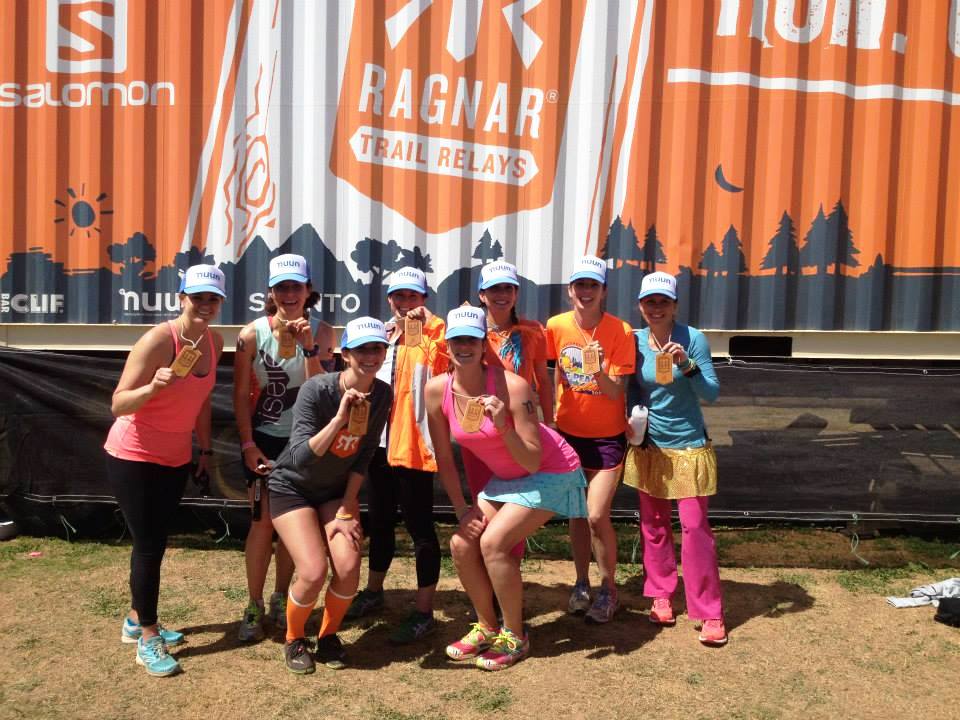 Our final time was 20 hours and 54 minutes, and we were the first place women's team overall (woo hoo!).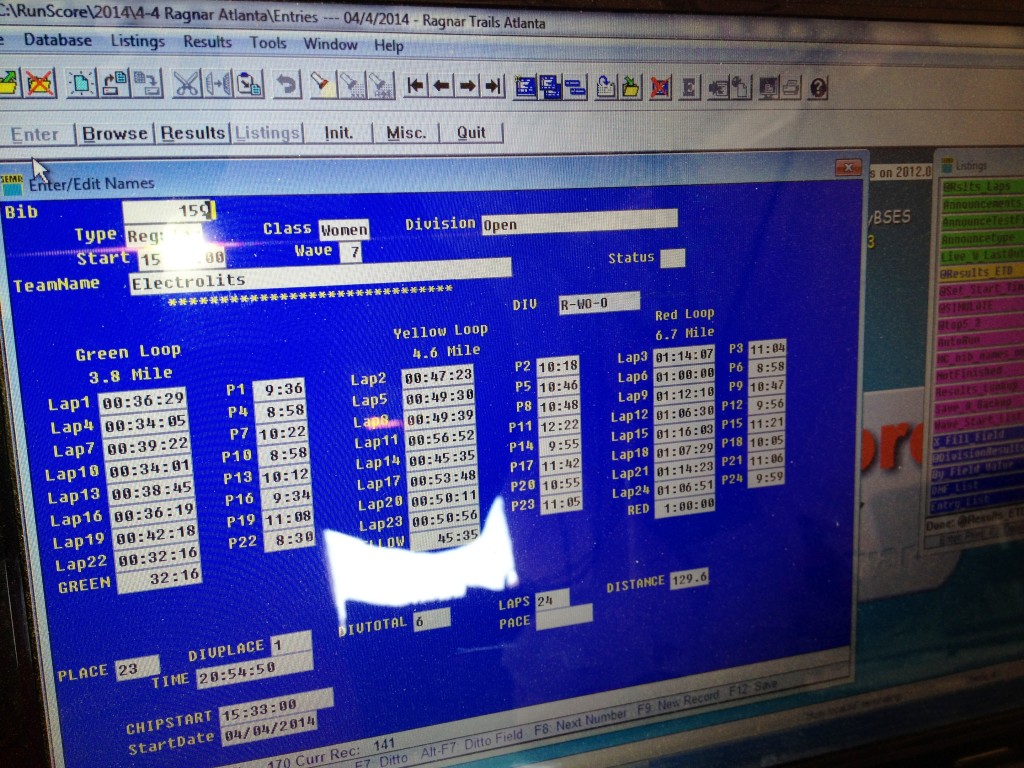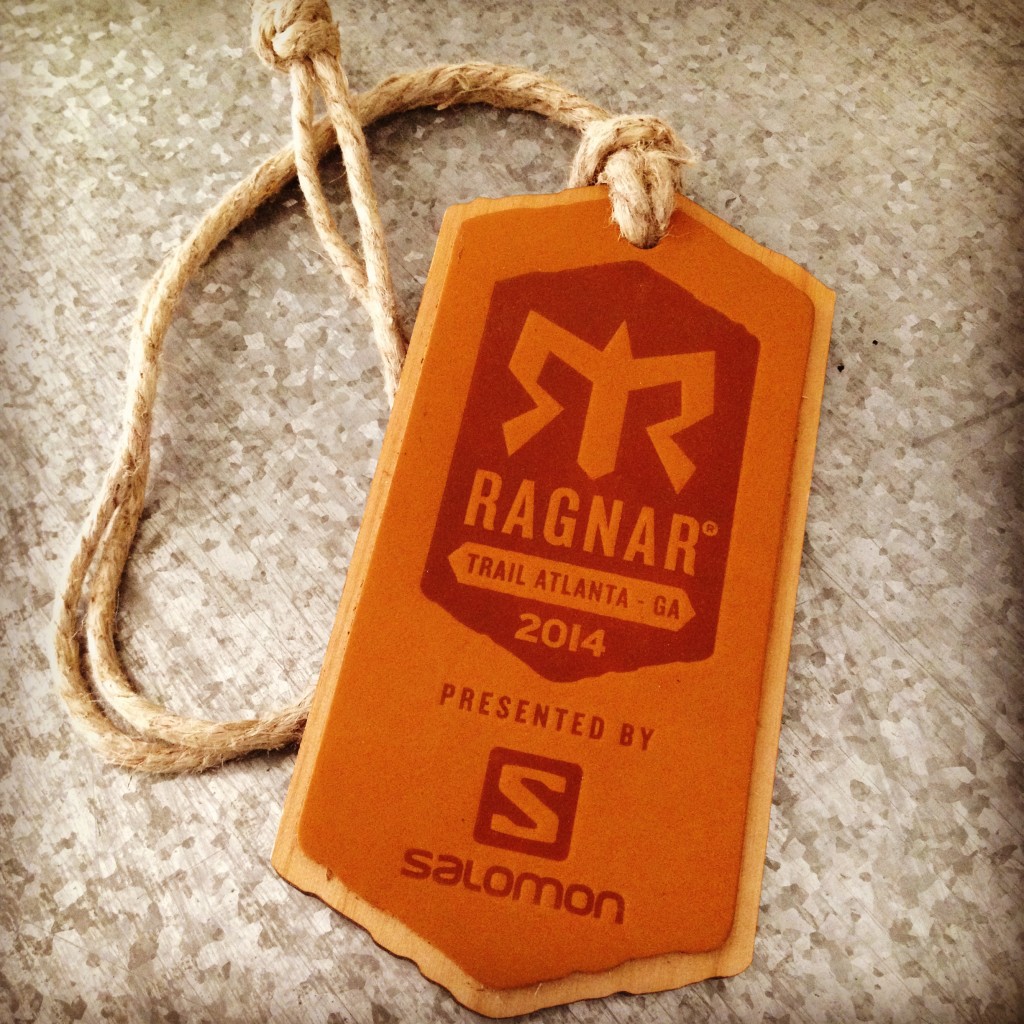 I would highly recommend a Ragnar Trail race if you're interested in a trail relay. Here are a few things to keep in mind:
Be sure you or your teammates have access to tents and sleeping bags. Having at least 4 tents will be critical, and sleeping bags are better than blankets and pillows which I used. You will also want to have a pop-up tent (like a 10×10) and folding chairs so you and your team can hang out when you're not in the tents. You will need to arrive early to set them up and be prepared to take them down after the long race. I had none of these things, and I was extremely grateful to my other teammates who provided these items and let me use them.
Because you will have at least one run during dark hours, you will need a good head lamp that is at least 70 lumens or more. I was fortunate that my teammates let me borrow theirs. I would also recommend wearing some kind of band around your head to keep it from slipping off your sweaty forehead. You could wear something like a BondiBand or simply some thin ear warmers that you flip up so they don't cover your ears if it is warm out.
Unlike other relay races where you are squished in a van, you can actually rest and get some good sleep at Ragnar Trail since you can sleep in a tent. The base camp provides a really nice setting in between legs.
Although there is a cell phone charging station, it is closed during the nighttime hours since it works on solar power, and your phone will die. Be sure to either bring some kind of charging device (there are no outlets or generators) or bring a real camera so you can keep taking pictures.
Get ready to be unladylike! You all know I love this part. For 24 hours, your only bathroom option will be a porta potty and you will likely not brush your teeth or shower despite running 3 times. I use baby wipes in between runs to clean up before changing into some warm clothes. Ragnar does offer showers for $10 but I never felt the need to take one since there was only about 5 to 6 hours in between runs for me. Get ready to get dirty and like it.
Stomach issues are more likely during any relay race when you are off your normal eating and sleeping schedule. I had them at Hood to Coast last year, and I had some between legs 2 and 3 this year (aka I had to poop in the porta potties 6 times in 5 hours #unladylike). Be mindful of what you eat and try not to get too excited with all the many snacks that will be at your disposal. I tried to eat full meals with protein and carbs, and then consumed Clif Shot Bloks about 30 minutes before legs 2 and 3.
The best thing about relays and trail races is that time really doesn't matter. This is about having fun, and it is a great reprieve to run a race where meeting a specific time is not the focus. Just enjoy the miles. Enjoy the beauty of your surroundings. And have a complete blast! To see more official pictures from the race, click here.
Have you ever run a relay race? Have you run a trail race or Ragnar Trail event? If, so, share your experience. If not, do you have any desire to run one?