Braves Country 5K Race Recap
June 15, 2014
I love running, and I love the Atlanta Braves. Imagine my excitement when I discovered a 5K was being co-hosted by the Atlanta Track Club and the Atlanta Braves, with the finish line inside the stadium between the home dugout and home plate. Pardon me if you don't like the Braves or Major League Baseball or any sports for a moment as I cue applause, celebratory music and jumping up and down – I. Was. Excited.
I signed Mr. rUnladylike and myself up for the Braves Country 5K several months ago, and we found ourselves at the starting line just outside Turner Field this past Saturday.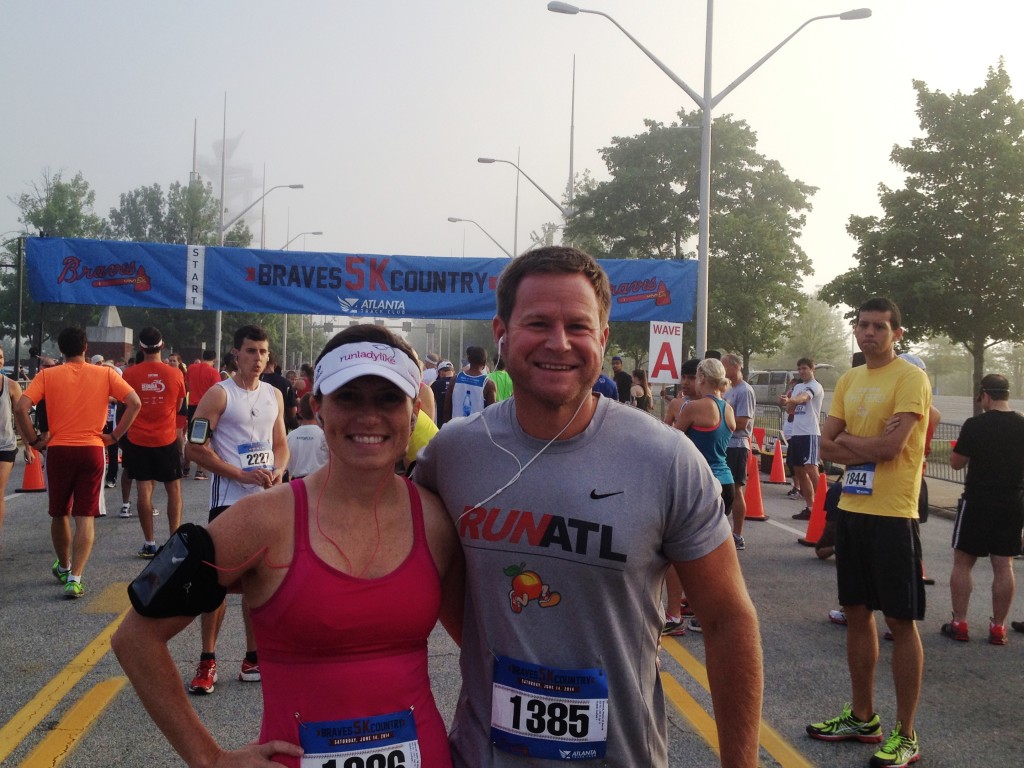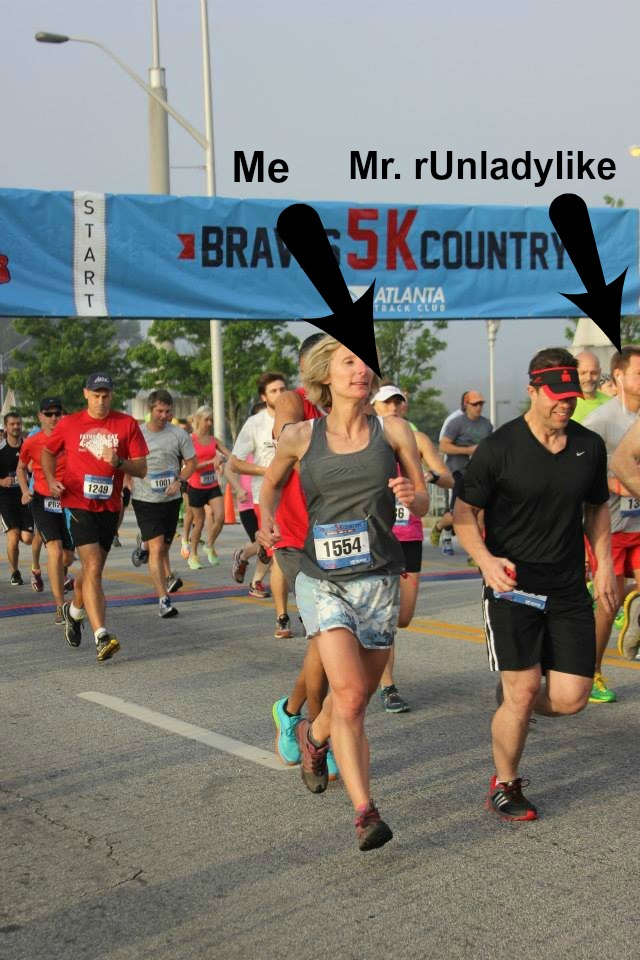 I recently read a friend's race recap where she said it wasn't her day, but she made it her day. That's exactly what Saturday's race was like. I didn't feel good – not for a single second of the race. But somehow, I managed to run my fastest time ever at the Braves Country 5K and left knowing I have even more to give on a flatter course.
My race expectations: I had few expectations for this race. Although I recently started incorporating speed work back into my training, I'm not feeling in "race shape" like I felt during the first few months of the year. I planned to use this race as a gauge for my current fitness and to determine my speed work paces for my Chicago Marathon training season.
Race morning: Before the race, I drank 1 scoop of lemonade-flavored Generation UCAN mixed with 4 ounces of water and 4 ounces of Arden's Garden juice (only ingredients are fruit). About 30 minutes before the race, I did a short warm up consisting of jogging and dynamic stretching with Mr. rUnladylike.
The course: The Braves Country 5K was a tough course. If I had to describe it in one word, it would be "hills." Although there were some amazing downhill sections, there were some intense hills, particularly at the beginning of the race, during the second part of mile 2 and throughout mile 3. The hills were both steep and long. To make matters worse, the route went through city streets we are very familiar running on and run often, so we knew some of the brutality that was awaiting us.
The miles:
Mile 1: 6:36
Thoughts going through my head: Oh my God, I feel like death. My legs are like lead. This is not going to be my day. I wish I was running a marathon so I could slow down. Wheeeee a downhill, finally. This feels horrible. Oh, 6:36. Way faster than I was expecting. Is that why I feel so bad?
Mile 2: 6:59
Thoughts going through my head: Man that 8-year-old is fast. I cannot let him beat me. I can finally breathe again. Oh, wait. A massive hill. Keep pushing. Try to stay with this girl next to you. Why are so many people wearing cotton shirts? Keep pushing. Will this hill ever end? Why did we sign up for this? Still under 7:00, this is good. Maybe I can get close to my PR. Stay with the 8-year-old.
Mile 3: 7:04
Thoughts going through my head: This is the hill I've been dreading. Just hold on. Just hold on. What is it I say about getting comfortable with being uncomfortable? I'm uncomfortable!!! Less than 7 minutes to go. I think I'm getting slower. Whew, quick downhill. Breathe. I can see Mr. rUnladylike. I'm closing in on him. Oh, how I want to pass him. Really, this massive hill at the end of the race??? Who thinks this up? I can't breathe. I must be running at my maximum heart rate. The stadium!!!!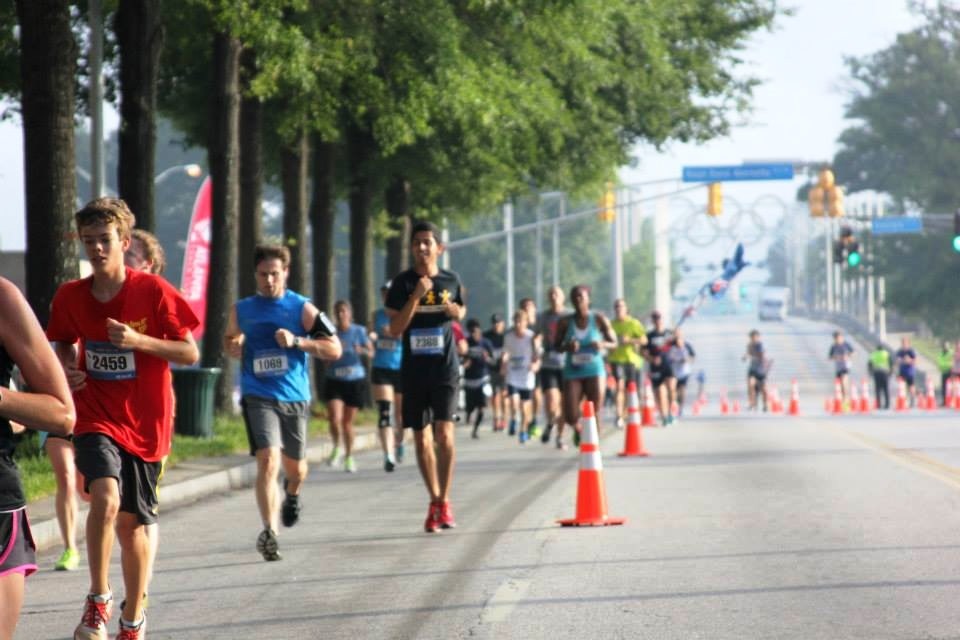 Last 0.1: OMG. I am going to run a PR.
Final time: 21:30 (6:55 average pace); 3rd in age group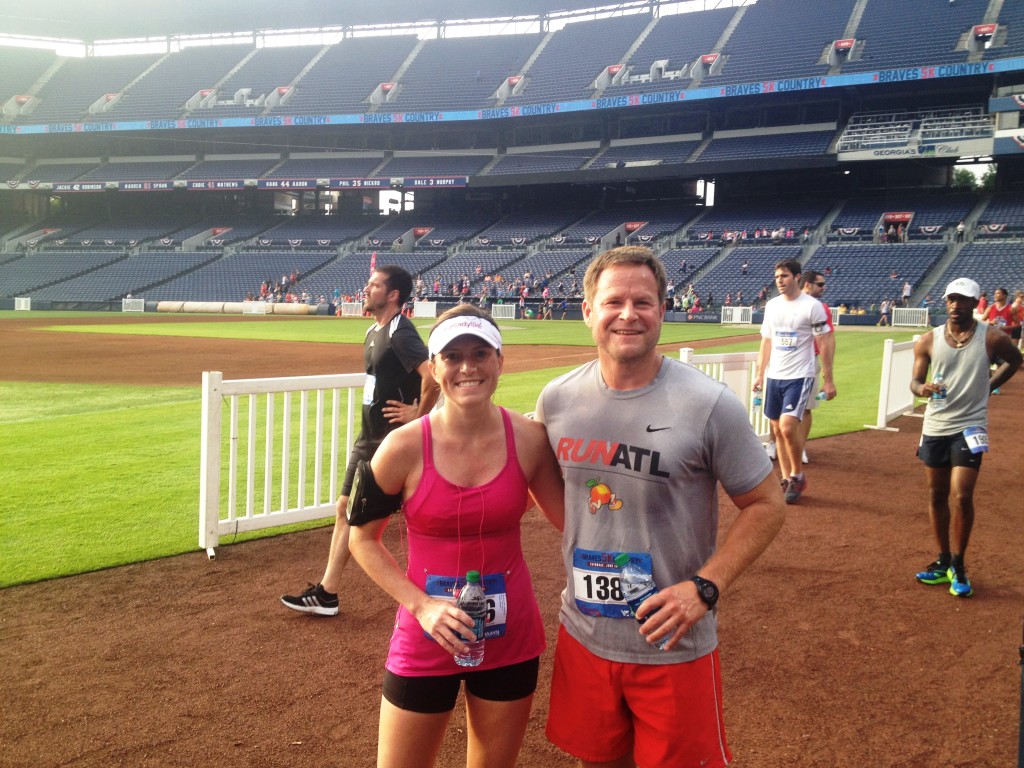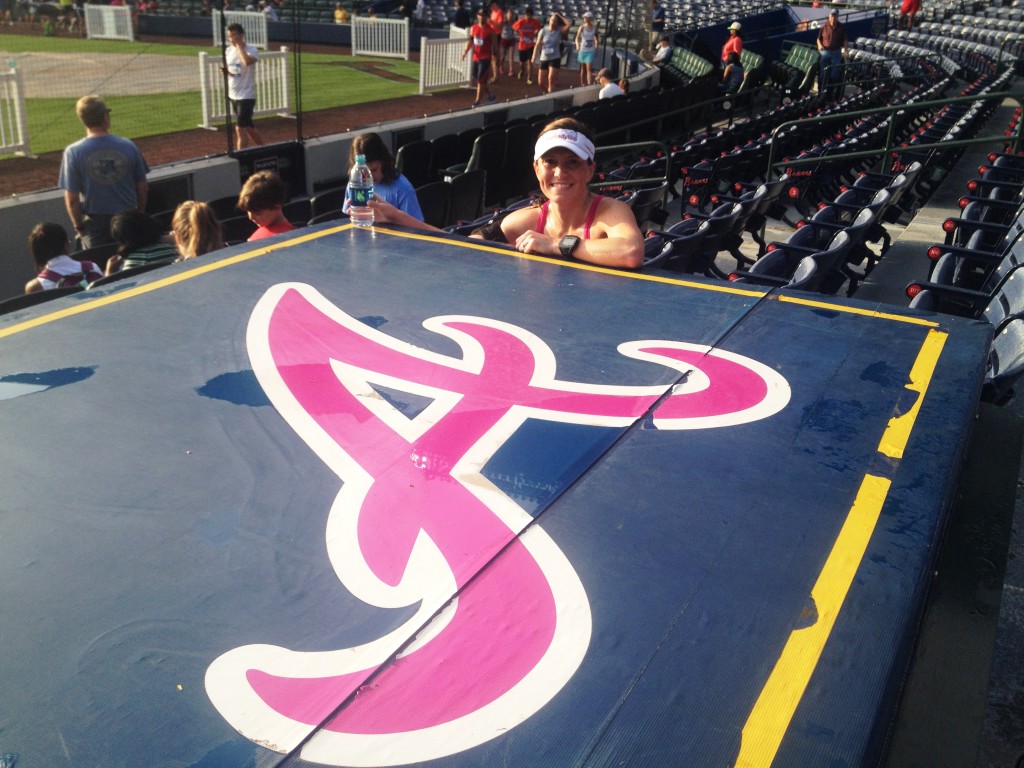 I must admit, this was a great confidence-booster for me. With the heat and humidity at its worst, I haven't been feeling too great during most of my runs lately. This was a great reminder that I'm stronger than I think and am ready for a successful Chicago Marathon training cycle.
After the race, we cooled down in the stadium and waited for my friend and coaching client Amy to cross the line. She finished her first marathon at the beginning of the month! Go Amy!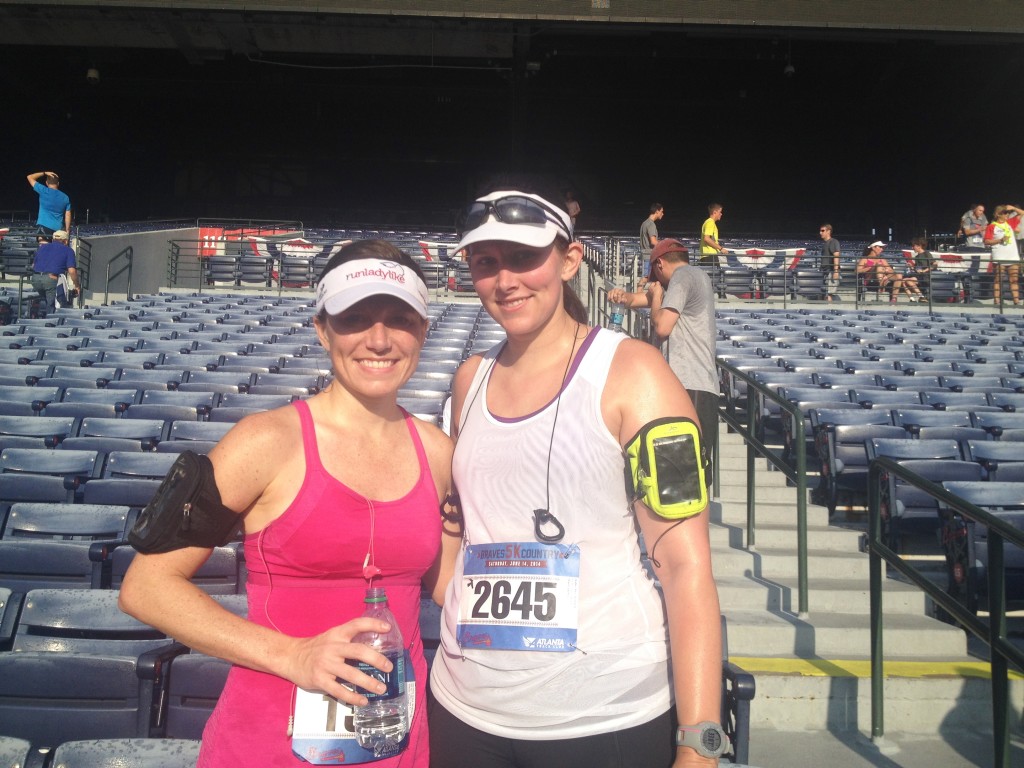 The bling: I'm glad we stuck around for the awards ceremony since I unexpectedly placed 3rd in the women's 30 to 34 age division. That gets you a miniature bat, a jersey with the legendary Hank Aaron's number and a picture with Braves mascot Homer.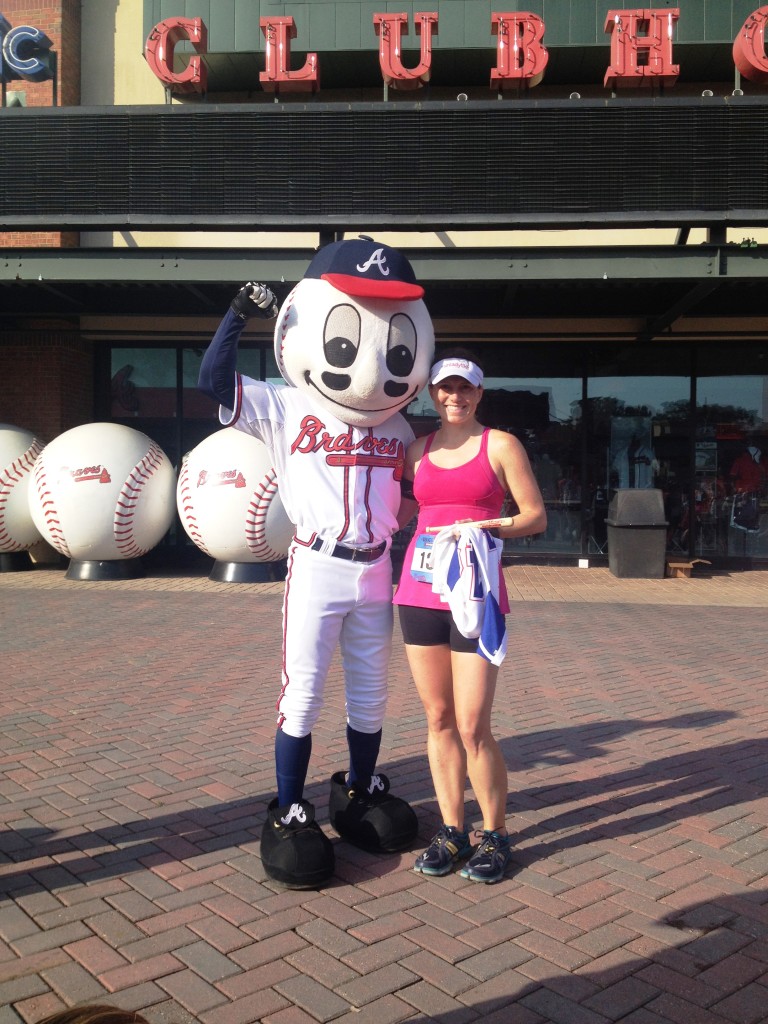 Post-race celebration: We spent the rest of the afternoon at a music festival in a nearby history cemetery. Yes, Tunes in the Tombs my friends. It might sound odd but it's amazing. Our race registration also included tickets to the night's sold-out Braves game against Los Angeles, but we arrived too late and could not find anywhere to park, so we ate Mexican instead.
Not a bad way to spend a Saturday.
Who is your favorite sports team? Have you ever run a race that involved a sports team? Who else raced this past weekend?