Why Is 'Great' Never Good Enough?
October 21, 2014
It only took me 30 minutes to do it – to take a major running accomplishment I'd just achieved and begin analyzing how I could have done it better … or could do it better next time.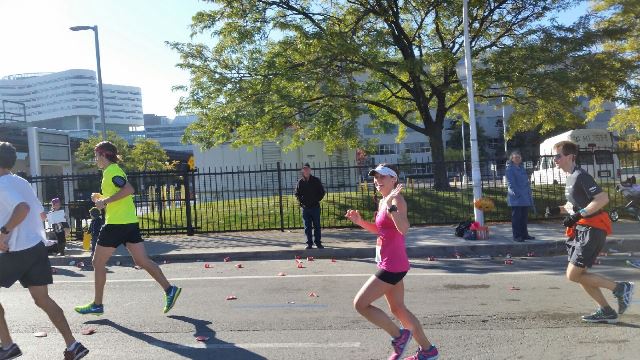 After crossing the finish line at the Chicago Marathon earlier this month, I made some "oh-my-gosh-I-did-it" calls and texts, smiled with joy and then started spewing out ways I could have shaved time and trained differently to have run faster. Yes, 30 minutes after I had just run 10 minutes faster than I'd ever run a marathon and qualified for the Boston Marathon for the first time. As I made my way to the finisher's party I was attending with my husband, my post-marathon rambling sounded something (absurdly) like this:
If I hadn't stayed with the crowd around that last curve, I could have run 6 seconds faster to be at 3:33.
If I hadn't slowed so much from miles 19 through 24, I could have broken 3:30.
During my next training cycle, I'm going to do some more dedicated workouts to focus on keeping my pace during the last 8-mile segment of the race.
I know I can run in the 3:20s.
Do you know what Mr. rUnladylike's response was to this conversation?
Are you listening to yourself right now? You just ran the fastest marathon of your life and hit the exact stretch goal you wanted to run so badly. Can we just celebrate that for a little while?
He was absolutely right. It got me thinking deeply about this question: Why is running our best and being great never good enough for some of us? I like to pride myself in believing that it usually is, but after the Chicago Marathon, I was thinking about running faster. Just recently, at least 5 of my running friends have been disappointed in really fast marathon times that were personal bests for them because they were hoping to run even faster. Clearly, we are not alone.
Why can't we just be satisfied with running and performing our very best? Sure, we have the potential to run and grow and be even better, but today, in the moment that we do our best, can't we just be happy and satisfied with that? We can't really ask ourselves or our bodies for more than the best we've ever done.
So before we cast our most recent accomplishment to the side and start working on the next plan to better our best, let's take a moment – a day, a week, a month, a heartbeat – to celebrate our awesomeness of what we did, and not what we have yet to do. There is plenty of time for that.
Do you start thinking about your next race or race strategy before you've finished celebrating the one you just accomplished? What advice do you have for helping people celebrate big races before analyzing the next one?