The Best Running Moment of My Life
October 28, 2015
Last Friday, I experienced one of the best running moments of my life.
I wasn't racing. I didn't attend a race. I wasn't wearing running shoes, nor did I log a single mile. I didn't even watch anyone else run.
But it was still a day of running I will never forget as long as I live.
I was at Largo High School in Largo, Florida, where I witnessed my dad getting inducted into the school's track and field hall of fame. He was one of the best track and field athletes in Pinellas County and the state of Florida, and he still holds the county record for the 400m/440yd distance today. (You can read more about my dad and what I've learned growing up as the daughter of an elite runner here.)
I also had the honor and privilege of spending time with my dad's legendary high school track coach Brent Haley.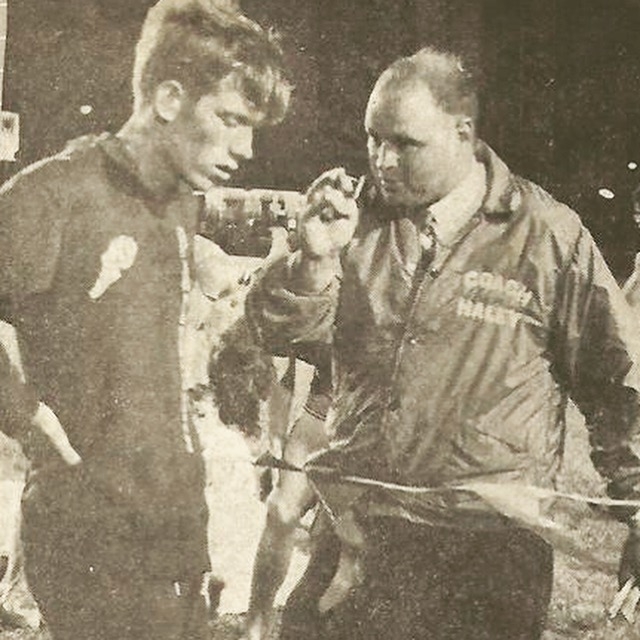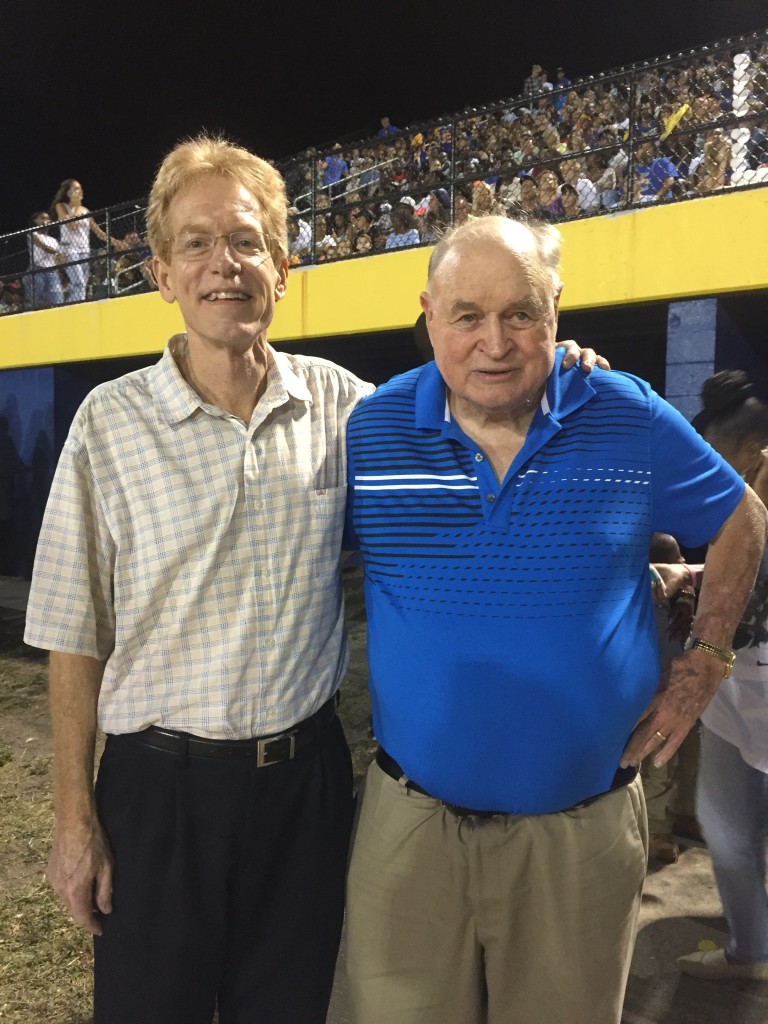 Coach Haley is one of the greatest high school track and cross country coaches that has ever coached. During his 40-year coaching career, his teams won 10 state championships in Florida, set numerous records and had two teams ranked number one in the nation. He was also honored by the National High School Athletic Coaches Association as its coach of the year in 1976.
But what strikes me most far beyond Coach Haley's running accolades is the indelible impact he has left on everyone he has touched. Today, former athletes – grown men in their fifties and sixties – well up with tears when thinking about him and continue to seek his wisdom, validation and love. I don't know if I've ever been in the midst of someone who is so beloved by so many. A real life legend.
I recently read something online that described coaching as having a front row seat to an athlete's journey to personal greatness – achieving dreams, defying personal limits, realizing their potential.
That is what I witnessed on Friday. My dad relived moments of achieving greatness in his running career (amidst tragic bouts of injury) while his incredible coach stood beside him once again – a front row seat to remembering what hard work, sacrifice, dedication and success are all about.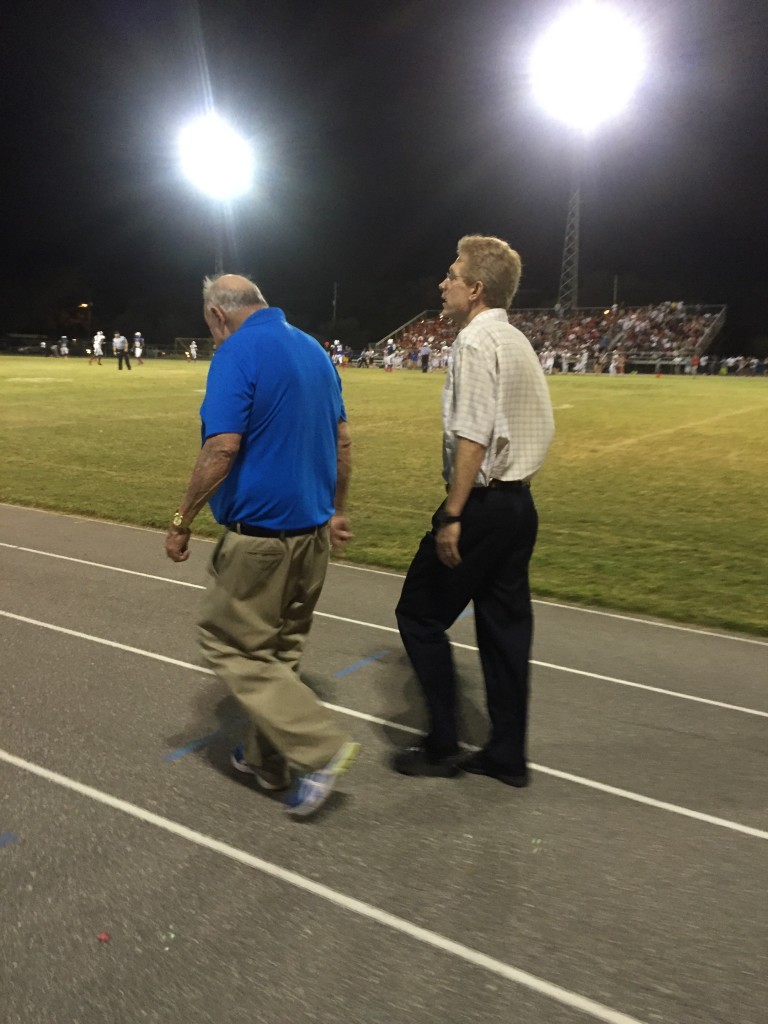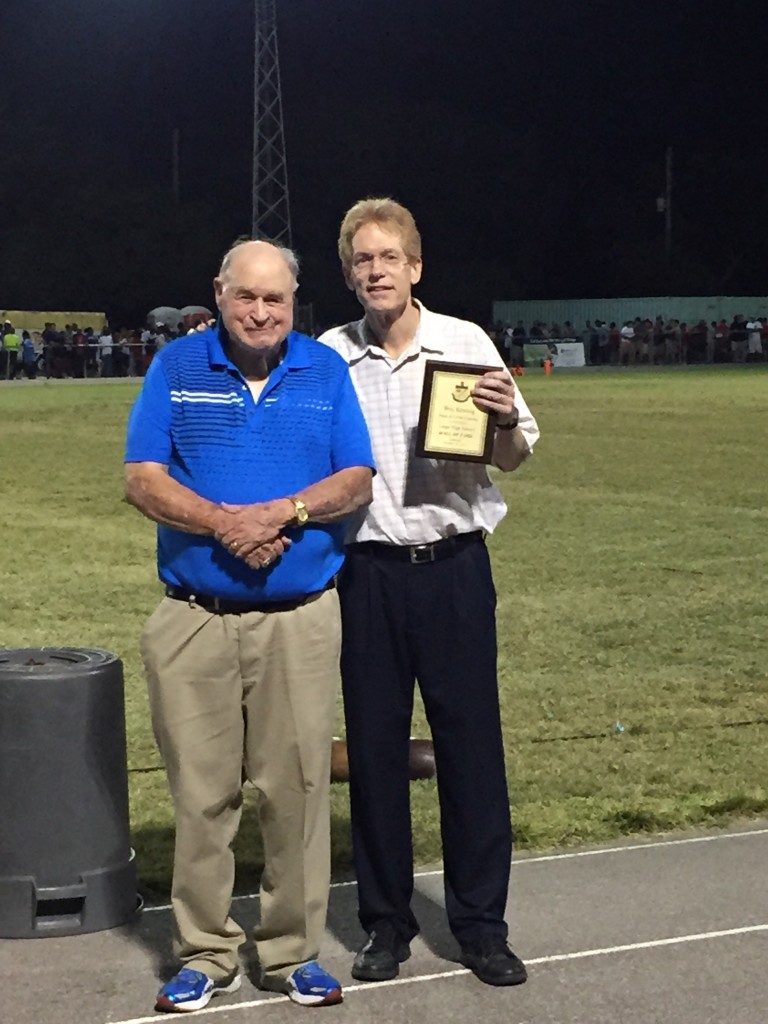 It was a simple night. Dinner at Outback Steakhouse with former cross country super stars and family. Sitting in the stands at a local high school football game. Teenagers with painted faces walking up and down the stands, returning with popcorn and Blow-Pops on homecoming weekend. Clapping with glee at a grassroots half-time ceremony where they mispronounced my dad's last name.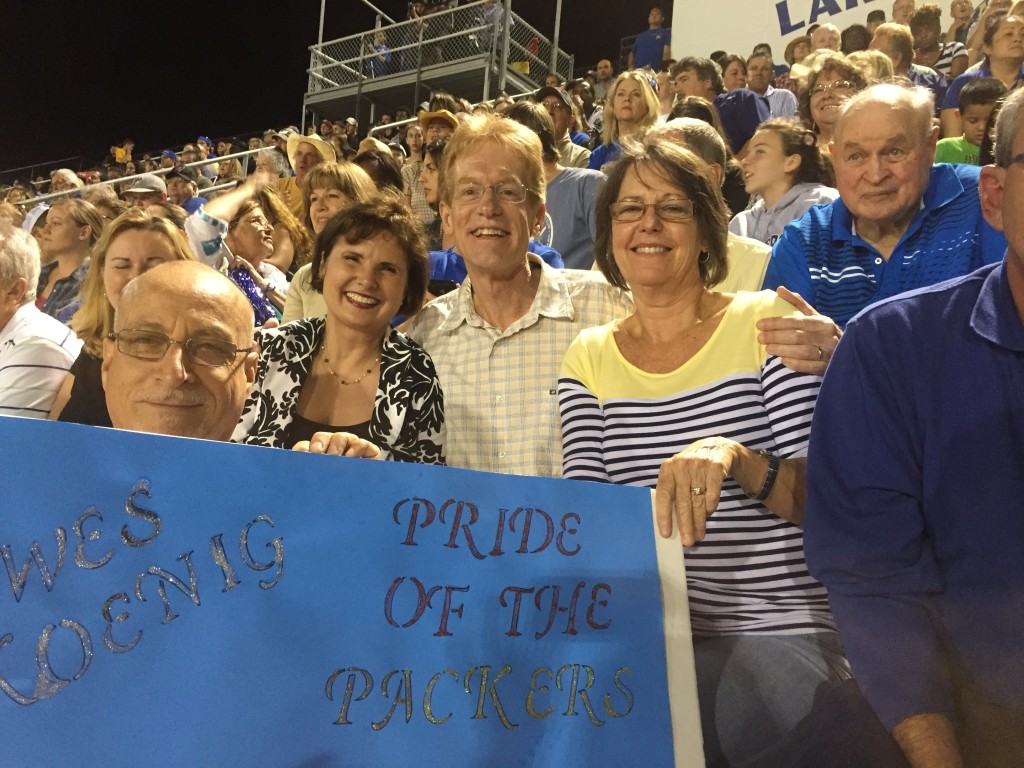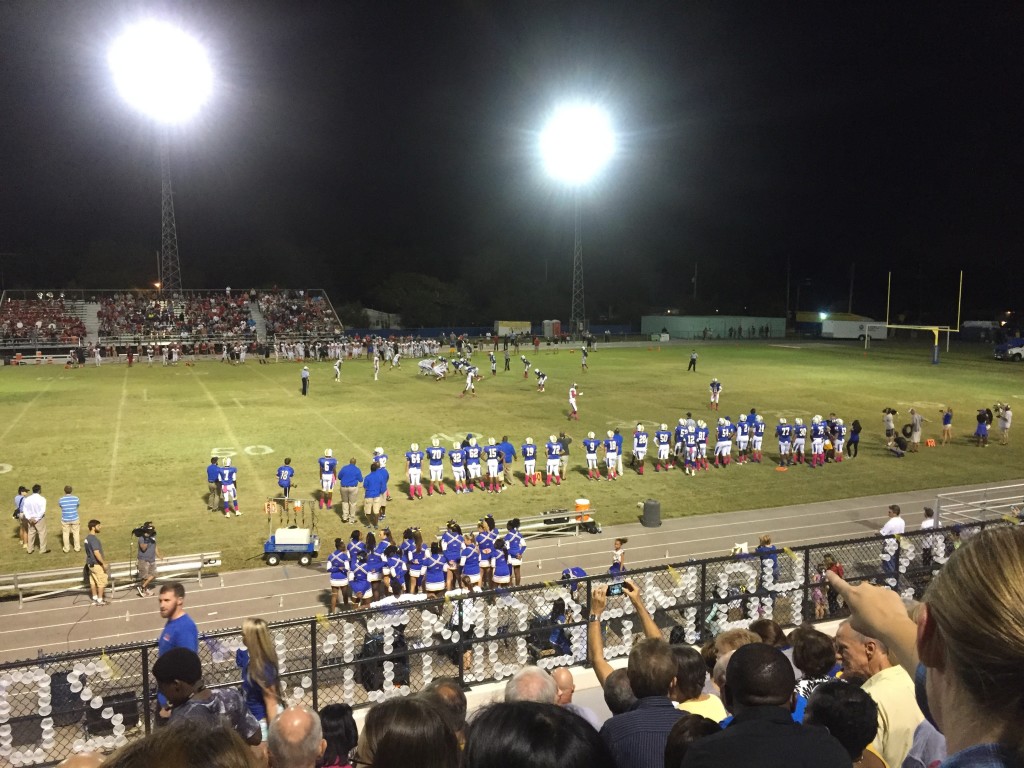 It was a simple night, yet it was remarkable. It wasn't really about a plaque or an award or the hall of fame. It was the unadorned beauty of how running can come into our lives and give us so much more than running. It was being a spectator in the front row witnessing how running has, so humbly, shaped who people have become and what they've learned about life. Most importantly, it was a first-hand view of how running brings people into our lives who will forever change us for the better. As Coach Haley celebrated his 75th birthday that night and then stood next to my dad 44 years after the day he graduated, I was overcome with emotion for the power of running.
Running is always more than running.
As we headed home from Friday's festivities, I sat in the front seat of our SUV, clutching a yellow folder to my chest.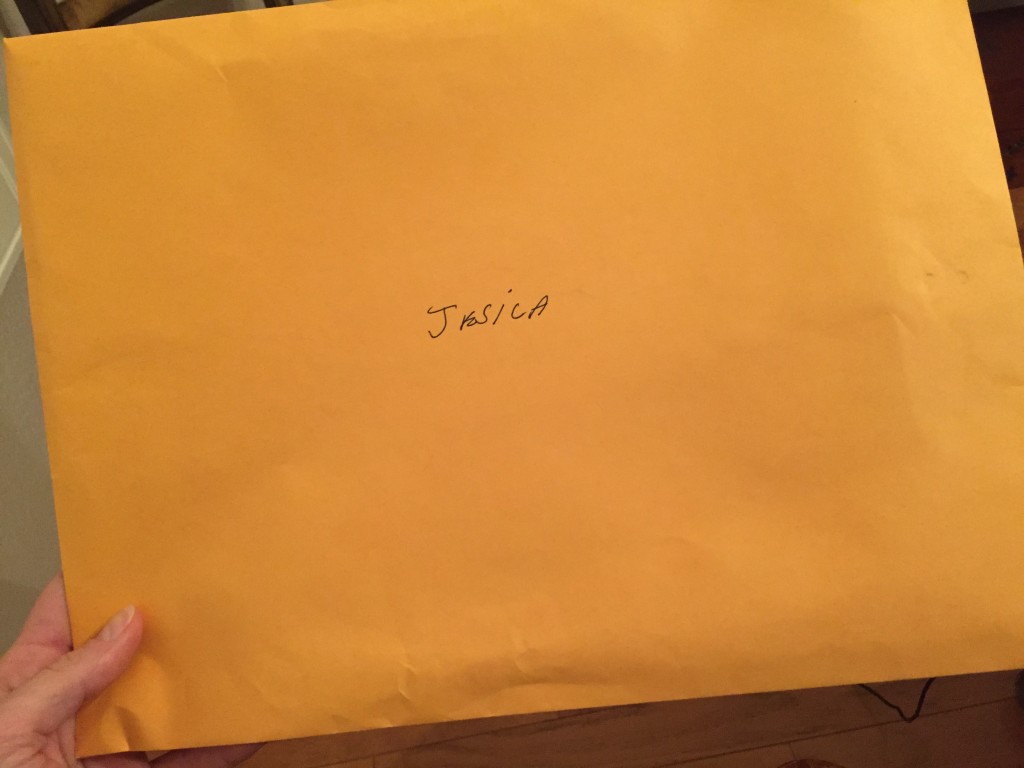 In it was a letter from Coach Haley and all of his collective wisdom from 40 years of coaching that he gave to me at dinner. Handwritten notes with his most successful workouts. A spiral-bound notebook full of knowledge and information from some of the best coaches across the country. Anecdotes about former runners with their names and stories. A lifetime of knowledge and lessons in one folder. His wisdom is not meant to be held secret, but rather to share with other passionate coaches and runners to continue to make our sport better and we as runners greater. I am speechless and profoundly grateful.
I look forward to sharing some of the lessons from that folder with all of you in the coming weeks and months. Until then, I leave you with this poem that was on page 7, encouraging us all to break free of living average and to always be a champion.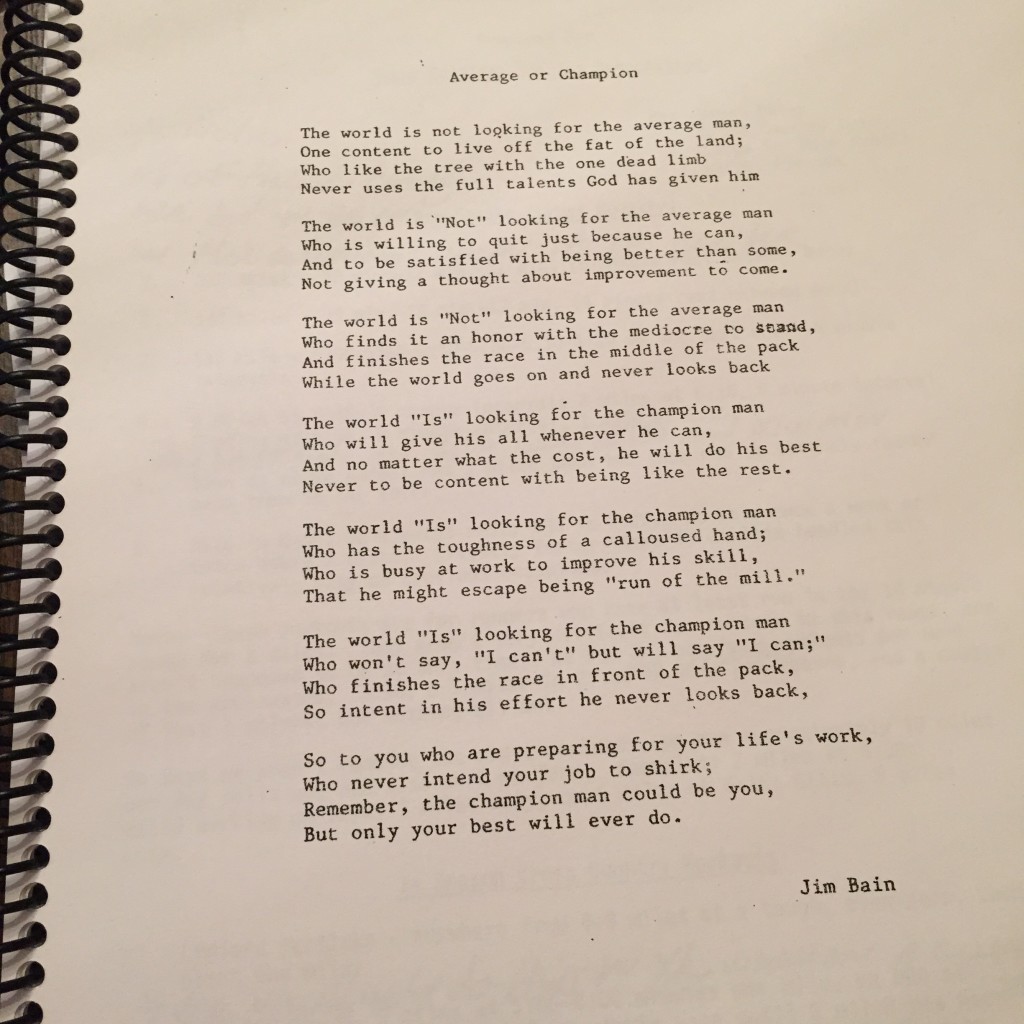 What running moment stands out most in your life? Do you have a running coach who has left a meaningful impression on your life? If so, tell us about him/her.