A Day-in-the-Life: 365 Days Postpartum
January 17, 2018
I'm not quite sure how it all happened so fast. One minute I was trying to stay fit as my belly grew bigger and my physical abilities waned. The next minute I was a new mom carrying around extra pounds trying to figure everything out. Before I knew it, I found myself here, right in this very spot. Fitness in tact. Body back. Running getting faster and somewhat easier (please let me know if you figure out if it ever actually gets easy!). Mom of a one-year-old.
I officially can no longer say "I just had a baby" or that I'm still mounting my postpartum running journey. The next chapter is here. Just like that.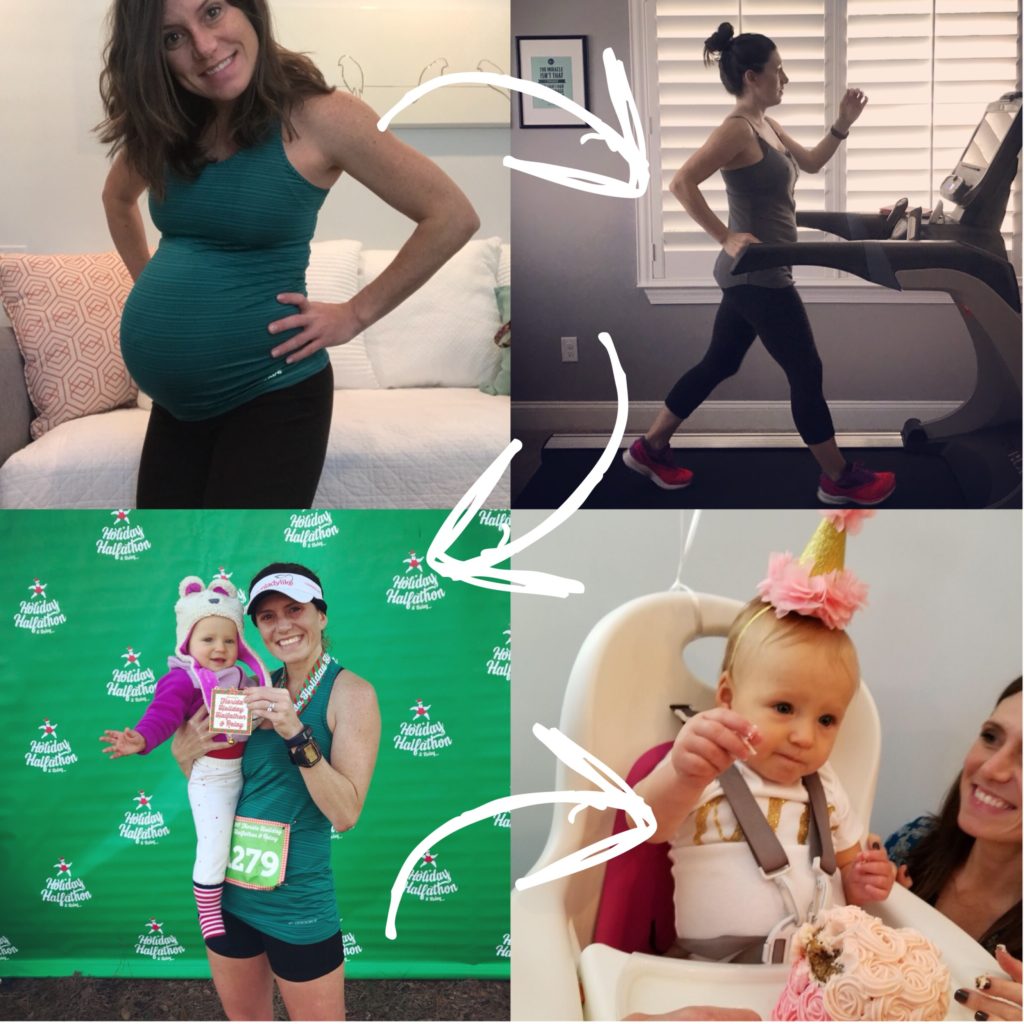 As we begin a new year (there is so much to look forward to!), I want to reflect on some of the things I've learned from the past 365 days. I often get asked about the most important lessons I've learned since having a baby, both as it relates to returning to running/postpartum fitness and juggling training, life, work and motherhood. I also get asked quite often about balance: Where do I fit everything in and what does my schedule look like? While I'm by no means an expert and far from perfect, I thought I'd share what my daily routine looks like on most week days.
A few things to note:
I work full time from my home office. I have an amazing nanny who comes to our house from 10:30 a.m. to 5:30 p.m. while my husband and I are working. I realize I'm beyond blessed to get to work from home and enjoy some of the conveniences that come with that, like wearing workout clothes all day, avoiding a long commute and stealing a few hugs from Baby rUnladylike.
I'm still breastfeeding/pumping. My daughter receives the majority of her milk in a sippy cup or bottle (night time). At this point in time, I'm planning to keep it up until 18 months (I hear running will be easier when I stop, so I hope that is true!). I also make all of her solid food. I typically make food on the weekends or on one weekday morning for the week.
My daughter has been sleeping through the night since she was 8 weeks old thanks to the book Mom's on Call. (There are three books for 0-6 months, 6-15 months and then 15 months and beyond. I recommend getting all three.) We are avid followers of this book and its philosophies and follow them to a tee every day. I believe very strongly that a routine/schedule for our baby from day one helped us in all aspects of our life … not only to be the best parents we can be, but also so I could fit training and fitness back into my schedule without being sleep-deprived.
I use the weekends or evenings to get grocery shopping done or use a delivery service when time is tight. I throw laundry in during the morning or throughout the day in between meetings. I do have someone come and clean my house every two weeks for the bigger jobs like showers, floors and bathrooms. Outsourcing certain things where I can is something I find tremendously helpful as budgets allow.
My Average Day
5-5:30 a.m. Wake up
5:30/6 a.m.: Work out: I typically meet friends to run or attend a strength/cross-training class such as spin, barre or boot camp. Because my daughter wakes up at 7:30 a.m. every morning, I made a decision early on to have my workouts completed before then so my husband and I are always there to wake her up together and so I can feed her. Sometimes I get home in time to take a shower, sometimes I have to take one after she wakes up. Once per week I do a circuit workout at 4:15 p.m. so that I can get some extra sleep in the morning.
7:30 a.m.: Wake up my daughter; breastfeed
8-8:40 a.m.: Playtime (while pumping for 20 minutes)
8:45 a.m.: Breakfast: I feed my daughter and typically eat with her if I haven't already eaten immediately after my workout. If I need to make food for her like steamed veggies, roasted chicken, etc., this is when I also do it.
9:30 a.m.: I put my daughter down for her morning nap (she still takes two naps per day) and then I start working. She wakes up between 11 and 11:30 a.m. On weekends when I don't do a morning long run, I use this nap time for a workout so I don't have to get up before the sun rises.
10:30 a.m.-5:30 p.m.: My nanny is at our house and my husband and I are working. My daughter eats lunch around 1 p.m. and naps again from 2-4 p.m., having milk when she wakes up. I pump between 3 and 4 p.m.
5:45ish p.m.: We typically take a family walk most evenings pushing my daughter in the stroller or spend time with our neighbors on our street with the kids. Once a week we take my daughter to an evening music class and/or will find other short outings to do together.
6:30 p.m.: Dinner: We are still feeding my daughter early and my husband and I are eating after she goes to bed. In the next month, we'll transition to ensure we are eating together at the same time.
7 p.m.: Bath time and bedtime routine begins, which we always do as a family; we feed my daughter a bottle
7:30 p.m.: My daughter is in bed with the lights out.
7:30-7:45 p.m.: My husband and I eat dinner. If I have any additional work to catch up on from the day, now is when I do it.
8:30/9 p.m.: My husband and I watch a show on Netflix/Amazon or a movie … it's our thing we do almost every night. I pump between 9-10 p.m.
10:30/11 p.m.: Lights out … I'm trying to get better about going to bed earlier than this since it is hard to get up so early.
Some days vary, but this is a typical schedule for me most days. Throughout the rest of this month, I'll chronicle a few typical days on my Instagram Stories, so be sure to follow me on Instagram and check it out if you are interested in seeing more.
Tell me about your typical day. When do you usually get your workouts in? Are you a morning, lunchtime or evening runner? If there are any questions you want me to answer or topics you'd like me to cover, share them below!