Two Miles
February 22, 2017
It doesn't seem like anything worth writing about: Two miles. To an endurance runner whose regular weekend run rarely slips below eight to 10 miles, two miles doesn't even seem like a complete workout. And yet, these two miles were special. Significant. Meaningful.
On Saturday, I ran two miles. They were the first miles I've run since October and since having a baby six weeks ago. Four months of no running.
In some ways, I didn't miss it. I was focused on having a healthy baby and then recovering smart and strong after delivery. The time away from running gave me a chance to fall in love with lower impact workouts and focus on strength training. It gave me a lot of time to think about my fitness goals for the future and build a joyful (ok, burning hot) desire to set my sights on some big things moving forward.
In my head, I still feel like the same runner capable of the same paces and fitness. In reality, I've got a long way to go to find her again. This was the first step.
On Saturday, I set out on a familiar three-mile loop. I ran the first 1.5 miles without stopping. It was slow as you would imagine, about a minute slower than my traditional recovery pace. I hadn't run 10 yards before realizing I'd chosen the wrong sports bra. Yeah, all you new moms out there know what I mean. Ouch. Second, I realized my pelvis is still a little weak and I could feel that difference while I ran.
At the 1.5-mile mark, I stopped and walked for a minute before continuing on. When my Garmin chirped to signal I'd reached 2 miles, I stopped to walk again. I still had about a mile to go. I contemplated starting again. I'll run when I get to that next corner, I thought. But I decided to just keep walking. I walked that entire last mile home. No need to push it. My body and my heart said to just walk.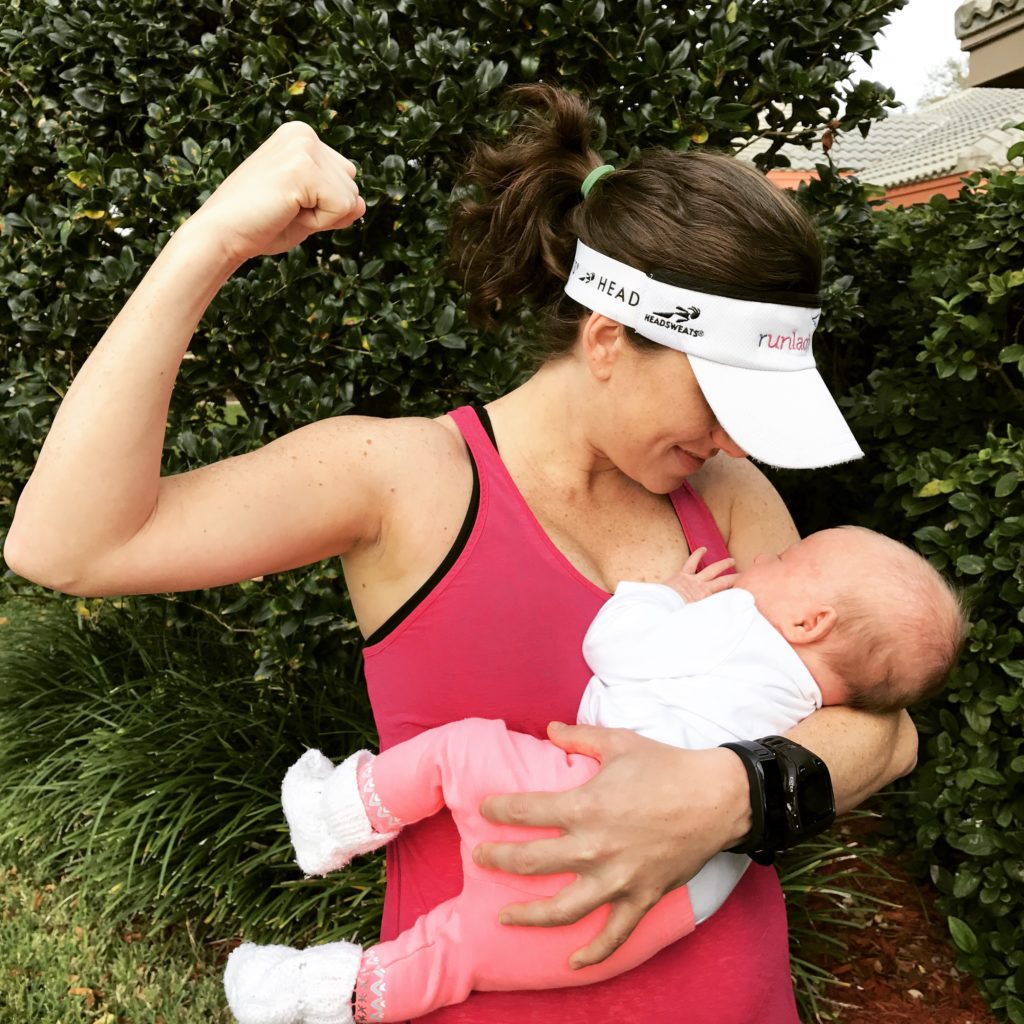 At my six-week postpartum follow-up appointment this week, my doctor cleared me for all exercise of any kind. She obviously agrees I need to start conservatively with running and need to be cautious with running too far too quickly, but I'm allowed to resume all my normal activity with no modifications. I was glad to hear that she thought barre was one of the best things I could be doing since I've already gone three times in the past two weeks and love it so much.
My plan is to run three days per week, starting with just two and three miles at a time while including time on the elliptical machine as I regain my fitness. I also plan to continue to go to barre and strength train. I'll be simply focused on slow base-building for the next 12 weeks before I put any kind of structured plan together for my fall half marathon (I'll be announcing my race in the next week so stay tuned!).
Two miles. It always means something. An acquaintance of mine who is an Ironman finisher, marathon runner and cancer survivor who has been battling the disease in great pain for years recently reminded me that any day we get to run is a good day, One mile. Two miles. 20 miles. You're damn right. It never matters how far we go or how fast we go. The point is we get to run, and that my friends is always a good run.
Tell me about a great run you've had recently.