The Most Delicious Run {Fit Foodie 5K Giveaway}
September 1, 2017
I was huffing and puffing as I made my way along the final stretch of the Fit Foodie 5K. I could see the finish line and race clock in the distance. It was my slowest 5K, but I was proud of the race. At five months pregnant, it symbolized the strength I was determined to have for the journey ahead.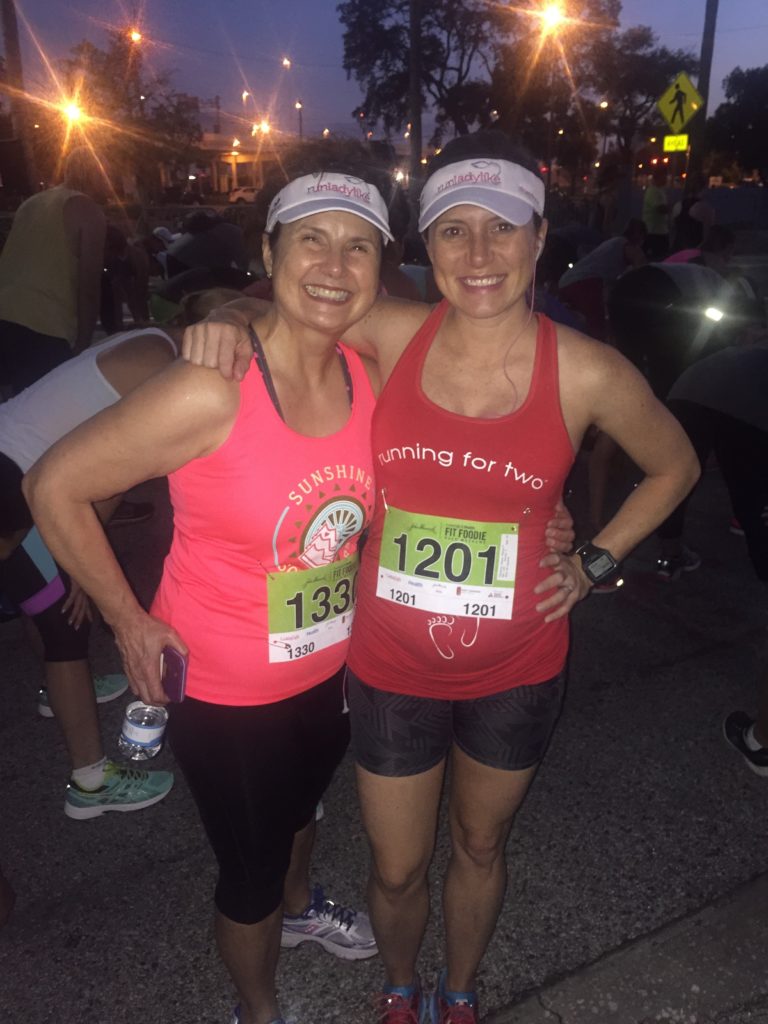 At that moment last September, today felt so far away. A lot has happened in a year. I'm a different person and a different runner, but I'll be toeing the line at this race once again next Saturday. Still determined, still strong. Perhaps slower, but always fighting.
When I was re-learning to run again earlier this year (yes, it seriously seemed like starting from scratch), everything felt foreign to me. It was as if someone I'd never met had taken over my breathing and my body. I was certain that come fall, I'd practically be back to my old running self. That's not quite how the story has gone, but rarely does it go as we plan.
Today, I'm consistently running three to four days per week and am up to nine miles for my long run. Surprisingly, I'm still running without a plan, which means that although I have a few races on the calendar, I haven't been making speed work, tempo runs or other pace-based workouts a priority. Instead, I run when I want to and attend fun circuit/strength workouts, spin classes and barre classes and slog along at the same slow-for-me-pace, strangely content.
Which is why running the 2017 Fit Foodie 5K will be perfect for where I am today.
Its fun and food-focused flair is exactly what I need to balance the desire to race with the realities of the moment. And, how can I deny a race that encourages you to "eat your way to the finish line?" I ran this race with my parents last year, and we're making it a family affair again. The special addition is that two of my running partners who also recently had babies are doing it with me as well. We ran together before we were pregnant, during pregnancy and now after pregnancy. It has been special to share this journey with them, and I'm looking forward to continuing it this month at the Fit Foodie 5K.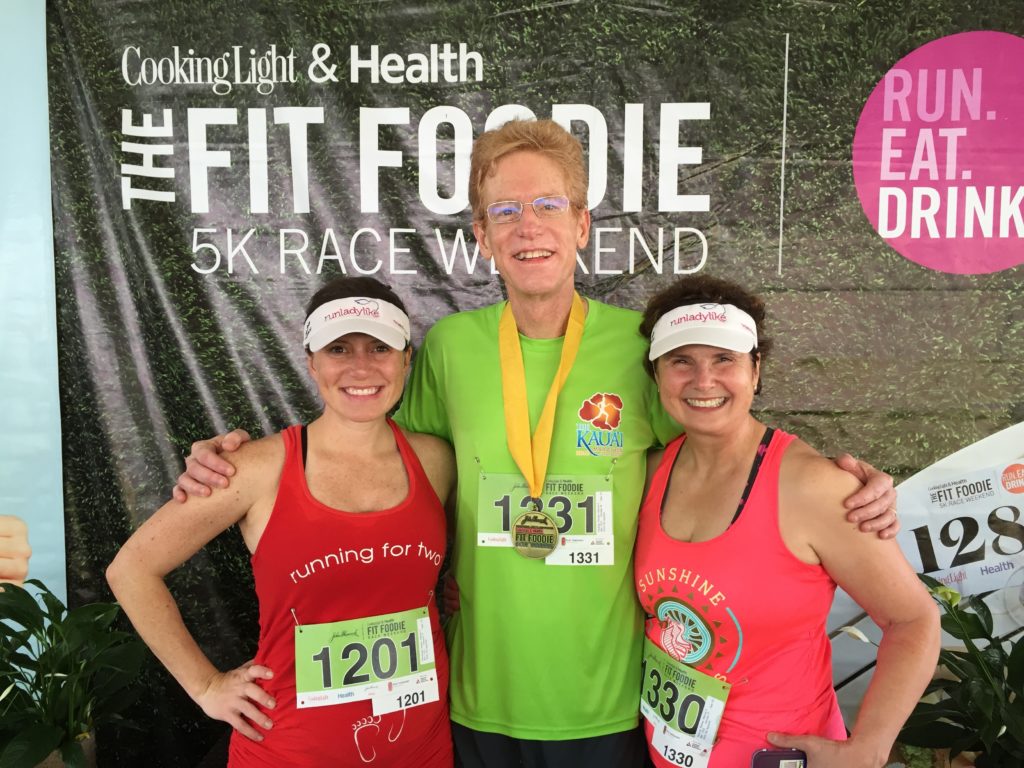 The location and course have changed from last year, but the focus on food and fitness has not. The post-race village will feature bites from local restaurants, a beer and wine garden, mini-workout classes and more. The race is sponsored by John Hancock, Cooking Light and Health Magazine, which guarantees a quality culinary celebration. Also, Meb will be there. Which makes it extra awesome.
I don't have a goal for this race. It would be nice to run equal to or better than my first postpartum 5K back in June. Even better, I'd love to try to keep up with my friend and running partner whose baby is six weeks younger than mine but who is running faster and stronger than me. The ultimate goal is to give a good effort, assess my current fitness at eight months postpartum, and most importantly, have fun.
Win Race Registrations for Two to Any Fit Foodie Race
Because eating and running are never as fun alone, I'm excited to give away two pairs of race entries to any upcoming Fit Foodie race of your choice. That's right, two lucky readers will win two race registrations each for them and a friend. (If you live in the Tampa Bay area, you can join me next weekend!)
Here is where you can find a Fit Foodie 5K near you:
Clearwater, Florida (September 9)
San Diego, California (October 7)
Austin, Texas (May)
Fairfax, Virginia (June)
Denver, Colorado (July)
Ready to win? Here's how.
All you have to do is leave a comment below sharing what your favorite post-race/long run meal is and which of the five Fit Foodie races you are interested in running. Each comment will be assigned a number and then two winners will be chosen at random.
If you don't win or don't want to wait to sign up, use code RUNLADYLIKE10 for $10 off your race registration!
The Fit Foodie team provided me a free entry to this race along with three additional entries to give to my friends and family. I did not receive any other benefits or compensation to write about my experience, and anything I do write is and always will be an honest, uncensored account.
No purchase is necessary to win. You must be 18 or older to enter. The sweepstakes is open from Friday, September 1, 2017, at 3 a.m. Eastern time until Wednesday, September 6, 2017 at 11:59 p.m. Eastern time. Two winners will be chosen at random and will receive two race registrations to the Fit Foodie 5K race of their choice. The approximate retail value is $110 ($55 per race registration), and race registration is the only item included. All travel costs associated with the event are the responsibility of the winners. The number of eligible entries received determines the odds of winning. The winner will be selected by Thursday, September 7, 2017, and will be contacted via email. The winner will have 24 hours from the time and date of the email sent to claim their prize. The winners agree to allow rUnladylike, LLC, to share their first name and hold rUnladylike, LLC, and the Fit Foodie race series and all associated sponsors harmless in the event that the prize or sweepstakes in some way negatively impacts the winner, and the winner agrees to use the prizes at his or her own risk. Void where prohibited by law.
What is your favorite post-race/long run meal? Which Fit Foodie 5K race do you want to do?