Transformation Tuesday: 13 Weeks Postpartum
April 11, 2017
When I'm training for a marathon, 13 weeks feels like an eternity. Saturday morning long runs, speed intervals and grueling tempos never seem to fly by. Each week and each run is a hurdle, and a victory, to conquer. The marathon of motherhood, however, is a totally different story. As a new mom, time feels like it is zipping by me at the speed of light. I'm grasping on to every moment for dear life as Baby rUnladylike grows out of tiny outfits I had carefully washed, folded and put in her drawer long before she was ever born. It's so exciting to experience and look forward to every new milestone, and yet, it is bittersweet to watch her grow so fast. We celebrated her three-month birthday last weekend. Wasn't I just pregnant about five minutes ago?!?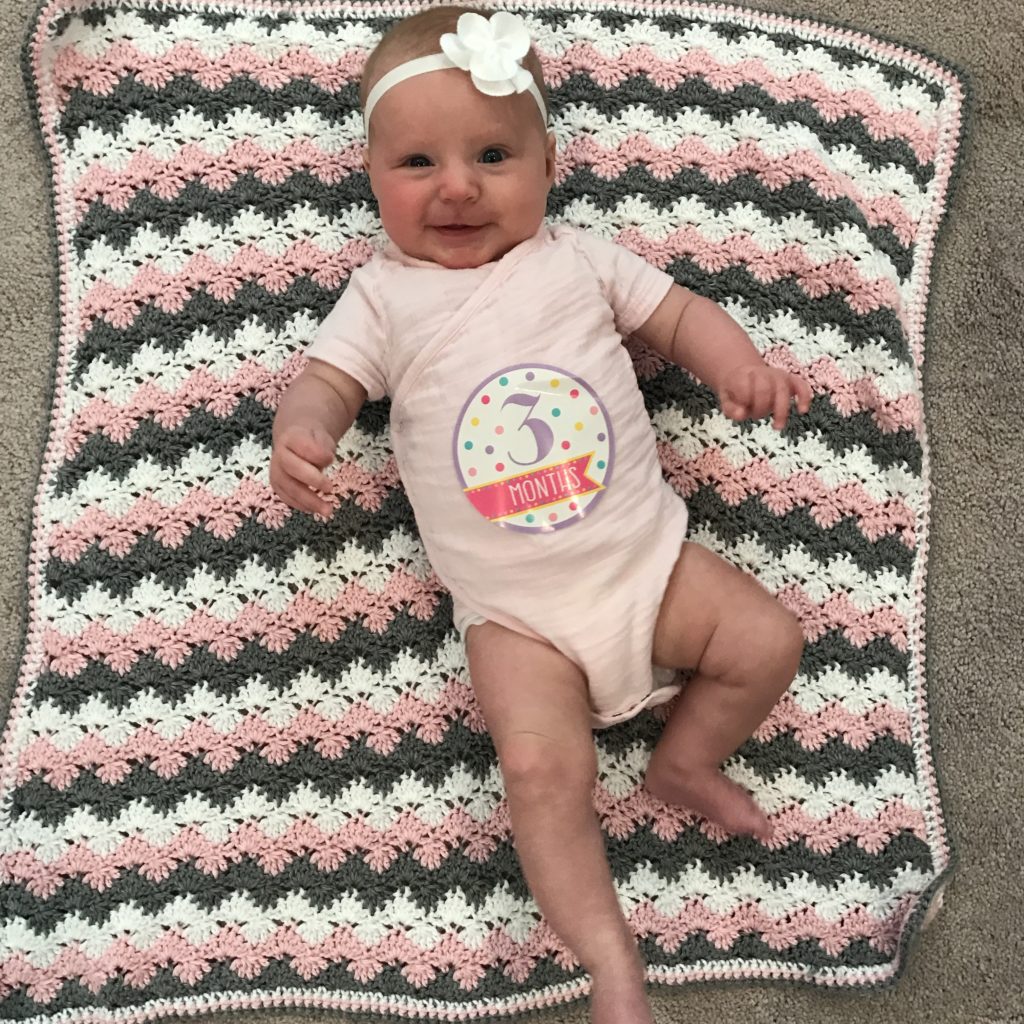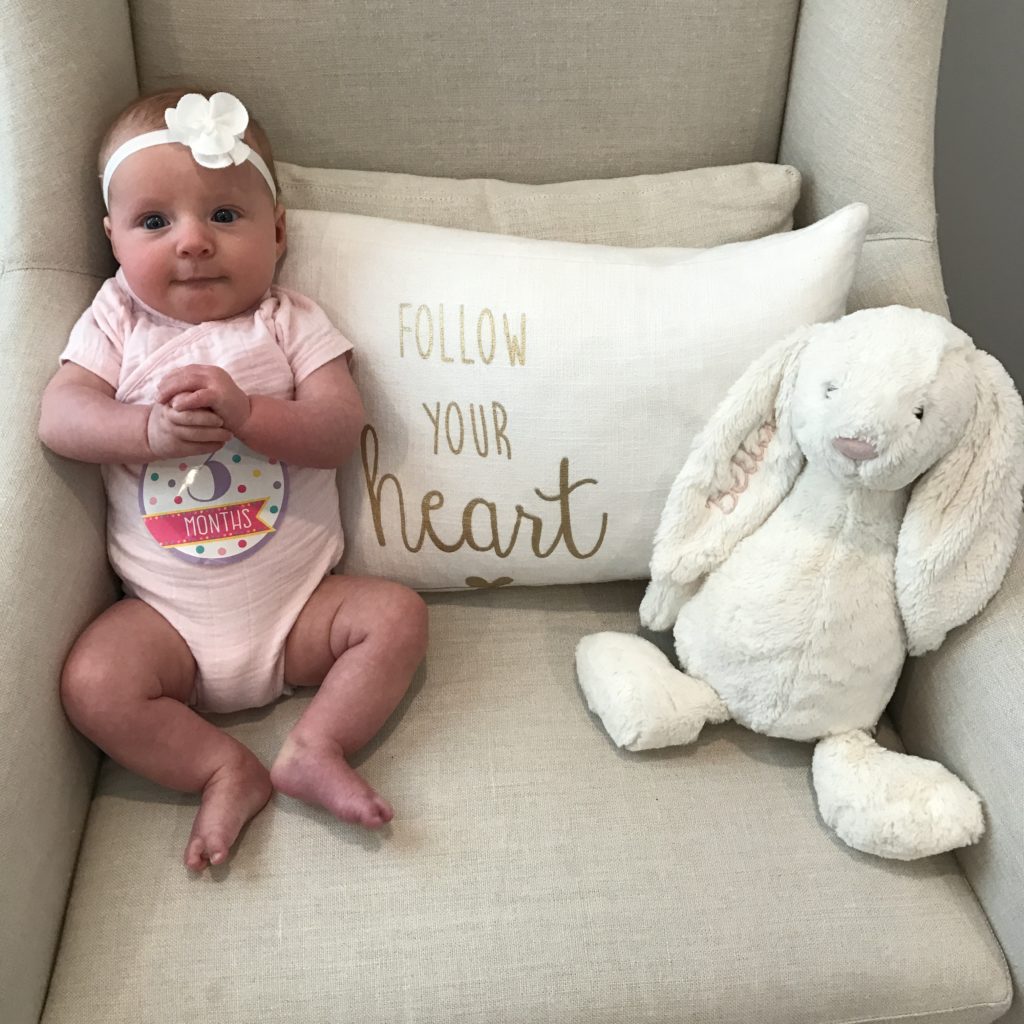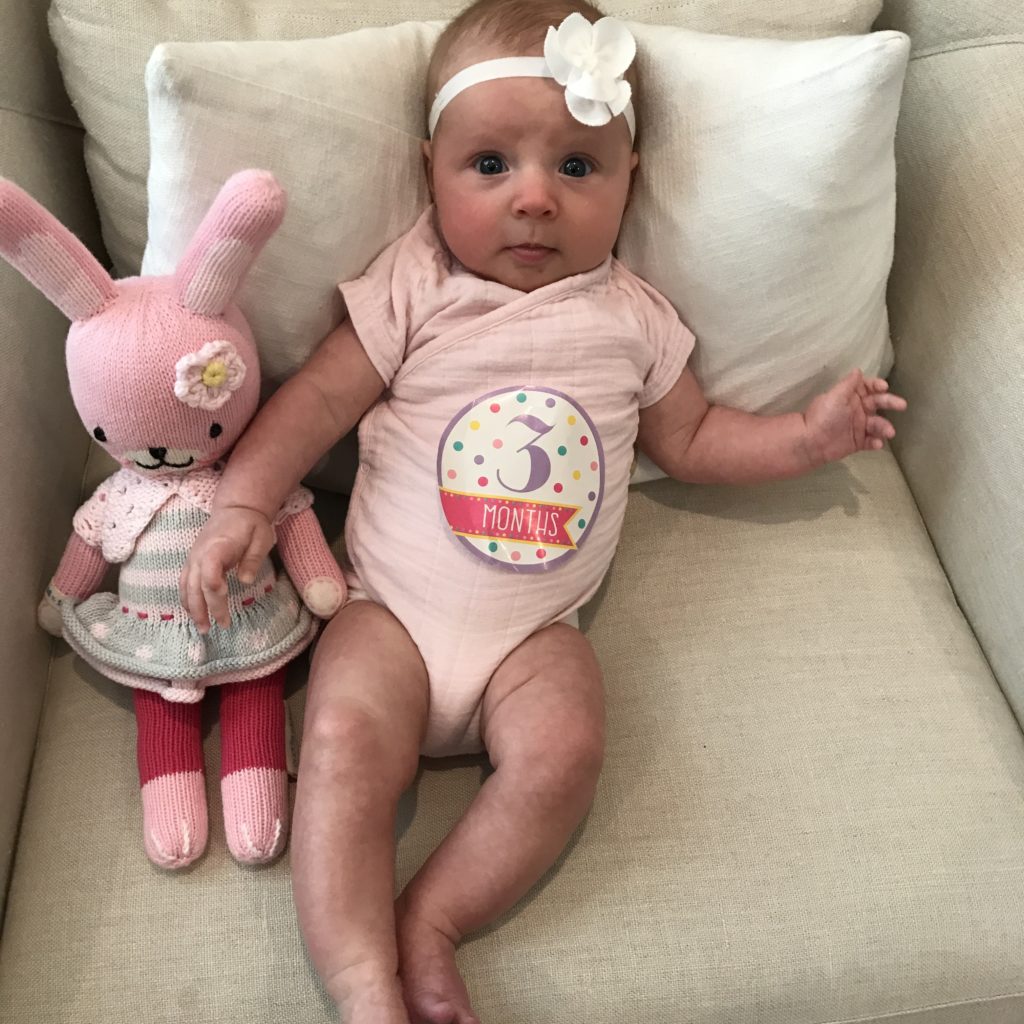 It's amazing what a difference six weeks can make since I shared my last Tuesday Transformation update with you. At seven weeks postpartum, I felt completely out of control. I was battling the newness of breastfeeding hunger and was making terrible, unhealthy food choices. While most moms go through that and it is to be expected, this seemed to be otherworldly. I was unhappy about what I was putting into my body and passing along to Baby rUnladylike. I was also battling the effects of pregnancy/breastfeeding hormones in my body, which were wrecking havoc on my joints and creating major challenges to stay active.
Today, I feel like a whole new person from the woman I was six weeks ago. As a new working mom of 13 weeks, I wanted to share an update with you on the "3 Es" of me: eating, exercise and emotions.
Eating: Adios Garbage Disposal Appetite
I've been eating clean for five weeks and making healthy choices I feel good about. Those good choices have me feeling better, sleeping better and just feeling strong and empowered. Although talking about a post-baby comeback related to body and fitness can appear to be about weight, that is not the real focus for me. Reclaiming control over my choices and making good ones for my baby and me have been my priority. Feeling confident and strong is such a powerful thing. I'm pleased to say I'm 100 percent back on track with consistency on the eating front (and yes I have beer and desserts in moderation!!!)
While I'm still eating a lot of calories to accommodate breastfeeding and exercise, I'm making much better choices. Here's what a typical day might look like:
Breakfast
I typically eat one of the following meals for breakfast each day:
One scrambled egg and two egg whites with 1/4 of an avocado and two tablespoons of salsa on a piece of whole wheat toast + a side of fruit (typically berries or an orange)
A protein smoothie consisting of one cup of almond milk, a scoop of chocolate vegan Shakeology, a banana, a cup of fresh spinach, a tablespoon of flaxseed and ice (sometimes I throw in peanut powder too)
A container of Siggi's vanilla yogurt with fruit
Oatmeal made with quick cooking oats, almond milk, raisins, vanilla and cinnamon
Lunch
My husband and I have a meal service called CateredFit that delivers freshly made lunches and dinners to our house four days per week. We started the service when I was pregnant and have continued it. Although it's a little pricey, it has saved us so much time in the evenings (I don't waste an hour cooking that can be spent with Baby rUnladylike and my husband) and on weekends with meal planning and prep. We really like the food, which is healthy and portioned properly. Each meal is typically between 375 and 450 calories with at least 20 grams of protein and carbs and about 10-15 grams of fat. There is always a healthy protein, a veggie and then either a starch like potatoes, rice, quinoa, whole wheat pasta, etc. They are already cooked (made fresh and delivered daily) and heat up in the microwave for two minutes. I generally have one of my CateredFit meals for lunch most days. When I don't eat one of the meals, I will have one of the following:
Soup + fruit (Homemade lemon chicken orzo soup or this chicken sausage, sweet potato and white bean soup; if eating pre-made soup, I typically choose Amy's organic low sodium lentil, minestrone or Italian vegetable soup)
Big salad with chicken and veggies + an olive oil and vinegar-based dressing
PB&J + fruit and yogurt and/or veggies and hummus
Snacks
I have at least one to two snacks every day. Here are some of my recent go-tos.
2-3 WASA crackers with one ounce of white cheddar cheese (Cabot is my favorite) and fruit (grapes or an apple)
Greek yogurt bowl with a half to full cup of plain Greek yogurt, one mashed banana, cinnamon, vanilla peanut powder and raisins
Chocolate Sea Salt Rxbar
Hummus with veggies (carrots/cucumbers) and WASA crackers
Dinner
CateredFit meal (see above)
Dessert
These three recipes have been in my rotation lately. I make one of these recipes each week and have a serving (or two) every day. Baby rUnladylike enjoys being in the kitchen with me while we make them.
Exercise: Finding My Way Back to Me
Six weeks ago, I was frustrated. I'd done all the right things. I waited a full four weeks before doing activity of any kind and six weeks before trying to run. All my physical activity was slow and conservative. Then my body rebelled against me anyway. Everything hurt for two weeks as the hormones in my body went haywire. I panicked a little, but as fast as my joint pain started, it also went away quickly. I took more time off running and have since been doing run-walk intervals. You can read about my postpartum running comeback plan here, which consists of the first four weeks of very conservative run-walk intervals that build each week along with PT exercises regularly. I feel really good and can virtually do everything I could do before having my baby. I'm strength training and cross training weekly without modifications (spinning, barre, boot camp) and run-walking about three days per week (9-10 miles per week). I have one more week of run-walk intervals before I try to run continuously. The building run-walk approach has been great for me mentally and physically. I am doing all my workouts at 6 a.m. before the baby wakes up for her first feeding at 7:30 a.m. and before the work day begins.
Here's a peek at how my body has changed during the past 13 weeks. As of today, I have just shy of 10 pounds to lose to return to my normal weight. I'm happy with where I am right now, how I feel and the progress I've made. I have always been the same weight for the majority of my adult life (around 117-118 pounds as a person that is five feet and three inches tall). Today, I'm at 127 and a few ounces, but the way my clothes are fitting and how I am feeling is starting to resemble my old self. I've lost a lot of muscle and definition, but I'm working hard to build that back over time.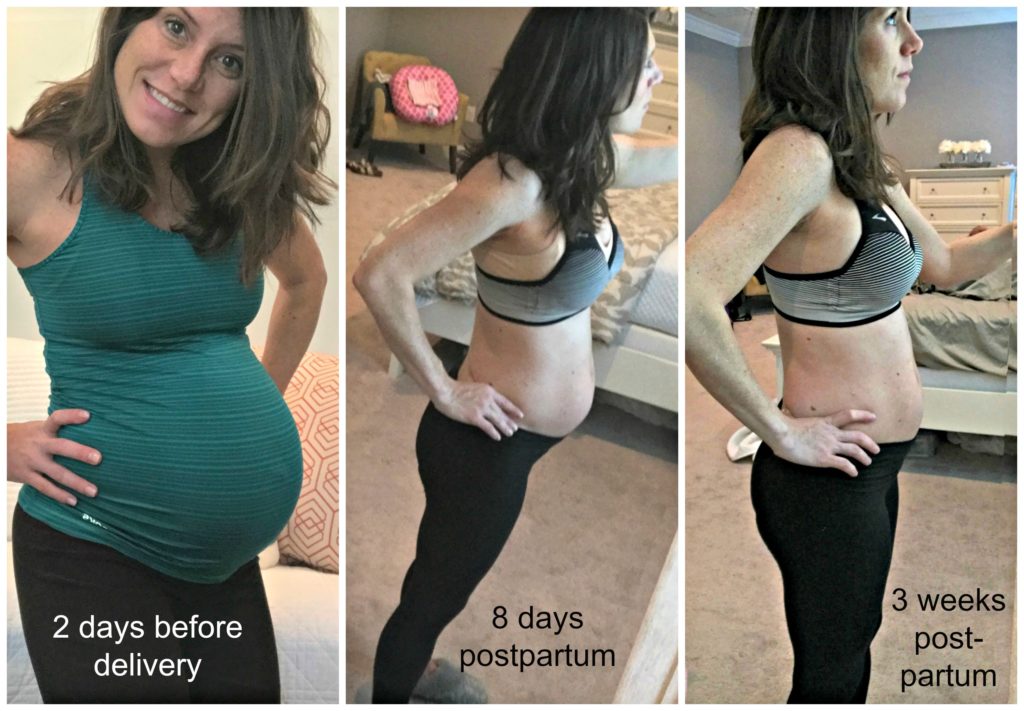 Today at 13 weeks postpartum (please ignore the unmade bed) …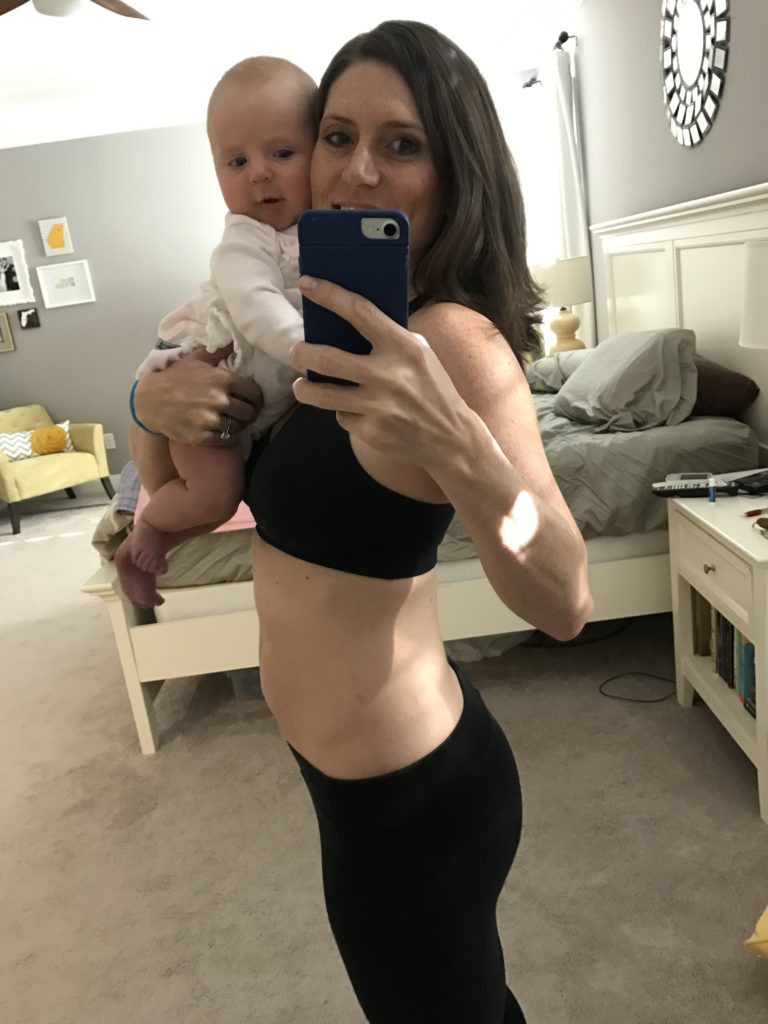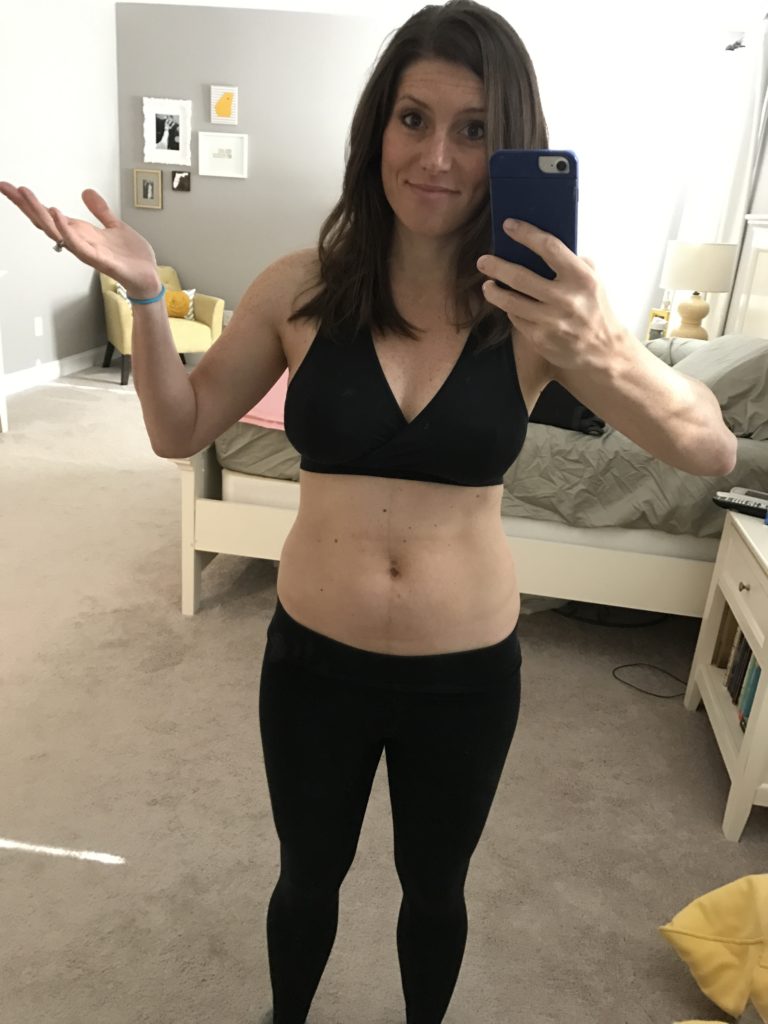 Emotions: My Personal Roller Coaster
While my eating and exercise have been steady and consistent, my emotions have been up, down and sideways (thank you hormones and baby love). I returned to work last week after a really wonderful maternity leave. Coming back was way harder than I'd anticipated. I'm very protective of my time in the mornings and evenings with Baby rUnladylike, and I am consistently overwhelmed by how much I love her. It is such an awesome thing. I love every single second of being a mom and figuring out my new normal to keep even more balls in the air. I'm grateful to have such an awesome family and so much support. Being a strong and healthy mom to set a good example for her is such a great motivator.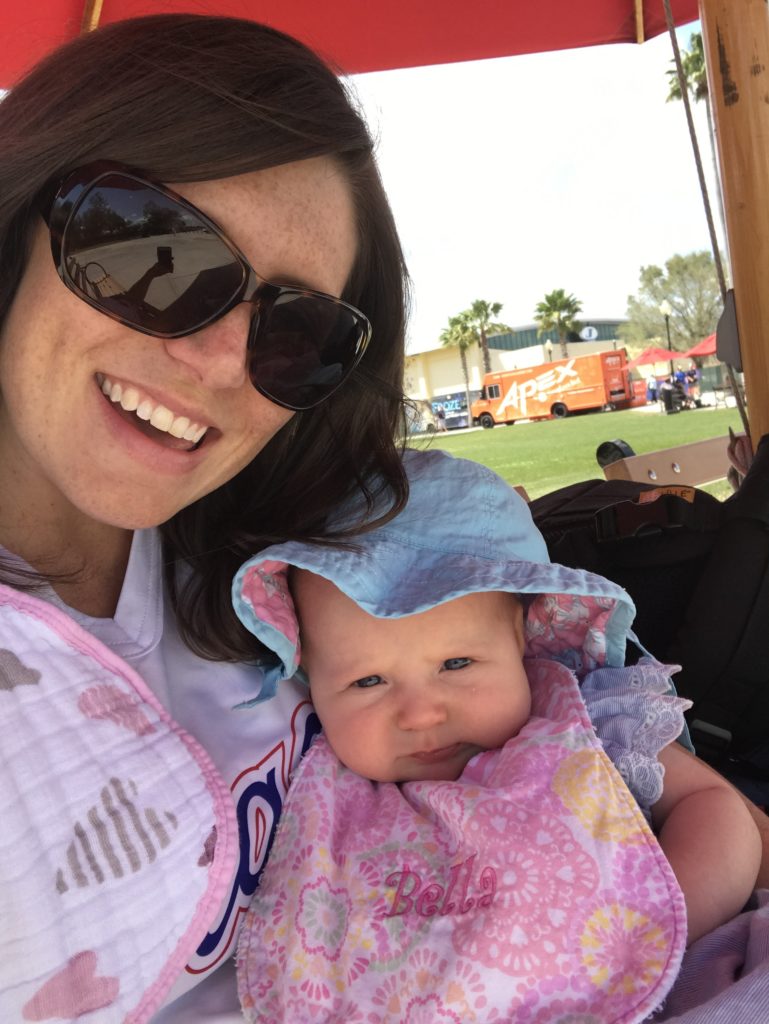 If you're still with me after this long update, thanks for reading and for all your support and encouragement along the way. This journey is different for all of us, but I hope sharing my journey is helpful to contribute to our shared conversation. We all get there in our own time and learn to adapt in new and different ways. Hugs to all the strong women out there who are doing it all.
Tell me how your training is going lately.